Canker Sore Relief Home Remedies. Try this tried and true canker sore calming method. It will provide instant relief so you can enjoy food again.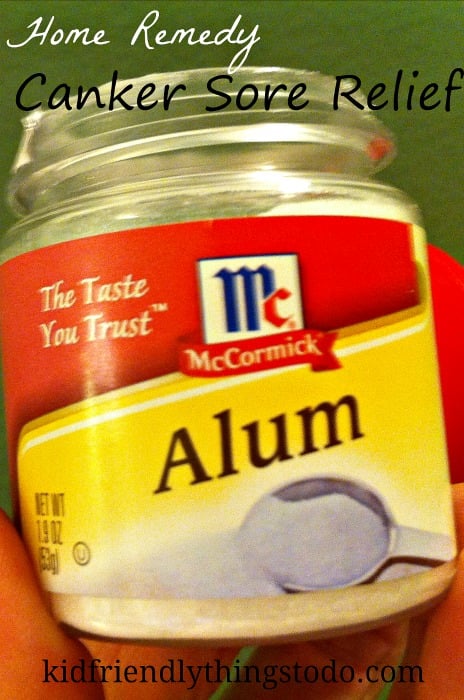 Oh boy, did we get hit with a nasty cold over Christmas break! I say we because I caught it along with the kids.  We all coughed until our stomach muscles ached, and I lost my voice for about a week. To add to my misery, I received a whopper of a canker sore, right in the front of my mouth! Ugh! Every time I went to take a sip of tea to help my throat, my canker sore would revolt, and I would wince in pain! After days of telling everyone how bad it hurt, and not really seeing much sympathy around here for little ole' me…I took out my phone and began research on canker sore cures. I really think I found a good home remedy. This is what I found, and what I believe really helped heal my sore.
I read about a cure using the pickling spice, "alum". This was the remedy I really wanted to try out. There were a lot of testimonials on the success of using this to dry out the canker sore. With the sore being inside your mouth, it really never gets a chance to dry. The method is to place a small amount directly on the sore, deal with the stinging pain for about 1 minute, and spit it out! Don't rinse it, though! Supposedly, from the sources I read, the sore would disappear by the next day.
Alas, I had no Alum, and it was bedtime, so I went with plan B: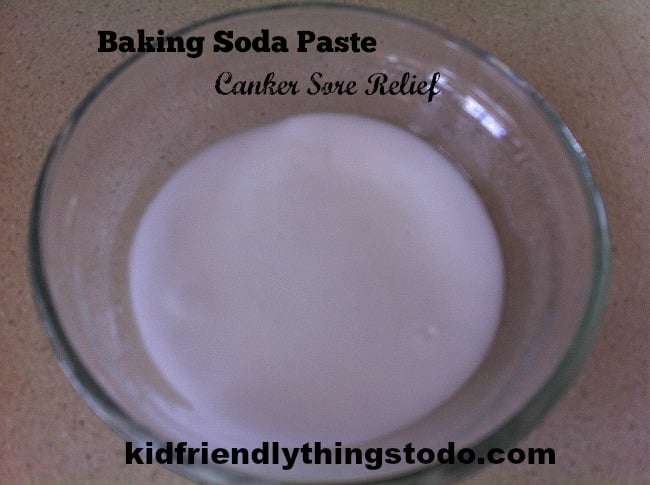 A baking soda paste made from baking soda and water. I had tons of baking soda, so I grabbed a box and mixed just enough water to make a thick paste. I dabbed it on my sore and left it alone. There is a little pain with this, too! It stings. Feeling hopeful, I went to bed. The pain on my sore was a little bit duller than the night before. The sore was a lot easier to live with. It did not, however, have a long-lasting effect. The pain started to come back that afternoon.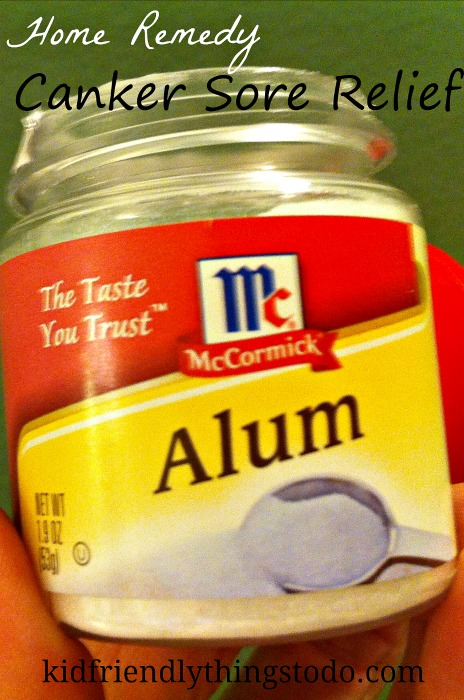 So, I ran out and got some Alum! I put it on my mouth, dealt with the stinging (the baking soda numbing it really helped with this), and spit as much as I could out. It tastes awful and leaves a pasty feel in your mouth! Again, feeling hopeful, I went to bed. The canker sore was not gone the next morning, like some of the testimonials said. But, it had gone down a lot! So, I applied it a couple of times that day, and once more that night. The next morning, it was gone! It Vanished! Hallelujah!
But, don't just take my word for it…
Here are a couple of links with more remedies for Canker Sores, including Alum. I am really interested in the "Coconut Oil" remedy. I think my kids would be a little more willing to try that over the disgusting taste of Alum
Here's a great list from Lifestyle Nutrition and one from Everyday Roots
Crazy me, I told my husband that I need to get another sore to properly test these theories again! I don't like telling you about something unless I think it's a for sure thing. My canker sore had bothered me for at least a week, so I wanted to try it out at the beginning stages – just to be sure it was the Alum and not just it's time to heal naturally. He laughed and told me "Ya right! I bet you really want another canker sore!" Do you know? I think he's right. I can wait. But, let me tell you, I really think it was the Alum. One night, I went to bed with an angry red canker sore and a little more than a day later, it was gone! At this point, all I can say is if you have a painful sore…it's worth a shot! What do you have to lose?
If you are in pain, from an angry canker sore, I hope this helps. With any luck, you'll have a new home remedy!
~Melissa – KidFriendlyThingsToDo.com