This is a great DIY solution to repairing your rug's curling edges. You'll be amazed at how easy it is to fix the corners of the rug that curl up with just a little bit of water and some weight.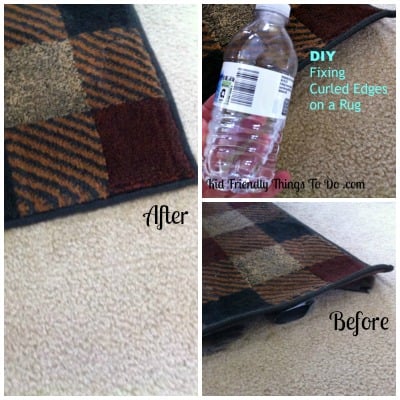 Repairing Your Rug's Curling Edges – A DIY Hack
I love DIY hacks. If you love hacks, you will love my posts on Roadtrip hacks with the kids, Camping hacks, and Summer Hacks for Parents
A couple of months ago, a corner of my dining room area rug decided to curl up and stay that way. Not only did it look bad; I was nervous someone was going to trip over the rug, and whack their head right on the table. I even tried duct tape to get the dang corner to stay, but it was determined to stick up. Tutorials that I found on taming the curling edges of rugs were about smaller, lighter-weight rugs. Finally, with no alternative, I marched myself right into the hardware store to buy the biggest, baddest rug glue I could find. It was time to fix my rug. But…my plan changed when a nice man gave me a DIY tip. Hallelujah! I love little tips like this.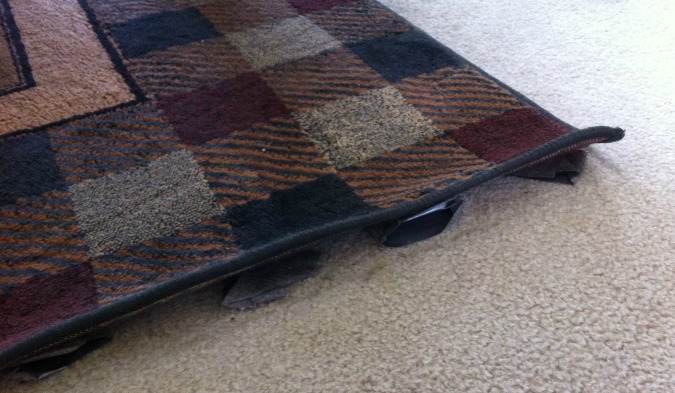 Pretty unsightly, huh?! I was desperate! All, I need is for Grandma to fall and injure another hip.
This is what the nice hardware store helper told me to go home and do – He said to pour a good amount of water on the rug…enough to soak it. That would weigh it down, and then it would flatten out.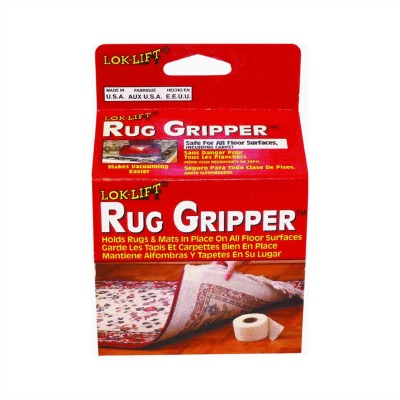 While I was in the rug section, I grabbed some rug grip so I could hold the rug down, once it was flattened out
Back home, I doused my rug with water and rubbed it in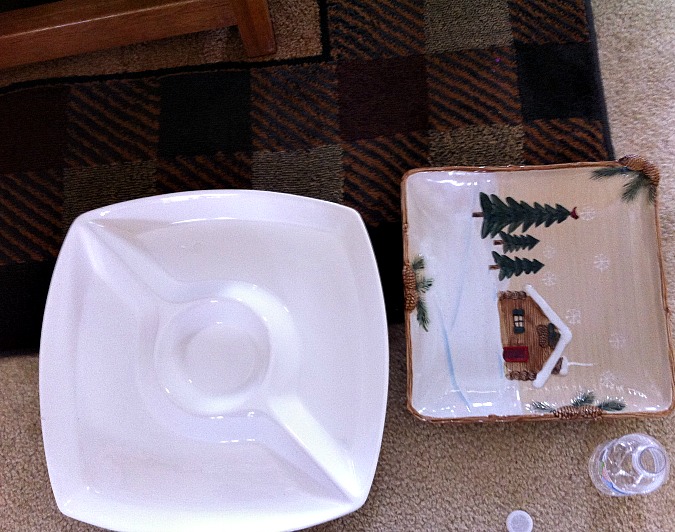 While the rug was nice and flat, I put some weight on it – just to make sure it stayed that way
I left the heavy serving dishes there all-day
When I took the weights off, the rug underneath was a bit wet. I propped my area rug up – to allow air to circulate and dry the carpet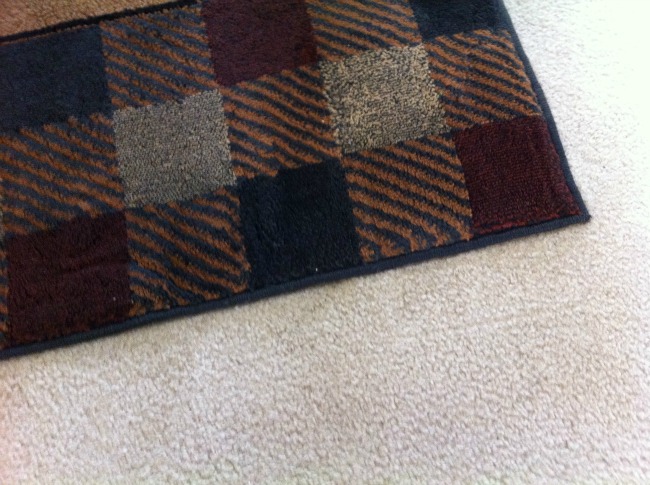 Once both the carpet and rug had dried out, I added a strip of Rug Gripper to the bottom of my area rug and pressed it down to adhere the two rugs together
Worked like a charm! No big, bad glue is necessary
Now…to replace that white carpet in the dining room with wood floors. Who the heck puts white carpet in a Dining Room?! Not someone with 4 kids. 🙂
~ Melissa – Kid Friendly Things To Do .com