Make these fairies and fairy houses for some outdoor fun. This Fairy Doll Craft is easy to make for summer fun with the kids.

A few years ago, in the fall, our family was on a hike in the woods when we stumbled onto fairy houses, decorated with swings, gardens, tables, plates, and so much more.  The houses were there, ready for the fairy's arrival. They were everywhere… in the hollowed-out stumps of trees, at the bottom of trees, on top of logs, along the river bank… That hike was so much fun.  That was the day our fairy house building began.
Here is a tutorial on making little flower fairies for your yard, paths, and woods!:
You'll Need:
Wooden bead for the head
Pipe Cleaner
Floss for the hair – An assortment of colors
Sharpies – I used blue and red
Girl Fairy – An Artificial Flower for the skirt
Boy Fairy –  Artificial Leaves
Scissors
Hot Glue or Fabri-Tac glue
Now, Here's What You'll Need To Do: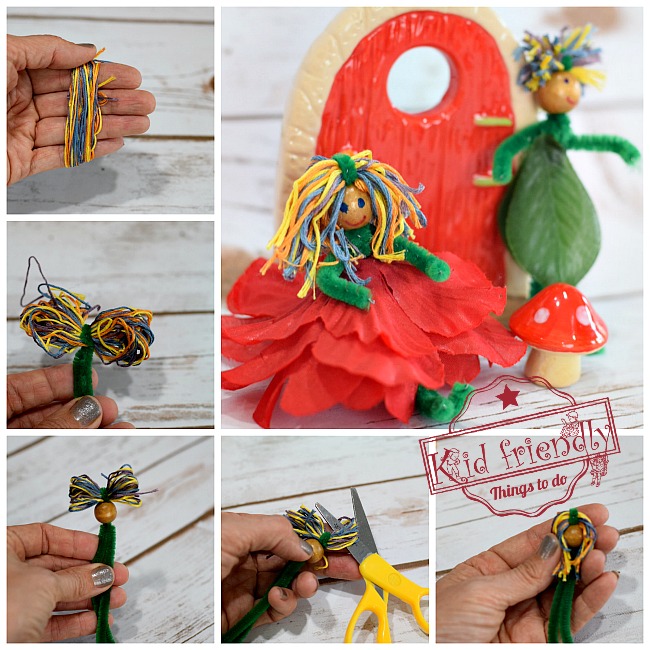 Cut a piece of your pipe cleaner/chenille strip to use as arms – about 3 inches
Cut a piece of  floss – about 3 ft. to use as hair
Wrap the  floss around your about 4 fingers – or a round object to make a long loop of floss
With your long piece of pipe cleaner/chenille strip, center it and bend it over the loop of floss. Twist the pipe cleaner to secure it
Pull the bent piece of pipe cleaner – with hair through the wooden bead, so the hair is just above the bead. Cut in the center of the loops to let the hair flow down.
Wrap the small piece of pipe cleaner just under the wooden bead/face and twist to secure for arms
Girl:
Slide the pipe cleaner through the center of the artificial flower and glue to secure
Add facial features with Sharpies
Optional Wings:
Use a mini clothespin to clip a smaller simple flower to her back as wings
For the boy: 
Make the hair a little shorter than the girls, and let it stick out all over the place
Instead of a flower, use a leaf as clothes, and 2 leaves in the back as wings!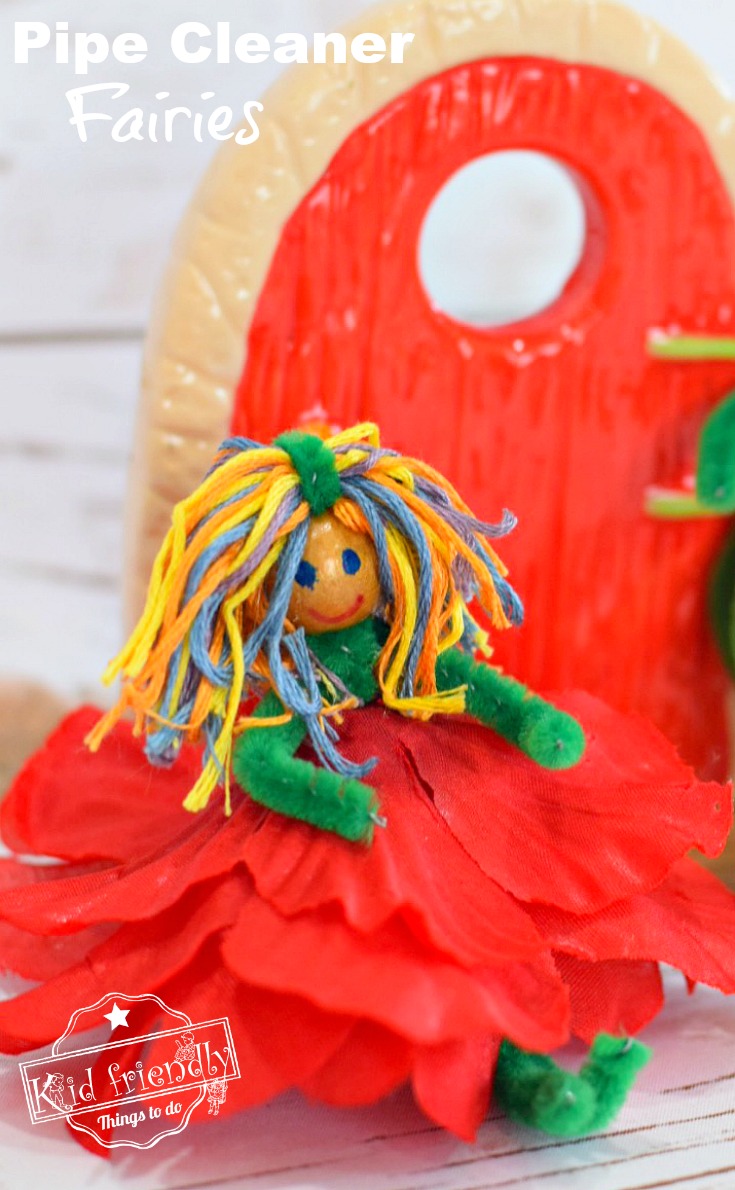 ~Melissa – KidFriendlyThingsToDo.Com –