Another cute idea from a fun fall outing. These pig, cow, and fowl pumpkins are so darn cute. They would be a perfect accompaniment to a fall party. Here are some close-up pictures of these barnyard friends, and some tips on painting your own DIY Painted Pumpkins.: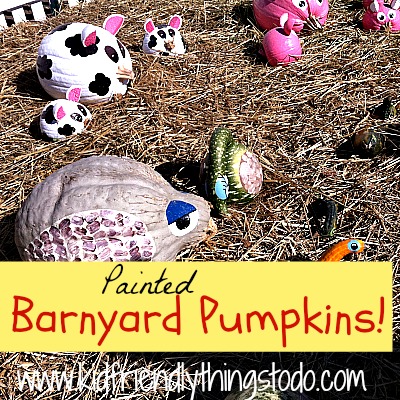 DIY Painted Pumpkins – Barnyard Animals
A good place to start is by applying a sealer to your clean pumpkin
Acrylic Paint is a good paint to use when painting pumpkins, but you can try any kind. Permanent markers work, as well!
Here is a link to a helpful site explaining the painting process. About.com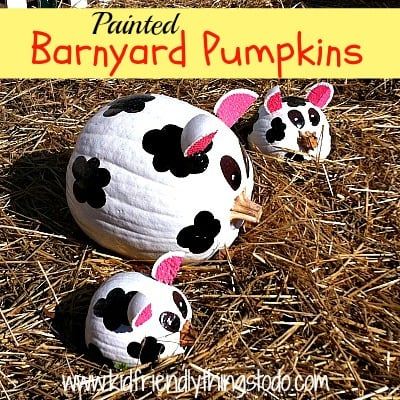 These pumpkins have been painted white with clouds of black spots
Black oval eyes are placed above the stem, with little white centers, and a black dot for a detail
Foam balls shapes have been quartered and painted white on the outside with pink (they look kind of like a watermelon) They are attached to the pumpkin with a wooden dowel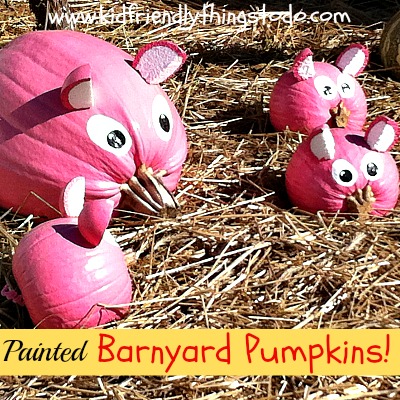 The pigs are also pumpkins on their sides
Painted Pink with white ovals just above the stem. Black centers on the eyes, with white accents, are used for detail
This time the quartered foam ball is reversed with white in the center and pink on the outside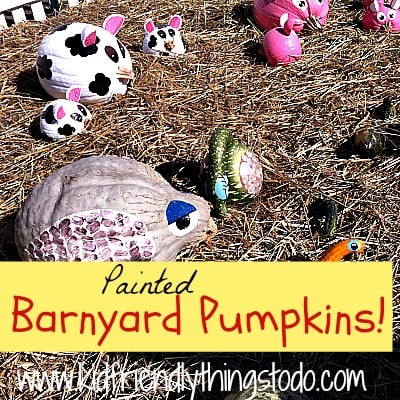 The Quail is a gourd on its side with silver paint, 2 large white ovals for wings. Feathers look like they are thumbprints, oval shapes colored burgundy or brown.
Eyes are circles with blue eyelids and black centers
Gourds, already bird-like shaped, are transformed into many birds with a little stroke of the brush to make wings and eyes!
~Melissa – KidFriendlyThingsToDo