These Oreo Cookie Valentine Love Bugs are so adorable and so easy to make. It's easy to whip up a batch of a dozen or more for your special Valentines or surprise your kids at the end of a long school day.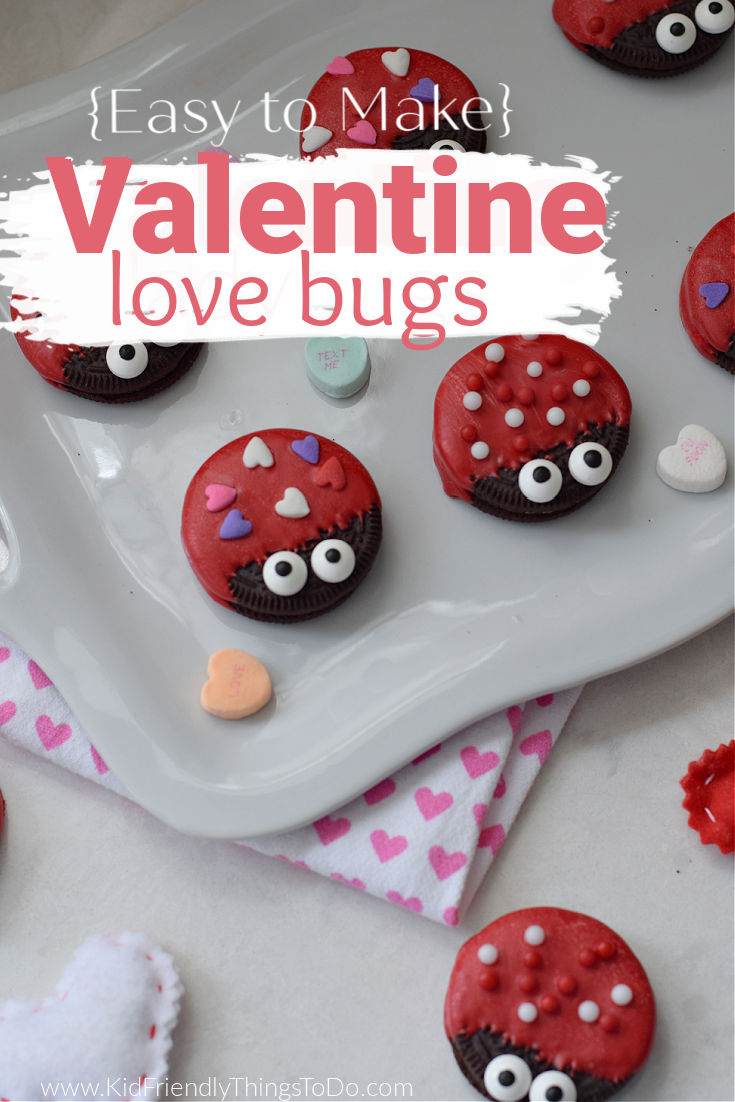 Love Bug Oreo Valentine Cookie
If you are looking for Valentine's Party Treats, then you are in the right place. Check out these cute little Valentine Oreo Penguins, this Healthy Cupid Fruit Treat, or a cute little Haystack Love Bug Monster for Valentine's Day.
If you follow my blog at all, you know that I love easy and simple yet adorable holiday foods. These Valentine Love Bugs fit all of those criteria and more.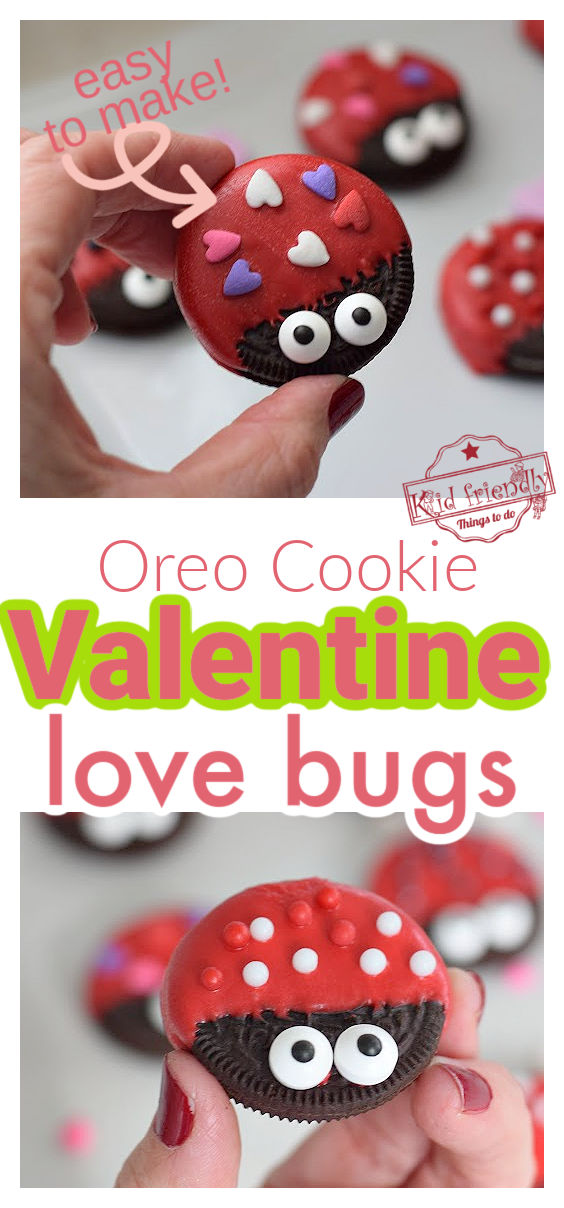 I mean…look how cute these Oreo Cookie Love Bugs are. They are almost too cute to eat.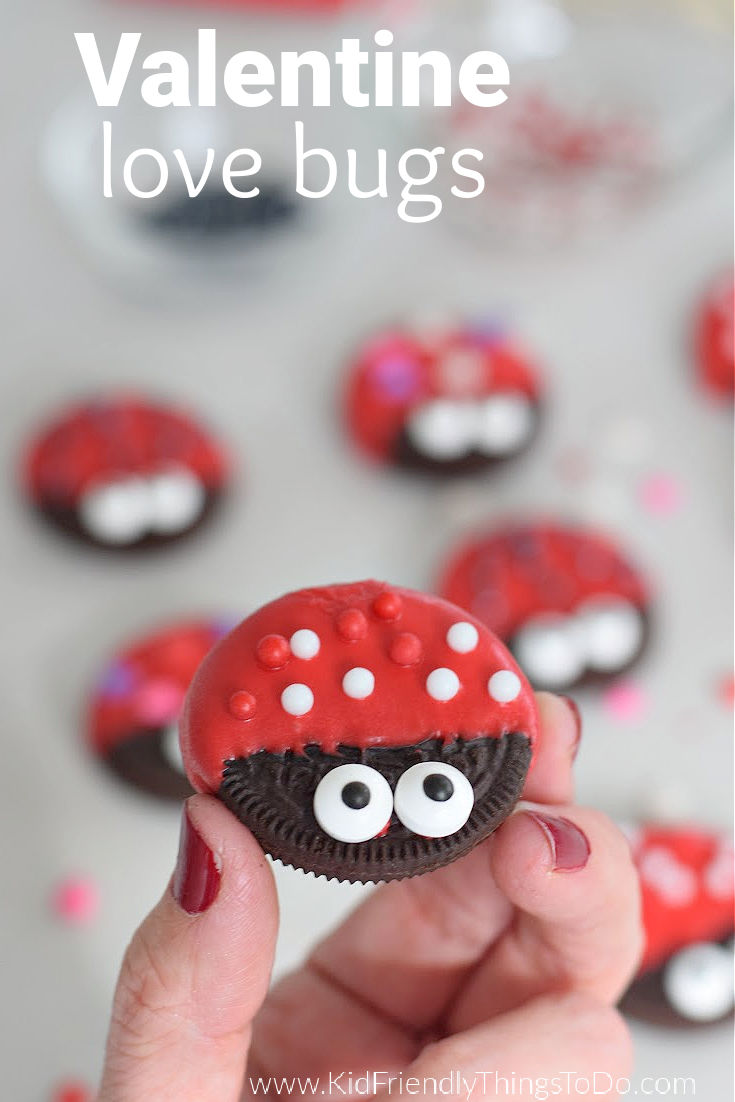 I will tell you, my family did not share this opinion. They ate them all within a day or two.
How Far in Advance Can You Make these Oreo Cookie Valentine Love Bugs?
You can easily make Chocolate dipped Oreo Cookies a week in advance. Store them at room temperature without any cover for a couple of days.
How Do You Store Chocolate Dipped Oreo Cookies?
As long as there isn't anything perishable on the cookies, the chocolate-dipped cookie can sit out at room temperature for up to a couple of weeks. If you plan on keeping them stored for a special occasion, you can cover them in an air-tight container and store them at room temperature.
Should I Refrigerate my Chocolate Dipped Treats?
I do not recommend refrigerating or freezing chocolate as condensation will become apparent on the chocolate.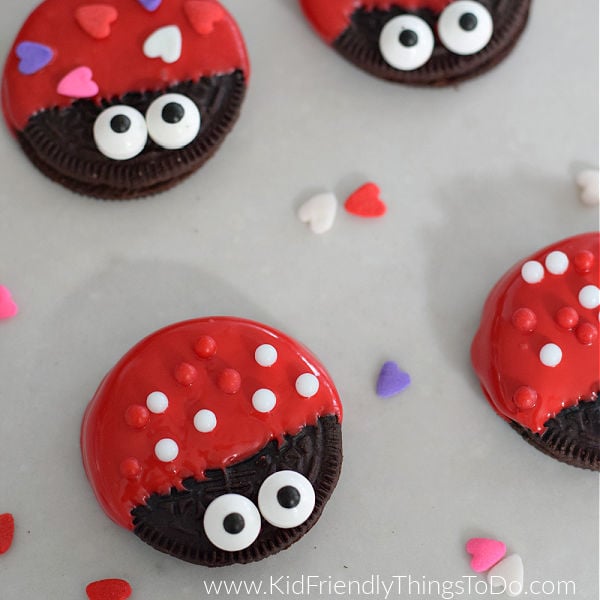 Why does my hardened melted chocolate have white specks on it?
It sometimes happens and this is perfectly normal. It is called a sugar bloom. The cocoa butter in the chocolate has risen to the surface and settled. If you are using pure chocolate, you can temper it before working with it to avoid such spots.
Are you ready to make these cute Oreo Cookies for Valentine's Day? Let's make sure you have everything you'll need…
Oreo Cookies
Red melting chocolate
sprinkles – for these I suggest Wilton's heart sprinkles, and/or the white and red nonperil sprinkles
candy eyes
Additional Equipment Needed:
wax paper
glass microwave-proof bowl is recommended
microwave (if you don't have a microwave, you can use a double broiler or a chocolate melting pot as an alternative)
Amazon Picks for this Valentine's Day Treat Idea
(affiliate links)
How do you make these Oreo Cookie Valentine Treats?
(full instructions are on the printable recipe card, below)
in a small – glass, microwave-proof bowl, melt the chocolate
dip cookies about 3/4 of the way
place them on wax paper
sprinkle decorations on the warm chocolate
using a toothpick to transfer chocolate onto the cookie, add 2 dots for the eyes
place the candy eyes onto the 2 melted chocolate dots
let dry
Here's the printable recipe for you…
Print
Love Bug Oreo Cookie Valentine {So Easy to Make!} | Kid Friendly Things To Do
Cute and easy to make Love Bug Oreo Cookies
Author:
Prep Time:

5 minutes

Cook Time:

1 minute

Total Time:

6 minutes

Yield:

1 dozen +
Oreo Cookies
Red melting chocolate
sprinkles – for these I suggest Wilton's heart sprinkles, and/or the white and red nonpareil sprinkles
candy eyes
Additional Equipment Needed:
wax paper
glass microwave-proof bowl is recommended
microwave (if you don't have a microwave, you can use a double broiler or a chocolate melting pot as an alternative)
Instructions
in a small – glass, microwave-proof bowl, melt the chocolate
*I like to pour my chocolate into the bowl until it is the depth I want it, place it in the microwave for 1 minute, stir until smooth. If needed I microwave for an additional 30 seconds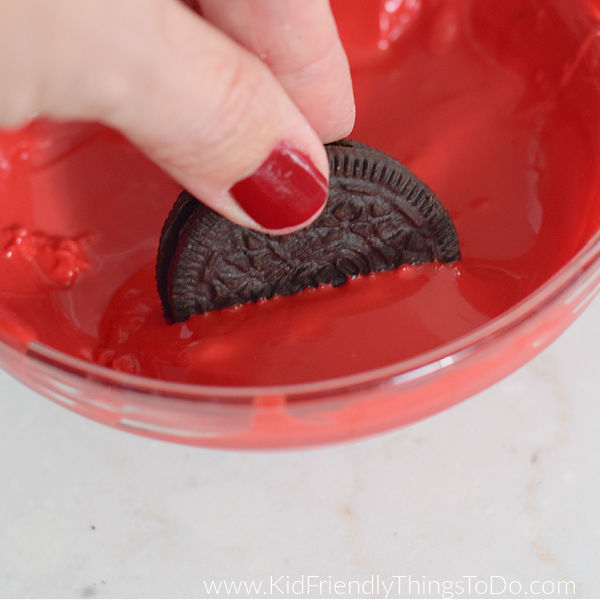 dip cookies about 3/4 of the way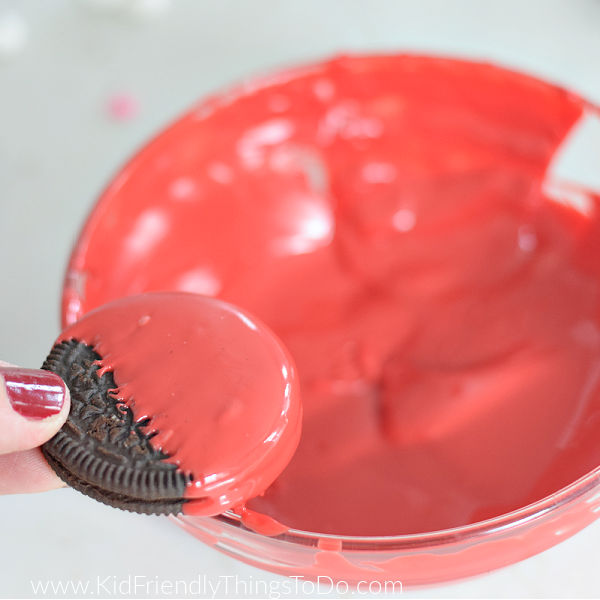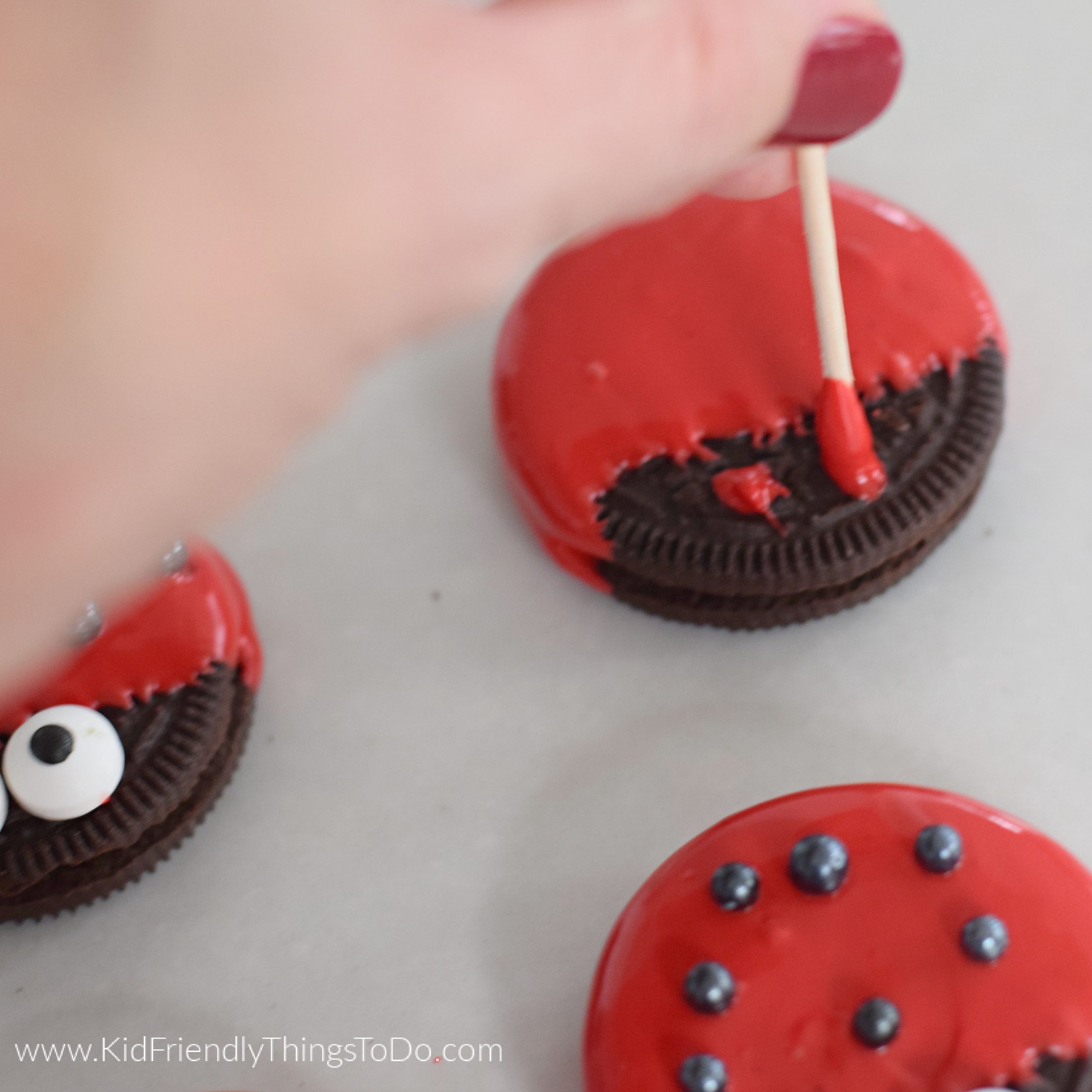 using a toothpick to transfer chocolate onto the cookie, add 2 dots for the eyes
place the candy eyes onto the 2 melted chocolate dots
sprinkle decorations on the rest of the melted chocolate
let dry
Notes
storing – I recommend storing these cookies at room temperature out of direct sunlight for 1-2 weeks