Do you know why I love Rustic Chic so much? I love the way it is imperfectly perfect! With something like rustic and simple, it's hard to go wrong. There is no pressure for perfection with these rustic and adorable Christmas trees with their oversize lights! I just love them, messy green chocolate drippings and all! Come on in, and I'll show you how I made these yummy Simply Rustic Peppermint and Chocolate Covered Pretzel Christmas Tree Treats.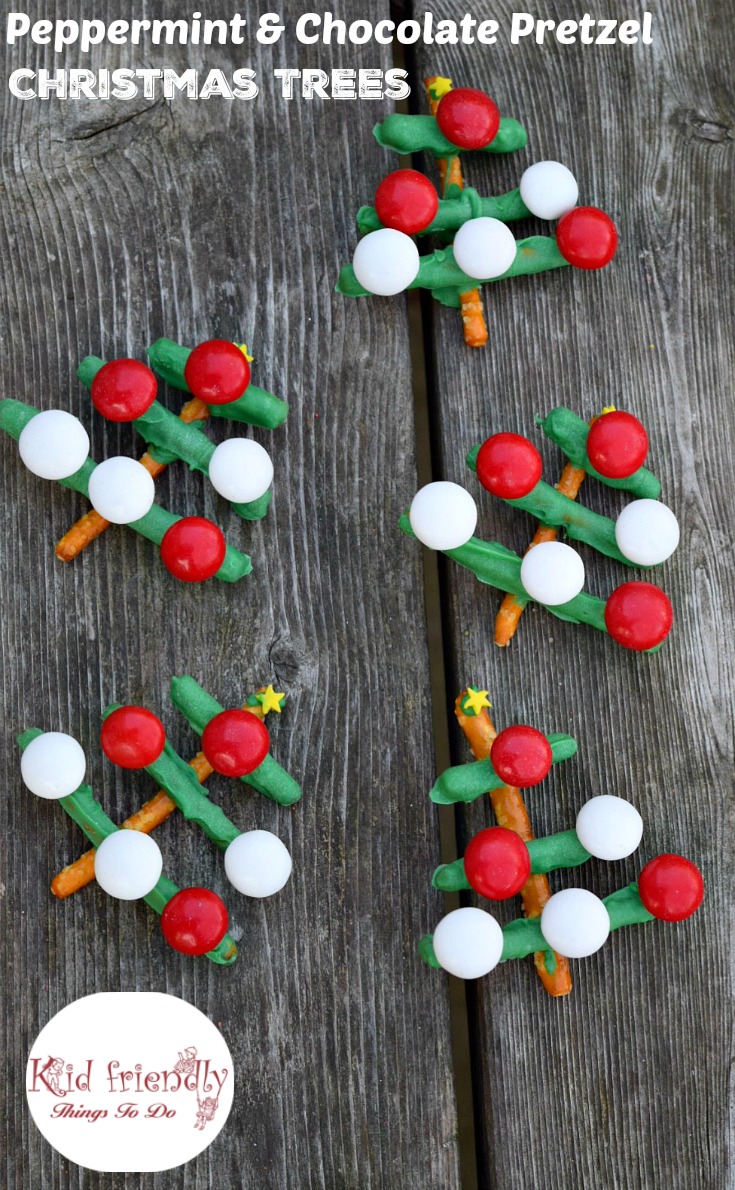 When I first melted my green chocolate and set out my pretzel sticks, I was intending on making Christmas wreaths. The problem was that sometimes the plan in my head does not always manifest in reality. My wreaths looked like a blobby mess! I always tell my kids, that their mistakes or mishaps can always be made into something beautiful. You just have to "think outside the box". It took me most of the morning to figure out what I was going to do with my Christmas Wreath supplies (besides eat them all!), but I have to say, I kind of love my little messy trees!

Peppermint, Chocolate, and Pretzel is such a wicked good combination. Yum!
Here's What You'll Need To Make Your Own – Simply Rustic Peppermint and Chocolate Covered Pretzel Christmas Tree Treats: (Yields 1 dozen)
Green melting chocolate ( You'll use about 6 oz. for 1 dozen trees) – I used Wilton
A small glass microwave proof bowl
A fork
Mini stick pretzels – 42+ (extras for oops moments!) It happens. 🙂
Peppermint flavored M&Ms
Yellow star sprinkles
Wax Paper lined cookie sheets (2)-(small enough to fit in your freezer)
Now: Here's my super long detailed tutorial for a simple food craft. 🙂
Melt your chocolate melts – I pop mine into the microwave for 1 minute, stir and pop it back in for 30 seconds and stir until smooth
Grab one of the wax lined baking sheets, and set it out in front of you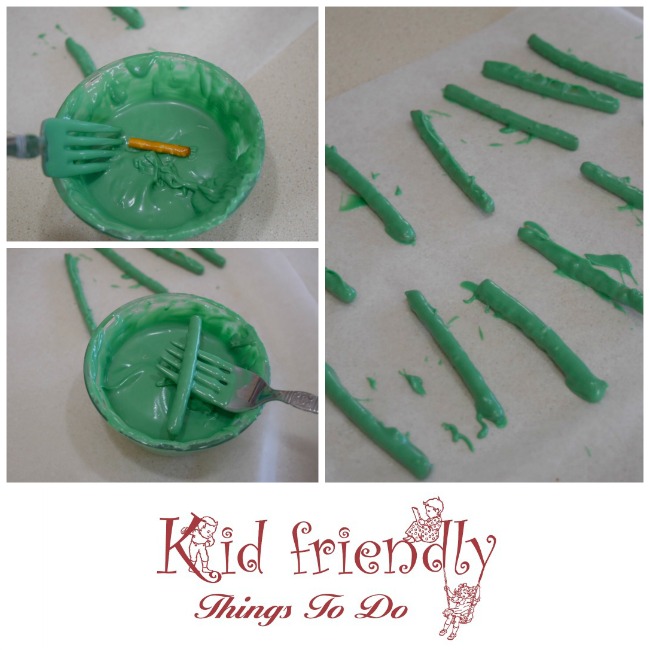 Drop 1 whole pretzel into the melted chocolate and push it down with the fork
Use the fork to lift the pretzel back up to the surface and rest the fork on the side of the bowl
Tap the fork several times onto the rim of the bowl to let the excess chocolate drip off
Slide the chocolate covered pretzel onto the wax paper
Repeat with 11 more pretzels!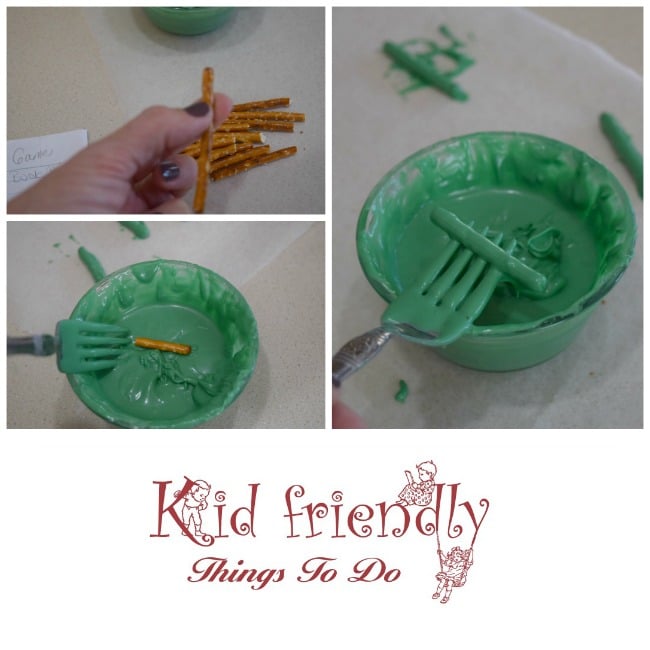 Break a small tip off of 12 more pretzels making them shorter than the whole pretzels by a smidgen
Do the same process with these 12 pretzels as you did with the whole pretzels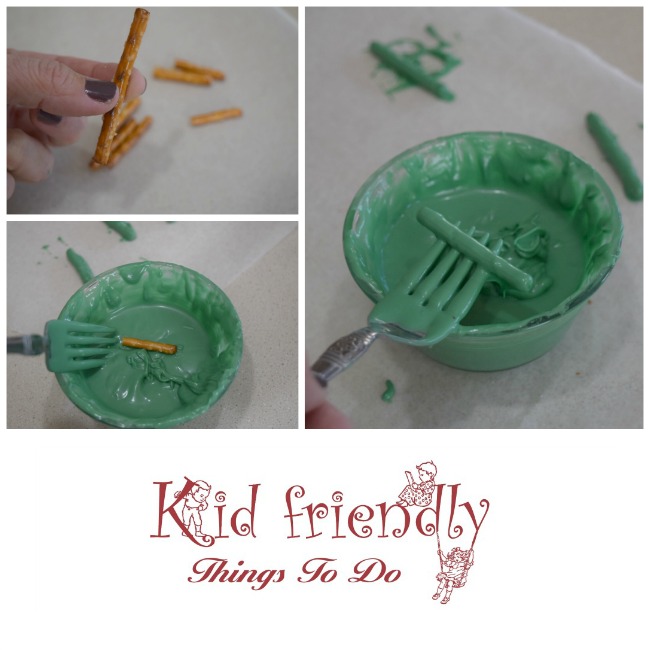 Break 6 more pretzels in half and repeat the process with 12 half pretzels
Place all of the chocolate covered pretzels into the freezer to get nice and cold
Once they have cooled off enough – maybe about 5 minutes later, grab the sheet out of the freezer to assemble the trees
Assembling the trees: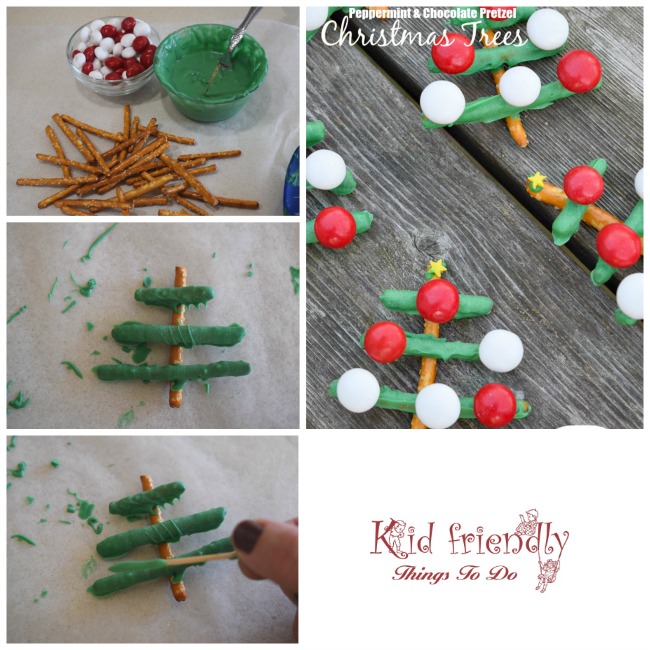 Now, grab your other wax lined baking sheet and 12 more pretzel sticks that have not been covered in chocolate
Place the naked pretzels onto the wax paper as your tree trunks
You'll want a spoon or a toothpick as a tool for gluing the pieces together
Make sure your melted chocolate is still smooth. If it has hardened, pop it back into the microwave for about 30 seconds to heat it up again
Use your toothpick or spoon to grab some melted chocolate
Doing 1 tree at a time – Place 3 dabs of chocolate onto the tree trunks
Assemble the tree by placing the longest green chocolate pretzels at the bottom, a medium in the middle and the smallest on top
Repeat with the rest of the parts
Pop into the freezer to get cold again
Decorating the trees: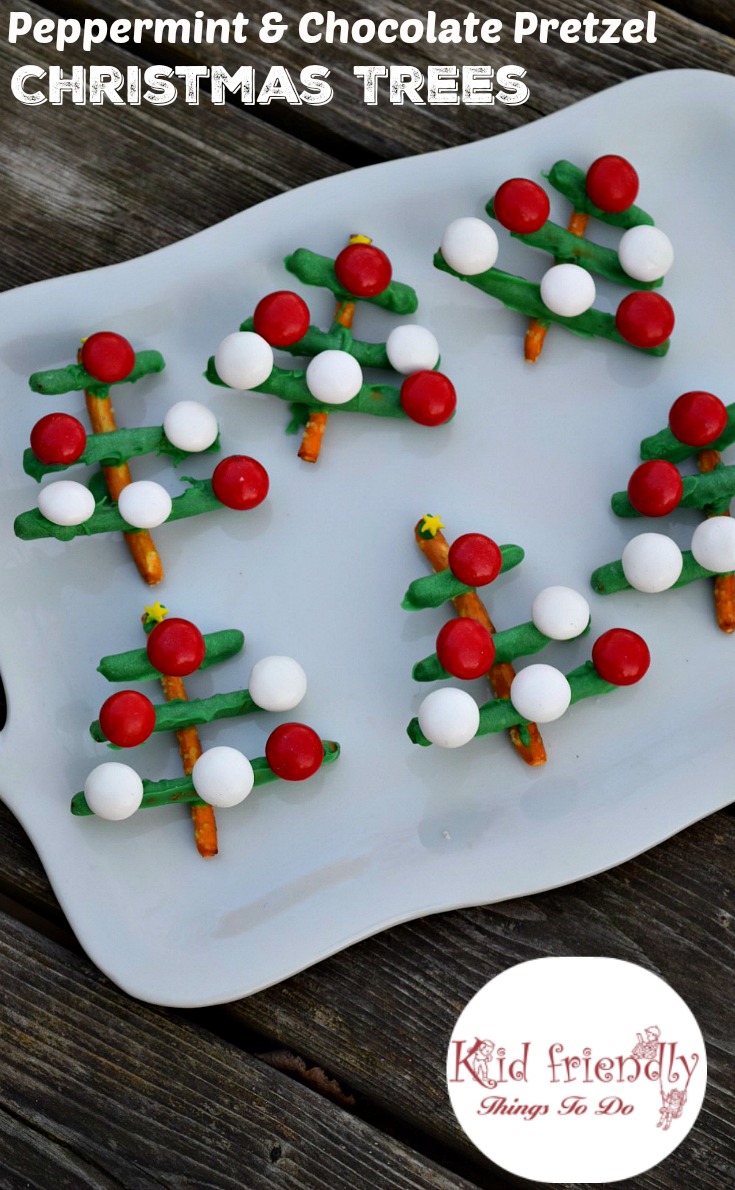 Make sure your chocolate is smooth – if it needs to be heated up, go ahead and warm it up again
Grab your cold trees out of the freezer
Place dabs of melted chocolate onto the tree to glue the M&Ms in place
I did 3 on the bottom, longest part
2 on the middle
1 on top
I then added a little star to the tippy top of the tree
Let those set up and harden. Any parts that have come off can be glued together again with the melted chocolate
Here's my top Amazon picks for this fun treat: I really wish I had the M&Ms with green, and look! There are jumbo stars! Woo! Hoo!
(affiliate links)
[box] [/box]
Merry Christmas!
[box]