These Valentine Marshmallow Pops are the perfect easy treat to make for Valentine's Day. Make a dozen of these fun Valentine's Day treats in no time. Give them out individually or make a bouquet. Easy and delicious!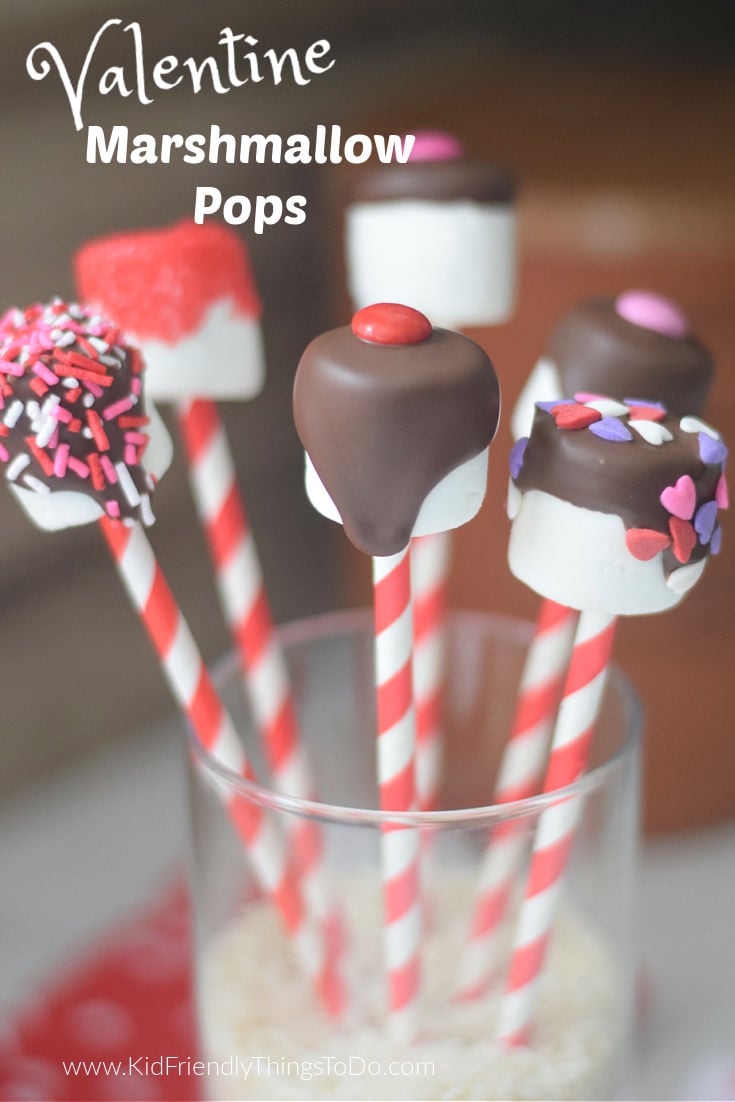 Valentine Marshmallow Pops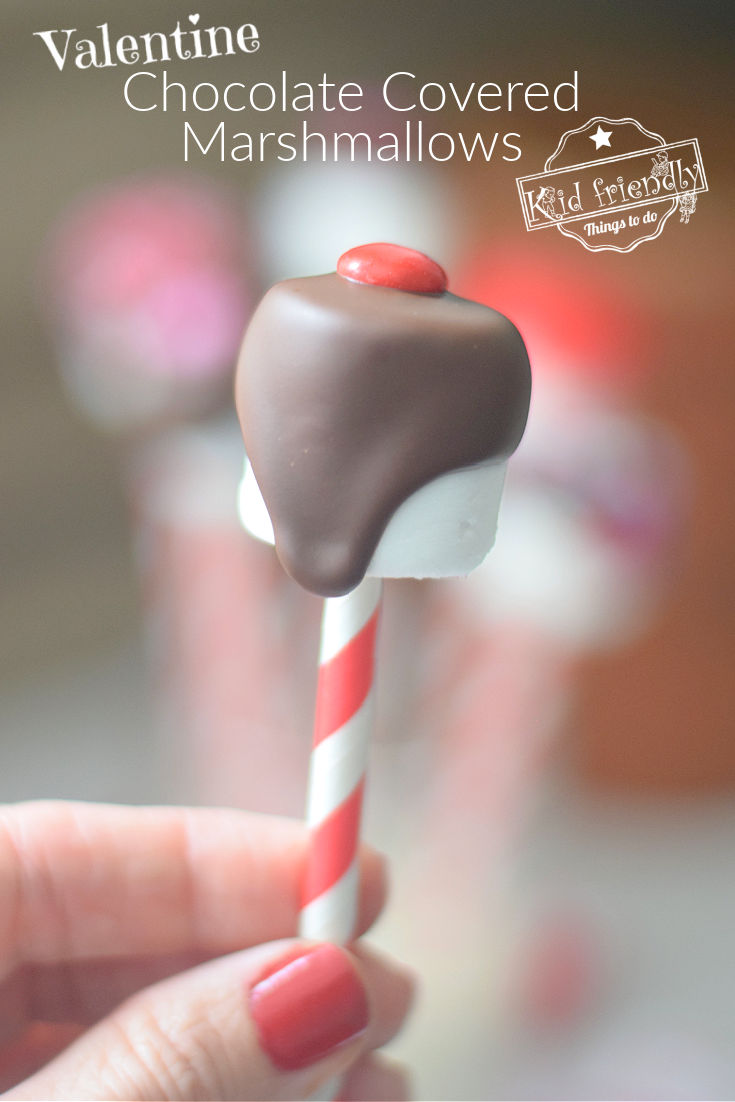 I love the way the chocolate hangs off of the marshmallow. It reminds me of an ice cream hot fudge sundae. So cute!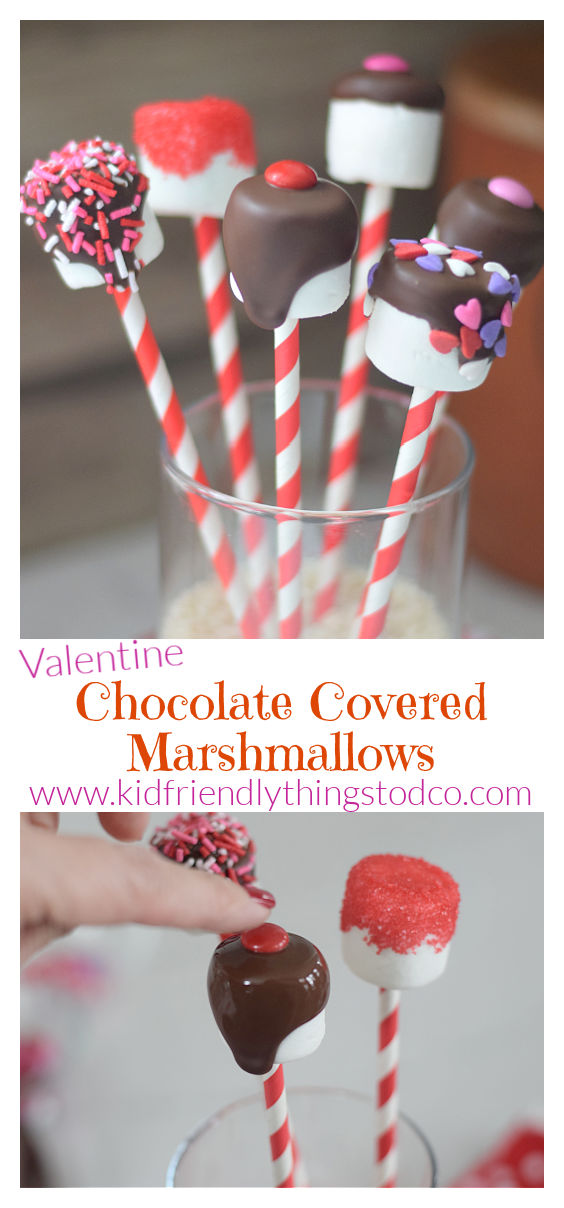 You can really create several varieties with different types of toppings. I used sugar crystals, candy, and sprinkles as my toppings.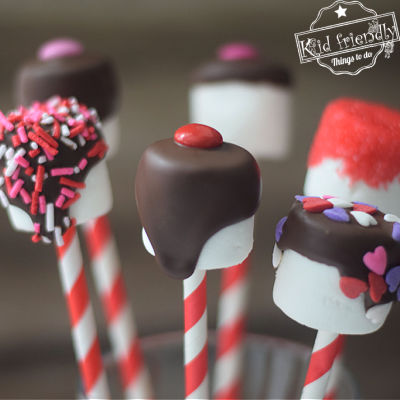 How long do Marshmallow Pops last?
You should eat marshmallow pops relatively soon after making them. They should last about 3 days at room temperature. You can wrap them in individual marshmallow pop bags to keep them extra fresh, but it is not necessary.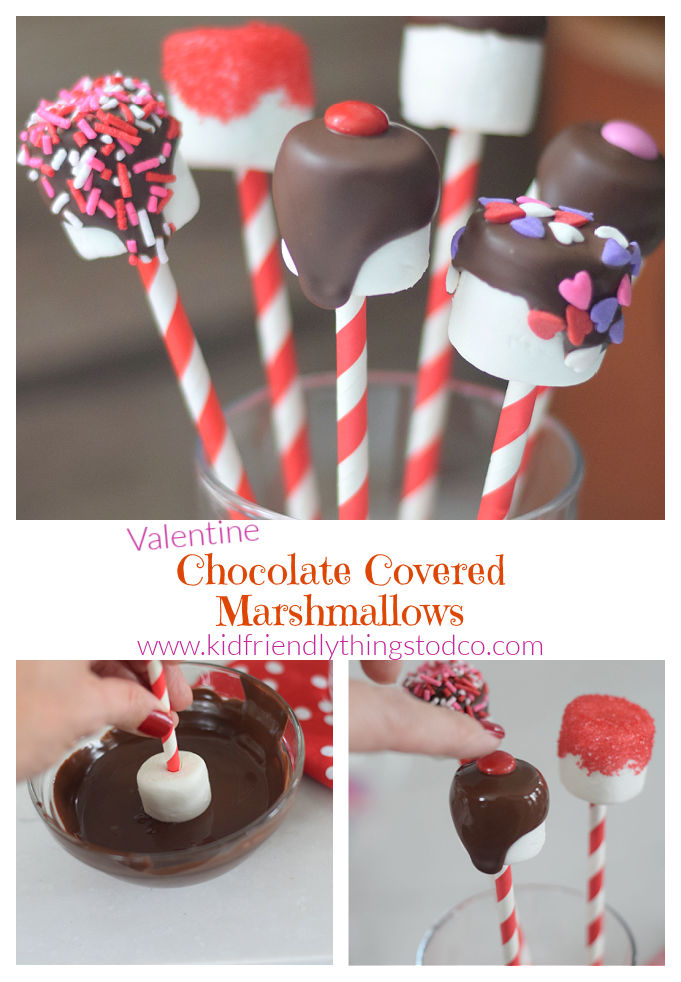 How do you get sprinkles to stick to marshmallows?
You can use chocolate as a glue to stick sprinkles to. Sprinkles of all types will stick to melted chocolate. Sugar crystals will stick to wet marshmallows. Simply dip the marshmallow into a cup of fresh water and cover in sugar crystals to decorate
Tips and Tricks for making Chocolate Covered Marshmallows
Use fresh marshmallows – an opened bag of marshmallows will go bad quickly. They will stick together or harden
Always use a fresh bag of chocolate melts – They also will go bad after a while. Old chocolate melts will not melt correctly
You can use chocolate almond bark, chocolate melts or chocolate chips 
*If you use chocolate chips, make sure you temper the the chocolate after it is melted – simply keep some chips out of the melting bowl. When you have melted the chips, add the chocolate chips that you kept aside to the melted chips and stir them in
Use a small glass microwavable proof bowl – using a small bowl will give you a deep pool of melted chocolate to dip into. If your bowl is too wide the chocolate will be shallow and you'll have to get creative to cover the marshmallow
My top Amazon picks for this fun treat…
(affiliate links)
Are you ready to make these delicious and easy marshmallow pops? 
Let's make sure that you have everything you need…
Ingredients:
chocolate almond bark – about 2 blocks will be enough
*alternatives would be melting chocolate chips – about 6 oz. or chocolate chips
regular sized marshmallows – large but not giant – about 1 dozen
paper straws or popsicle sticks
sprinkles – a variety of sprinkles like, hearts, jimmies, sugar crystals
candy toppings – like M&Ms or Raspberry gummies
small microwavable proof bowl – glass
cylinder filled with rice or Styrofoam block for holding pops to dry and displaying
*optional marshmallow pop bags for gifting purposes
Here's the recipe for making Valentine Marshmallow Pops…
Print
Valentine Marshmallow Pops | Kid Friendly Things To Do
Easy to make marshmallow pops for Valentine's Day
Author:
Prep Time:

10 minutes

Cook Time:

3 minutes

Total Time:

13 minutes

Yield:

1

dozen

1

x
2

blocks of chocolate almond bark
regular sized marshmallows
paper straws or popsicles sticks ( 1 dozen )
sprinkles and/or candy for toppings
Extra equipment:
tall cylinder filled with candy or rice to hold pops in while drying
an alternative would be a Styrofoam block for holding pops
small glass microwavable proof bowl
*optional bowl of water for sugar crystals
Instructions
insert popsicle sticks into the center of the marshmallows
melt chocolate by microwaving it for one minute and stirring, add 30 seconds if needed and stir until smooth
dip marshmallow only about 1/4 of the way down the marshmallow
place in container to dry
*the chocolate will drip down and dry as it drips – drying time will depend on the temperature of your house – if it is humid the chocolate will not dry quickly
Decorating:
you should decorate each marshmallow immediately after dipping it
while chocolate is still wet add sprinkles or a candy to the top
*sprinkles may drip down with the chocolate, but that will only make it prettier
Sugar crystal decorating:
dip marshmallow into water and roll it into the sugar crystals to decorate
Notes
Keep at room temperature for up to 3 days
you can use marshmallow pop bags to keep them extra fresh, but it is not necessary