Fried apples are delicious southern-themed comfort food. Perfect on biscuits, on a scoop of vanilla ice cream, or as a sweet side dish.  This recipe for Copy-Cat Cracker Barrel Fried Apples is an easy side to make and enjoy at any time.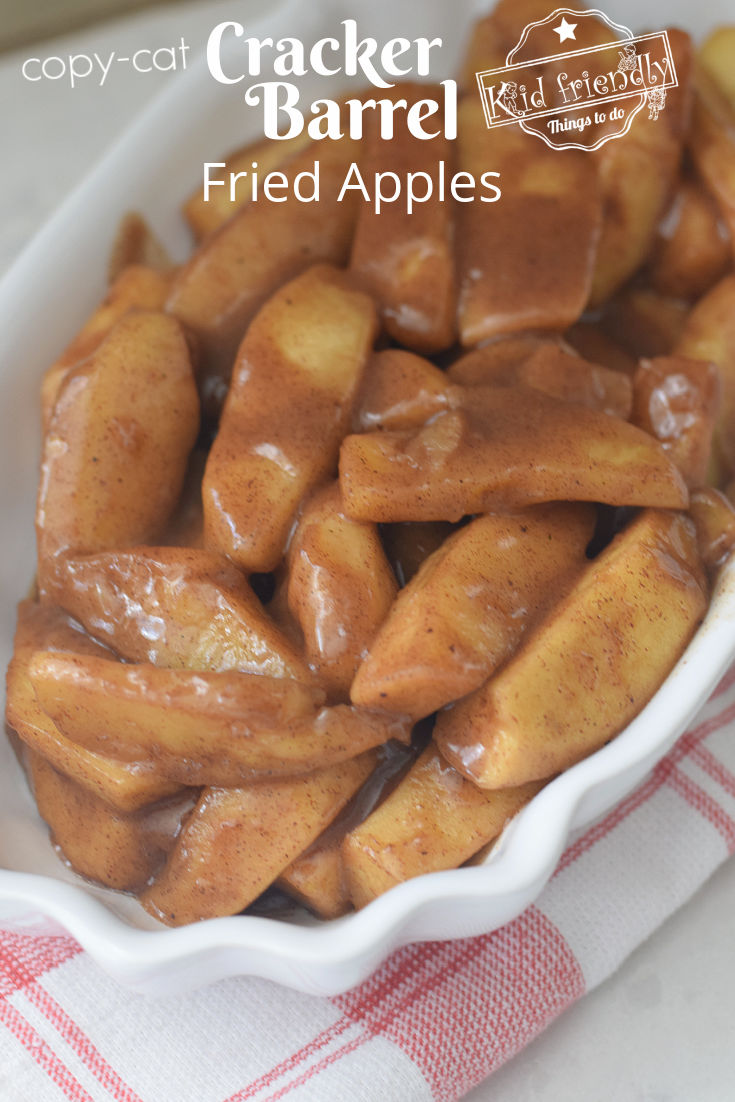 Cracker Barrel Fried Apples Recipe
Do you like Cracker Barrel recipes? Try some of my other posts, like…
If you've been on the blog before, you might know that I have a deep love for the south. And, along with that…a deep love for Cracker Barrel. My kids have no choice, but to love it along with me. We just love the home-cooking taste and the Old Country Store.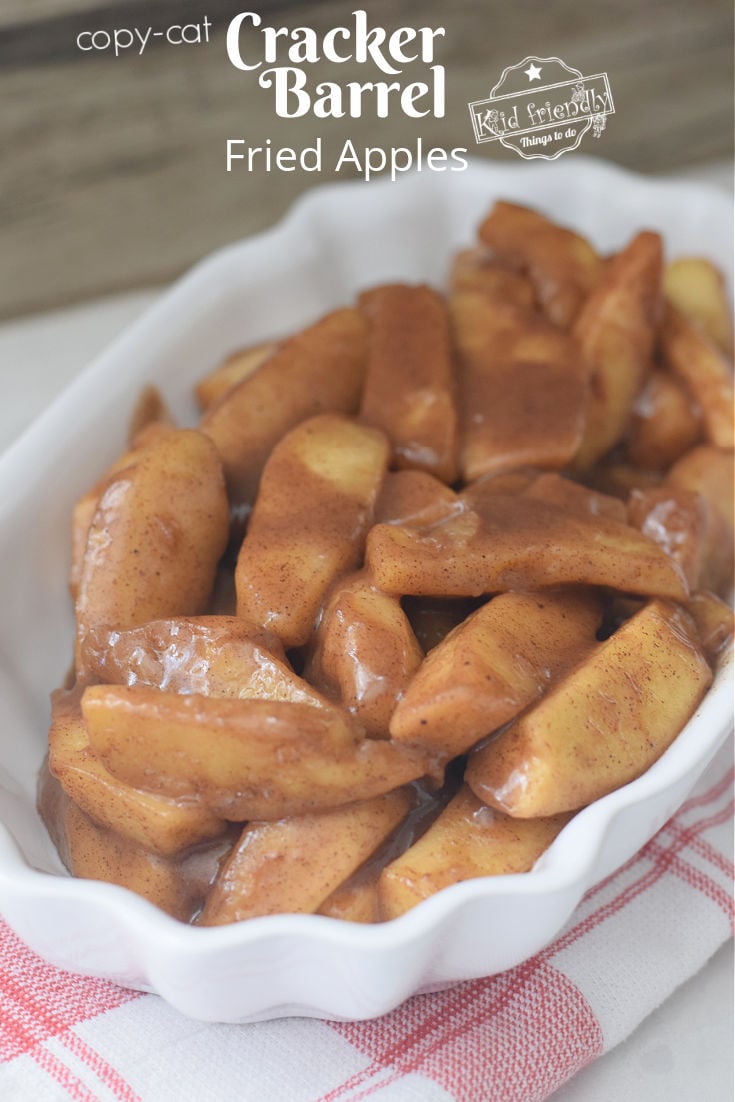 Of course, when it's time to eat, fried apples are usually on someone's plate. Michael and I especially love them. As a matter of fact, on one trip to our favorite restaurant, Michael ate ALL of my fried apples along with his. I had no choice when we got home, but to make a Copy Cat of Cracker Barrel's Fried Apples.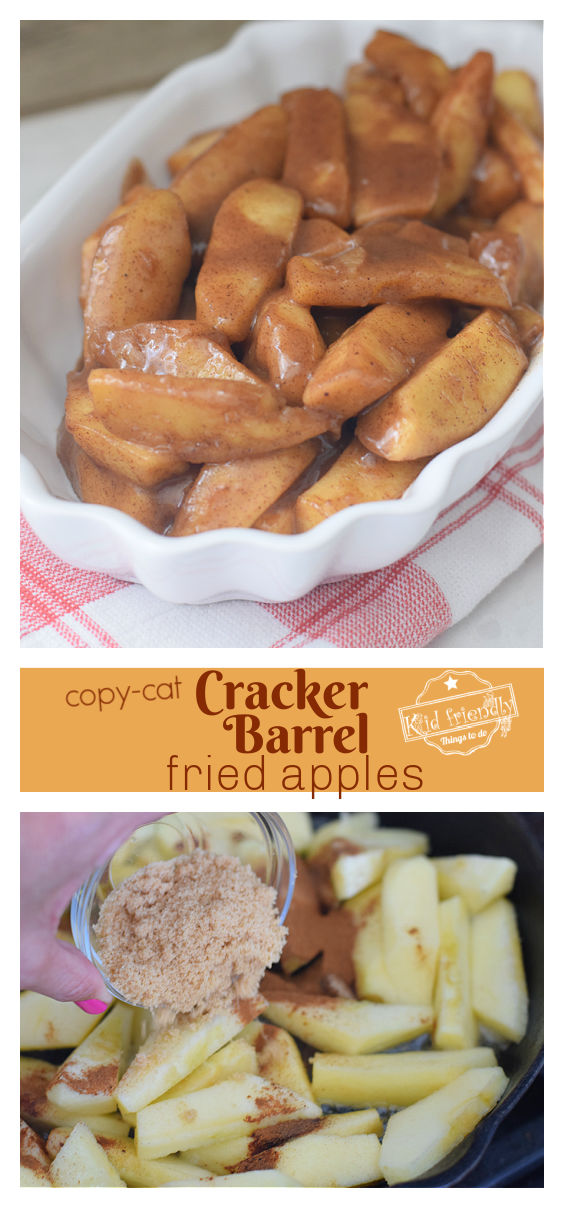 These fried apples come really close to the real version. My son, who eats fried apples on every trip to Cracker Barrel gave them a big thumbs up.
Are you ready to make this fried apple recipe? Let's make sure you have everything you need…
Ingredients:
(full recipe, below)
1/4 cup of unsalted butter
1/2 cup of apple cider – or apple juice
1 Tbsp. of cornstarch
6 large Golden Delicious apples – cored, peeled, and cut into wedges
1 tsp. of lemon juice
1 tsp. of ground cinnamon
1/8 tsp. of nutmeg
1/8 tsp. of allspice
1/4 cup of brown sugar
How Do You Store Fried Apples?
If you have any leftovers, cover them and store them in the refrigerator for up to five days
What Meat Goes Will with Fried Apples?
Fried chicken
Grilled chicken
Pork tenderloin
Grilled fish
Baked fish
Can you freeze fried apples?
You can freeze fried apples. Upon reheating frozen fried apples, the taste should stay the same but the texture may be altered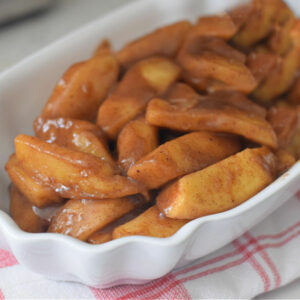 Copy Cat Cracker Barrel Fried Apples
Taste tested and approved by 2 Cracker Barrel fanatics – These delicious Fried Apples are a great side or dessert.
Ingredients
¼

cup

unsalted butter

½

cup

apple cider – or apple juice

1

Tbsp.

cornstarch

6

large

Golden Delicious apples

– cored, peeled, and cut into wedges

1

tsp.

lemon juice

1

tsp.

ground cinnamon

⅛

tsp.

nutmeg

⅛

tsp.

allspice

¼

cup

brown sugar
Instructions
In a very large skillet, melt your butter over medium heat

Add apples to melted butter and top with lemon juice and brown sugar – mix in

Cover, reduce heat to low and simmer until tender – about 15 minutes (stirring occasionally)

Keeping the juices in the skillet – Transfer the apples to a bowl

In a small bowl, stir the apple cider or juice with the cornstarch

Whisk the mixture into the juices in the skillet

Turn the heat up to medium and cook until it thickens and is smooth

Spoon the thickened mixture over the cooked apples
Notes
Serve over vanilla ice cream or as a side dish
nutrition facts are only an estimate 
Nutrition
Calories:
370
cal
Carbohydrates:
65
g
Protein:
1
g
Fat:
12
g
Saturated Fat:
7
g
Polyunsaturated Fat:
0.4
g
Monounsaturated Fat:
3
g
Trans Fat:
0.5
g
Cholesterol:
31
mg
Sodium:
14
mg
Potassium:
383
mg
Fiber:
9
g
Sugar:
49
g
Vitamin A:
524
IU
Vitamin C:
1
mg
Calcium:
50
mg
Iron:
1
mg