Yummy! Chocolate and Pretzels. I love that combination. Really, how can you go wrong with it? So when I saw a bag of round pretzels, I knew just what I was going to turn them into…Turkeys! I am just tickled at how these little Turkey Pretzel Treats turned out. I just love their cute little faces. 
For these little turkeys, you will need:
Brown chocolate melts – 1 12 oz. bag will make about 3 doz.
Round pretzel rings
Candy Corn
Candy Eyes
Mike & Ike candies for the beak – or something similar
Red Pull & Peel Licorice, peeled & broken into 1-2″ pieces
Parchment or Wax Paper
Now:

Melt your chocolate melts according to the package directions (in a glass heat proof bowl)
Grab yourself some parchment or wax paper and set it out for the candy
Place your pretzel rounds out on top of the paper
Set out all of your candy parts
Grab a spoon, and start spooning melted chocolate into each round – I poured enough chocolate in so that the chocolate mound was a little taller than the surface of the pretzel for a more rounded face
While the chocolate is still melted, place your beaks, eyes, and licorice into the melted chocolate faces
*Don't worry if your chocolate sets up and hardens before you get a chance to decorate the turkey face. Just use a toothpick to add some melted chocolate from your bowl to the back of the eyes, beak, and gobble 🙂
Now, dip the candy corn bottoms into the bowl of melted chocolate, and fan them out around the top portion of the pretzels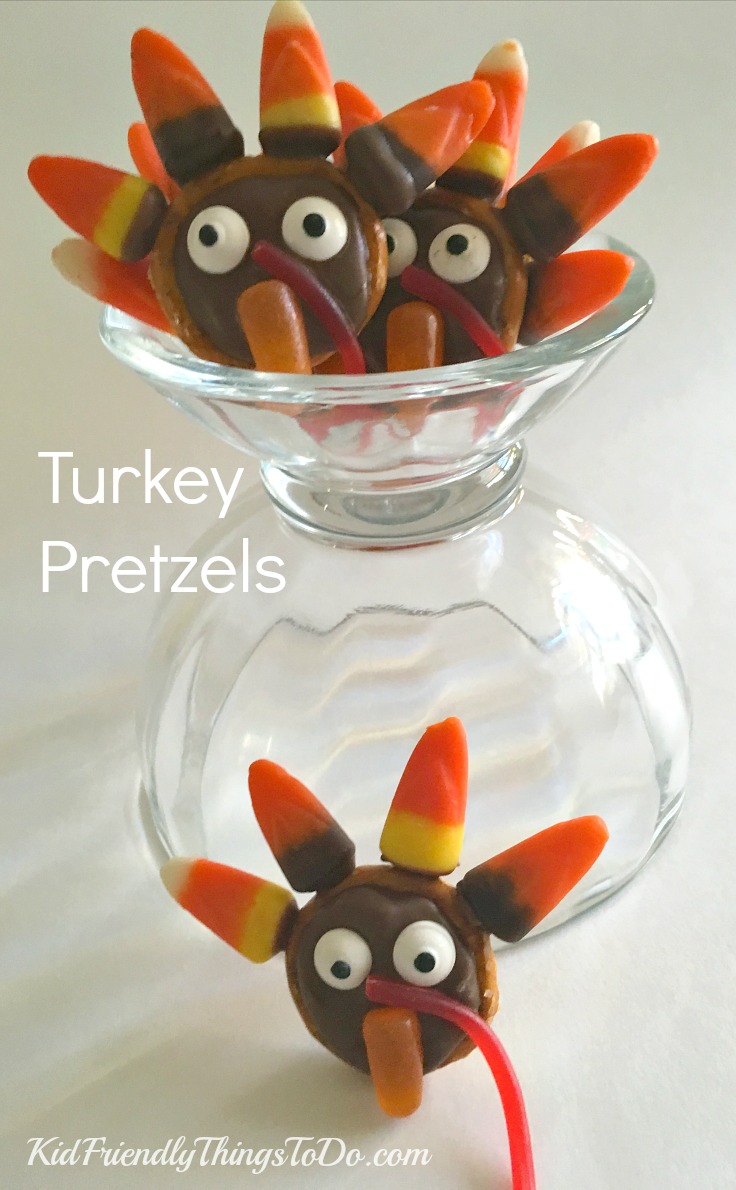 You're done! Enjoy your cute little turkeys!
They are sure to be a hit with your "little turkeys" on Thanksgiving!
~Melissa – KidFriendlyThingsToDo.com
Here's some equipment you might need or even want for your cute little turkey treats!
(contains affiliate links)
[box] [/box]
Thanks for stopping by! Happy Thanksgiving!