These Ghost Cupcakes are so much fun. Made with foil balls to shape the cupcakes into ghostly figures, these Ghost Cupcakes are sure to be a hit at any Halloween party.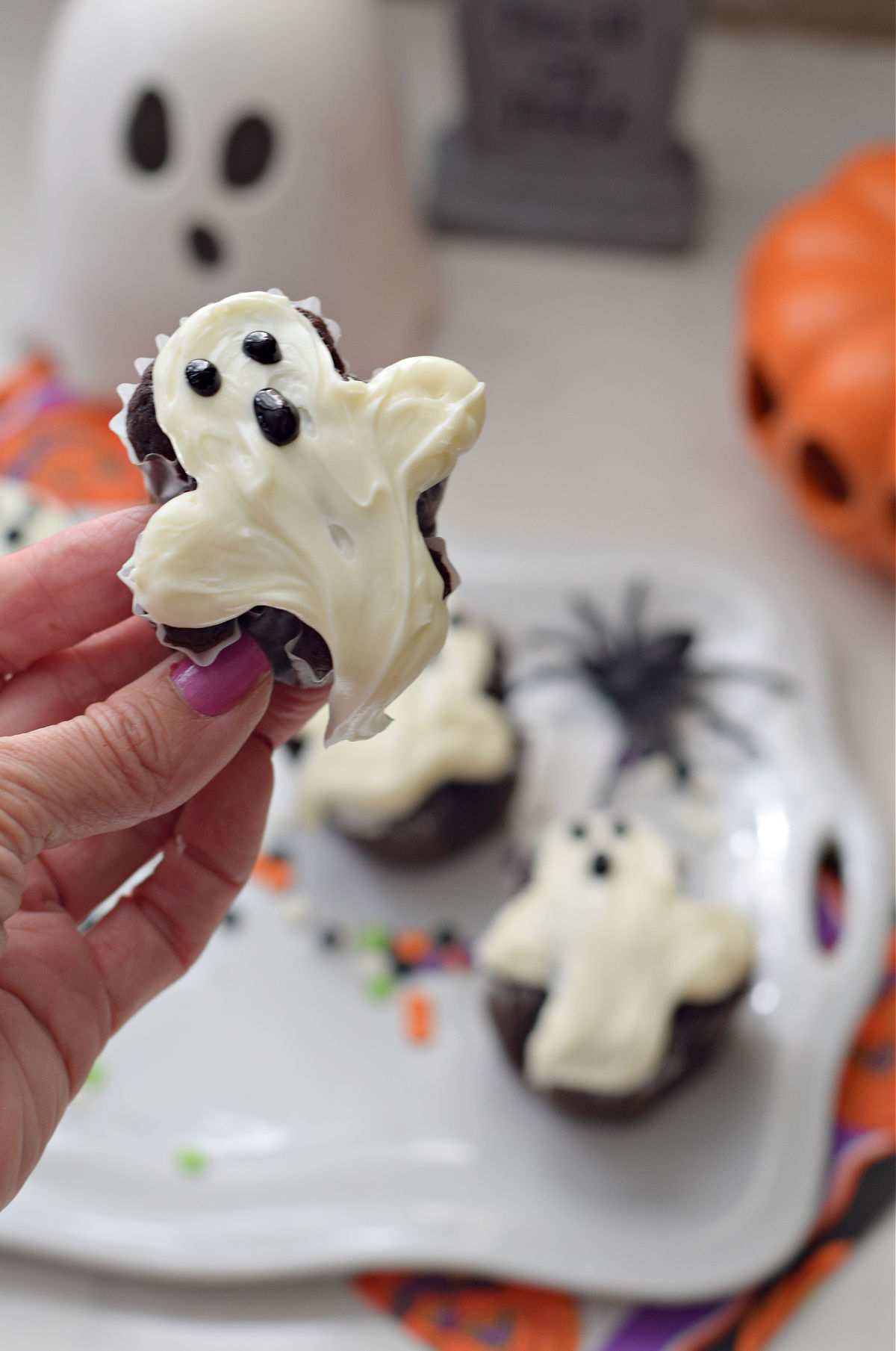 Ghost Cupcakes
This Halloween dessert would be such a fun food to serve at any Halloween Event. During fall I love to celebrate with Halloween Party Treats, Halloween Drinks, and Halloween Appetizers. We love cupcake recipes, so when my daughter sent me a short video showing fun ghost-shaped cupcakes, I knew I had to give it a try.
I made these a couple of times and learned a few tips and tricks along the way which I will happily share with you, today in hopes that you have a successful Halloween Snack for the kids to enjoy.
If you are looking for more Halloween Recipes, then you have found the right place. Halloween is one of my favorite holidays, so I have lots of fun Halloween ideas to share with you, like this Jack-O-Lantern Taco Dip, Monster Mash Punch with a floating frozen hand, and healthy Halloween Candy Corn Parfaits
What I love about this Halloween Snack Idea
The ghost shapes of these cupcakes are easy to make and so much fun to eat
This is a fun and easy Halloween treat to make
Using a boxed cake mix is a nice shortcut to make this a really easy recipe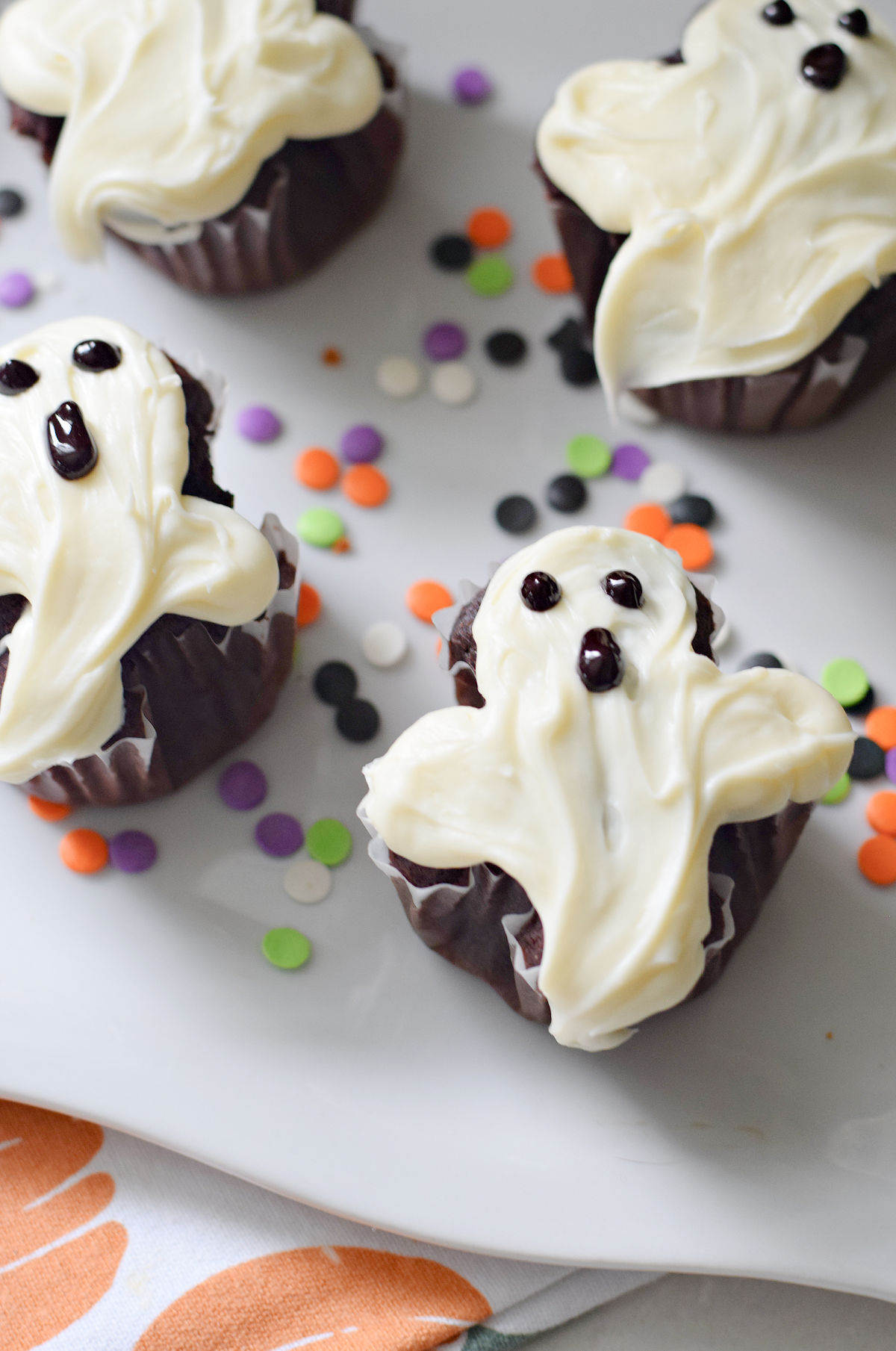 Ingredients
Box Cake Mix – I used a chocolate fudge cake mix from Betty Crocker
Oil – I like to use canola oil or vegetable oil
Eggs – You'll probably need a few large eggs for your cake mix recipe. I had to use 3 large eggs
Water – Water is used along with the oil and eggs to moisten the mix into a batter that can pour into your cupcake tins or cupcake wrappers
Frosting – You'll want bright white frosting to make these fun ghost treats
Black Decorating Gel – The first time I made these ghosts, I used a piping bag with a writing tip and chocolate frosting. I did not really like the ghosts with brown eyes and mouths or the frosting. The decorating gel looks so much better and the color black is really the best to use – in my opinion
Equipment You Might Need
Cupcake Tin – This recipe will probably make enough for 2 dozen cupcakes
Cupcake Wrappers – I like to use white wrapped to match the ghosts
Foil – You'll need this to make tiny balls for shaping the cupcakes. I have seen people use marbles to make cupcake shapes, so that can be an alternative
A silicone spreader to spread the cupcake frosting
Piping bag with a wide round piping tip – This is actually necessary. The first time I made these cupcakes, I thought I could just frost the cupcakes without piping the frosting. It changes the entire look of the ghost
How to Make Ghost Cupcakes
Step One
Preheat the oven to 350 degrees
In order to make a ghost cupcake you will need to first mix your cake mix with the necessary ingredients like eggs, oil, and water, and mix
Then, you'll line your cupcakes with white cupcake wrappers
Wrip off strips of foil and tear those into small squares – about 2×2 inches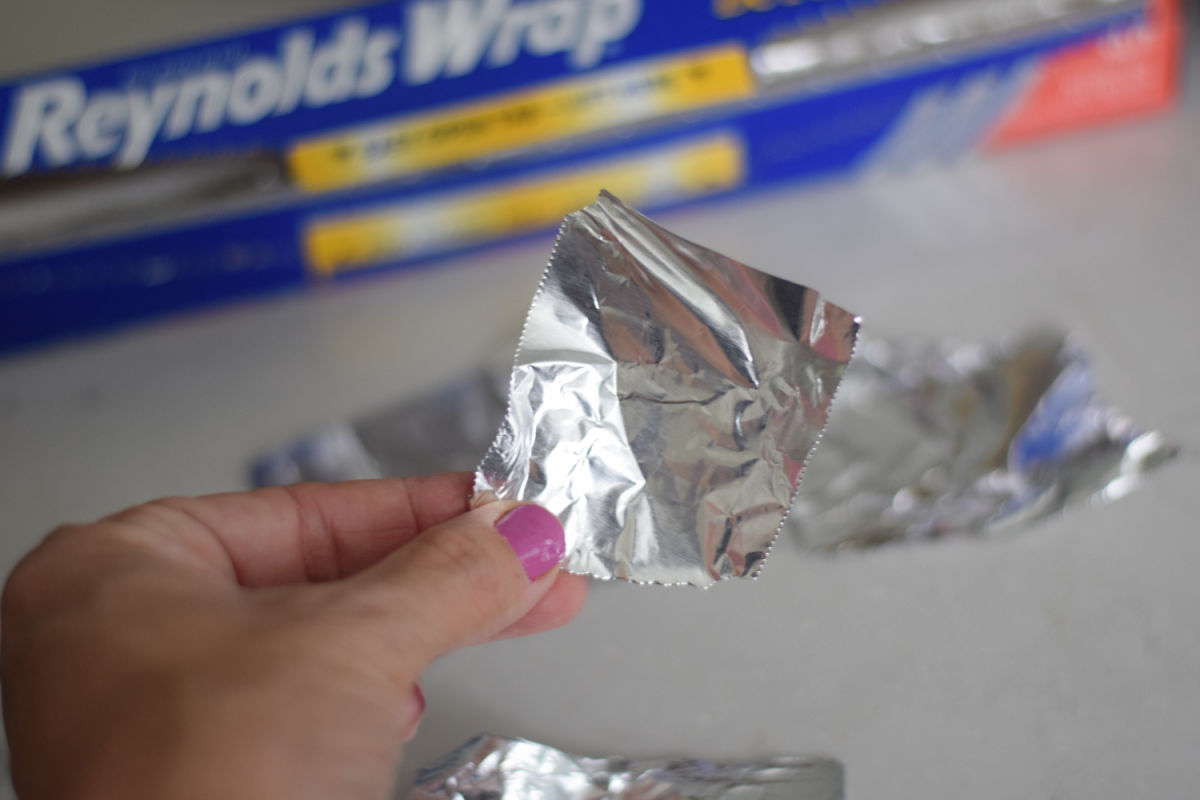 Roll the foil squares into balls of foil
Step Two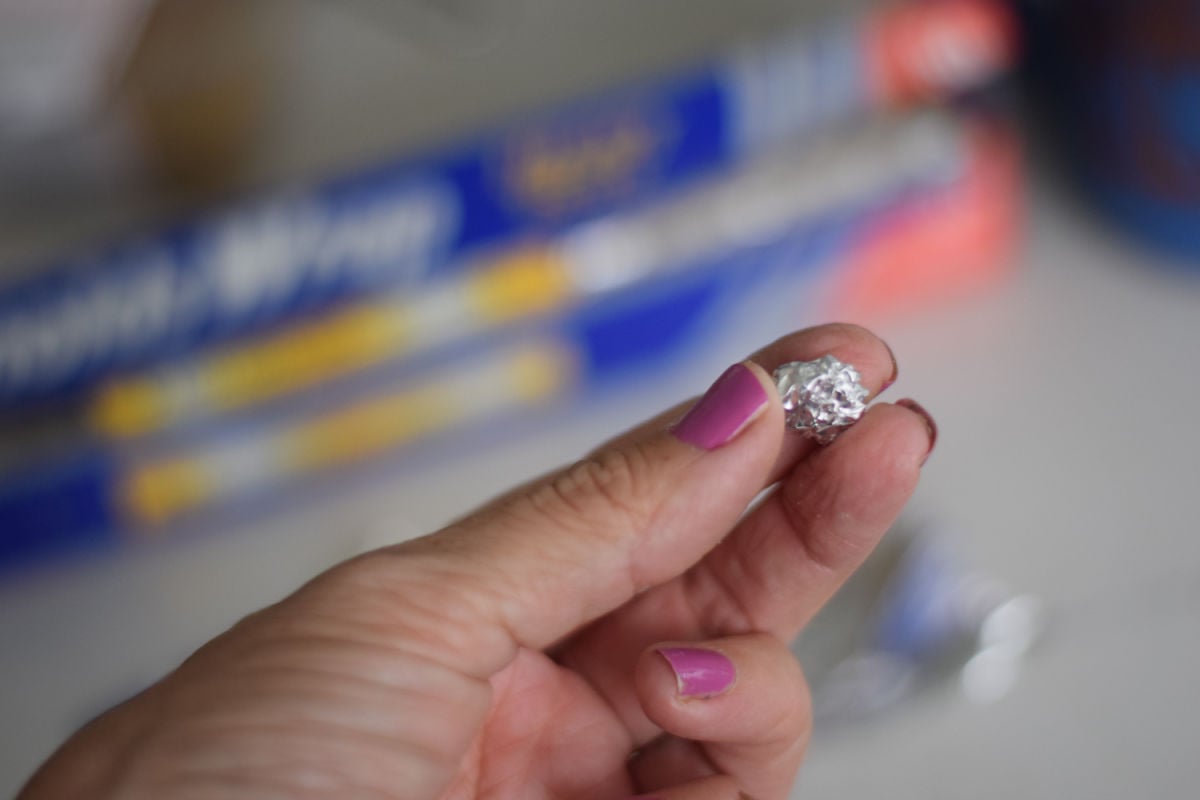 Step Three
Spoon or pour cupcake batter into cupcake wrappers until they are about 2/3 full
Place 4 foil balls around each filled wrapper in the shape of a cross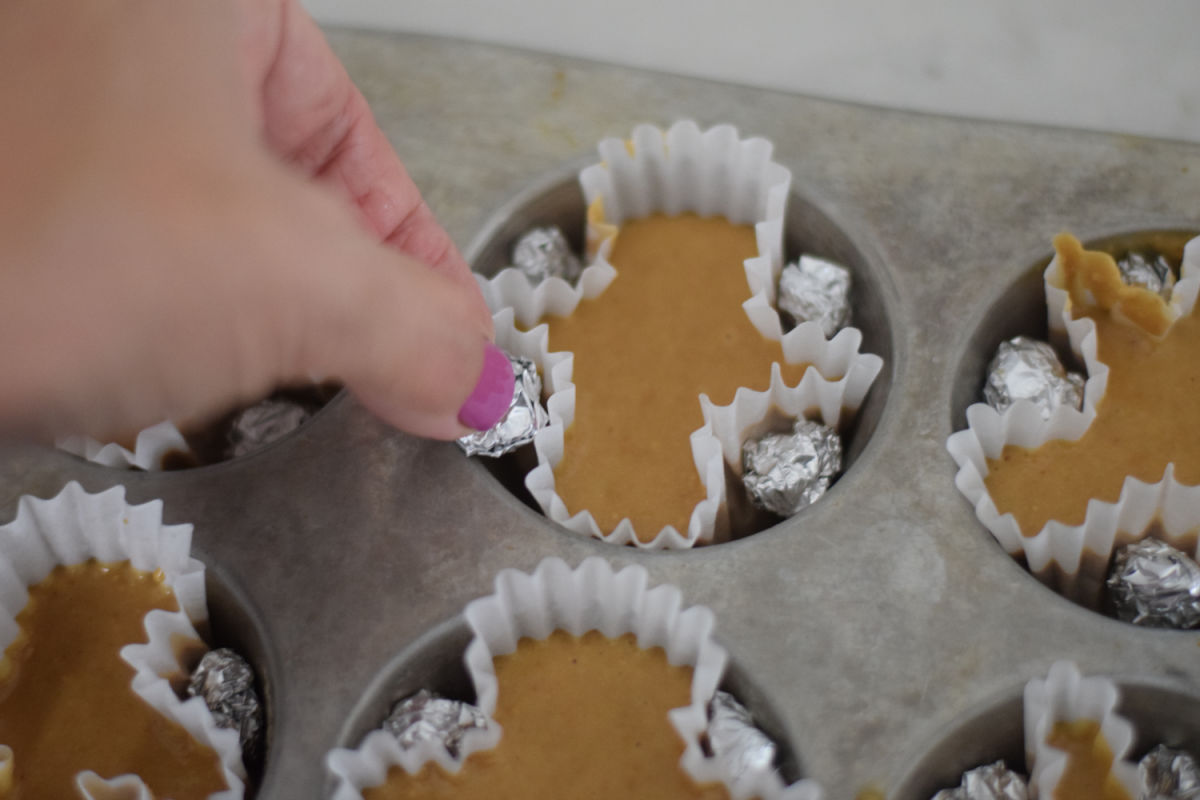 Step Four
Bake the cupcakes for about 15 minutes
Let the cupcakes completely cool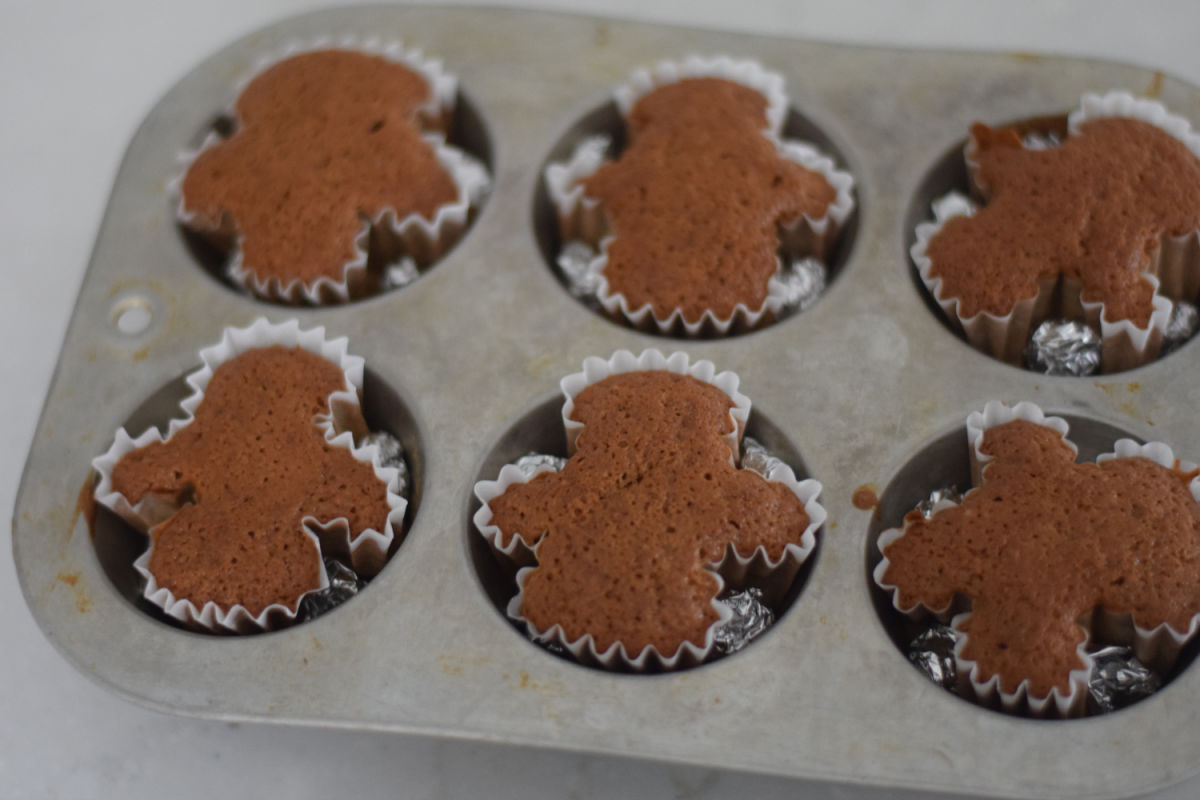 Step Five
Spoon frosting into the piping bag
Pipe frosting into a cross shape onto each cupcake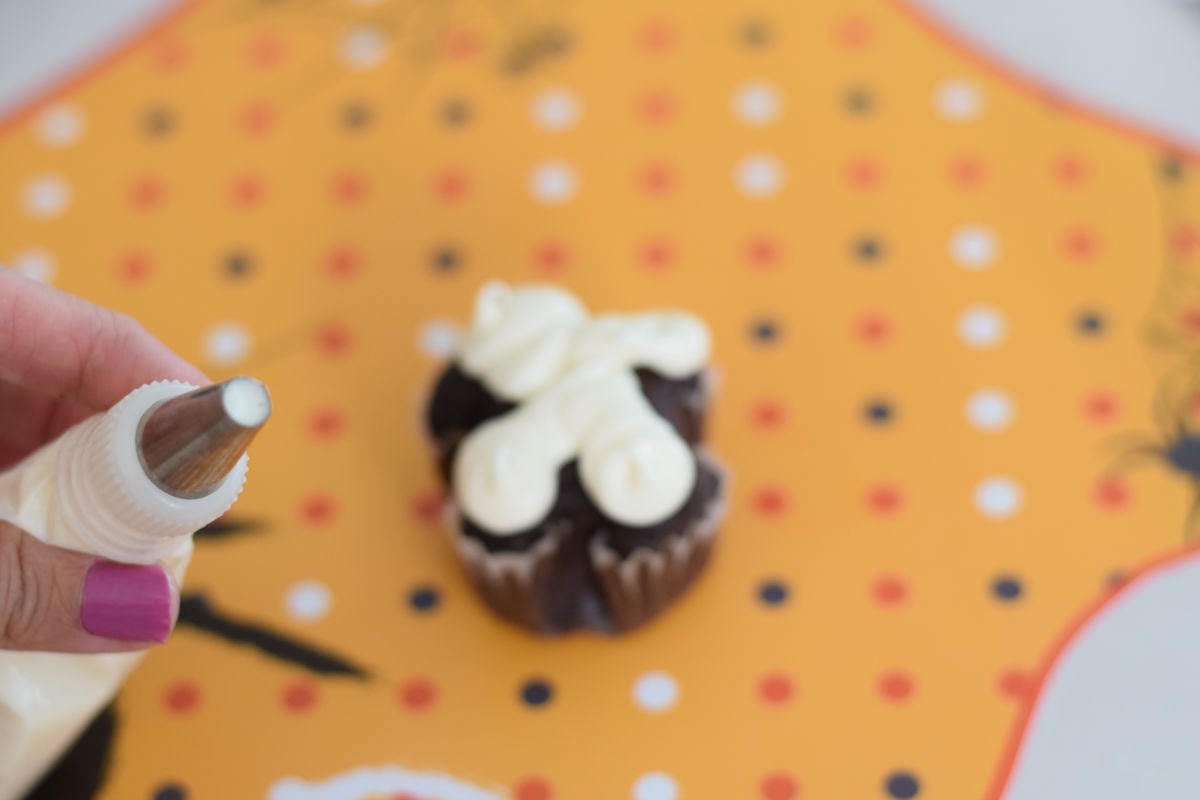 Step Six
Spread and shape the frosting around the cupcake into a ghost figure
For the tail, pull the frosting past the cupcake and down a little bit into a tip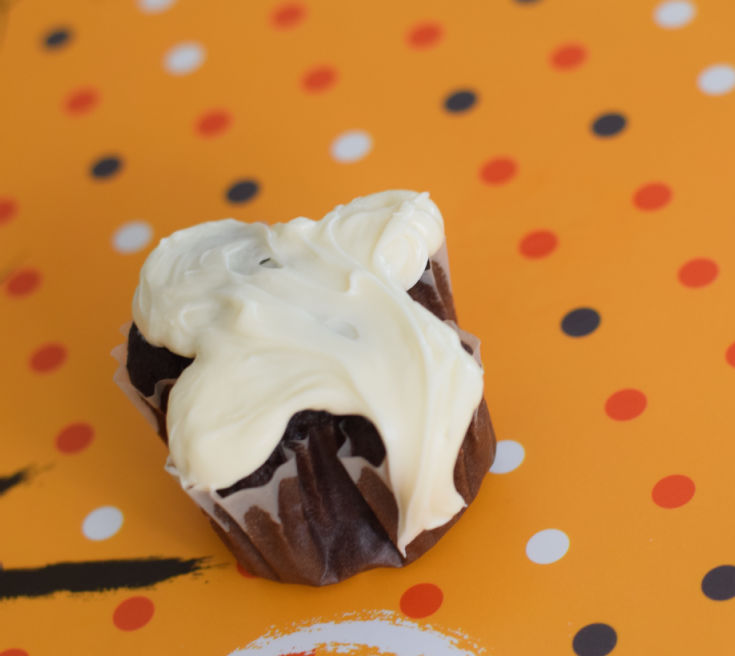 Step Seven
Decorate the face of the ghost with the black decorating gel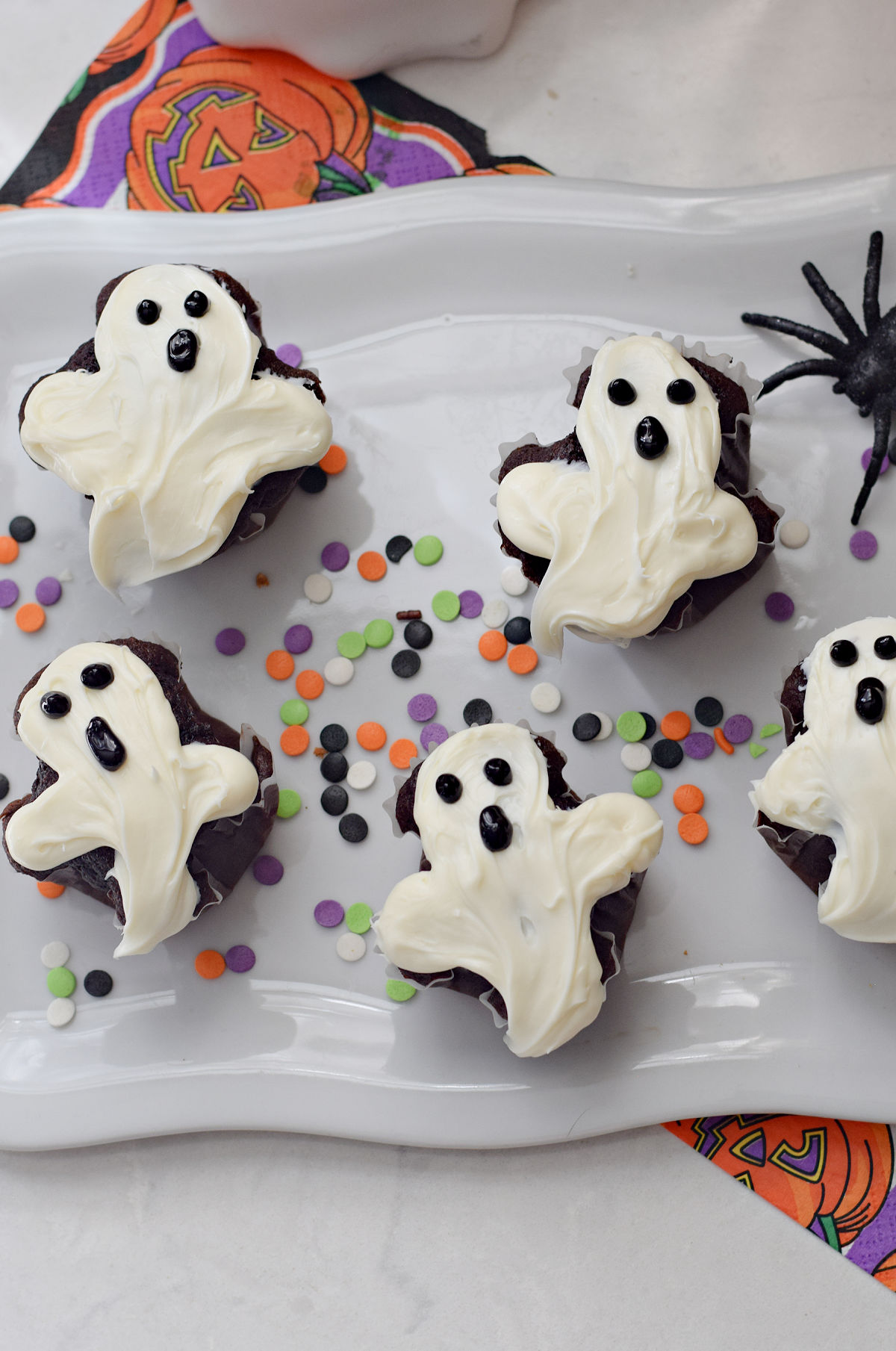 Expert Tips
Use a wide round tip and a piping bag to frost these cute Halloween cupcakes. If you don't have piping bags then you use a baggie as a piping bag. Simply cut a tip for the hole and insert the inside piping coupler and attach the tip with the outside part of the coupler
Use a tall glass or a glass measuring cup to hold the piping bag opened while you spoon frosting into the bag
Variations
There are several ways to make ghosts as cupcake toppers. You can use marshmallows as ghosts or make a tall ghosts with swirls of frosting.
Instead of decorating gel, you can use chocolate chips inserted backward
What to Serve with Cupcakes
How do you Use a Piping Bag?
Place the inside coupler into the bottom of the piping bag and push it tightly into place. Cut the tip of the bag off. Place the piping tip on the outside of the bag over the hole and the inside coupler. Screw the outside coupler over the tip and onto the inside coupler
Can you Freeze Cupcakes?
Yes. It is better to freeze unfrosted cupcakes, but you can freeze frosted cupcakes. Freeze frosted cupcakes unwrapped so the frosting has time to harden and keep its' shape. Then, place frozen cupcakes into a freezer bag for freezing up to 2 months
Storing
You can store cupcakes in an airtight container at room temperature for up to 2 days.
Store unfrosted cupcakes at room temperature, covered for up to 4 days
Freezing: I would not suggest freezing cupcakes with the gel decoration because upon thawing the black color will run and bleed into the white frosting
To freeze frosted cupcakes, freeze uncovered for a few hours to let the frosting shapes harden. Then, you can place in a freezer container and freeze
More Halloween Treats You'll Enjoy
Serving Size
This recipe should make about 24 cupcakes
My top Amazon Picks for this recipe
(affiliate links)
Come Follow Along with Me on Social Media
Every time I share something on the blog, I also share it on my Pinterest account, and on my Facebook Pages Cooking Up Fun and Recipes Passed Down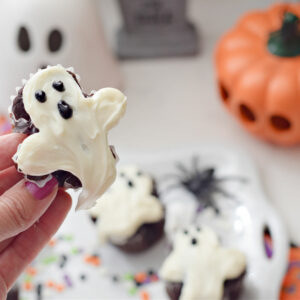 Ghost Cupcakes
Make ghost shaped cupcakes for a fun Halloween treat
Print
Pin
Rate
Equipment
cupcake tin

cupcake wrappers

foil

piping bag with large round piping tip
Ingredients
1

box

cake mix

I used Betty Crocker Triple Chocolate Fudge

1

cup

water

½

cup

oil

3

large

eggs

1

16 oz.

frosting

white

1

1 oz.

decorating gel

black
Instructions
Preheat the oven to 350 degrees

In order to make a ghost cupcake then you will need to first – in a large bowl mix your cake mix with the necessary ingredients like eggs, oil, water, and mix

Then, you'll line your cupcakes with white cupcake wrappers

Rip off strips of foil and tear those into small squares – about 2×2 inches

Roll the foil squares into balls of foil

Spoon or pour cupcake batter into cupcake wrappers until they are about 2/3 full

Place 4 foil balls around each filled wrapper in the shape of a cross

Bake the cupcakes for about 15 minutes

Let the cupcakes completely cool

Spoon frosting into the piping bag

Pipe frosting into a cross shape onto each cupcake

Spread and shape the frosting around the cupcake into a ghost figure

For the tail, pull the frosting past the cupcake and down a little bit into a tip

Decorate the face of the ghost with the black decorating gel
Notes
nutrition facts are only an estimate 
Nutrition
Calories:
131
cal
|
Carbohydrates:
18
g
|
Protein:
2
g
|
Fat:
6
g
|
Saturated Fat:
1
g
|
Polyunsaturated Fat:
2
g
|
Monounsaturated Fat:
3
g
|
Trans Fat:
0.1
g
|
Cholesterol:
23
mg
|
Sodium:
159
mg
|
Potassium:
22
mg
|
Fiber:
0.2
g
|
Sugar:
9
g
|
Vitamin A:
34
IU
|
Calcium:
51
mg
|
Iron:
1
mg