These adorable Frankenstein Cupcakes are perfect for Halloween. Baked in ice cream cones, these chocolate Halloween cupcakes topped with Reese's are as fun as they are easy to make. They are perfect for Halloween parties or a fun after-school Halloween Treat for the kids.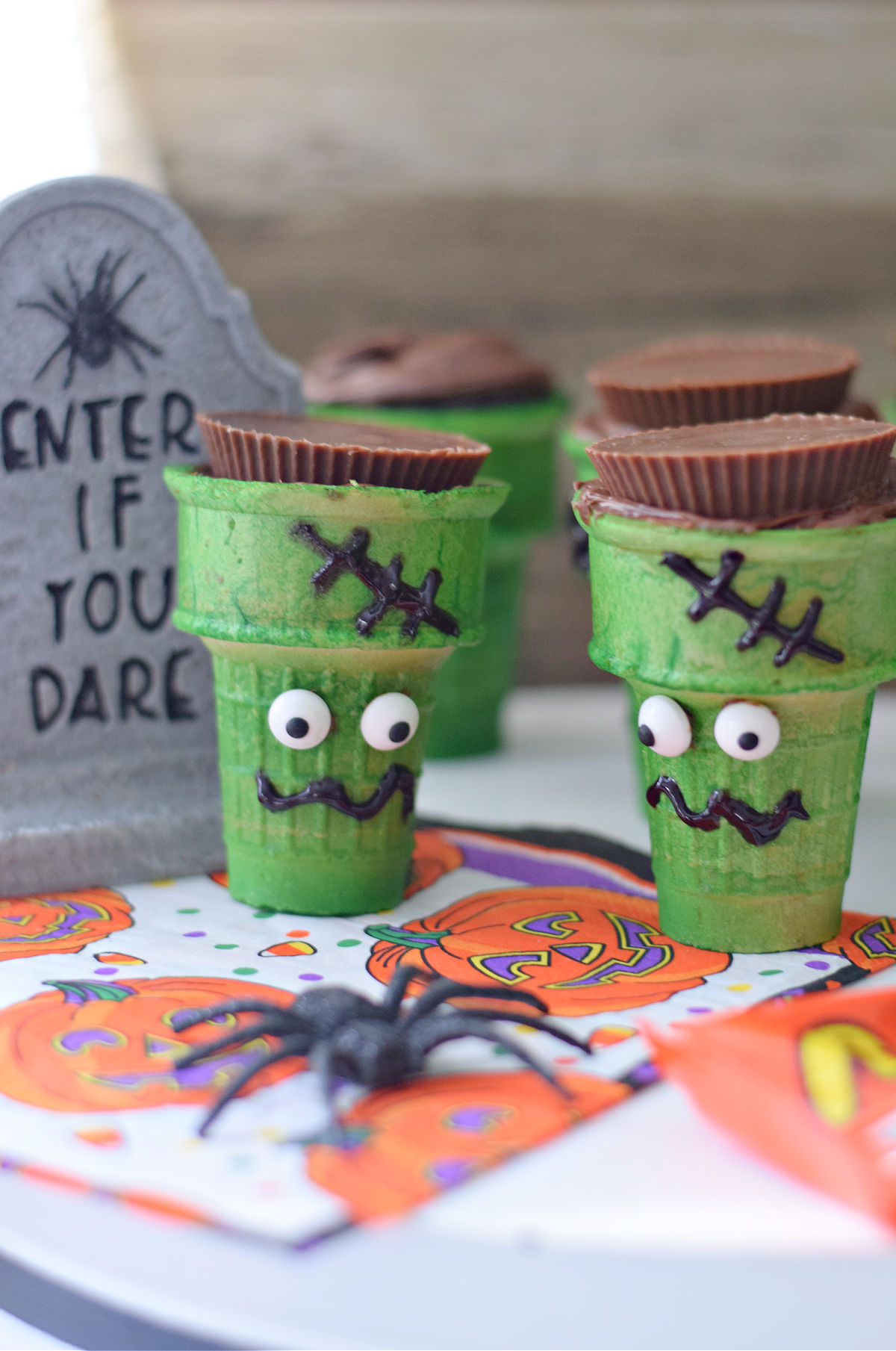 Frankenstein Cupcakes
These Halloween cupcakes go perfectly with Frankenstein Rice Krispies Treats, and Frankenstein Hot Chocolate Spoons. I love the expression on these Halloween cupcakes which are an easy Halloween Snack. They really are the cutest Frankenstein cupcakes and are simply delicious with chocolate-baked cupcakes, topped with chocolate frosting and a Reese's cup.
These are the perfect complement to these adorable Ghost Cupcakes that the kids will absolutely love.
What I love about these fun Halloween Cupcakes
These are such a fun treat for a kid's Halloween party
Easy to make
With chocolate on top of chocolate and Reese's peanut butter cups, they are a big hit
Ingredients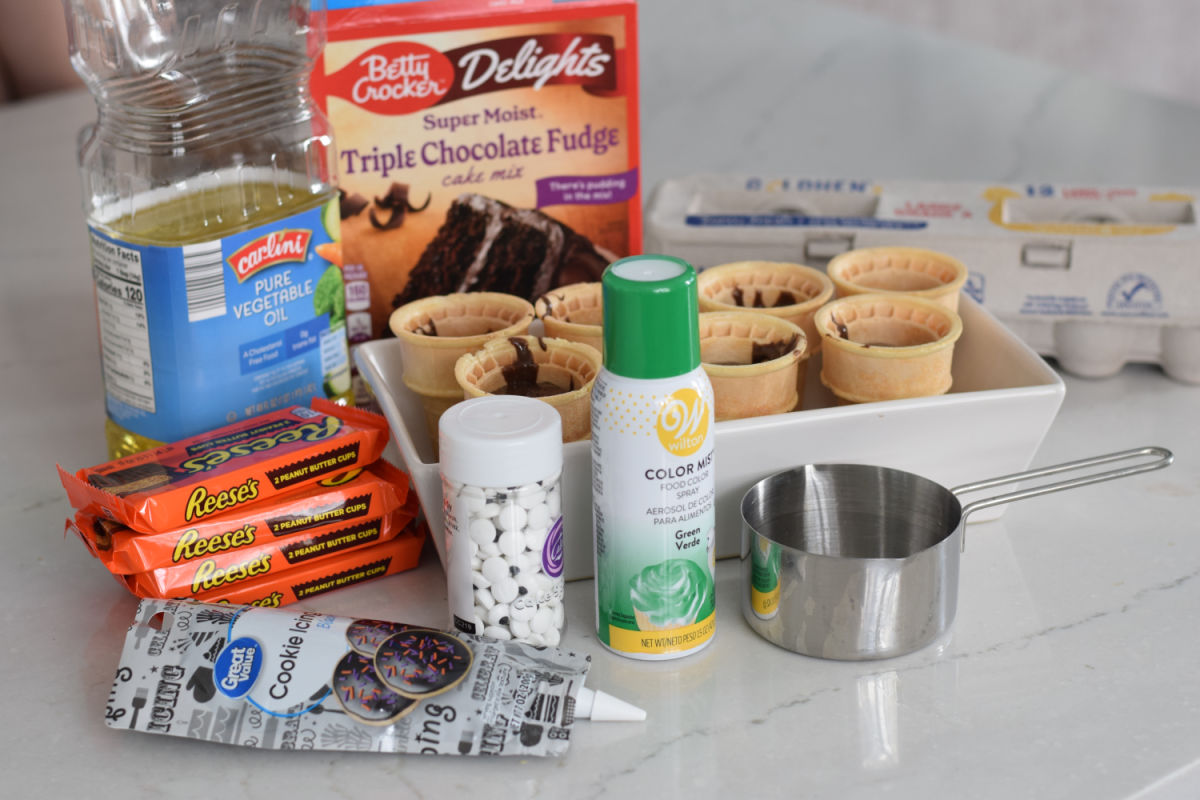 Chocolate Cake Mix – I used Betty Crocker Triple Chocolate Fudge
Oil – this will be used to mix with the boxed cake mix
water – another ingredient needed to make the cake batter
eggs – the cake mix that I required 3 large eggs to mix into the batter
chocolate frosting – I just used a store-bought container of chocolate frosting
Ice cream cones – Use cake ice cream cones
Food Color Spray – I'm pretty sure that back in the day, green cake cones used to be something you could find in grocery stores, but they don't exist today. You'll have to color the baked cones green
Reese's cups – You'll need the original-sized Reese's Peanut Butter Cups, not the miniature sized that they sell at Halloween
Candy Eyes – These are easily found at most grocery stores in the baking aisle
Decorating Gel – You'll need to get black decorating gel
Equipment You Might Need
Deep dish baking pan – I used a bread loaf because I was only baking 7 cupcakes and they fit perfectly inside a bread loaf. If you are baking more cupcakes, then you could probably use a larger baking dish. You'll definitely want one with high enough sides to help support the tall ice cream cones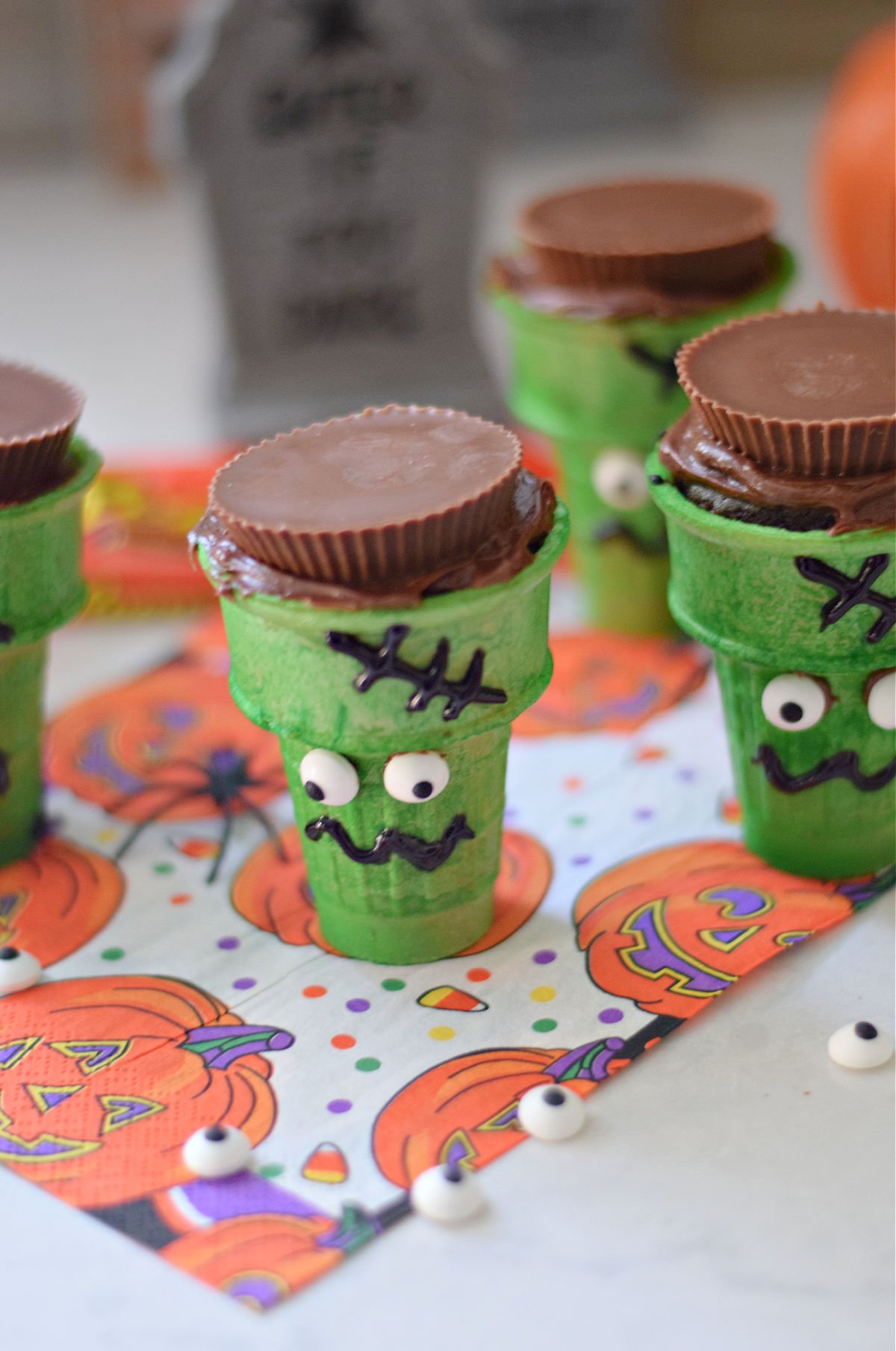 How to Make Frankenstein Cupcakes
Step One
Mix the cake mix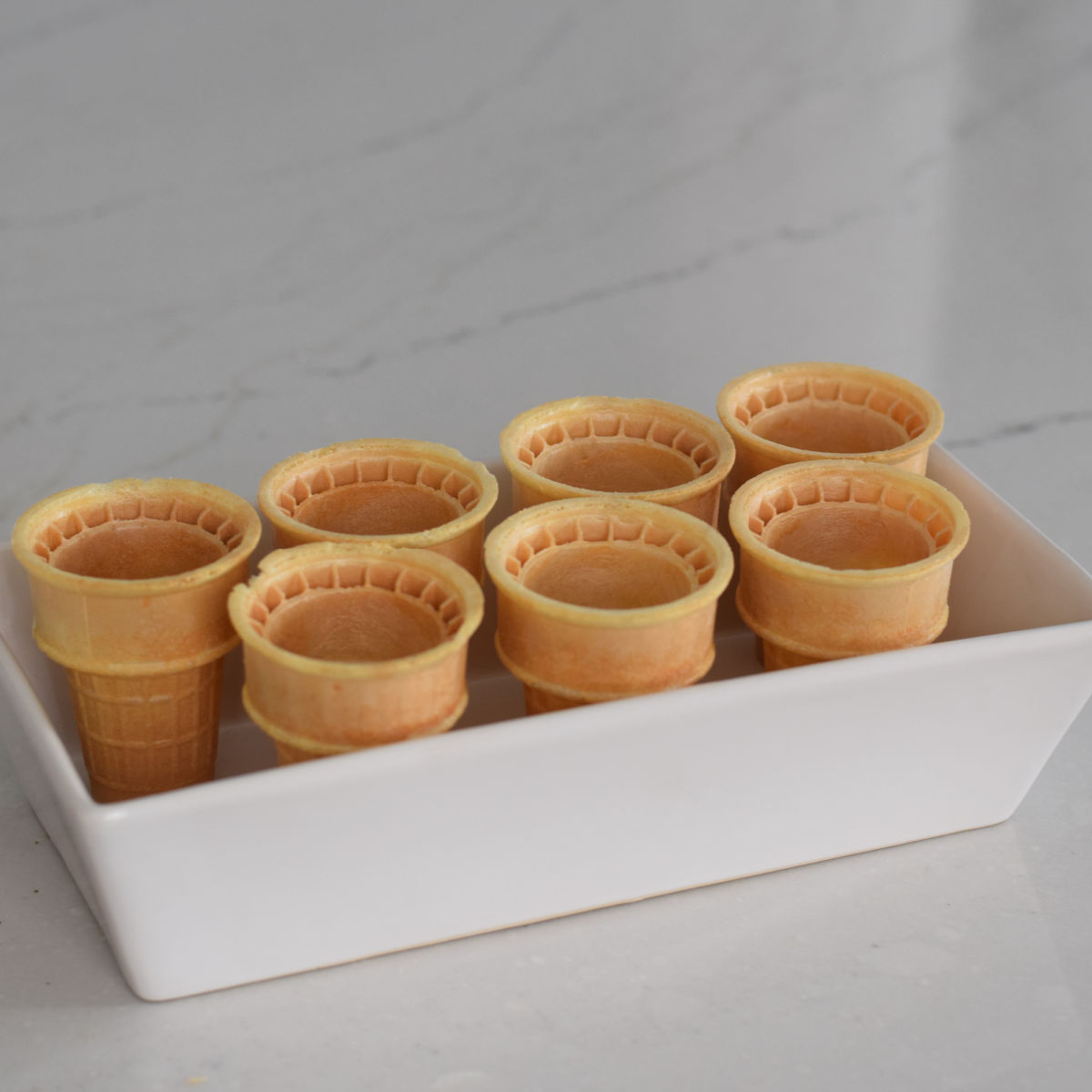 Step Two
Place cake cones inside a baking dish or bread loaf pan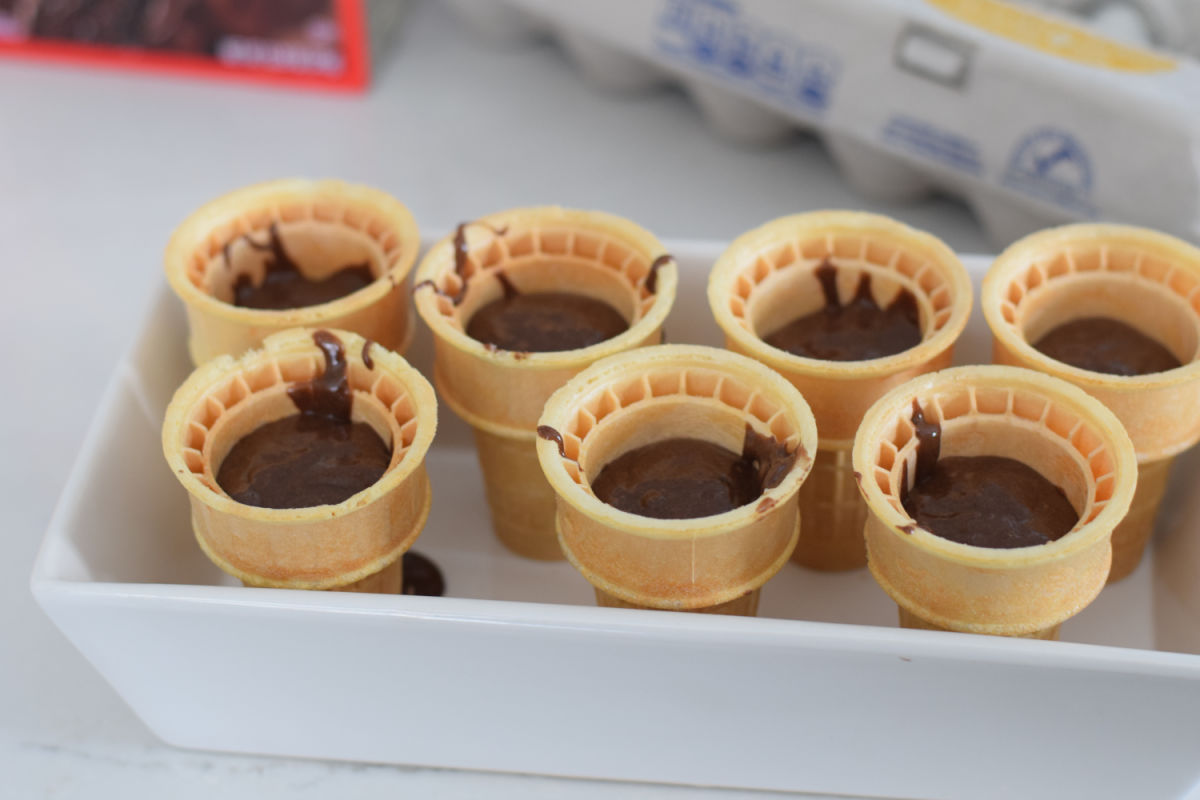 Step Three
Pour cake batter into cones going about 2/3 of the way up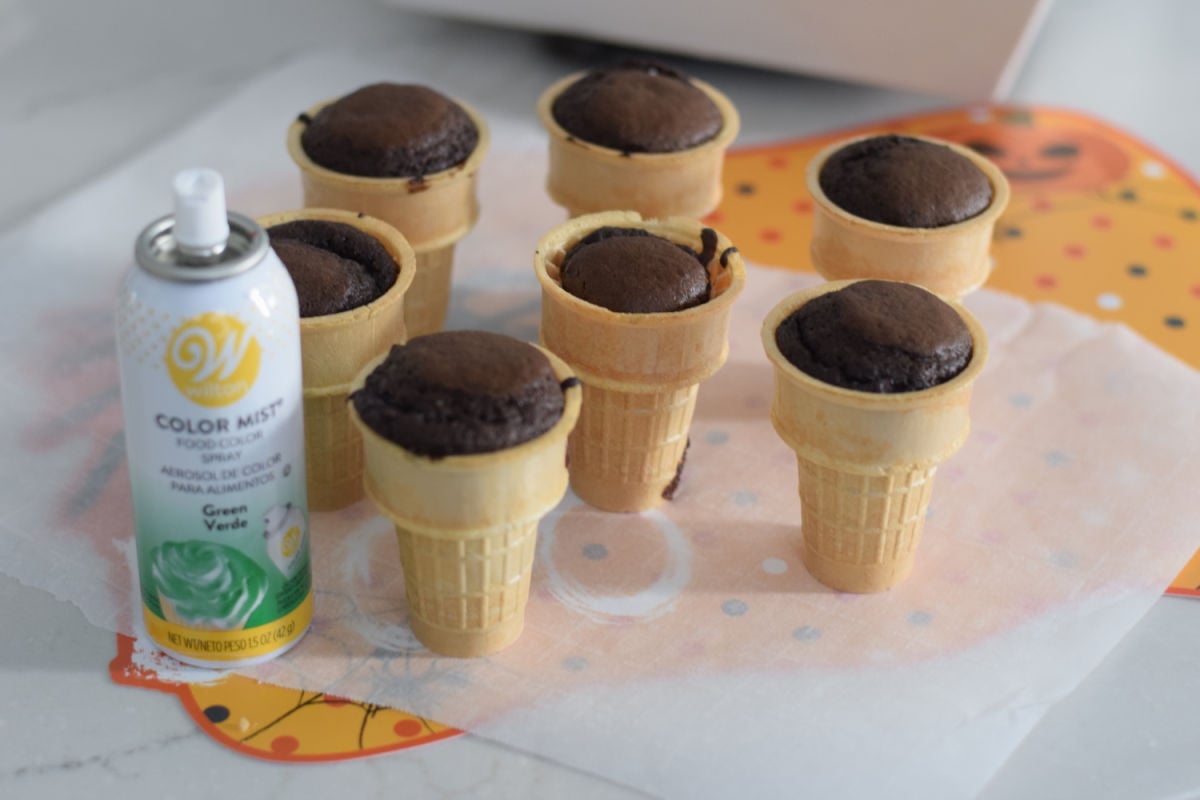 Step Four
Bake cupcakes
Let the cupcakes cool completely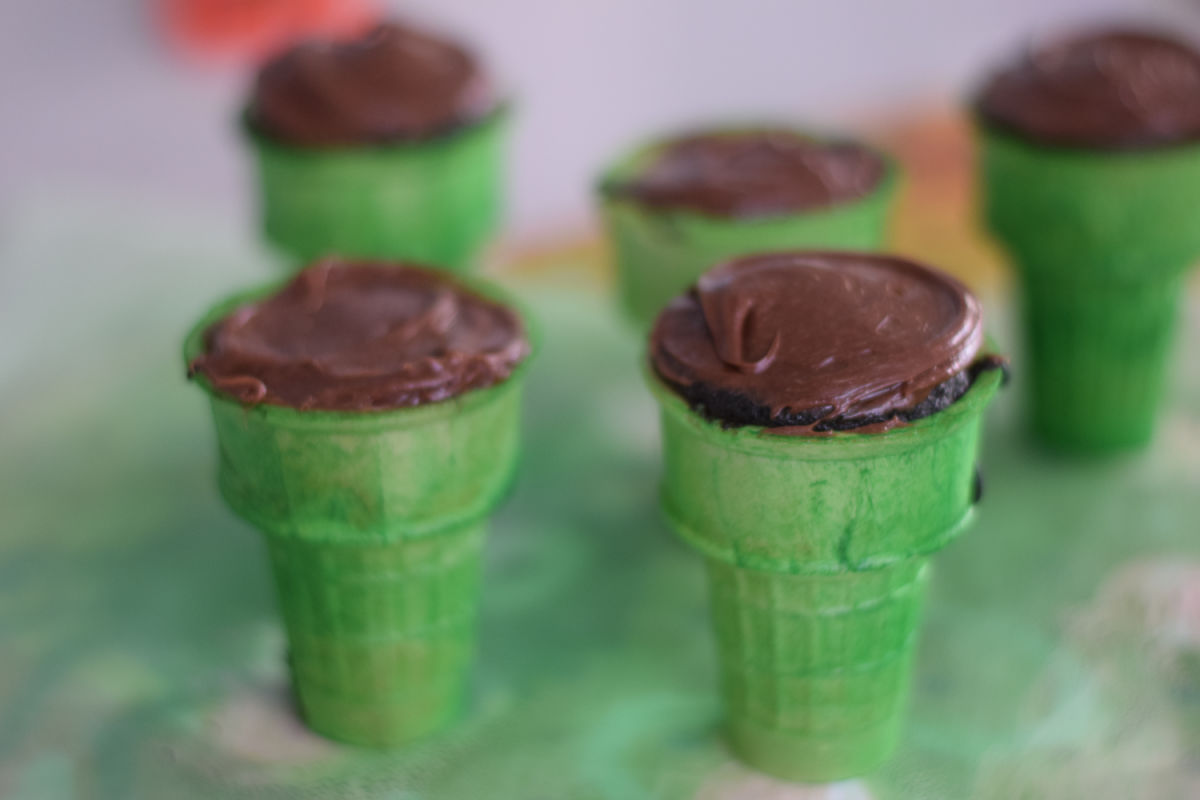 Step Five
Spray the cupcake cones with the green food spray
Frost cupcakes with chocolate frosting
Let that dry – It will only take a minute or two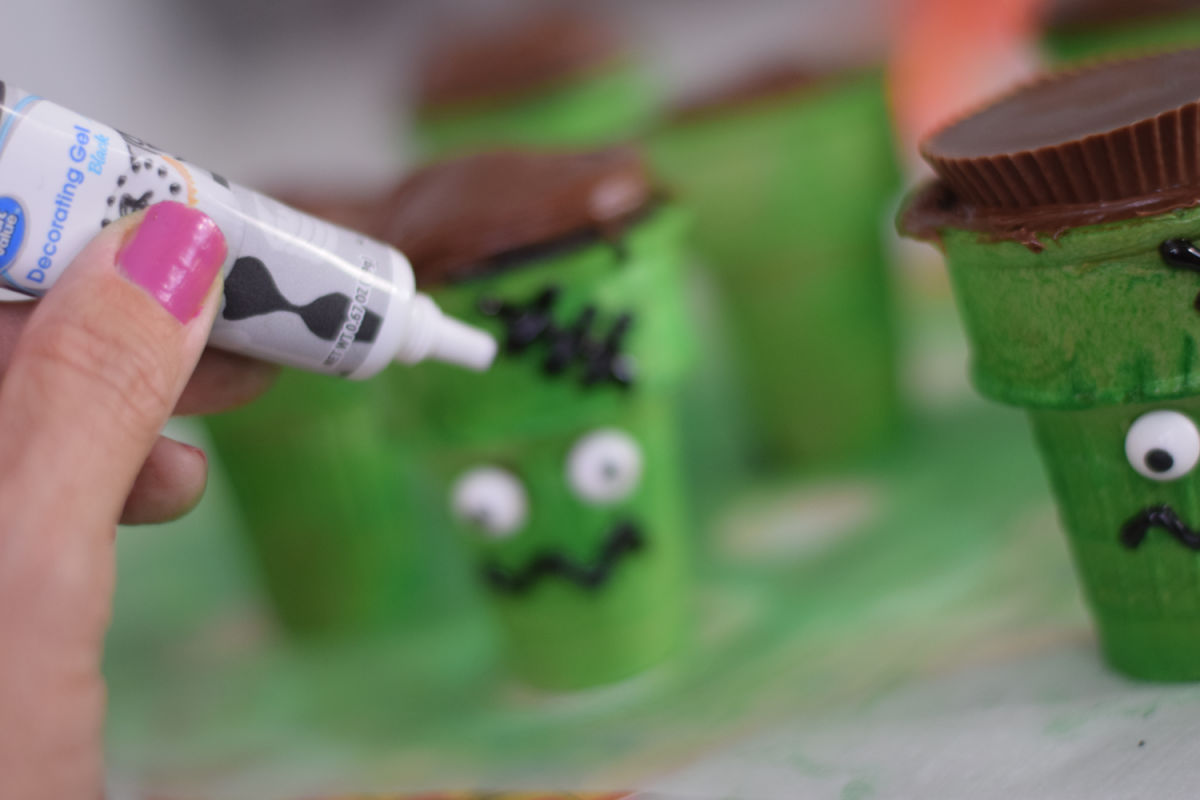 Step Six
Use chocolate frosting to glue the candy eyes onto the green ice cream cones
Use black gel to make stitches and a curvy mouth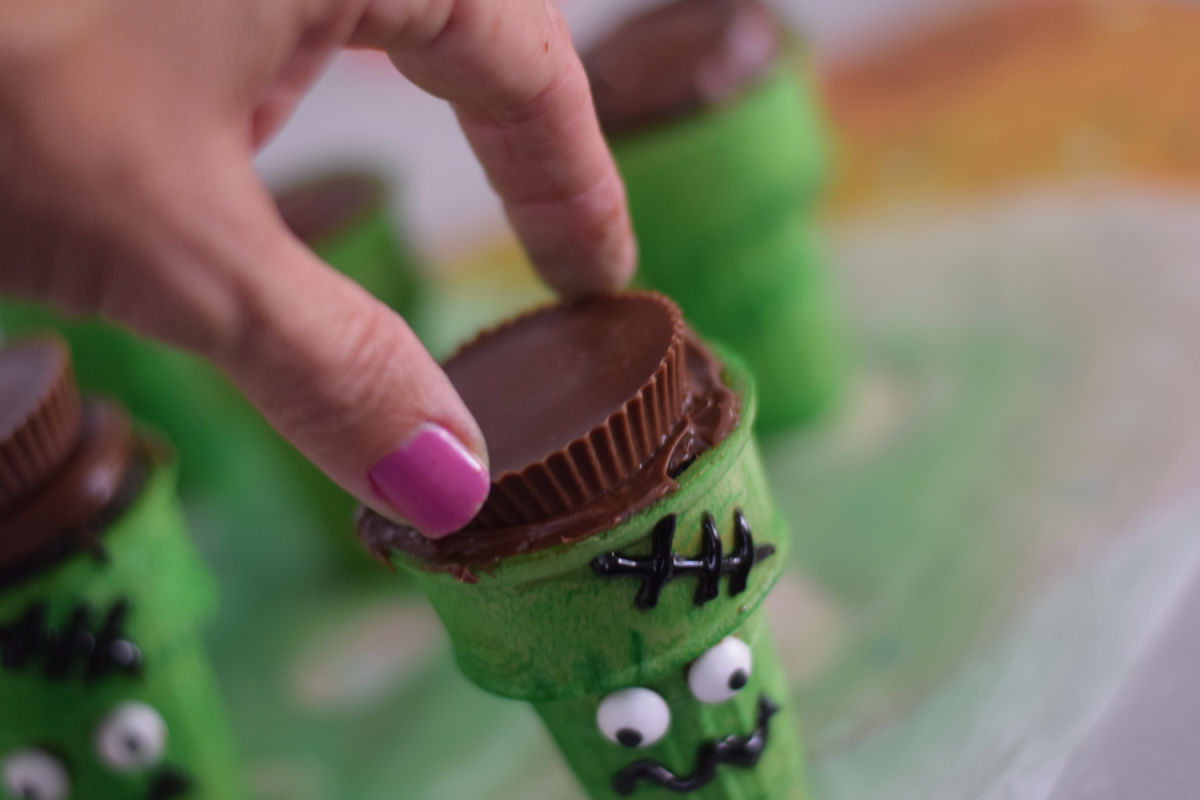 Place Reese's Cups on top of the cupcakes
Expert Tips
I've already mentioned this but using bread loaf pans was the perfect way to bake ice cream cone cupcakes. They will help prevent the tall cupcake from tipping in transporting filled ice cream cones to the oven and during baking
If you are worried about your countertop getting spray color on it, you are right. I could easily wipe my countertops with soap and water. I used a paper towel to make sure I dried the counter and didn't leave a trace of green on the counter. If you have a porous countertop or work surface, then just put some newspaper down or something else to protect your countertop from the mist falling onto it
Recipe Variation
You could bake cupcakes in a green wrapper. Build green frosting up really high on each cupcake and use that as Frank's face to decorate with eyes and stitches. Add the Reese's peanut butter cup to the top fo the green frosting.
What to serve with these Halloween Cupcakes
How do you make cupcakes in an Ice Cream Cone?
Place ice cream cones in a deep dish baking dish or loaf pan with a high side. Pour the cake batter into the ice cream cones until it is about 2/3 full. Bake cupcakes as directed
How do you Prevent Ice Cream Cone Cupcakes from Getting Soggy?
Once the cupcake is baked, poke a hole in the bottom of the cone to allow steam to escape
Is Cupcake Batter the Same as Cake Batter?
Yes. The only difference will be the baking time. Cupcakes require less time to bake because they are smaller in volume than a large bake pan
How far in Advance can you make Ice Cream Cone Cupcakes?
You can make them about one day in advance. Store them in an airtight container at room temperature
Storing
Store cupcakes in an airtight container at room temperature
If it is humid in the house, then store them in the refrigerator
More Halloween Desserts You'll Enjoy
Serving Size
This recipe makes about 2 dozen cupcakes
To make less cupcakes, you'll still have to make the full cake batter, but you can use less candy decorations than required for 24 cupcakes
My top Amazon Picks for this Halloween Recipe
Come Find Me on Social Media
If you really want to keep up with new ideas then come hang out with me on Pinterest on my Facebook Page Cooking Up Fun
Movie on how to make Frankenstein Cupcakes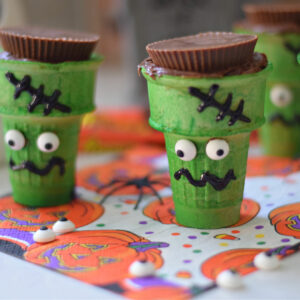 Frankenstein Cupcakes
Cute and delicious Halloween treats
Print
Pin
Rate
Ingredients
1

box

chocolate cake mix

I used Betty Crocker Triple Chocolate Fudge

½

cup

oil

1

cup

water

3

large

eggs

24

cake cones

3

oz.

food color spray

Note: This amount is for 2 bottles of spray. If you are only baking 1 dozen cupcakes you will most likley only need one bottle

48

candy eyes

1

16 oz.

chocolate frosting

1

oz.

decorating gel

black

24

Reese's Peanut Butter Cups

Full Size
Instructions
Preheat oven to 350 degrees

In a large mixing bowl mix the cake mix with oil, water, and eggs until smooth

Place cake cones inside a baking dish or bread loaf pans (This is to provide support for the cones. They might get top heavy and tip – otherwise)

Pour cake batter into cones going about 2/3 of the way up

Bake cupcakes for 15 minutes

Let the cupcakes cool completely

Spray the cupcake cones with the green food spray

Frost cupcakes with chocolate frosting

Let that dry – It will only take a minute or two

use chocolate frosting to glue the candy eyes onto the green ice cream cones

Use black gel to make stitches and a curvy mouth

Place Reese's Cups on top of the cupcakes
Notes
nutrition facts are only an estimate 
Nutrition
Calories:
240
cal
|
Carbohydrates:
28
g
|
Protein:
4
g
|
Fat:
14
g
|
Saturated Fat:
3
g
|
Polyunsaturated Fat:
3
g
|
Monounsaturated Fat:
7
g
|
Trans Fat:
0.02
g
|
Cholesterol:
24
mg
|
Sodium:
229
mg
|
Potassium:
131
mg
|
Fiber:
1
g
|
Sugar:
17
g
|
Vitamin A:
44
IU
|
Vitamin C:
0.1
mg
|
Calcium:
45
mg
|
Iron:
1
mg