Candy Apples are surprisingly easy to make with very few ingredients. All you'll need is a watchful eye and a little patience to add a little extra fun this Halloween. Come on in and I'll show you how to make Candy Apples…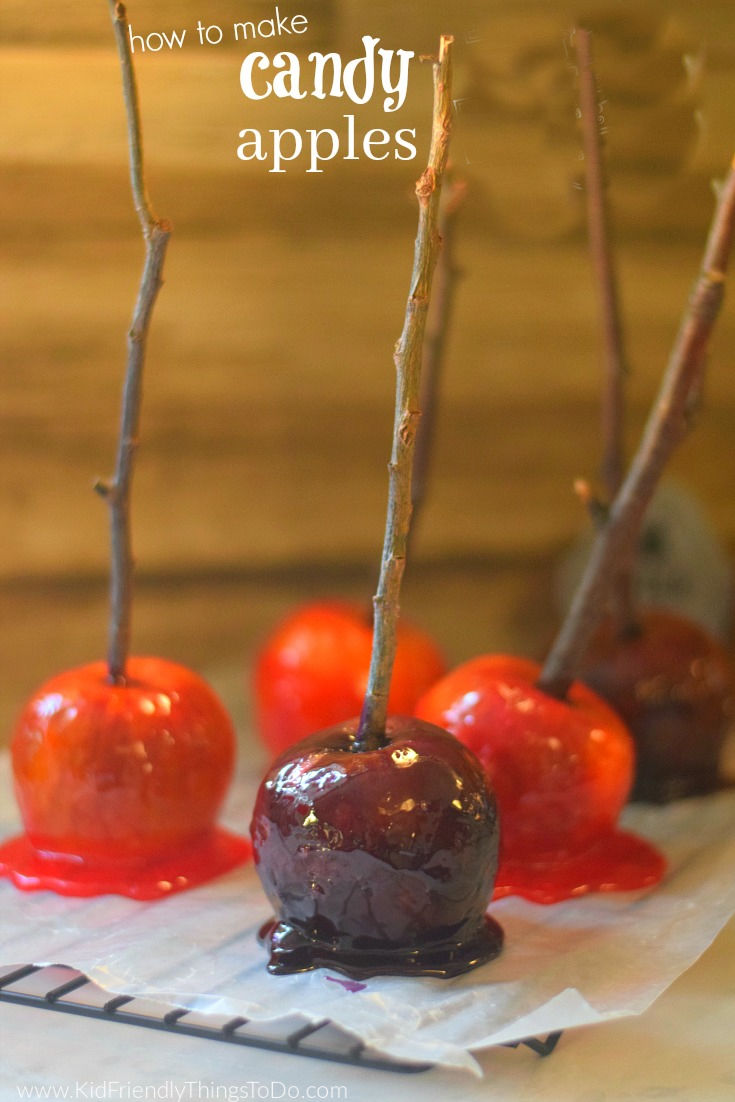 How to Make Candy Apples
I pulled this idea out of an old Country Living Magazine. I have a giant binder with ideas that, when I remember to look through it, give me inspiration. Sometimes I see something, and it triggers an entirely different idea, and sometimes I just do what the picture tells me. This is one of those instances. I have been wanting to try this recipe out, and see how I was at candy apple making. Guys, I have a little secret to share, it's not that hard. All you need is a candy thermometer, a little patience, and a very watchful eye
If you are looking for fun Halloween Recipes, you might like my recipes for Jack-O-Lantern Cheeseburgers, Jack-O-Lantern Sandwiches, and a Graveyard Cookie Dessert for a crowd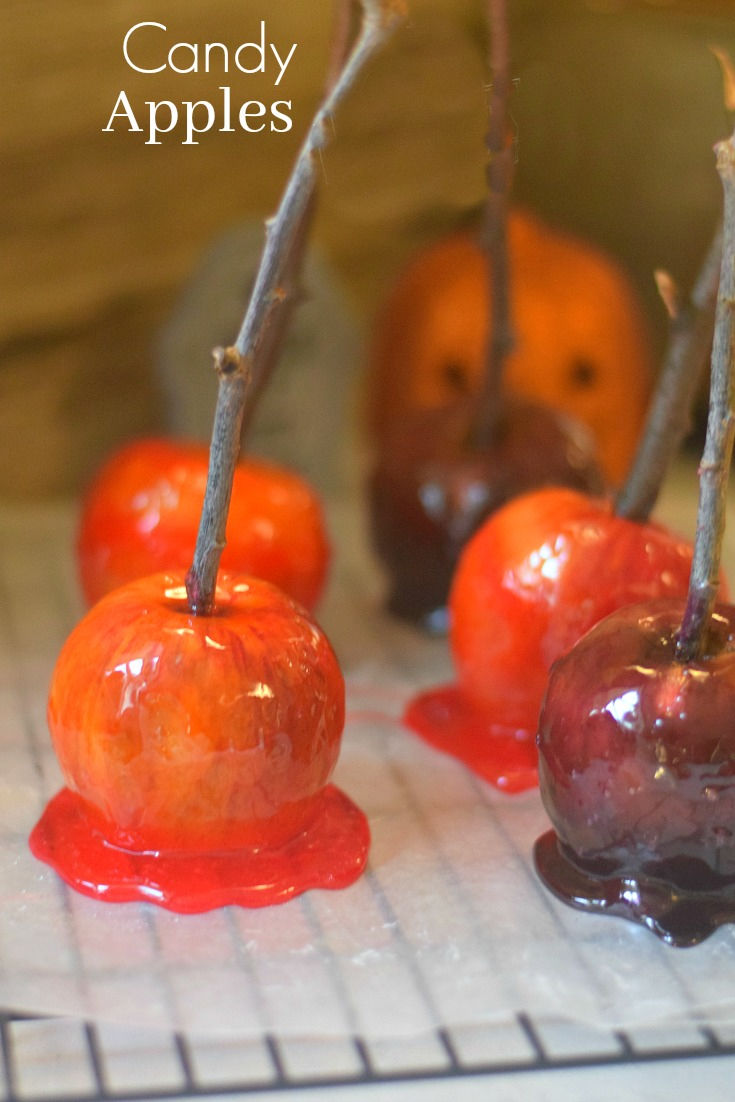 Candy Apples are the perfect way to add a little more fun this Halloween.
What Temperature do you need to Make Candy Apples?
Candy apples need to get to a hard crack stage which is between 300 and 310 degrees
What if the Candy Gets Too Hard While Dipping Apples?
If the candy is getting too thick simply warm it over medium heat until it thins out and continues dipping your apples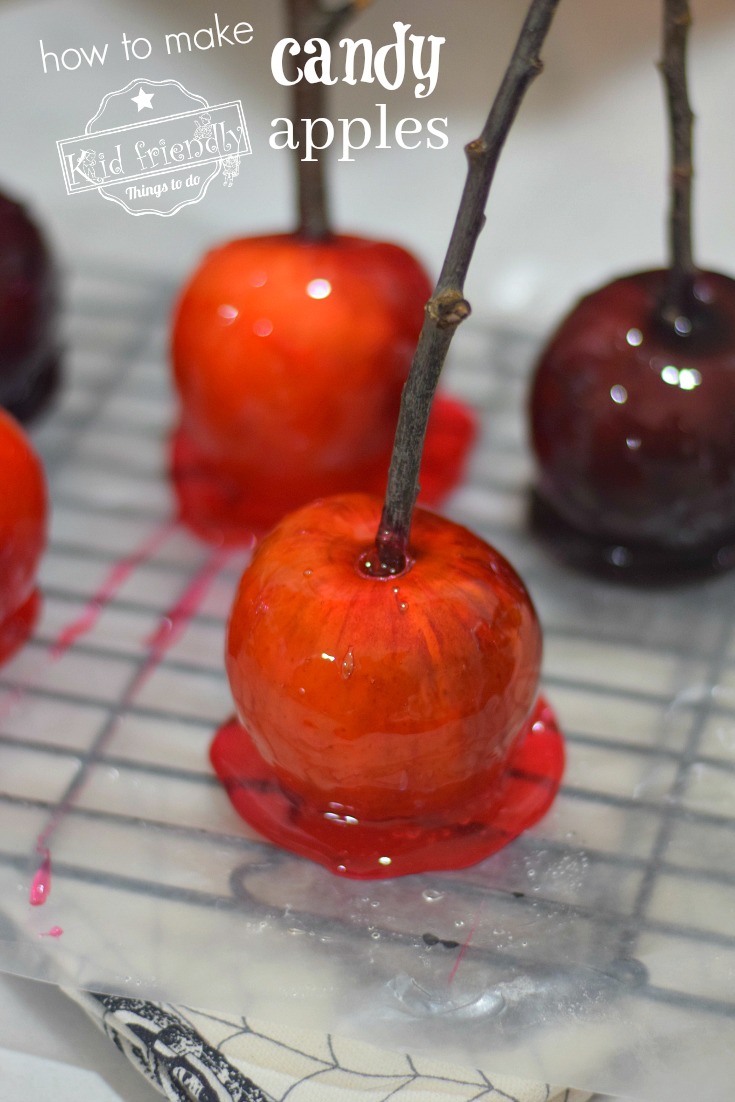 Tips and Tricks for Making Candy Apples
Make sure the candy is in the hard crack stage on your candy thermometer which should be between 300 and 310 degrees
Be patient. Sometimes it takes around a half-hour to get the candy temperature where it needs to be
Be very careful while working with hot candy. It is scalding hot and will stick to your skin. Only adults should carefully dip apples over hot candy
Wash and dry the apples before dipping them – especially if they have a wax coating. A wax coating may prevent the candy from sticking to the apple
If the candy gets to hard to work with then heat the candy over medium heat until it thins out again (it should only take a minute or so)
To make candy apples easier to eat, then slice the apples before eating
Dipping the apples once will give a thinner coating which makes them a little easier to bite into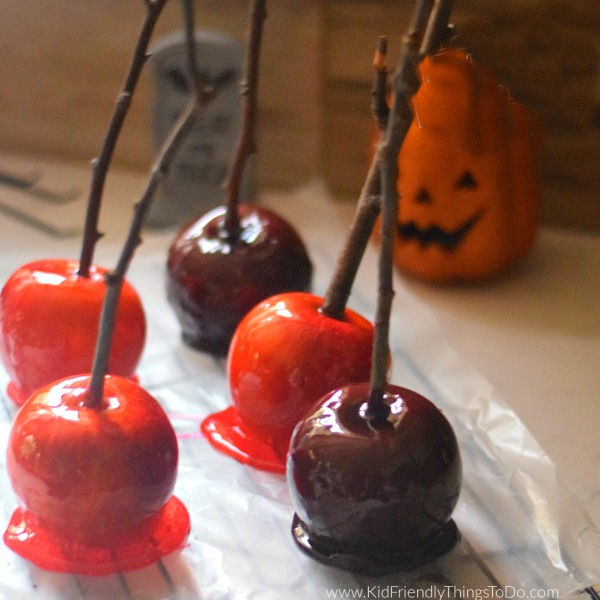 Here's What You'll Need to make your apples (printable recipe found below):
3 cups of granulated sugar
1 cup of water
1/2 cup of light corn syrup
Apples – washed and dried (making sure to take off any wax coating)
Twigs from your yard 0r popsicle sticks
red and/or black food coloring
Extra Equipment:
(affiliate links)
Instructions
Have your apples ready – washed and twigs pushed in the middle
You'll want to mix the first three ingredients together in a medium to large saucepan
Have your candy thermometer set in place
Get your heat up…all the way up, and let it boil, stirring every once in a while
Watch the thermometer. It takes a while (probably 10-15 minutes) to start getting really hot, but once it hits about 250 it goes fast!
As soon as it is between 300 and 310 degrees, remove the candy from the heat source
Add 1/2 tsp. of vanilla, and stir in
Add some red food coloring – enough to make it a deep red – just keep stirring and adding more until you love the color
Get your parchment paper ready, dip, and roll the apples into the red candy
Place them on the paper to cool
For your black apples – only once you've got enough red apples – add black food coloring to the red, and keep going until you love the darkened color (it may look like deep purple and that's ok)
*If syrup has thickened too much to add black food coloring then reheat the syrup for a short time until it is thin again
Dip more apples into the black candy, roll, and place on paper to cool
You're done
*Let the apples cool for about 10 minutes, and enjoy.
*The ones I dipped a few times were a little too thick to bite into, so I sliced those up for the kids. That is something I learned for next time, only dip once for a thin easy bite shell
How do you make Cinnamon Spice Candy Apples?
Replace vanilla extract with cinnamon extract
My top Amazon Picks
(affiliate links)
[box] [/box]
Here's your handy dandy printable: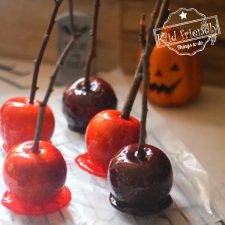 Candy Apples
Easy to make Candy Apples for a fun fall treat.
Print
Pin
Rate
Servings:
10
-12 medium apples
Equipment
twigs or lollipop sticks

parchment paper
Ingredients
3

cups

granulated sugar

1

cup

water

½

cup

corn syrup

light

½

tsp.

vanilla extract

red food coloring

black food coloring

10

apples
Making cinnamon flavored apples
replace the vanilla extract with cinnamon extract
Instructions
Have your apples ready – washed, stems removed, and twigs pushed into the middle

You'll want to mix the first three ingredients together in a medium to large saucepan

Have your candy thermometer set in place

Get your heat up…all the way up, and let it boil, stirring every once in a while

Watch the thermometer. It takes a while (probably 10-15 minutes) to start getting really hot, but Once it hits  250 it goes fast

As soon as it gets between 300 and 310 degrees, remove the candy from the heat source

Add 1/2 tsp. of vanilla, and stir in

Add some red food coloring – enough to make it a deep red – just keep adding and stirring until you love i!

Get your parchment paper ready, dip, and roll the apples into the red candy

Place them on the parchment paper to cool

For your black apples – only once you've got enough red apples – add black food coloring to the red, and keep going until you have a deep purple – almost black color

Dip more apples into the black candy, roll, and place on paper to cool
Notes
*To make cinnamon-flavored apples, replace the vanilla extract with the cinnamon extract
nutrition facts are only an estimate 
Nutrition
Calories:
375
cal
|
Carbohydrates:
98
g
|
Protein:
0.5
g
|
Fat:
1
g
|
Saturated Fat:
0.1
g
|
Polyunsaturated Fat:
0.1
g
|
Monounsaturated Fat:
0.01
g
|
Sodium:
14
mg
|
Potassium:
196
mg
|
Fiber:
4
g
|
Sugar:
92
g
|
Vitamin A:
98
IU
|
Vitamin C:
8
mg
|
Calcium:
14
mg
|
Iron:
0.2
mg