A large Frankenstein Rice Krispies treat makes creating a fun Halloween treat a breeze. Instead of making several smaller treats, make one giant Halloween Rice Krispies treat and divide it into several rice krispies treats to serve at your Halloween party.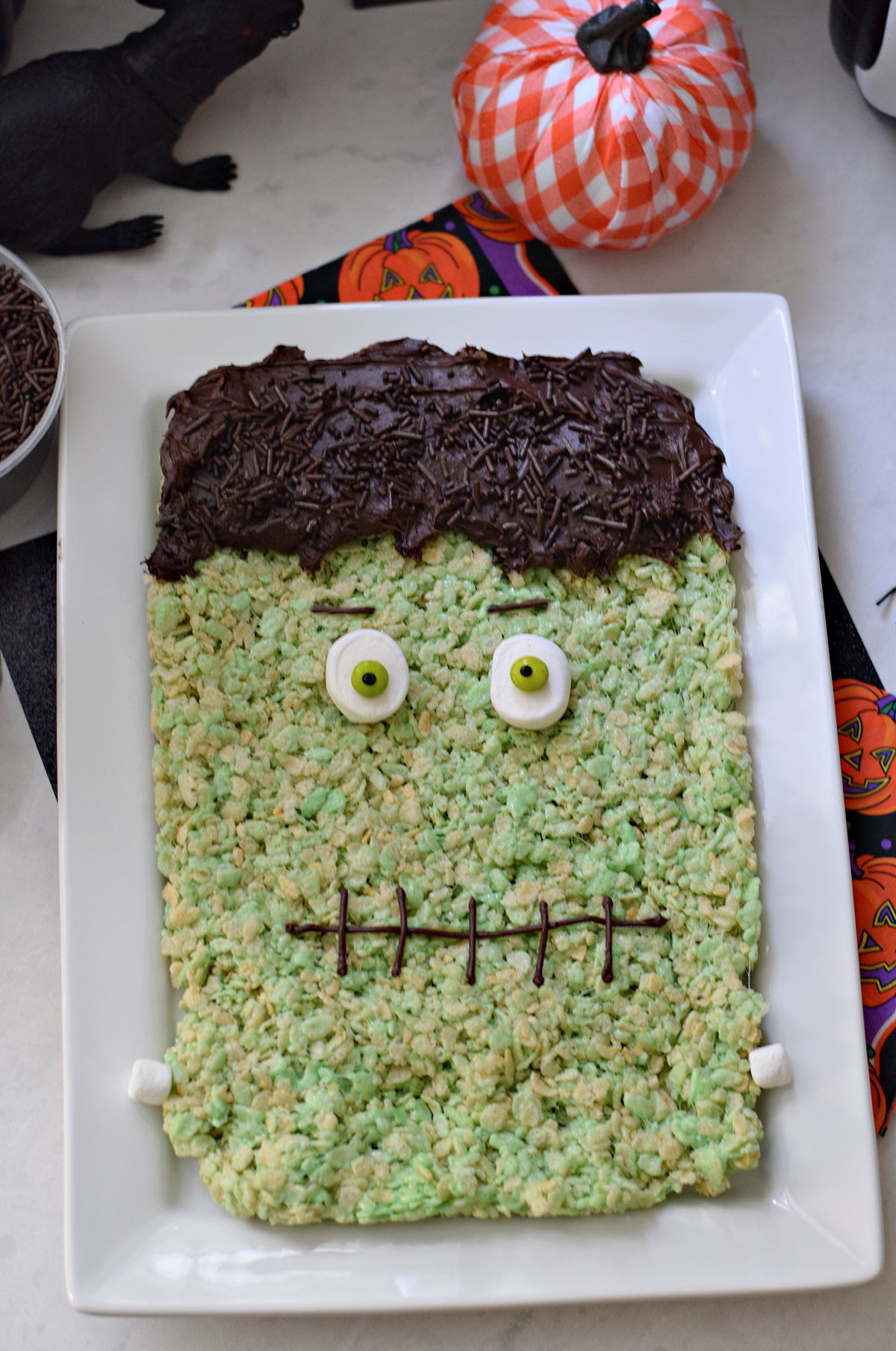 Frankenstein Rice Krispies Treat
If you are looking for Frankenstein Rice Krispies Treat ideas, then I think you've come to the right place. Instead of spending time decorating several small treats to look like Frankenstein, you can make one large one for your Halloween party. Easy to make and way less time-consuming.
I've been on a kick of making full-sized versions of mini Halloween Treats. I think you should check out my Spellbook Brownie from Hocus Pocus
If you'd like some other Frankenstein Treats to check out then you might like my Frankenstein Chocolate Spoons for Hot Chocolate and speaking of Halloween Hot Chocolate, you might be interested in making fun-shaped Halloween Marshmallows for your spooky hot chocolate drinks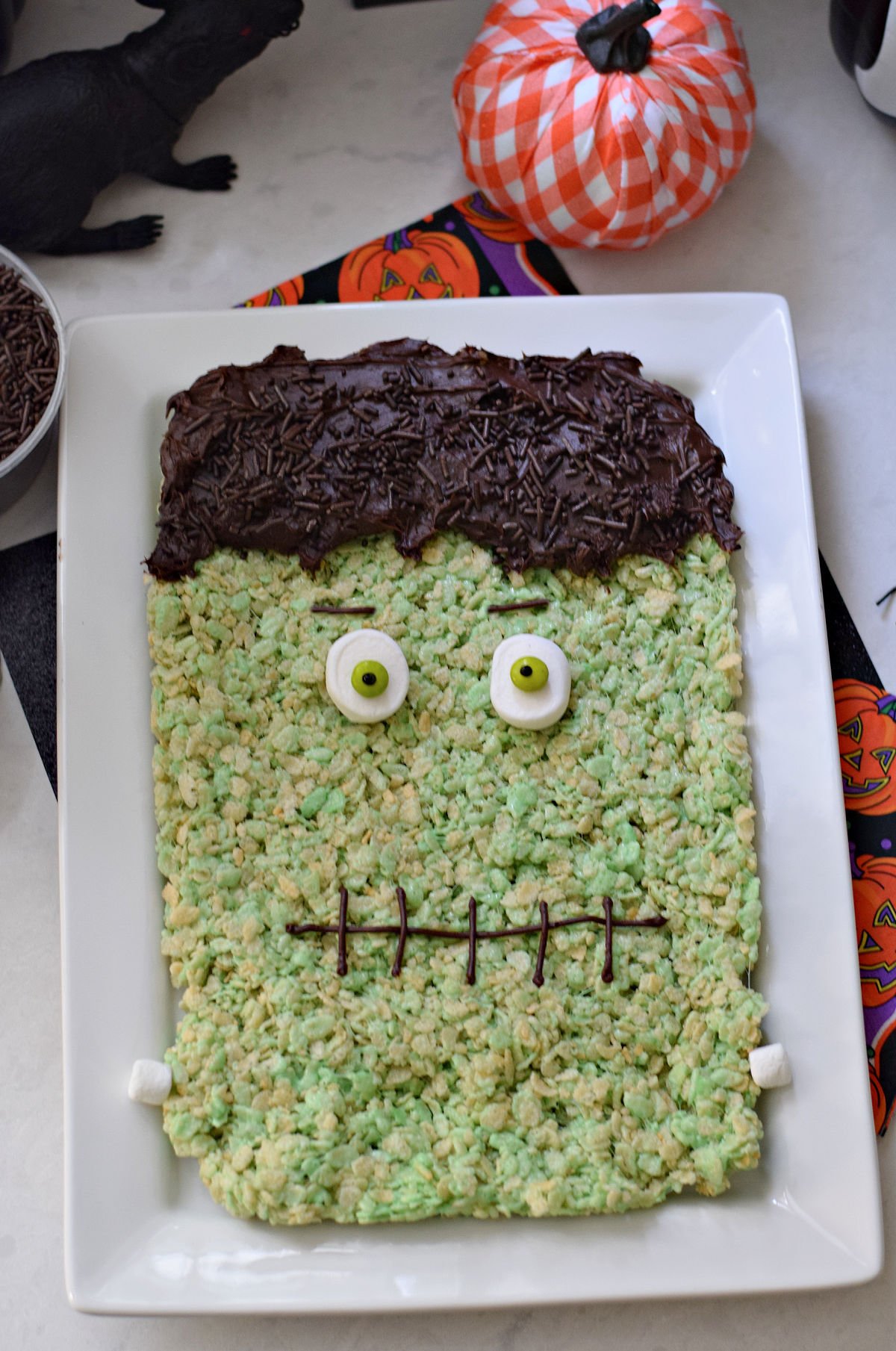 What I love about this Easy Halloween Treat Idea
Making one large Halloween Rice Krispies Treat means less time spent in the kitchen and still provides a wow factor that will be a big hit
You can't go wrong with making rice krispies treats for the holidays. Kids, teens, and adults love this classic treat
Ingredients
Here's what you'll need for this easy Halloween dessert
Mini Marshmallows – You can use regular. I prefer mini because it is easier to melt tiny marshmallows and quicker. Don't forget to reserve a couple for Frankenstein neck bolts
Butter – Use unsalted butter and be careful not to burn the butter on the stovetop. Watch it closely as it melts
Rice Krispies Cereal – You'll use a good amount of cereal (around 6 cups), so it's best to get a fresh new box
Food Coloring – You'll want to color your melted marshmallows so it is close to the green you think of when you see Frankenstein
Frosting – Chocolate frosting is already dark brown which is perfect for this fun Halloween treat
Sprinkles – this is not completely necessary but I think it makes the hair look more like a hair texture
More marshmallows – You will only need one regular-sized marshmallow for the eyes
M&Ms – I used the Halloween green, but brown would also work well for this Frankenstein treat
Gel Decorating Gel – I used black for the pupil of Frank's eyes
Equipment You'll Need
A 9×13 baking dish to mold this treat
Parchment paper
A piping bag, coupler, and writing tips for making the stitches and eyebrows (you could also use a larger round tip for a bigger impact)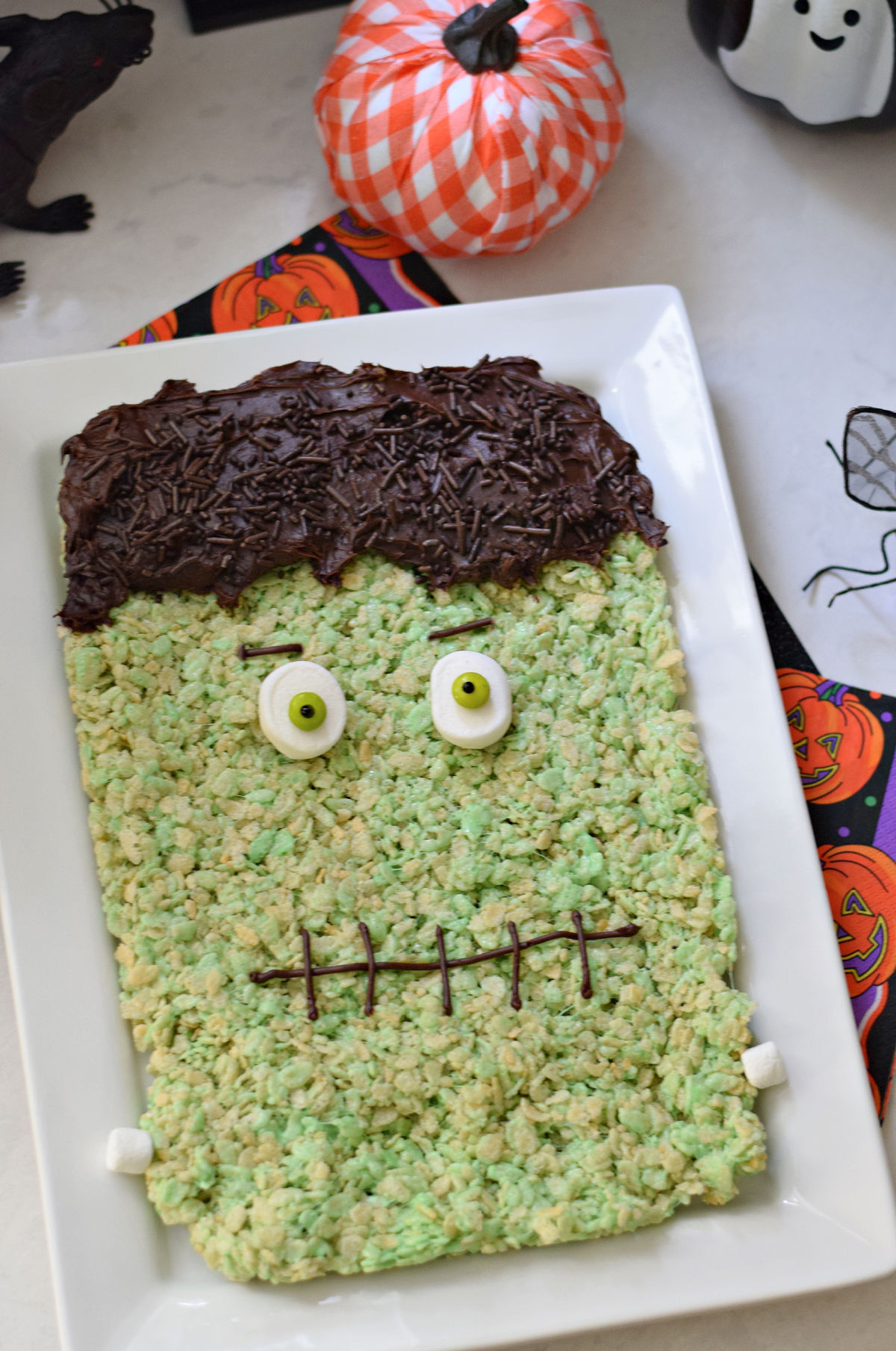 How to Make a Large Frankenstein Rice Krispies Treat
Step One
In a large saucepan over medium heat, add butter and melt it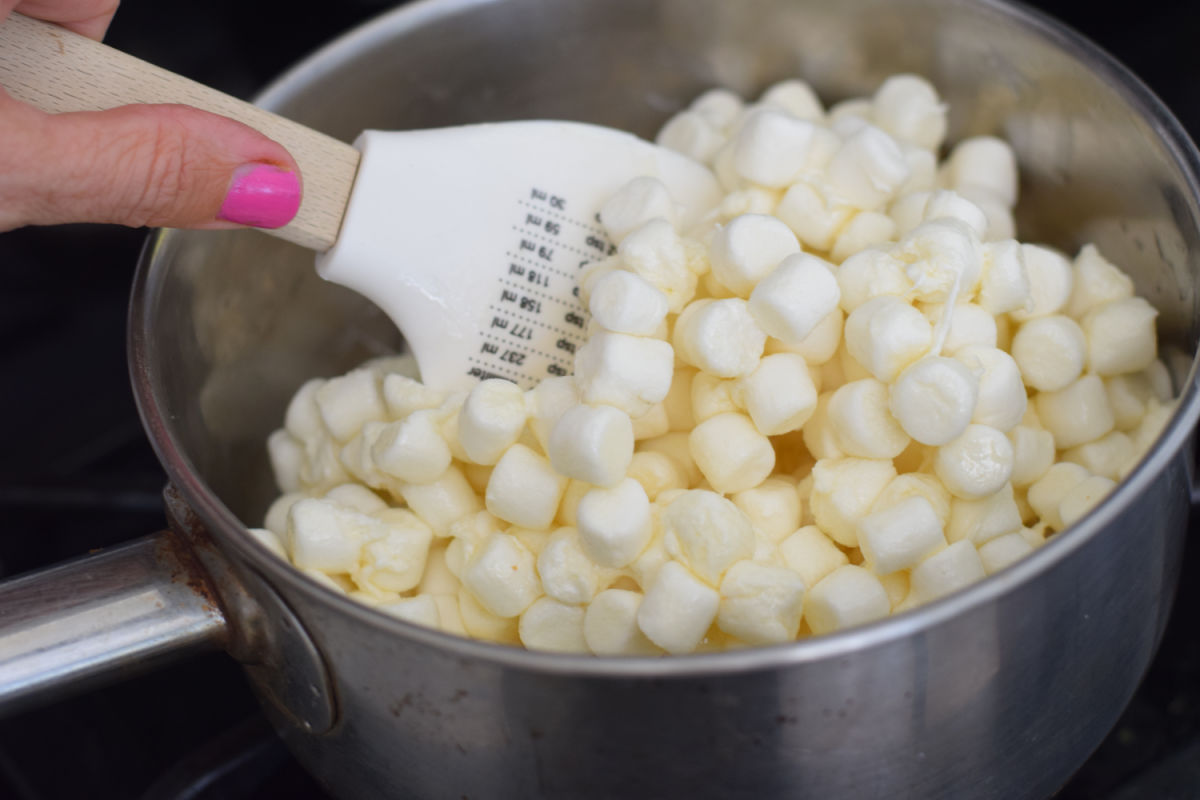 Once the butter is melted add the marshmallows
Reduce heat to low and stir marshmallows until they are melted
Remove from heat
Step Two
Add some food coloring and stir in – Add more if you want a darker color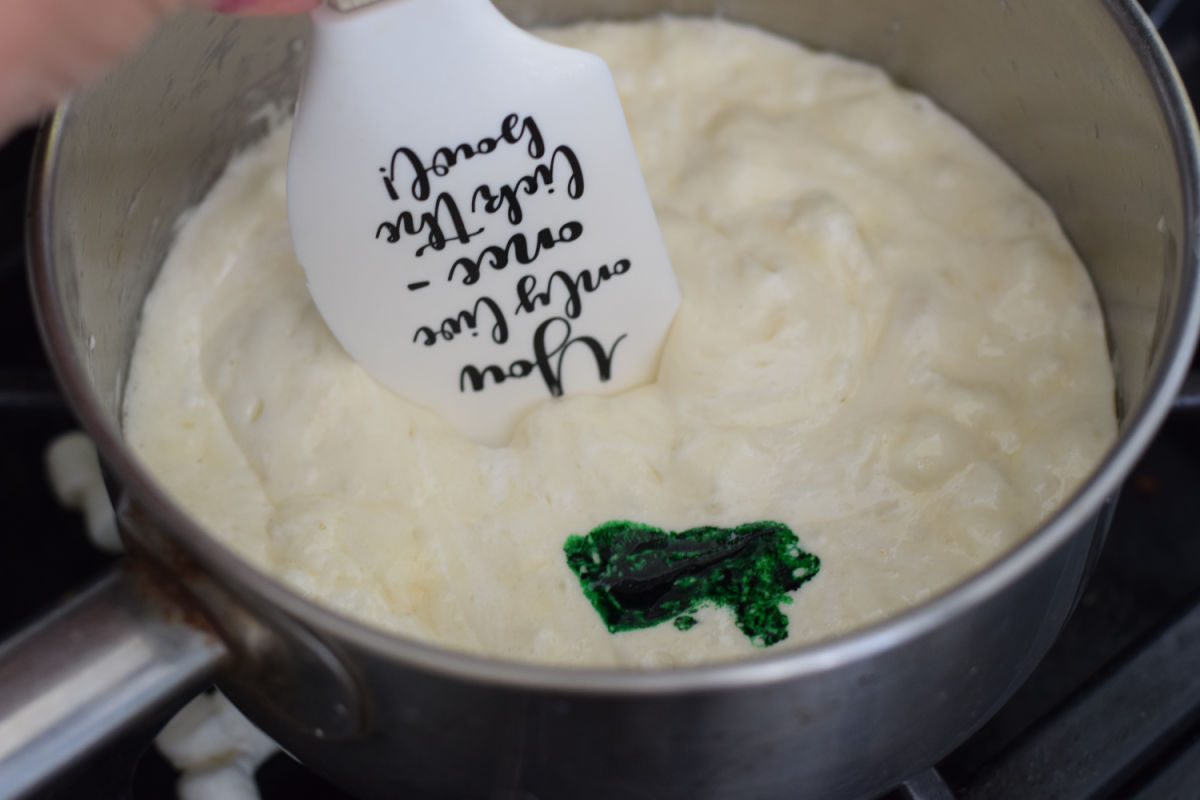 Pour rice crisp cereal into a large mixing bowl and fold in the colored marshmallow
Line a baking dish with parchment paper
Step Three
Scoop the rice krispies cereal into the baking dish and spread out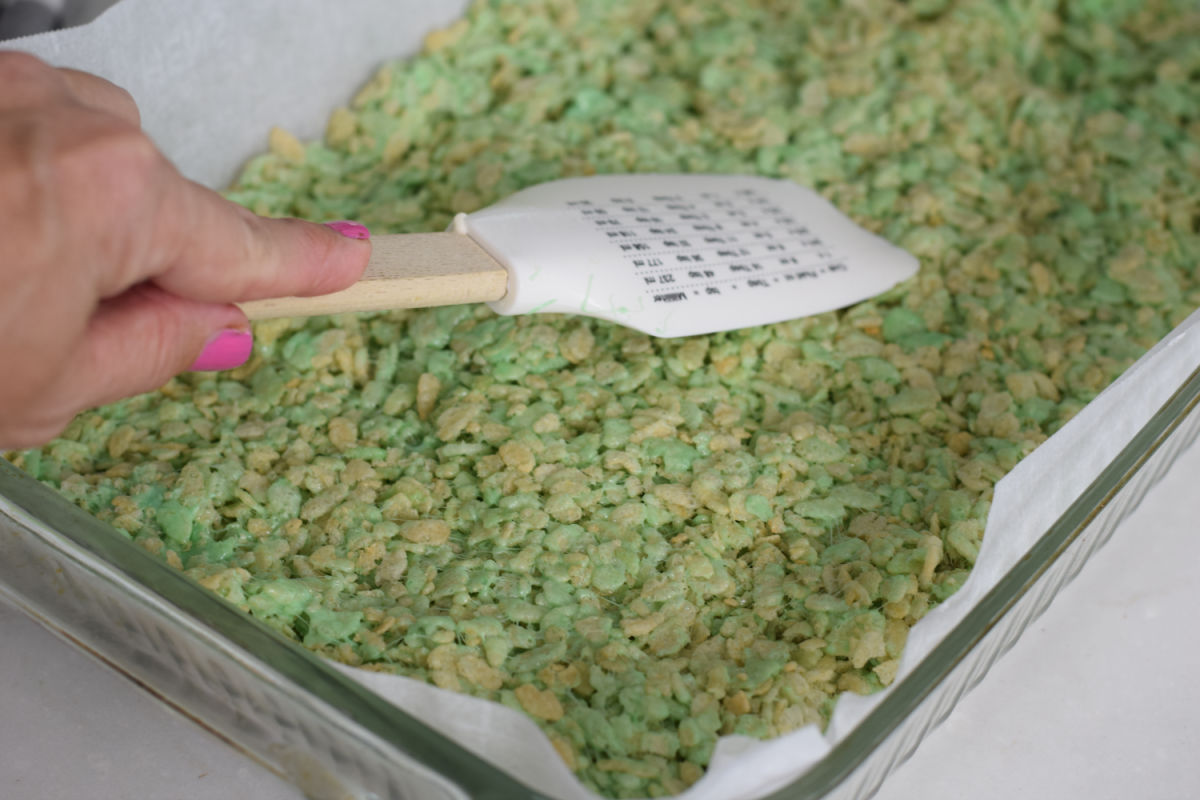 Let it cool off enough for the marshmallows to harden a little bit, so when you lift it up out of the pan it won't fall apart
Once the marshmallows have set up a little bit, lift the parchment paper up and out of the baking dish
Decorating
Spread some of the chocolate frosting onto the top part of the rectangle, pulling some down into jagged edges for Frank's bangs
Sprinkle chocolate sprinkles onto the frosting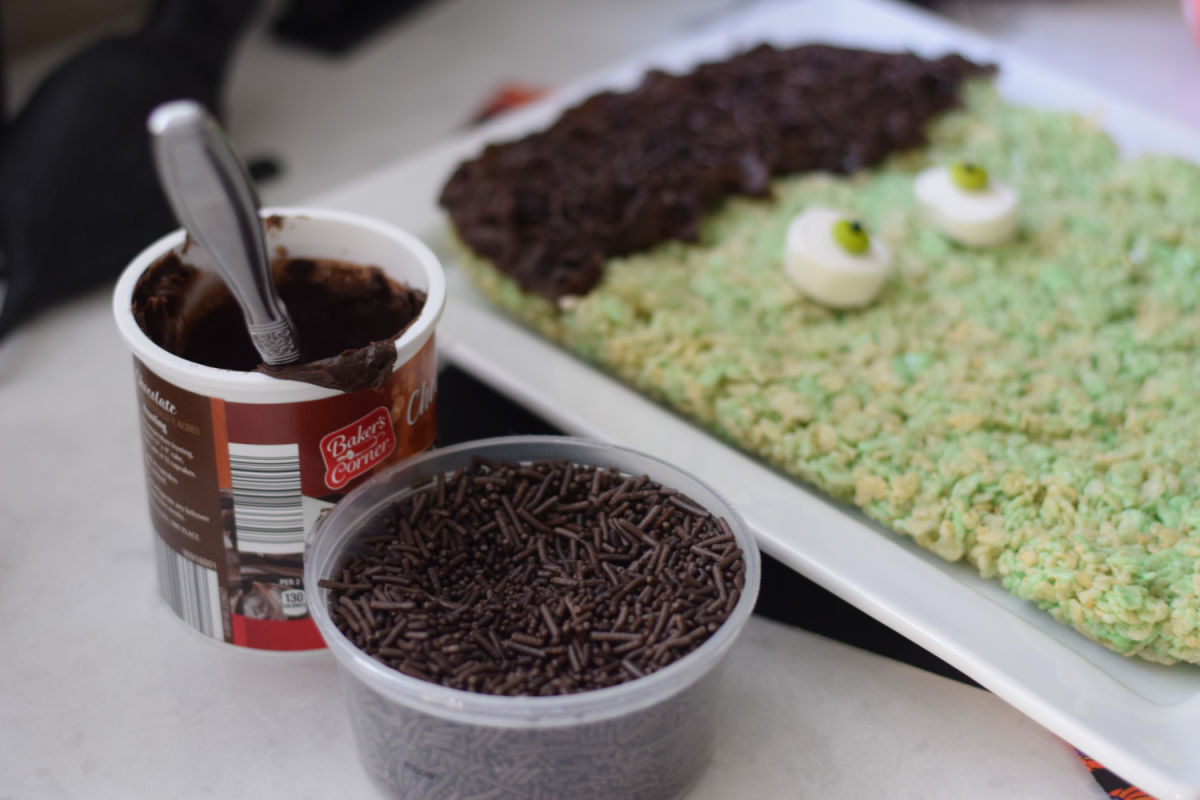 Use kitchen shears the tips off of a regular-sized marshmallow
Place those tips onto the rectangle for the eyes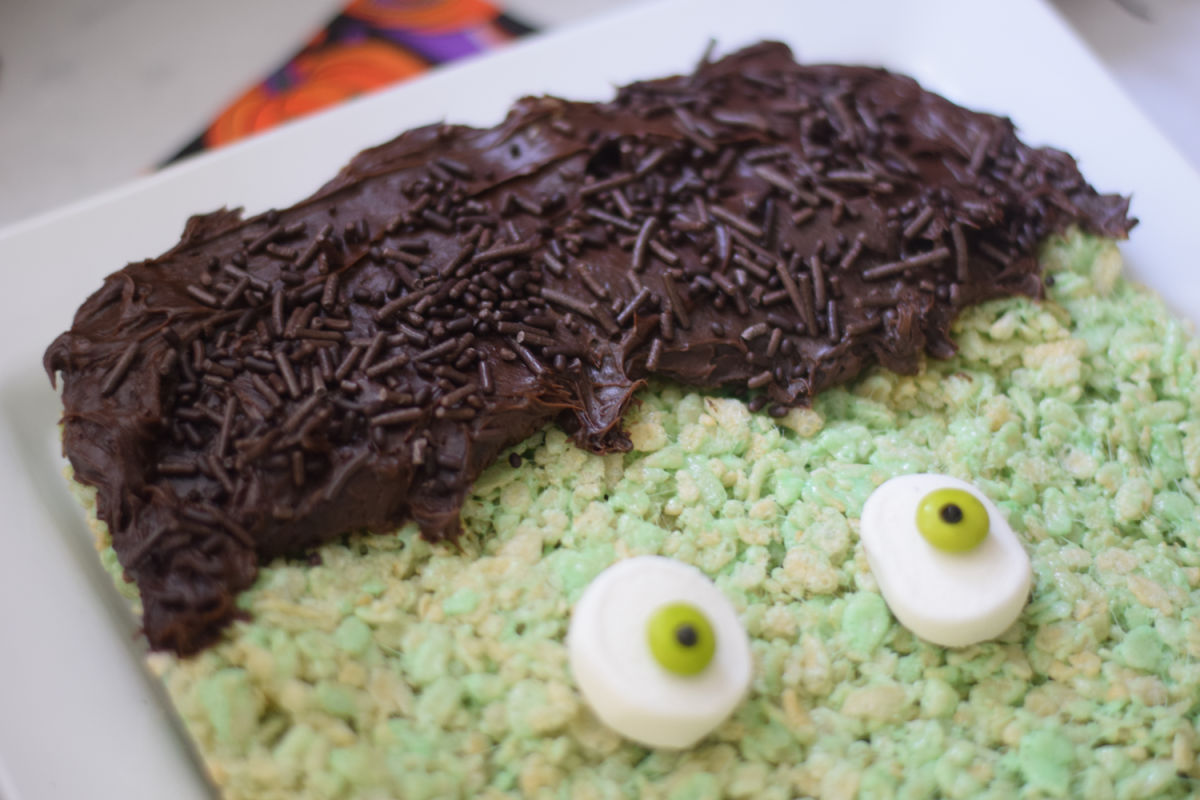 Add M&Ms to the center of the marshmallows and black gel for the pupils
Scoop the rest of the chocolate frosting into a piping bag that has been set up with a writing tip
Draw stitches for a mouth and eyebrows
You can also add some more stitches to Frank's forehead
Add a couple of mini marshmallows on the neck portion for Frank's bolts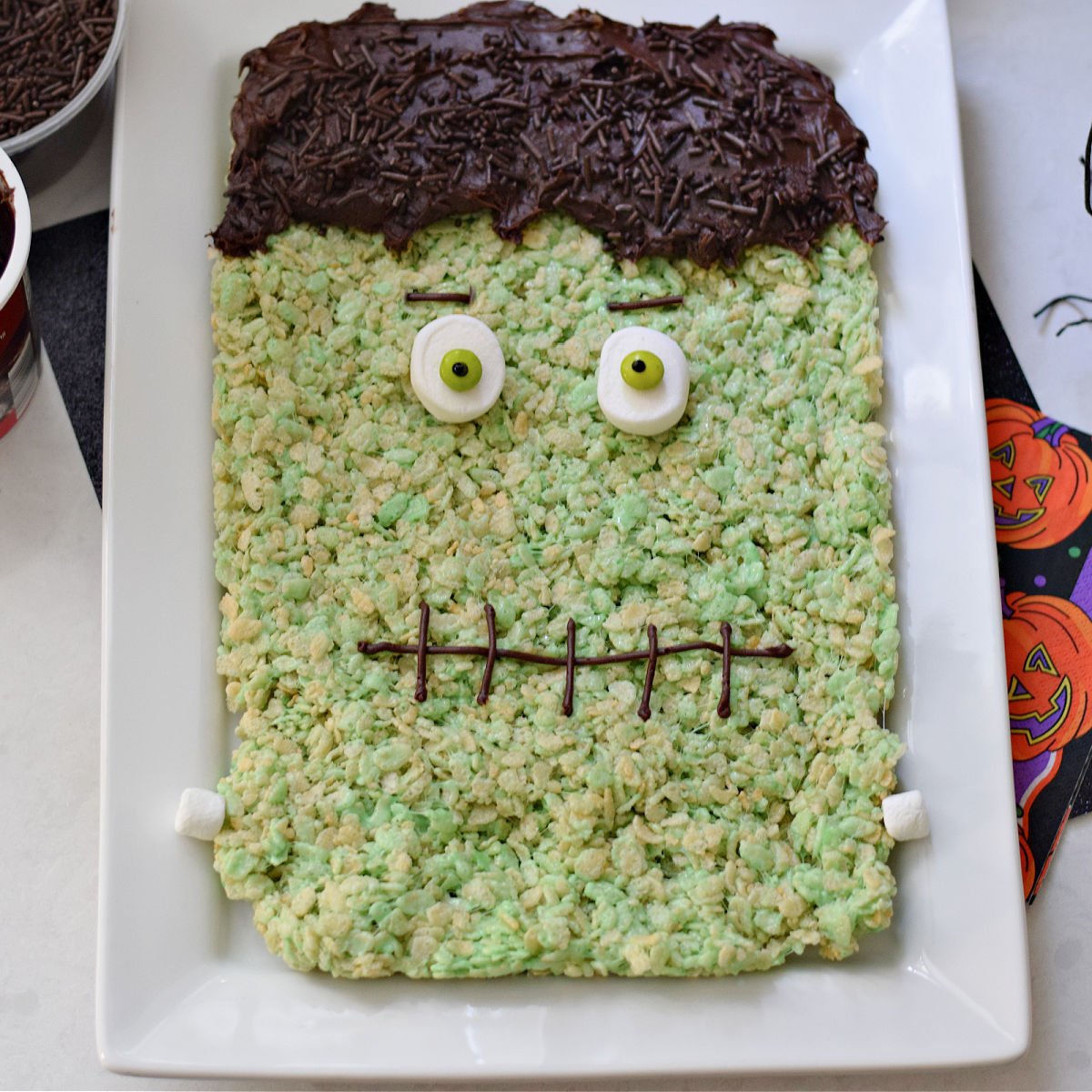 When the frosting has had time to dry and harden, you can transfer Frank onto a tray and cut the large rice krispies treat into smaller rectangles
Expert Tips
Watch your butter so it does not burn. I've had to scrap butter and start over so many times
Also, watch your marshmallows so they don't burn. Turn the heat off if it is getting too hot and just stir until the marshmallows melt
If your marshmallows cool off too quickly and won't stir into the cereal, pop them into the microwave for about 10 seconds
Variations
You can cut the large rectangle into about 20 smaller ones and decorate them individually
Instead of marshmallow bolts, you can use the tips of large pretzel rods for bolts or Rolos candy
Use melting chocolate instead of frosting for decorating
What to Serve with this Halloween Fun Food
Other Halloween Desserts like Halloween Marshmallow Pops, or Halloween Pretzel Bites
Hot chocolate is the perfect drink to pair with this fun treat
Apple Cider
What are some creative ideas to make a Halloween Treat look like Frankenstein?
Use marshmallows for eyes with M&M pupils or candy eyes. Add a stitched mouth and an angled stitch on his forehead. Add frosting for hair and chocolate sprinkles to create a hair texture. Use a large pretzel rod for the bolts in Frank's neck. Angle his chocolate eyebrows to create different expressions
How Long do Frankenstein Rice Krispies Treats stay fresh?
If they are in an air-tight container at room temperature, then you keep them fresh for up to 5 days. However, they are best if eaten in a day or two
Storing and Reheating
Storing these Halloween Rice Krispies Treats: Store these treats at room temperature in an airtight container for up to 5 days
Reheating: You shouldn't have to reheat this dessert. It is best served at room temperature
More Halloween Party Treats to try
Serving Size
This Rice Krispies Treat will make about 20 treats
Make smaller or larger sizes rectangles to change the amount of servings and size of servings
Come find me on Social Media
I love to share ideas and I'm constantly sharing them on Pinterest and on Facebook. I'd love it so much if you would come and hang out with me on a daily basis
My top Amazon Picks for this Recipe
(affiliate links)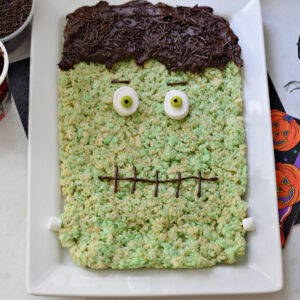 Giant Frankenstein Rice Krispies Treat
A fun large one-piece Frankenstein Rice Krispies Treats
Equipment
A 9×13 baking dish to mold this treatParchment paper

A piping bag, coupler, and writing tips for making the stitches and eyebrows (you could also use a larger round tip for a bigger impact)
Ingredients
6

cups

6 cups rice cereal

3

Tbsp.

butter

unsalted

5&1/2

cups

mini marshmallows

a fresh new bag

½

tsp.

food coloring

green – amount will vary depending on how dark you want to make the green

1

regular

marshmallow

1

16 oz.

chocolate frosting

⅓

cup

chocolate sprinkles

jimmies

2

regular

M&Ms

I used Halloween green

2

drops

decorative gel

black gel
Instructions
In a large saucepan over medium heat, add butter and melt it

Once the butter is melted add the marshmallows

Reduce heat to low and stir marshmallows until they are melted

Add some food coloring and stir in – Add more if you want a darker color

Pour rice crisp cereal into a large mixing bowl and fold in the colored marshmallow

Line a baking dish with parchment paper

Scoop the rice krispies cereal into the baking dish and spread out

Let it cool off enough for the marshmallows to harden a little bit, so when you lift it up out of the pan it won't fall apart

Once the marshmallows have set up a little bit, lift the parchment paper up and out of the baking dish
Decorating
Spread some of the chocolate frosting onto the top part of the rectangle, pulling some down into jagged edges for Frank's bangs

Sprinkle chocolate sprinkles onto the frosting

Use kitchen shears to cut the tips off of a regular sized marshmallow

Place those tips onto the rectangle for the eyes

Add M&Ms to the center of the marshmallows and black gel for the pupils

Scoop the rest of the chocolate frosting into a piping bag that has been set up with a writing tip

Draw stitches for a mouth and eyebrows

You can also add some more stitches to Frank's forehead

Add a couple of mini marshmallows on the neck portion for Frank's bolts

When the frosting has had time to dry and harden, you can transfer Frank onto a tray and cut the large rice krispies treat into smaller rectangles
Nutrition
Calories:
264
cal
Carbohydrates:
62
g
Protein:
2
g
Fat:
2
g
Saturated Fat:
1
g
Polyunsaturated Fat:
0.2
g
Monounsaturated Fat:
1
g
Trans Fat:
0.1
g
Cholesterol:
5
mg
Sodium:
110
mg
Potassium:
14
mg
Fiber:
0.1
g
Sugar:
40
g
Vitamin A:
614
IU
Vitamin C:
5
mg
Calcium:
3
mg
Iron:
3
mg