Easy to make and so delicious. This Almond Joy and Mounds Bar Copy-Cat Recipe comes close to tasting just like the real candy bar. Perfect for a fun treat with the kids or a Valentine's Day Treat. Come on in and I'll share the recipe with you…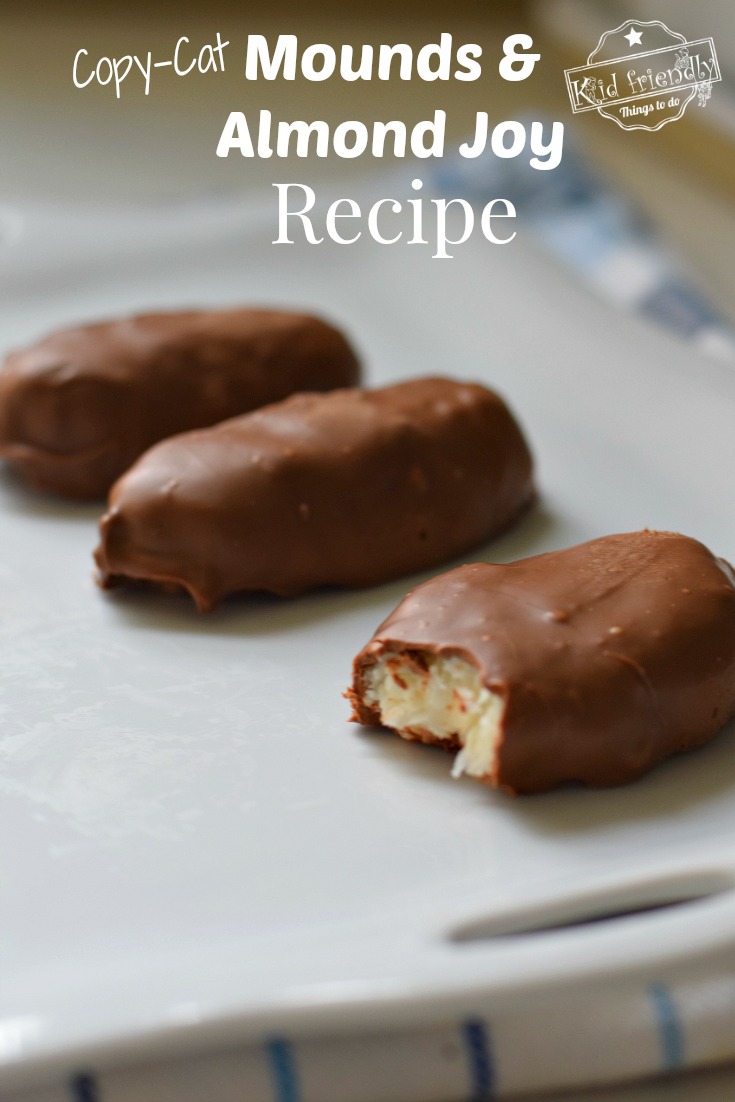 Almond Joy & Mounds Bar Copy-Cat Recipe
If you are looking for homemade candy and homemade treats to give out, then check out my post for how to make fancy striped strawberries, homemade chocolate-covered cherries, and how to make homemade homemade chocolate-covered cherries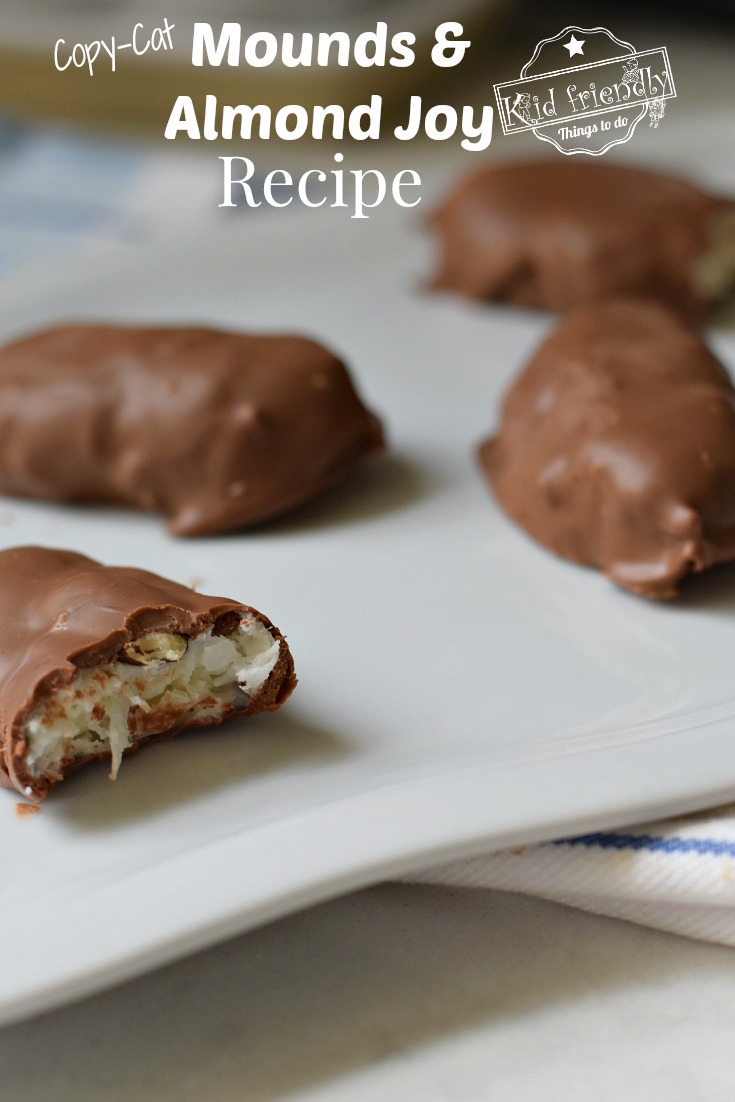 What is the difference between an Almond Joy and a Mounds Bar?
Almond Joy Bars have almonds on top of the coconut mixture and under the chocolate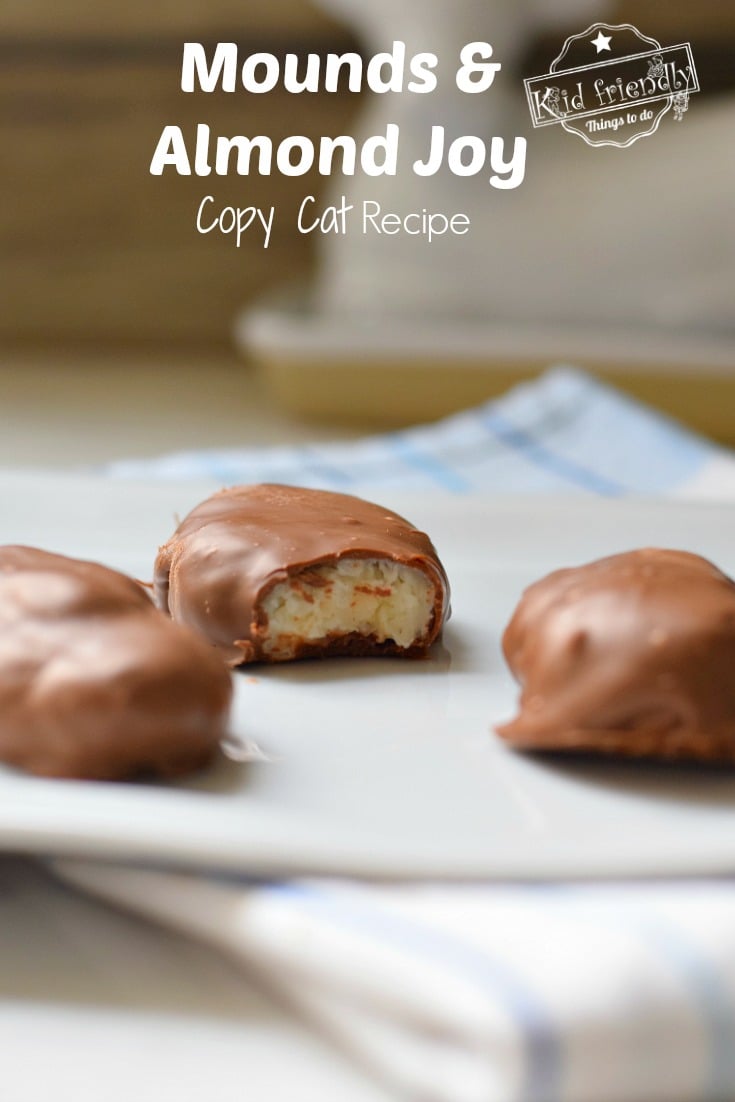 Can you freeze Mounds Bars?
Yes. Freeze mounds bars with wax paper in between chocolates in a freezer bag or container for up to 12 months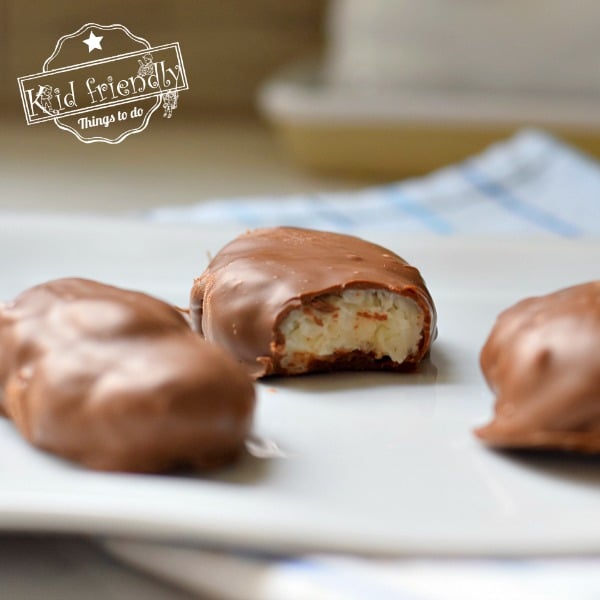 Where where Mounds Bars Invented?
Mounds Bars were originally produced in Connecticut around 1920. Mounds Bars were sold for 5 cents. They were purchased by the Peter Paul Candy company in 1929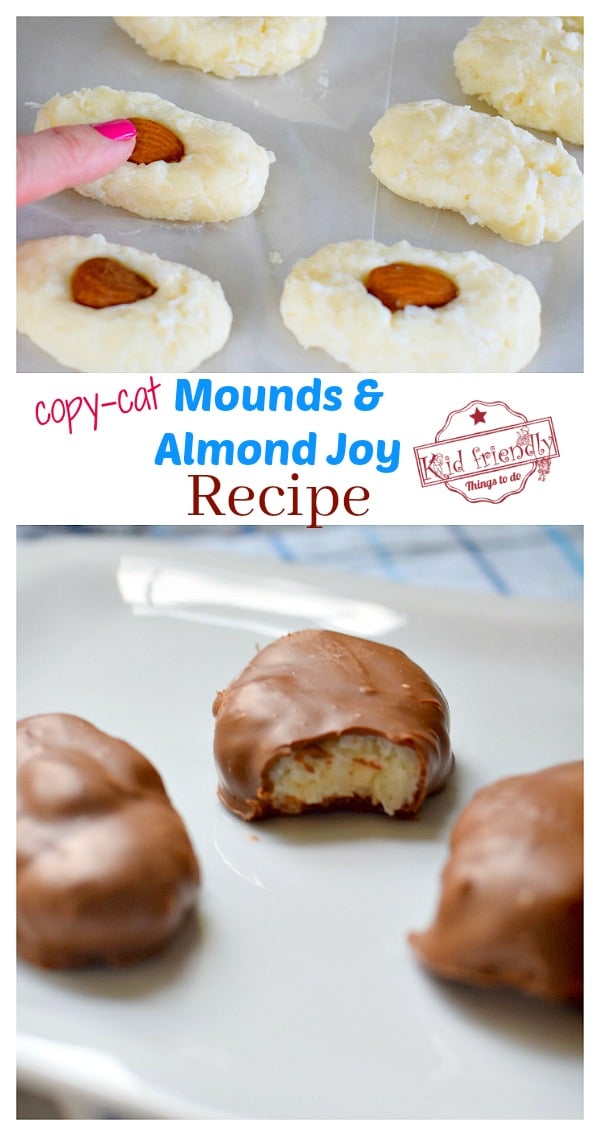 When was Almond Joy invented?
 Almond Joy Bars were introduced in 1946, after World War II when sugar, coconut, and chocolate became more readily available
Tricks and Tips for Making Copy-Cat Bars:
Use fresh coconut – Fresh shredded coconut is moist. If it's an old, opened bag, some of the moisture will be gone and your coconut mixture won't hold together as well
If you do use a previously opened bag of coconut that seems dry, add a little more condensed milk to add moisture back in
Use a toothpick to guide the chocolate bar off of the fork
Always use wax paper with wet chocolate. The chocolate will not stick to the paper and will lift off easily
Print
Almond Joy & Mounds Bar Copy-Cat Recipe | Kid Friendly Things To Do
Mounds Bar and Almond Joy Copy-Cat Recipe
Author:
Prep Time:

10 minutes

Cook Time:

10 minutes

Total Time:

20 minutes

Yield:

about (24) 2-inch bars
1

&3/4 cup of confectioners sugar

1

&3/4 cup of sweetened coconut flakes

1/2 cup

of sweetened condensed milk

2 cups

of chocolate – Milk Chocolate is preferred *I used milk chocolate chips
Instructions
In a large bowl, combine the sugar, coconut, and milk – mix well
Grab a small baking sheet, and line it with wax paper
Roll the mixture into little 1 inch balls, and place the balls onto the wax lined baking sheet
It's up to you if you want to leave the mixture in a ball shape or flatten them out into an oval shape (about 2 inches long)
For Almond Joy Bars:
This is where you'll add your almond -Simply push an almond or almonds into the top of the coconut shape. Make sure the almond is snug. You may have to mold the coconut around it to get it to stay put
Next Steps for Both Types:
Put the baking sheet with the coconut shapes into the freezer for about 30 minutes
Melt your chocolate
I like to place my melting chocolate in a glass, microwave-proof bowl and set the microwave for about 30 seconds. Take the chocolate out, and stir – repeat until the chocolate is melted, and smooth when you stir it (Should take about 1 – 1&1/2 minutes – total)
Prepare one more baking sheet with wax paper
Set a work station with the coconut shapes, chocolate, and lined baking sheet
Use a fork to slide under the coconut shape and place it into the melted chocolate
Spoon chocolate over any coconut that is not covered
Carefully lift the chocolate bar out of the chocolate
Rest the fork on the side of the bowl to allow excess chocolate to drain off of it
Now, set the fork onto the prepared baking sheet, and use the toothpick to guide the chocolate off of the fork, and onto the wax paper
Repeat until the coconut bars are done
Pop the chocolate covered balls into the freezer to set up – about 10 minutes
Notes
* I have used both semi-sweet and milk chocolate chips on these (Milk chocolate is preferred). You can opt for much less temperamental and easier chocolate, like –  flavored almond bark, or your favorite melting chocolate – Wilton makes dark, or light chocolate melts that melt just as easily as the bark
*Milk chocolate will continue to be set up for up to a couple of days. Just remember, it's natural for milk chocolate to melt a little from the heat of your fingers.
*Shredded coconut flakes, when first opened are moist. After they've been opened and have been on the shelf for a while, they tend to lose moisture. If you don't have a new bag,  your coconut is dry and the mixture won't pack because if the lack of moisture – then simply adjust the moisture in the recipe by adding more condensed milk until the mixture will pack nicely and hold its shape
[box]




 [/box] ~Melissa – KidFriendlyThingsToDo.com