Mounds Bar CopyCat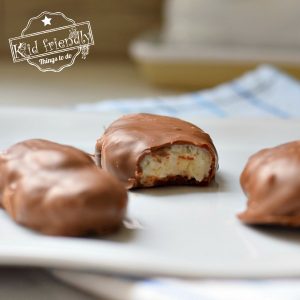 Posted by Melissa in Birthday/Holiday & Celebration Dish, Dessert, Easy Family Recipes, Fun Food Crafts, Game Ideas, Holiday Fun Foods, Recipe, Teacher Gift, Valentine's Day, Valentine's Day, Valentine's Day | 0 comments
Oh yummy! These candies are perfect for your holiday, and taste just like a Mounds Bar! Did I mention they are one of the most simple desserts I've ever made? 🙂
You'll Need:
1&3/4 cup of confectioners sugar
1&3/4 cup of sweetened coconut flakes
1/2 cup of sweetened condensed milk
2 cups of chocolate *** I have used both semi-sweet, and milk chocolate chips on these (they are the preferred and most delicious). You can opt for a much less temperamental and super easy chocolate like – flavored almond bark, or your favorite melting chocolate – Wilton makes dark, or light chocolate melts that melt just as easily as the bark
mini cupcake wrappers
Now, ***If you use milk chocolate or semi-sweet chocolate chips you have to temper the chocolate – This link will take you to a page to teach you all about melting chocolate!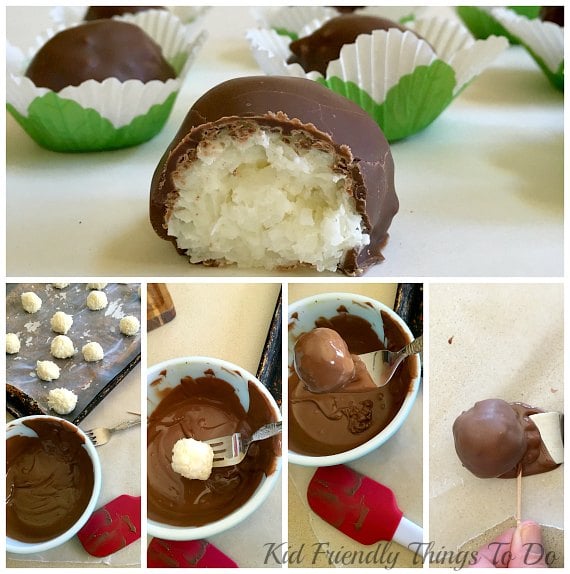 In a large bowl, combine the sugar, coconut, and milk – mix well
Take a large baking sheet, and line it with wax paper
Roll the mixture into little 1 inch balls, and place the balls onto the wax lined baking sheet
Pop the coconut balls into the freezer for about 30 minutes
When the coconut balls are almost ready, melt your chocolate
If you have chocolate melts – Place the chocolate melts in a glass, microwave proof bowl, and set the microwave for about 30 seconds. Take the chocolate out, and stir – repeat until the chocolate is melted, and smooth when you stir it (Should take about 1 – 1&1/2 minutes)
Prepare one more baking sheet with wax paper
Set a work station with the coconut balls, chocolate, and prepared baking sheet
Grab a fork, and a toothpick (my sytsem!)
Place a coconut ball into the melted chocolate, using your fork roll it around so it is coated, and gently lift it out, pausing at the edge of the bowl to tap the fork on the edge a few times – allowing an excess chocolate to fall down into the bowl
Now, set the fork onto the prepared baking sheet, and use the toothpick to guide the chocolate off of the fork, and onto the wax paper
Repeat until the coconut balls are done
Pop the chocolate covered balls into the freezer to set up – about 10 minutes
Place them into mini cupcake wrappers! Enjoy!
Adapted From Taste of Home – find the original, and other great recipes at TasteofHome.com