These adorable, rainbow cupcakes are in honor of St. Patrick's Day, but any day will do. I once hosted a "Rainbow" birthday party for my daughter. I wish I had thought of these, then. If you intend on using them at your St. Patrick's Day table, they will add a very special end to your dinner!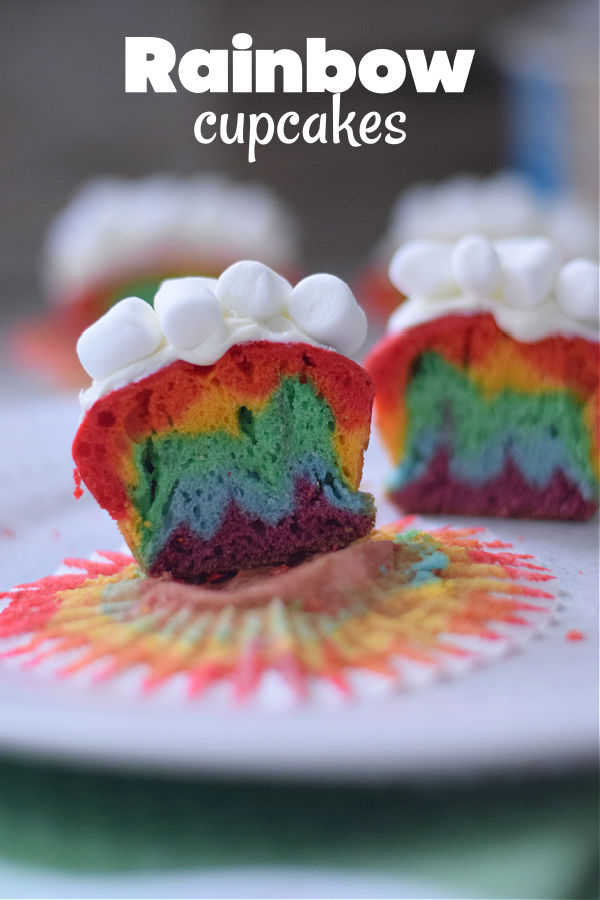 How to Make Rainbow Cupcakes
What fun it will be when everyone peels back the wrapper, and to their surprise, a layered rainbow is inside.
If you are looking for RAINBOW RECIPES, try some of my other fun recipes, like:
Ideas for Decorating Rainbow Cupcakes:
top with white frosting and a mini marshmallow cloud
top with white frosting and gold sprinkles
spread light blue frosting and top with a rainbow candy and mini marshmallow clouds just like I have decorated this Rainbow Sugar Cookie
Tips and Tricks for making Rainbow Cupcakes:
Experiment with how much batter to use for each cupcake – Start with 2 tsp. of each color and go from there. You'll want to fill your cupcake liner about 2/3 of the way to avoid over filling
To spread each color out, try spooning it out into a circle around the outer edge of the cupcake liner and place a dollop in the center – use the back of a spoon to fill in the gap
What are the Colors of the Rainbow?
Try using the Acronym – Roy G Biv. It is a made up name that stands for Red, Orange, Yellow, Green, Blue, Indigo, and Violet
Are you ready to make these fun St. Patrick's Day cupcakes? Let's make sure you have all of the ingredients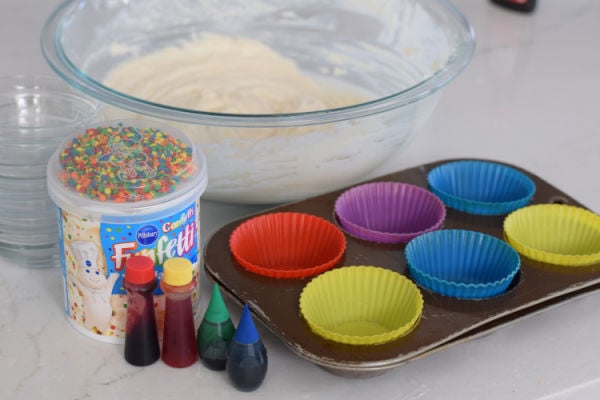 Ingredients:
A White Cupcake Mix
3 Egg Whites
1/3 Cup Vegetable Oil
1&1/4 Cups of Water
Food Coloring Dye
white frosting
mini marshmallows
Equipment:
Cupcake Tin
Large Bowl
Mixer
Cupcake Liners
six bowls
six spoons
How do you Make Rainbow Cupcakes?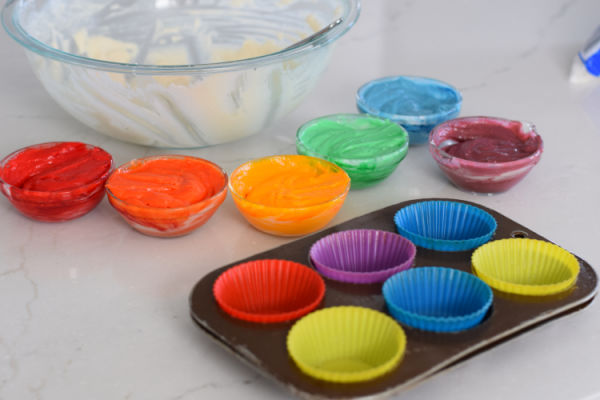 Instructions:
Mix the white cupcake batter
Reserve some – just in case you need more of a certain color
With the rest of the batter, divide it evenl into 6 small bowls
Color each bowl with a different color of the rainbow – I used purple, blue, green, yellow, orange, and red
Using a small amount of each color, layer the cupcakes by spooning batter into the wrapper starting with purple on the bottom and ending with red at the top
Allow cupcakes to cool
Spread frosting and decorate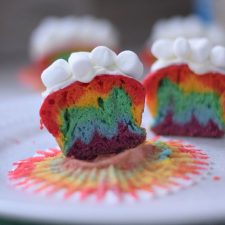 How to Make a Rainbow Cupcake
How to make Rainbow Cupcakes
Print
Pin
Rate
Equipment
1 large bowl

1 mixer

12 cupcake wrappers

6 small bowls

6 spoons

1 cupcake tin

enough to hold 12 cupcakes
Ingredients
1

A White Cupcake Mix

3

Egg Whites

⅓

Cup

Vegetable Oil

1

&1/4 Cups of Water

White Frosting

Food Coloring
Instructions
Preheat your oven as directed by your mix – 350 degrees is typical.

Prepare the cupcake mix, as directed by the mix.

Reserve some white cupcake batter

*(This is just in case you run out of a certain color. You can make more from your reserve)

Pour your cupcake batter, evenly between your six bowls

Color each bowl with 6 different rainbow colors

See the colors of the rainbow, below…
**Colors of the Rainbow –
Red, Orange, Yellow, Green, Blue, Indigo, Violet

I used six out of the seven colors, and it was hard to only go 2/3 of the way up the cupcake wrapper. You might want to pick 5 out of 7. But, if you want them all, just trim any excess off of the cupcake. (It will definitely puff up, and out)
Filling the Cupcake Wrappers:
Have a separate spoon for each color, so you don't end up with brown

Start with the bottom color of the rainbow – violet.

Spoon just enough to cover the bottom of your wrapper. Spread the color around to cover the entire bottom.

With your next color, try to spoon it out in a circle. Make a circle with your color, on the outer edge of your cupcake, and add a drop in the middle. This will help your spread the color without mixing the two together

You can pick up your cupcake tin, and tip it side-to-side to help spread the top layer of color.

Use your spoon to spread and fill in the gaps

If it isn't perfectly covered, don't worry. Just try to get most of it.

Continue, until you have your top color

Bake as cupcake mix directs you. Typical instructions for cupcakes is 350 degrees, 18-22 minutes
Decorating Ideas:
Spread white frosting onto cooled cupcakes

top with gold sprinkles, or mini marshmallows

Spread light blue frosting onto cooled cupcakes and top with rainbow candy and mini marshmallow clouds – Example in picture below
Notes
Storage:
Store covered at room temperature for 3-4 days
How much batter do I use for each cupcake? 
Experiment with how much batter to use for each cupcake – Start with 2 tsp. of each color and go from there. You'll want to fill your cupcake liner about 2/3 of the way to avoid over filling
Nutrition
Calories:
288
cal
|
Carbohydrates:
37
g
|
Protein:
4
g
|
Fat:
14
g
|
Saturated Fat:
3
g
|
Polyunsaturated Fat:
6
g
|
Monounsaturated Fat:
5
g
|
Trans Fat:
0.04
g
|
Cholesterol:
1
mg
|
Sodium:
224
mg
|
Potassium:
74
mg
|
Fiber:
1
g
|
Sugar:
23
g
|
Vitamin A:
34
IU
|
Vitamin C:
0.1
mg
|
Calcium:
85
mg
|
Iron:
1
mg
Happy St. Patrick's Day! :0)
~Melissa
KidFriendlyThingsToDo.Com