A Rainbow Cupcake Recipe For St. Patrick's Day or A Rainbow Party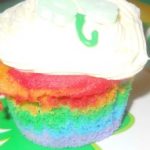 Posted by Melissa in Birthday/Holiday & Celebration Dish, Cupcakes, Dessert, Easy Family Recipes, Fun Food Crafts, Game Ideas, Holiday Fun Foods, Recipes, St. Patrick's, St. Patrick's Day | 0 comments
These adorable, rainbow cupcakes are in honor of St. Patrick's Day, but any day will do. I once hosted a "Rainbow" birthday party for my daughter. I wish, I had thought of these, then!
If you intend on using them at your St. Patrick's Day table, they will add a very special end to your dinner! What fun it will be when everyone peels back the wrapper, and to their surprise, a layered rainbow is inside! Definitely Good Stuff! Here's what you'll need to make your Rainbow Cupcakes!:
A White  Cupcake Mix
3 Egg Whites
1/3 Cup Vegetable Oil
1&1/4 Cups of Water
Large Bowl
Mixer
Cupcake Wrappers
White Frosting
six bowls
six spoons
Food Coloring Dye – See recommendations, below.
Cupcake Tin
Preheat your oven as directed by your mix. 350 degrees is typical. Prepare the cupcake mix, as directed by the mix. If you have your own white cupcake recipe, that's even better! Reserve some white cupcake batter (This is just in case you run out of a certain color. You can make more from your reserve). Pour your cupcake mix, evenly between your six bowls. Color each bowl with 6 different rainbow colors. See colors of the rainbow, below.
Mine yielded 12 cupcakes. You can stretch it out to make more. I was a little overzealous in my colors!
**The Best – in my opinion – Color Set is Ateco Gel Squeeze Bottles. They stay true to their color, and they come in packages up to 12 colors! I found mine on Amazon.Com. You will love having these in stock! So much better than using a toothpick!
**Colors of the Rainbow! Red, Orange, Yellow, Green, Blue, Indigo, Violet
I used six out of the seven colors, and it was hard to only go 2/3 of the way up the cupcake wrapper. You might want to pick 5 out of 7. But, if you want them all, just trim any excess off of the cupcake. It will definitely puff up, and out! I know mine did!
Now, Fill the Cupcake Wrappers!:
Have a separate spoon for each color, so you don't end up with brown!
Start with the bottom color of the rainbow – violet.
Spoon just enough to cover the bottom of your wrapper. Spread the color around to cover the entire bottom.
With your next color, try to spoon it out in a circle. Make a circle with your color, on the out edge of your cupcake, and add a drop in the middle. This will help your spread the color without mixing the two.
You can pick up your cupcake tin, and tip it side-to-side to help spread the top layer of color.
Use your spoon to fill in the gaps.
If it isn't perfectly covered, don't worry. Just try to get most of it.
Continue, until you have your top color.
Bake as cupcake mix directs you. Typical instructions for cupcakes is 350 degrees, 18-22 minutes.
Decorating Ideas:
I started out by using vanilla frosting as a cloud over my rainbow. I used an open star pastry tip. I started on the outside of the cupcake, and worked my way into the center, somewhat overlapping the last circle, in a circle formation. Finally, in the center, I pulled the tip up to create a point.
I just used 3 colors of colored licorice cut into different lengths to create a rainbow on top of my cupcake.
Luckily, St. Patrick's follows Valentine's Day, and candy hearts are available.
I used 3 green candy hearts, facing them outward, to make a Shamrock shape.
I used green icing for the stem.
Happy St. Patrick's Day! :0)
I found instructions for myself on familyfun.com
~Melissa
KidFriendlyThingsToDo.Com –Providing fun kid friendly activities, recipes, ideas and crafts to do with kids!