How to decorate a butterfly cupcake in easy steps. And they can be made in advance. Perfect for your spring, summer, fairy, or insect party.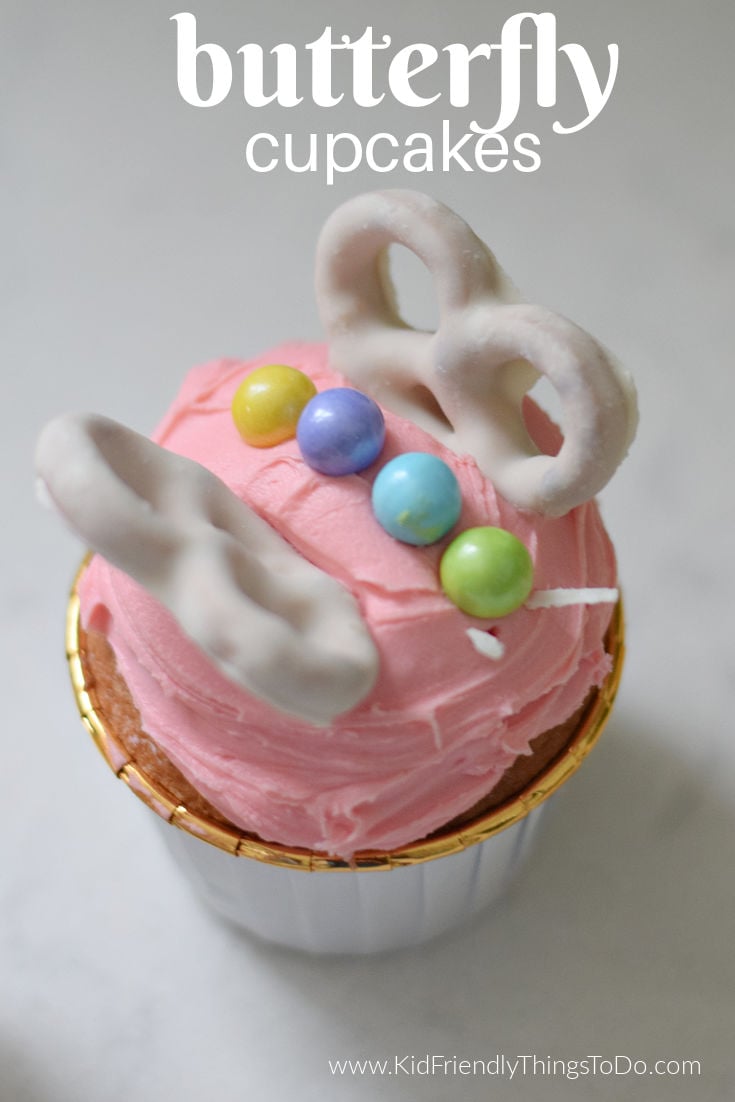 Butterfly Cupcakes
Now that the snow is all melted, I can't wait to see signs of spring everywhere. I want to see flowers budding and butterflies. I guess until then, I'll have to settle for these really easy-to-make butterfly cupcakes.
These are really fun for the kids to help with, or for you to get your creative juices flowing without the kids.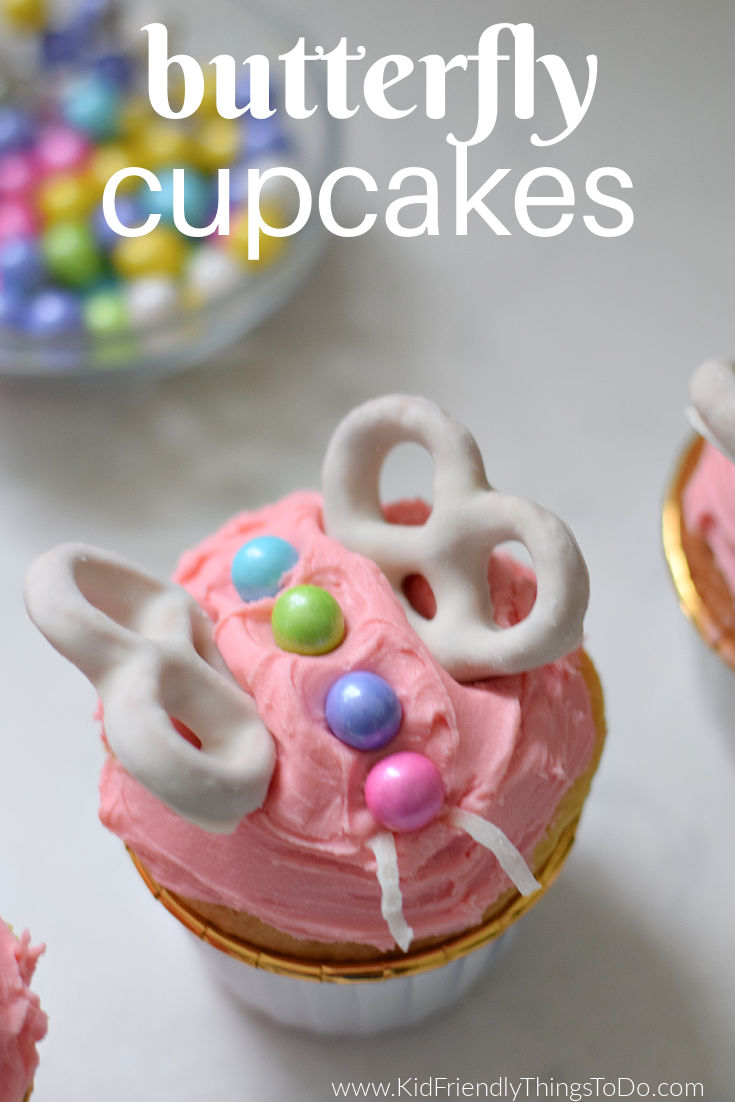 What Makes this Butterfly Cupcake work?
easy to assemble
kids can help make them
you can use your favorite cupcake recipe or a boxed cake mix
perfect for birthday parties
can be made ahead
What are some great ideas for spring party treats?
Also great ideas for a Fairy Party
Follow Me on Social Media
FACEBOOK
Facebook Page: Recipes Passed Down
Facebook Page: Kid Friendly Things To Do
Join my Facebook Groups
Easy Family Recipes – Just Like Mom Used to Make
Kid's Crafts and Activities for the whole family
PINTEREST
Click to go to MY Pinterest Profile
Make-Ahead and Storage:
These cupcakes can easily be made a few days in advance. If left uncovered on the counter, they can set out for 1 day.
Covered, at room temperature will increase their shelf life to up to three days.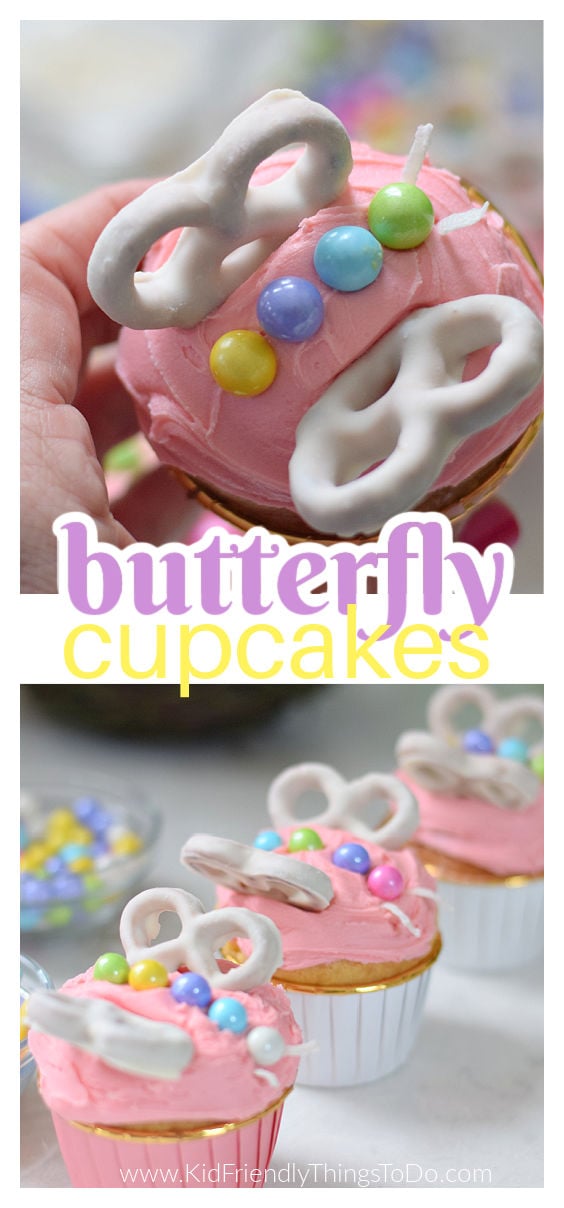 Tips and Tricks for making cupcakes
fill your cupcake liners placed in a muffin pan about 2/3 of the way full. Spoon cupcake batter in until you have reached the level that looks about 2/3 of the way up the cupcake liner. If you overfill the liner they will not bake properly and will overflow
Are you ready to make these cute insect cupcakes? Let's make sure you have everything you'll need: 
makes 1 dozen
12 baked and frosted cupcakes – I used pre-made pink vanilla frosting
White Fudge covered pretzels – I bought these pre-made, as well
Colorful candies – I used pastel Sixlets. Round chocolate candies for the body
24 Coconut flakes for the antenna – 2 for each cupcake
Here are some of the products that I used for these easy to make cupcakes 
affiliate links:
How do you make butterfly cupcakes?
Grab the full instructions in the printable recipe card, below:
Whisk your cupcake ingredients in a large mixing bowl
Using a muffin tin lined with paper liners, pour the mixture about 2/3 of the way full into each liner
Bake cupcakes in the oven using the time stated according to your cupcake recipe
Once cooled on a wire rack, completely frost cupcakes – you do not need to do anything fancy. Simply spread the frosting onto the cupcakes
Add sixlets for the butterfly body, fudge pretzels at an angle for butterfly wings, and sweetened coconut flakes for the antenna
Here's a quick video on how I decorated this easy butterfly cupcake idea…
Print
An Easy Butterfly Cupcake With Step-By-Step Instructions
Easy to make butterfly cupcakes
Author:
Prep Time:

10 minutes

Cook Time:

25-30 minutes

Total Time:

0 hours

Yield:

1

dozen

1

x
12

baked and frosted cupcakes – I used pre-made pink vanilla frosting
White Fudge covered pretzels – I bought these pre-made, as well
Colorful candies – I used pastel Sixlets. Round chocolate candies for the body

24

Coconut flakes for the antenna – 2 for each cupcake
Instructions
Bake cupcakes according to your cupcake recipe in the oven
Once cooled completely frost cupcakes – you do not need to do anything fancy. Simply spread the frosting onto the cupcakes
Right down the middle of the cupcake – Add sixlets for the butterfly body – I added 4 0r 5
Place the fudge pretzels for wings at an angle on either side of the body
Place sweetened coconut flakes for the antenna – just under the first Sixlet (I experimented with placement and this was the best look)
Notes
*You can probably get 24 cupcakes out of one cake box. Adjust the number of decorations you'll need for that amount
*Store cupcakes on the counter uncovered for up to one day or covered for up to 3
~Melissa -KidFriendlyThingsToDo.com