These simple Pastel Strawberries are perfect for a spring or Easter dessert treat. Easy to make and a big hit with kids and adults.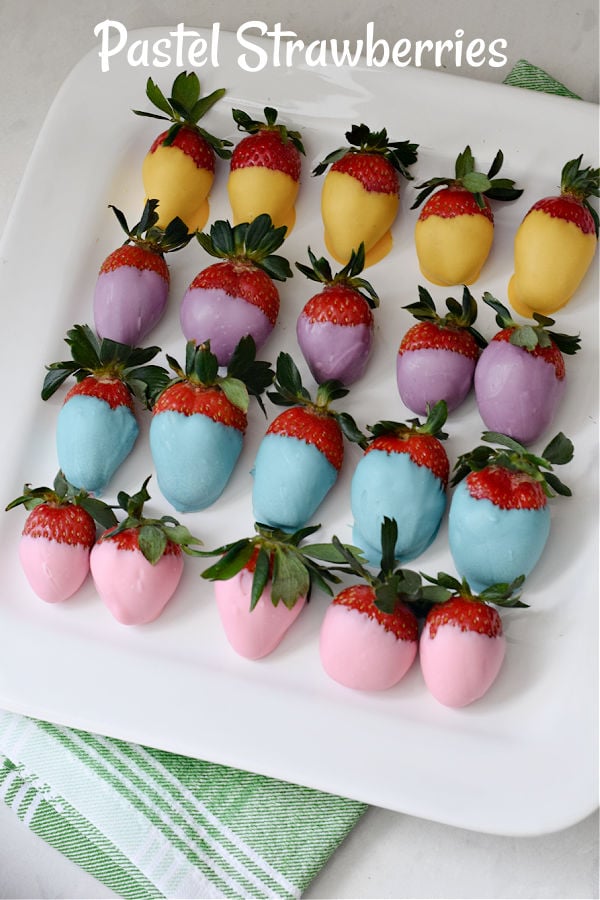 Pastel Strawberries
These strawberries are simple and subtle. I have made more decorative pastel strawberries with colorful lines in the past but ultimately decided to just keep it simple this time. Sometimes keeping it plain and simple is the prettiest.
If you love making chocolate-covered strawberries for your holiday parties, I've got you covered. You might want to check out my post on making Easter Carrot Strawberries, or these beautiful and simple rainbow chocolate covered strawberries
What I love about these strawberries:
they are subtle and pretty
easily customized with sprinkles for any occasion
the colors are perfect for Easter or spring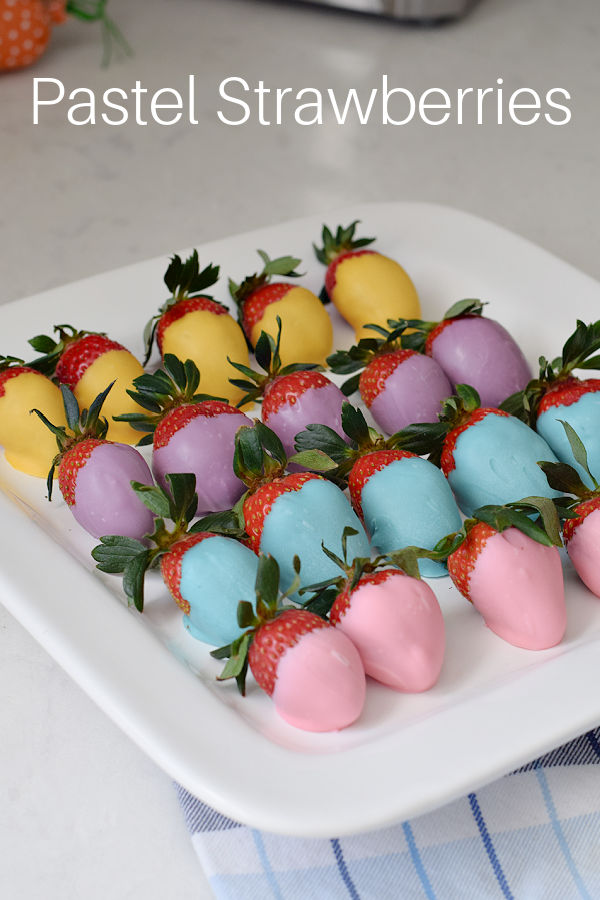 Storage and Make-Ahead
Can I make Chocolate Covered Strawberries ahead of time?
Yes, you can easily make chocolate-covered strawberries a day in advance. I would not suggest making them any earlier than that as strawberries are perishable and will start to leak through the chocolate
How do you store Chocolate Covered Strawberries?
You can store them on the counter at room temperature for a few hours. Any time beyond that, store it in the refrigerator
Note: Storing chocolate in the refrigerator can cause condensation and chocolate bloom, which is sugar on the surface of your chocolate resulting in white spots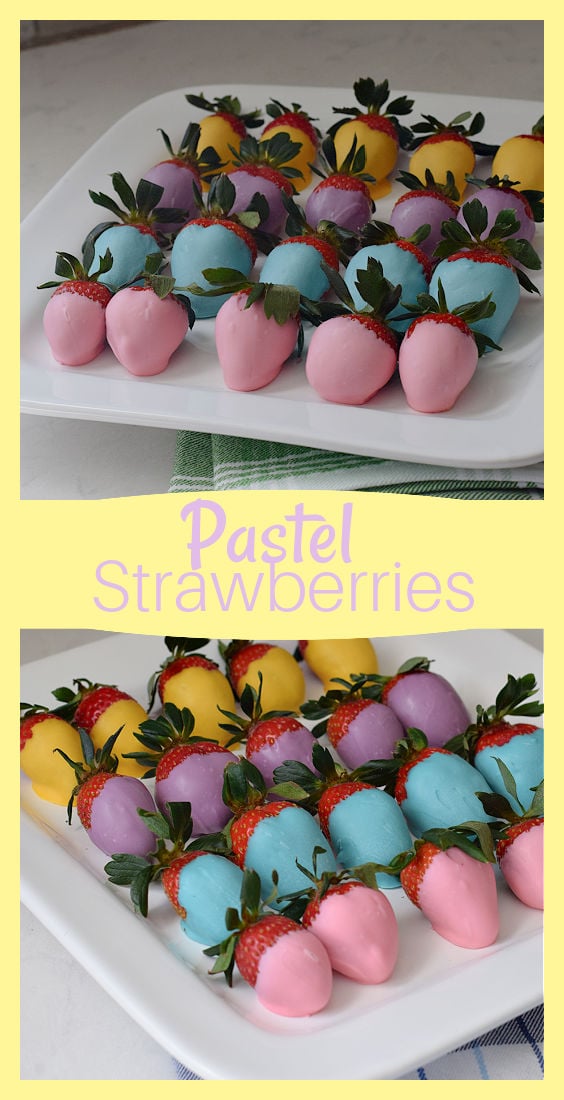 FAQs
What type of chocolate should I use for melting chocolate?
There are several companies that produce chocolate melts. These chocolates are easy-to-melt white chocolate and come in a variety of colors.
How do you melt chocolate melts?
You can use a chocolate melting pot, a double boiler, or use the microwave
How do you melt chocolate in the microwave?
I like to use a microwave-proof glass bowl to melt chocolates. Pour as much chocolate as you will need into the bowl. Place in the microwave on high for about 1 minute. Stir the chocolate to distribute the melted parts or until smooth.
If necessary, microwave for another 30 seconds. Stir until smooth. Do not go past 1&1/2 minutes or you run the risk of chocolate seizing
What is chocolate seizing?
Chocolate will seize when it has become too hot or comes into contact with liquid. It will become a very thick texture that is no longer smooth and not good for dipping
How do you fix seized chocolate?
Add a very small amount of lard, or solid coconut oil and stir until smooth
This version of your chocolate will not set up and dry as quickly, and may never completely harden
To help prevent over-softened chocolate, Only use a tiny amount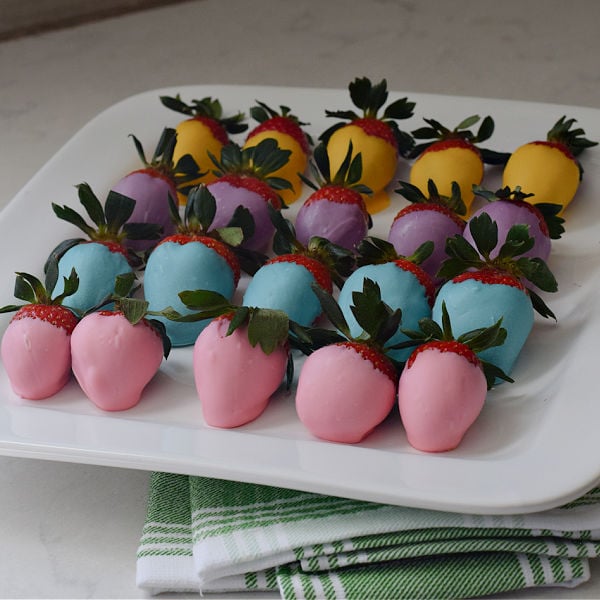 Tips and Tricks:
because the chocolate hardens quickly, do one color at a time
if you plan to add sprinkles, then add them while the chocolate is still wet
use wax paper to protect your counter and easily lift chocolate from
silicone spatulas are a great utensil when working with melted chocolate – store them on wax paper to easily lift them off
toothpicks are a great tool to use to fix little mistakes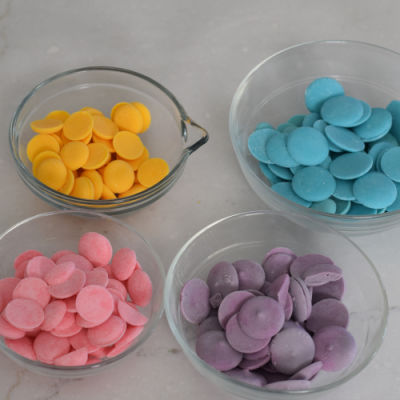 What do you need to make pastel chocolate-covered strawberries?
Ingredients:
chocolate melts in pastel colors – like yellow, orange, lavender, light blue, light green, and pink
fresh strawberries, rinsed and dried
Other equipment
microwave proof glass bowls
silicone spatula to stir the chocolate
microwave
wax paper
possible toothpick
How to make Pastel Chocolate Covered Strawberries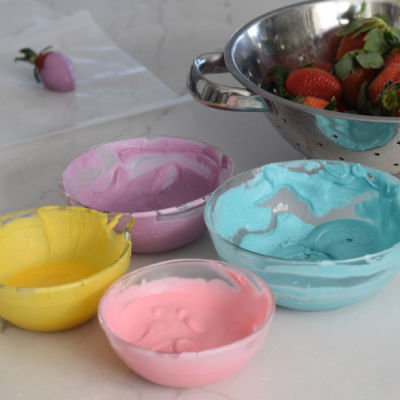 melt one color of the chocolate
stir melted chocolate
place the wax paper onto the countertop
dip some of the cleaned and dried strawberries into the melted chocolate
lift up and let the excess chocolate melt off
place the strawberries carefully onto wax paper and let dry
repeat with other colors of chocolate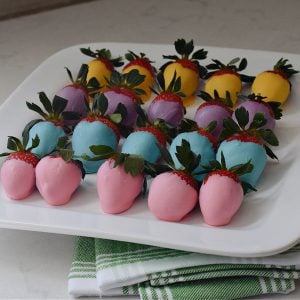 Pastel Strawberries
Colorful chocolate covered strawberries in pastel colors for spring and Easter
Print
Pin
Rate
Equipment
4 small microwave-proof bowls
Ingredients
1

lb.

strawberries

rinsed and dried

⅓

cup

light purple chocolate melts

⅓

cup

light blue chocolate melts

⅓

cup

yellow chocolate melts

⅓

cup

light pink chocolate melts

optional – pastel sprinkles
Instructions
melt one color of the chocolate

*place chocolate in the microwave for 1 minute, stir unti smooth. Microwave an additional 30 seconds, if necessary

place enough wax paper onto the countertop to hold strawberries

dip 1/4 of the dried strawberries into this color of melted chocolate

I like to dip the strawberry about half way or 3/4 of the way up keeping some of the red exposed

lift the covered strawberry up and let the excess chocolate drip off

place the strawberries carefully onto wax paper and let dry

If you are using sprinkles, this is when you can add them while the chocolate on the strawberry is still melted

repeat with other colors of chocolate
Notes
Nutrition facts are only an estimate 
Colors:
Any light pastel color will do for making these strawberries. Options might include, light green, orange, light yellow, and light pink
Can I color white chocolate chips? 
Yes, but it is best to use an oil-based food coloring. It is possible to use gel food coloring, but it will need to be added while the chocolate is still warm and it does run the risk of seizing the chocolate 
Nutrition
Calories:
46
cal
|
Carbohydrates:
6
g
|
Protein:
1
g
|
Fat:
2
g
|
Saturated Fat:
1
g
|
Polyunsaturated Fat:
0.1
g
|
Monounsaturated Fat:
1
g
|
Cholesterol:
2
mg
|
Sodium:
7
mg
|
Potassium:
50
mg
|
Fiber:
0.4
g
|
Sugar:
5
g
|
Vitamin A:
4
IU
|
Vitamin C:
11
mg
|
Calcium:
18
mg
|
Iron:
0.1
mg