Just in time for a nice spring picnic. These Soft Lemonade Cookies will be the perfect complement to a nice, cold glass of iced tea. Sweet, tart, and perfectly delicious.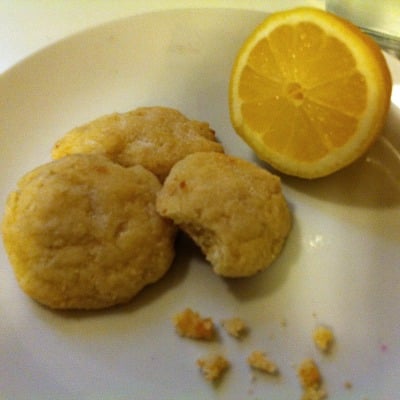 Soft Lemondade Cookies
Are you looking for cookies and bar recipes? Try, some of my other recipe posts, like:
Here's what you'll need:
1/2 cup of softened unsalted butter
1 cup of sugar
1/2 cup of applesauce
3 cups of all-purpose flour
1 cup of Country Time Lemonade  Powder Mix
1 t. of baking soda
Topping:
1 cap full of Country Time Lemonade mixed with 1/2 cup of water
Sugar
Now:
Preheat the oven to 400 degrees
In a mixing bowl or mixing aid – Cream the butter and sugar together
Add applesauce and eggs
In a separate bowl, combine the flour, lemonade powder and baking soda
Mix the dry mixture into  the wet mixture
Roll the dough into small balls and place onto baking sheets.
Bake the cookies for 8-10 minutes
Remove the cookies to cool
While the cookies are still warm, brush the cookies with your Lemonade and sprinkle with sugar
Makes about 4 dozen cookies!
~Melissa – KidFriendlyThingsToDo.Com – Recipes, fun foods, party ideas, kid friendly crafts, and fun things to do with the whole family