Making this Turtle Shaped Watermelon Fruit Bowl is a fun way to celebrate summer. It's a great addition to summer cookouts, barbecues, and summer parties.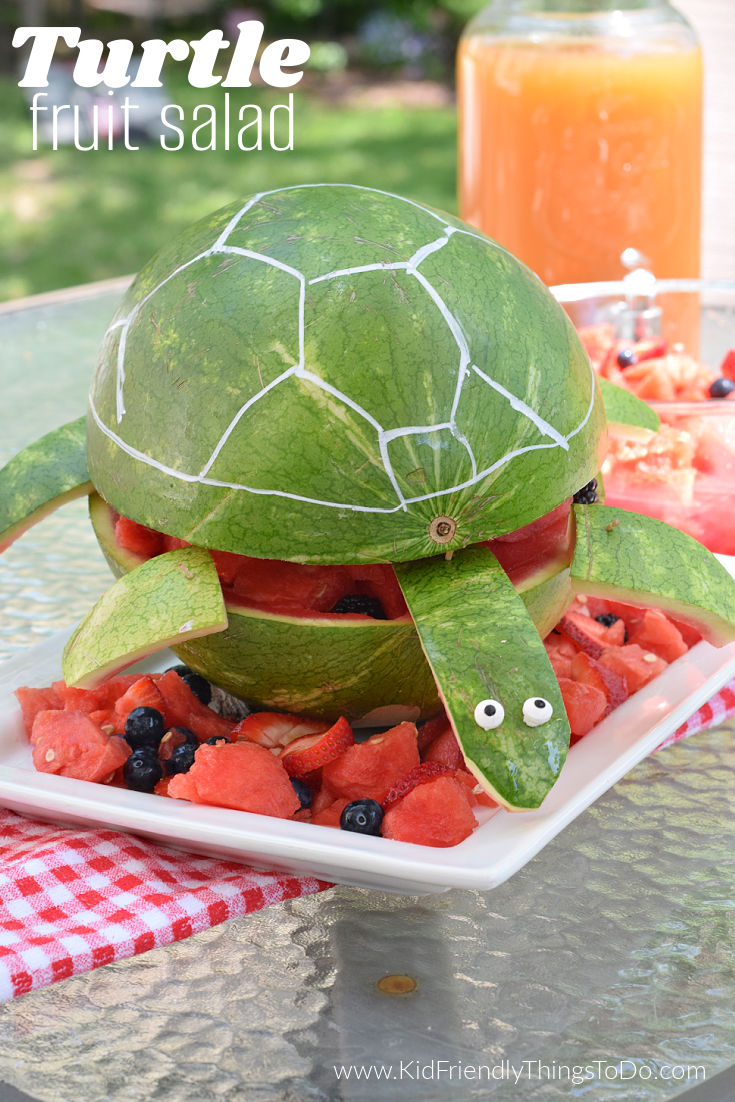 Turtle Watermelon Fruit Bowl
What I like about this Watermelon Fruit Bowl
making it with a chalk marker makes it very easy to make
it's so cute for a fun summer dish
making fruit cute, means the kids will eat more of it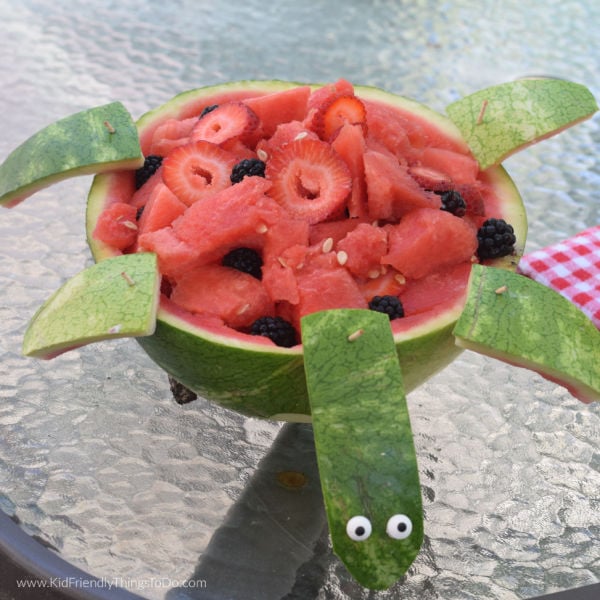 FAQs
What Goes with Watermelon?
raspberries
blueberries
blackberries
cantaloupe
honeydew melon
kiwi
seedless grapes
strawberries
pineapple
mango
How do you Cut a Watermelon for Fruit Bowls?
It really depends on the type of fruit bowl you are trying to create. For example, in a watermelon basket fruit bowl, the watermelon can sit in an oblong or upright position. A shark fruit bowl would be upright with the bottom sliced off and the mouth carved out of it. A frog would be much like the shark with the mouth cut out and added decorations. The easiest and most classic would be to set the watermelon either oblong or upright (whichever is most stable), slice the top 1/3 portion off of the watermelon, scoop out the watermelon flesh, then add back the cut-up pieces along with other fruits.
Why Do People Put Salt on Watermelon?
Putting salt on watermelon is a kind of controversial topic. People either grew up putting it on watermelon slices, as I did in the mid-west, or they have never and never would dare to. I think it really all goes back to your heritage and if you were raised to sprinkle a little salt on your watermelon.
To speak to the flavor aspect of adding salt to watermelon though…
everyone loves that sweet and salt combination like salted caramel or chocolate-covered pretzels
adding salt to fruit brings out its' natural flavors and reduces any bitterness it might have
Make-Ahead and Storage:
Can you make a watermelon fruit bowl in advance?
Yes, you absolutely can. Just remember to cover it and store it in a refrigerator to preserve its' freshness
How do you store a watermelon fruit bowl?
Some fruits in a fruit salad stay fresh longer and better than others. Strawberries tend to wilt and lose their freshness, while melons can last for days.
Storing: Cover and refrigerate for 3-5 days
How do I keep Fruit Salad Fresh?
Adding acidic juices like orange juice, pineapple juice, lime juice, or lemon juice helps preserve fruits. Simply toss the fruits in the juice to coat
A lemon-lime soda is acidic and can be used the same way as an acidic juice would. Toss the fruit salad with a lemon-lime soda like Sprite or 7-Up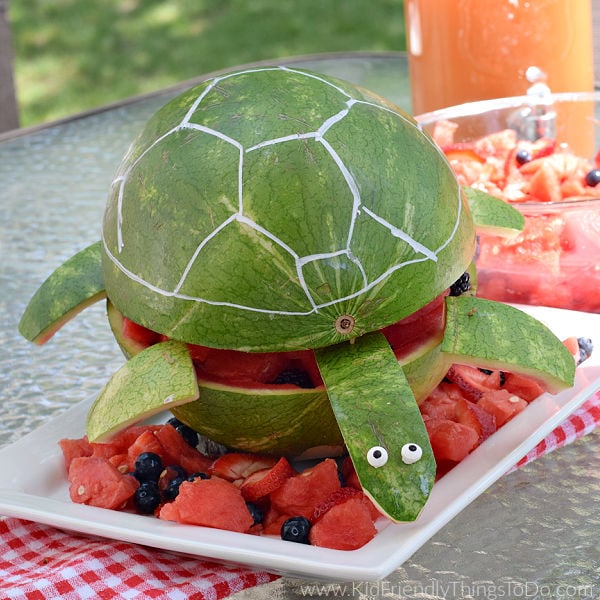 Tips and Tricks to making this Turtle Watermelon Fruit Bowl:
you'll need two watermelons for this cute food idea
try to find a round watermelon for the turtle shape
rotate the watermelon until you find a spot that it balances by itself
you can always use something to prop the watermelon up and help it balance better
after you have made the design with your chalk marker, set it aside so it can dry and really set up. The longer the chalk marker dries the better chance you have of the design being free of smudges
If you think you're ready to make this turtle watermelon bowl, let's make sure you have everything you'll need:
Ingredients:
2 watermelon – making sure one is a round shape for the body. The other one will be used for legs and a long neck
other fresh fruits like canteloupe, honeydew, grapes, strawberries, raspberries, and blackberries
a white chalk marker
candy eyes
mini marshmallow
Extra useful equipment:
melon baller
sharp knife for cutting
small paring knife
How do you make a Turtle Watermelon Bowl?
(complete details and photos in the printable recipe card)
cut a round watermelon in half
scoop out the watermelon from both halves and place it into a large bowl
add a variety of fruits to the watermelon in the bowl, making a fruit salad
set the bottom half of the watermelon down on a serving platter
decorate the top half with a chalk marker making the pentagon shapes of a turtle shell
cut 1/4 of the extra watermelon and remove the watermelon flesh so you can cut up the rind
use the cut portion to make the turtle feet and a long neck
shape the neck into a point
add candy eyes to the pointed section
using toothpicks place the feet and neck into the bottom half of the watermelon for the turtle's body
place cut-up extra fruit in the bottom half of the turtle
add the turtle shell
mound any extra cut-up fruit around the turtle
More Watermelon Fruit Bowls
Shark Watermelon Bowl Fruit Salad 
Shovel and Pail Watermelon Bowl 
For more fun and more recipes…Come Hang out with Me on Social Media
Facebook Page: Recipes Passed Down
Facebook Page: Kid Friendly Things To Do
I'd love for you to join my Facebook Groups
Easy Family Recipes – Just Like Mom Used to Make
Print
Turtle Shaped Watermelon Fruit Bowl
A cute and easy turtle watermelon fruit salad bowl for summer cookouts and parties.
Author:
Prep Time:

30 minutes

Cook Time:

none

Total Time:

6 minute

Yield:

10

-

12

servings

1

x
2

watermelon – making sure one is a round shape for the body. The other one will be used for legs and a long neck
other fruits like cantaloupe, honeydew, grapes, strawberries, raspberries, and blackberries
a white chalk marker
candy eyes
mini marshmallow
knives for cutting
Instructions
cut a round watermelon in half
scoop out the watermelon from both halves and place it into a large bowl
add a variety of fruits to the watermelon in the bowl, making a fruit salad
set the bottom half of the watermelon down on a serving platter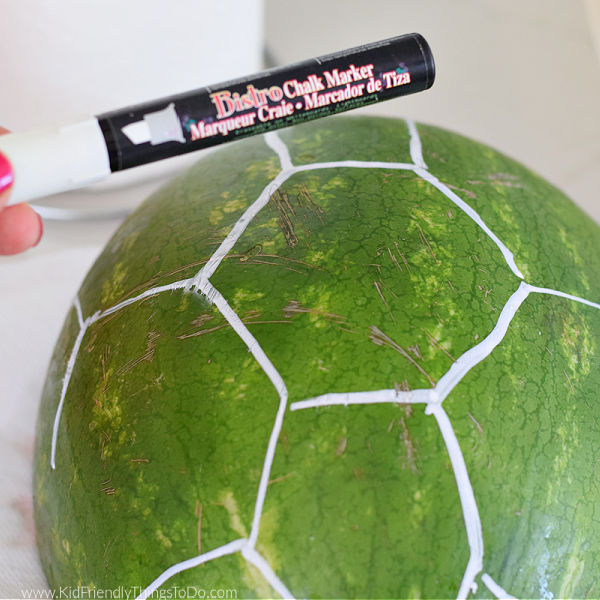 decorate the top half with a chalk marker making the pentagon shapes of a turtle shell
cut 1/4 of the extra watermelon and remove the watermelon flesh
use the cut portion to make the neck with a pointed end and the legs with a simple rectangular shape
cut a mini marshmallow in half and cut the ends making it sticky on both sides
using the sticky marshmallow, attach eyes to the pointed end of the turtle neck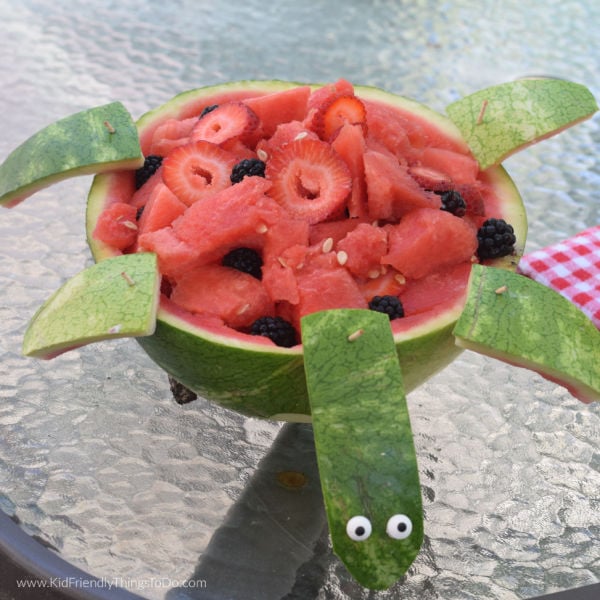 using toothpicks place the feet and neck into the bottom half of the watermelon for the turtle's body
place cut-up fruits in the bottom half of the turtle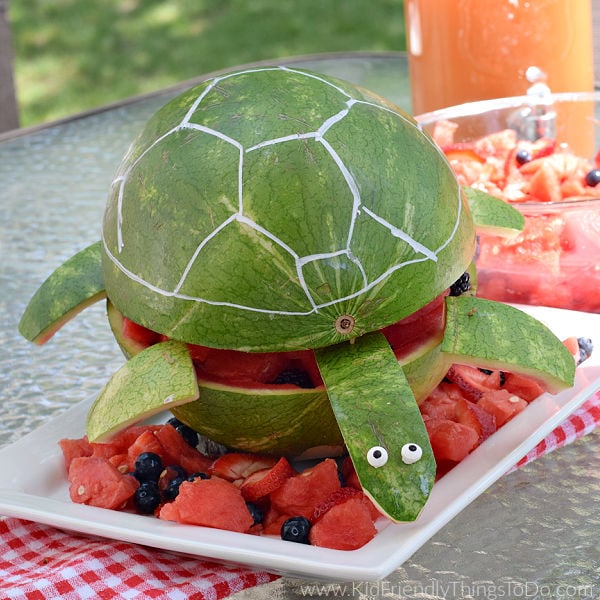 add the turtle shell
mound any extra cut-up fruit around the turtle