It's spring and it's almost Mother's Day and these Flower Chocolate Covered Pretzels are the perfect gift. I think this calls for a fun food craft made with mom in mind. Today, I'd love to share how I used Chocolate Covered Pretzels to make easy Spring Flowers.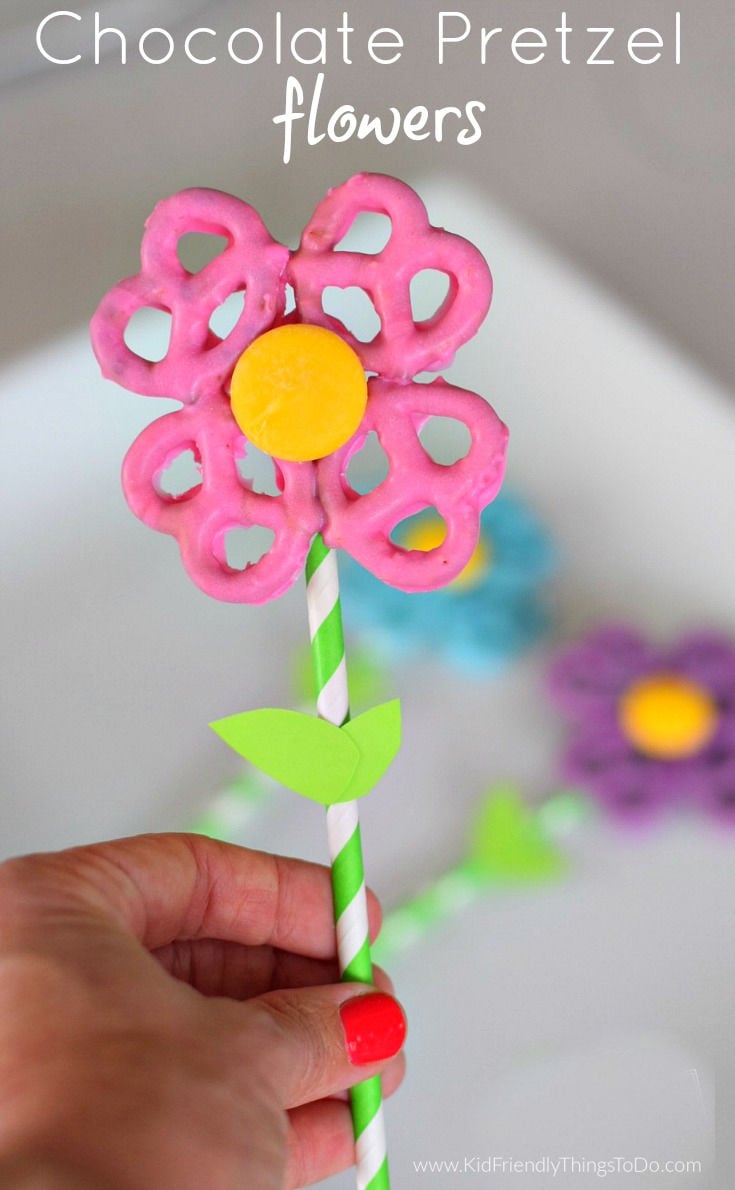 Flower Chocolate Covered Pretzels
I'll show you how to make them into Chocolate Pretzel Pops, too!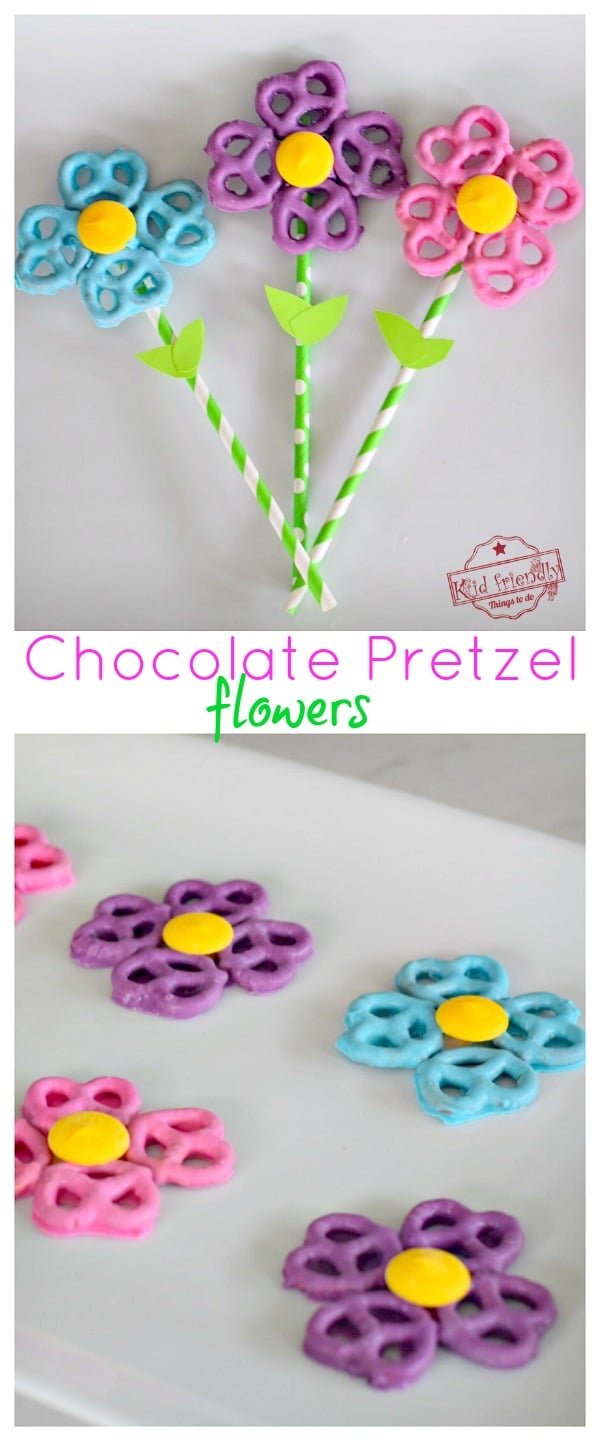 They are cute either way. In keeping with my theme "fun and simple" – they are so easy to make. You'll have a dozen flowers to give to mom or celebrate spring within no time at all.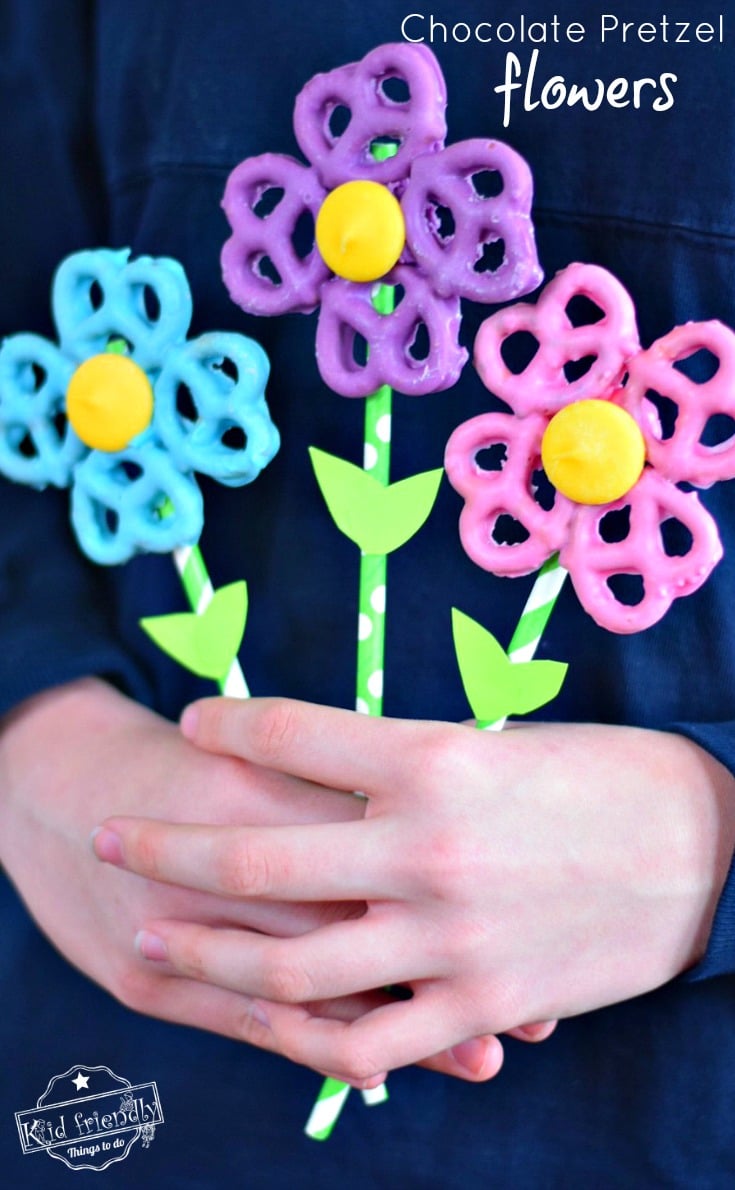 Aren't they sweet?
I love making chocolate-covered anything and everything for the site, so I have loads of ideas for you to try out. If you had fun with these chocolate-covered pretzel bites, then you might like my Colorful Pretzel Bites
and for a really easy to make chocolate covered strawberry that is perfect for spring or summer, try my Chocolate Strawberry Ladybugs
Here are my top Amazon Picks for this Chocolate Covered Pretzel Recipe
(affiliate links)
[box] [/box]
Here's What You'll Need to make this Chocolate Covered Pretzel Recipe for Spring
This will make approximately 1 dozen flowers
Chocolate Melts (assorted spring colors)- (Wilton is my preferred) You'll need approximately 12 oz. for 1 dozen chocolate-covered pretzel flowers – *I used 3 colors, but you could stick with one color if you want
1 dozen yellow chocolate melts
Approximately 48 mini-twist pretzels
A glass microwave-proof bowl
Silicone Spatula
A fork
Wax Paper
Optional Paper Straws, cut-out paper leaves, and glue to make the Pretzel Treats into Pretzel Pops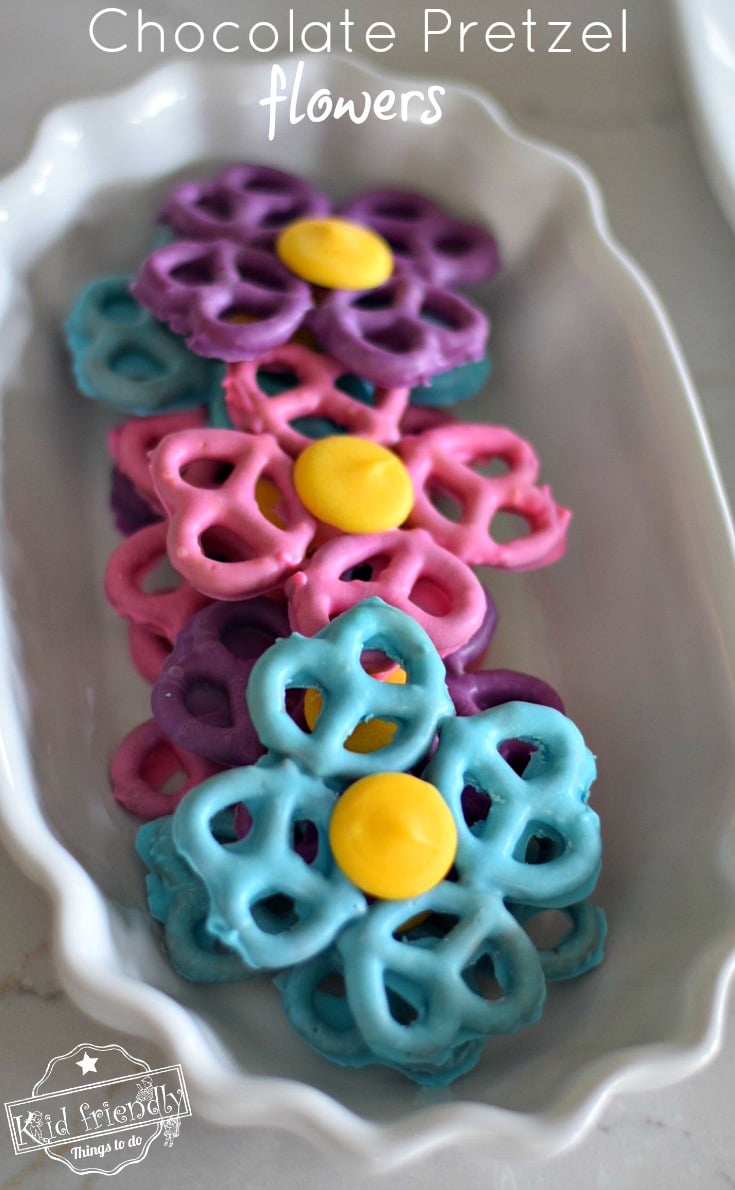 Here's a quick Video to show you how I made these Pretzel Flowers:
Instructions:
First, Preparing the Chocolate and getting ready…
If you are using assorted colors as I did, pour about 1/2 cup into a microwave-proof glass bowl
*If you are only using one, then use the whole bag
Melt the chocolate in the microwave for 1 minute, stir with your spatula, and pop it back in for 30 seconds – stir until smooth
Transfer your melted chocolate to your work surface
Set out a large sheet of wax paper
Gather your other supplies, pretzels, yellow chocolate melts, and fork
Dipping the pretzels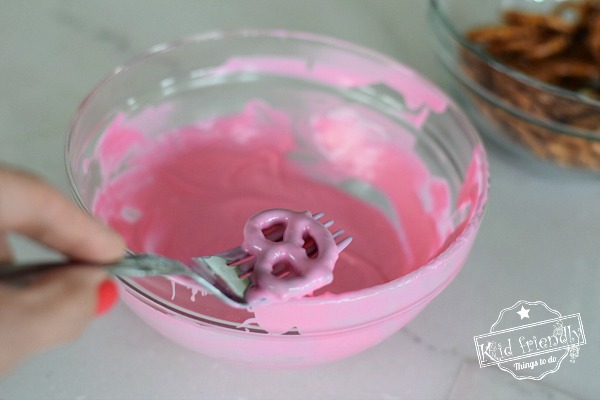 Now, Place a pretzel into the chocolate and push it down with your fork, turn it around to coat it
Then, Use the fork to lift the coated pretzel up to the edge of the bowl
Finally, Tap the fork several times to release the excess chocolate
Hardening the Dipping Chocolate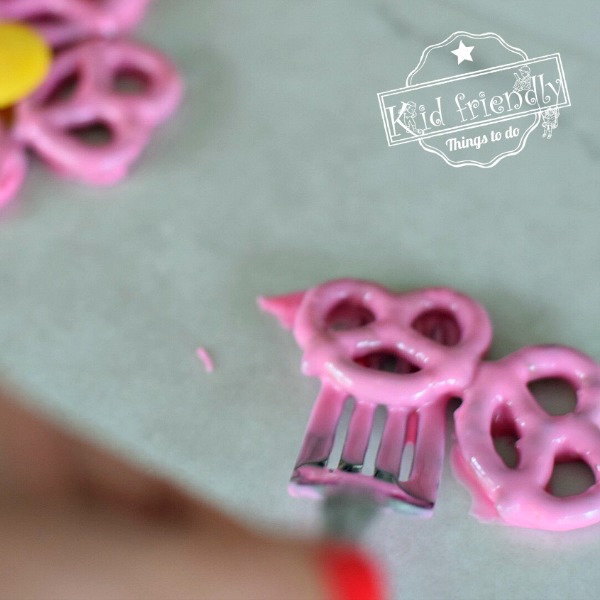 Now you can Gently place the pretzel onto the wax paper
Then, Repeat the process with 3 more pretzels, placing the pretzels down in a circle formation with the tops facing outward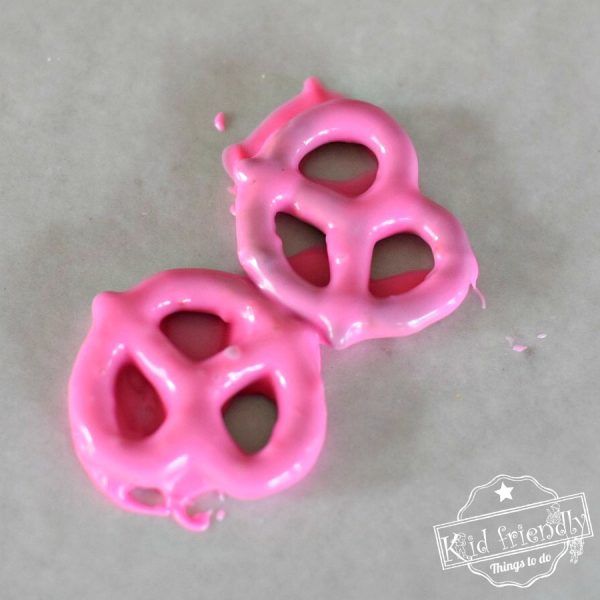 *I placed mine so the side tips of the pretzels rested on top of each other in a circle, which you can see in the the image above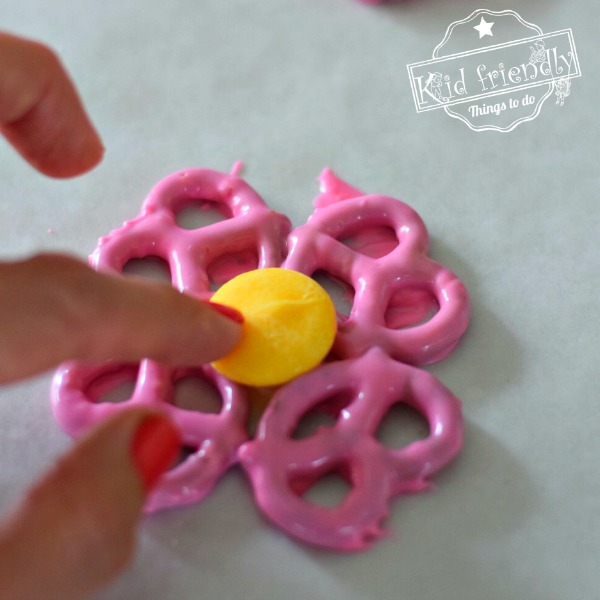 Finally, place the yellow chocolate melt in the center of the pretzel circle
Let the chocolate harden by simply drying at room temperature. This should only take a few minutes
That's 1 flower
Repeat making more flowers until most of the chocolate is gone out of the bowl
Do the same process with all of your chocolate colors, except the yellow chocolate melts
*Optional – Adding a stem to your Flower chocolate-covered pretzel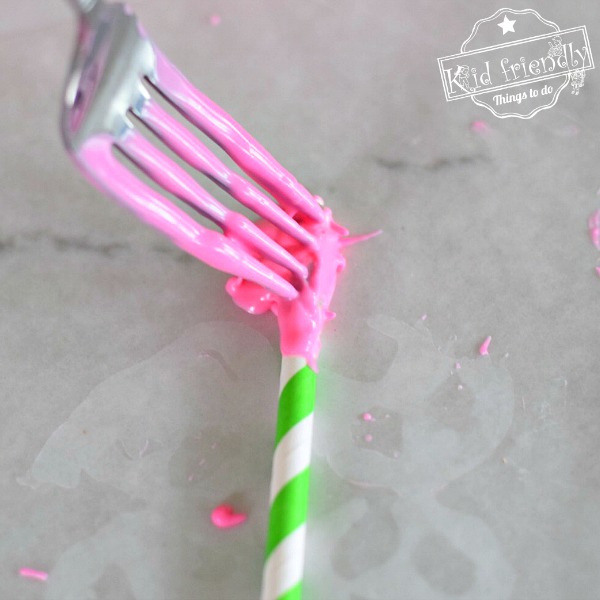 If you want to add a cute stem…
Place a mound of melted chocolate on the top portion of the paper straw – about an inch down from the top, about where the center of the flower will go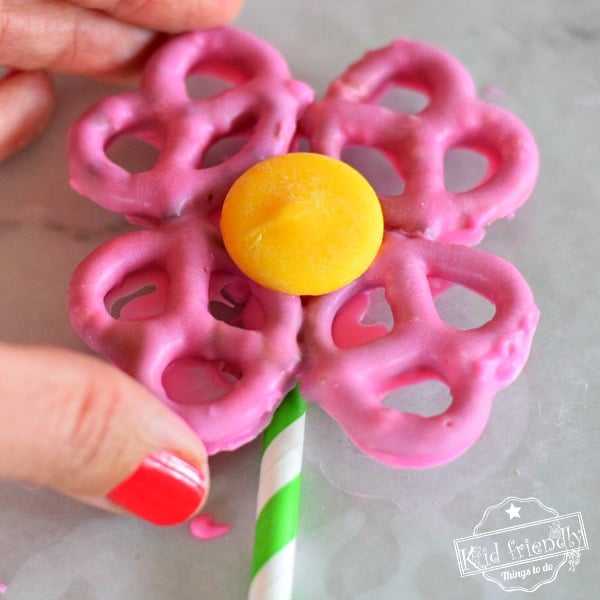 Carefully place the flower over the melted chocolate and let the chocolate completely harden
Use a toothpick to clean off excess chocolate from the pretzel holes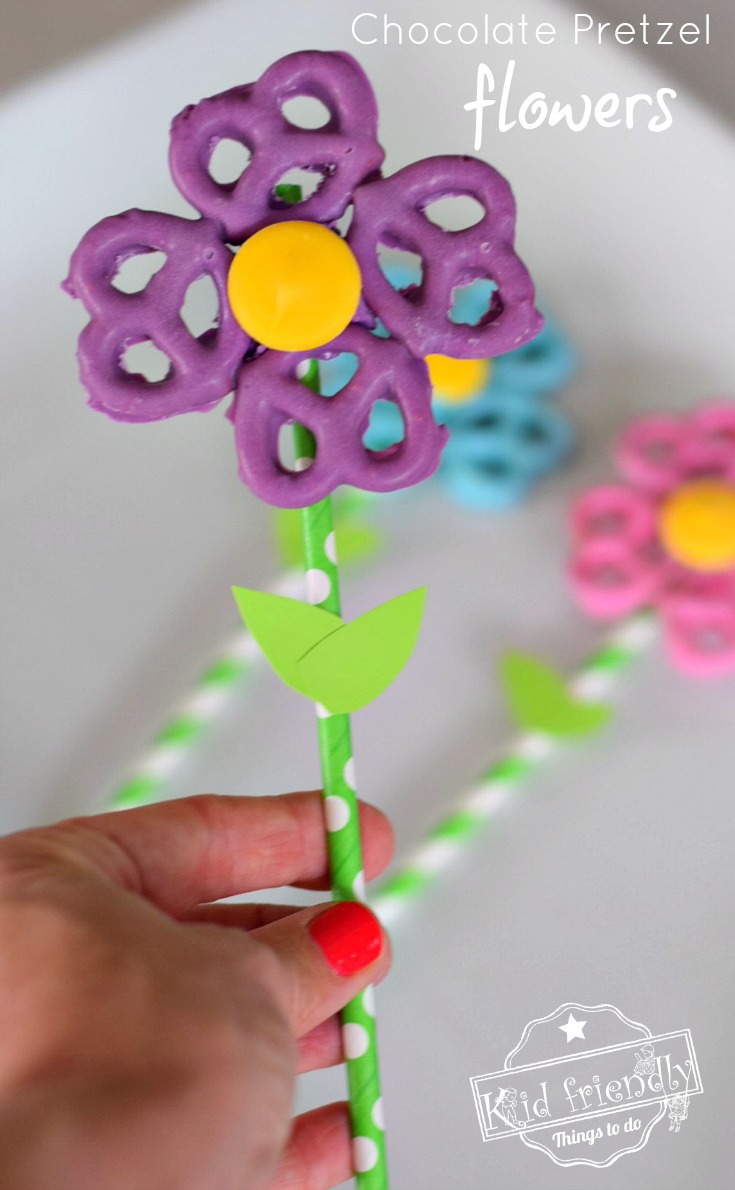 Storing your chocolate flowers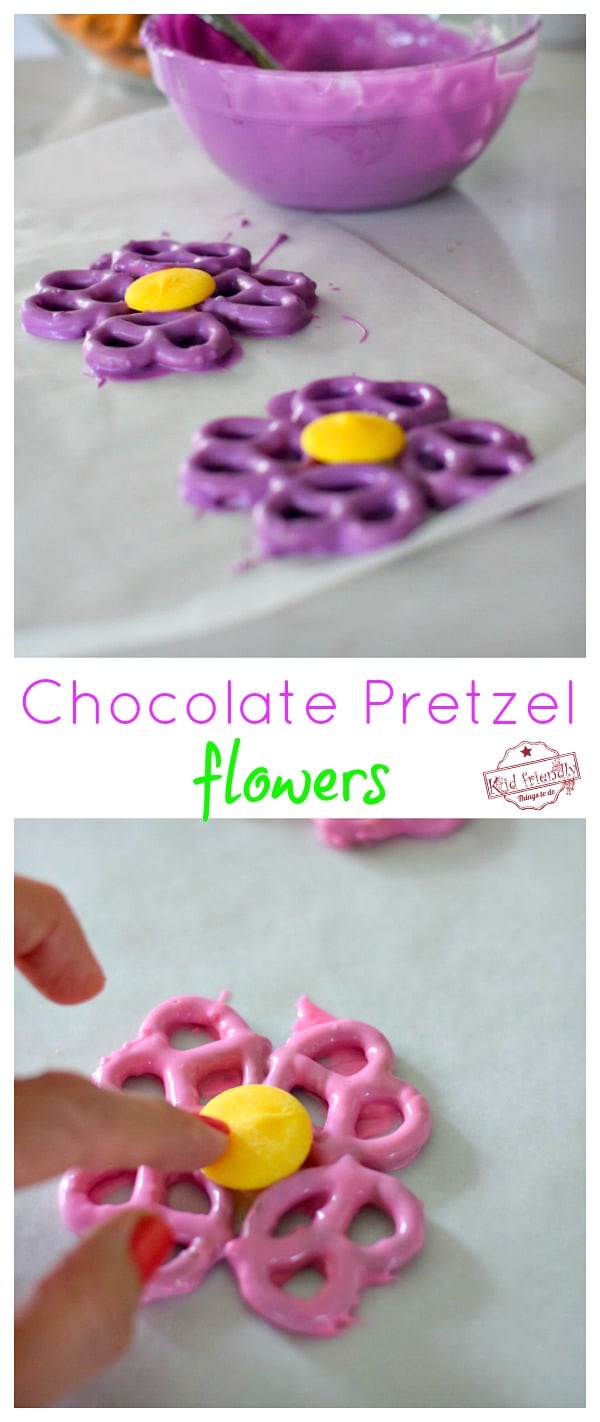 These chocolate-covered pretzels a fine set out on a platter at room temperature for a few days
If you want to keep them longer, place them in an airtight container with wax paper as layers between them – at room temperature
These flower pretzels should last a couple of weeks
Thank you for visiting my post on this Flower Chocolate Covered Pretzel Recipe. I hope you'll come back soon.