Chocolate Marshmallow Lollipops are simple, beautiful, and elegant looking. They are the perfect sweet treat for parties, showers, and holidays. These marshmallow lollipops are made with bright spring pastel colors making them a great baby shower treat, Easter, and Mother's Day Gift.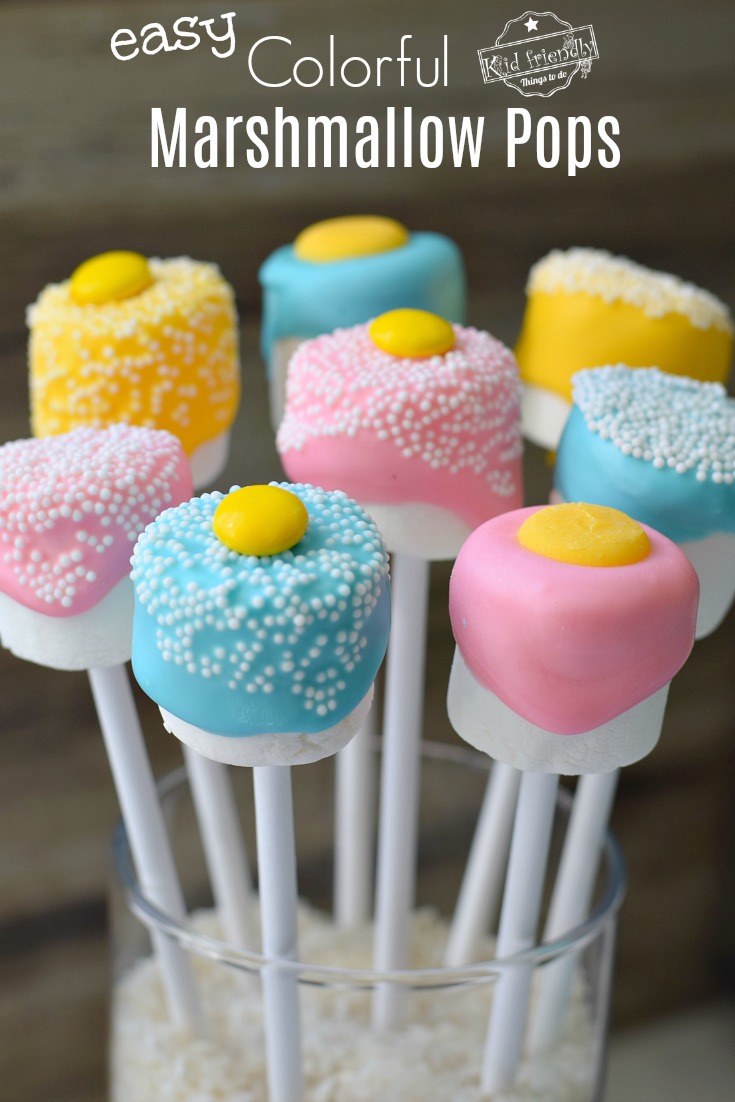 Colorful Marshmallow Pops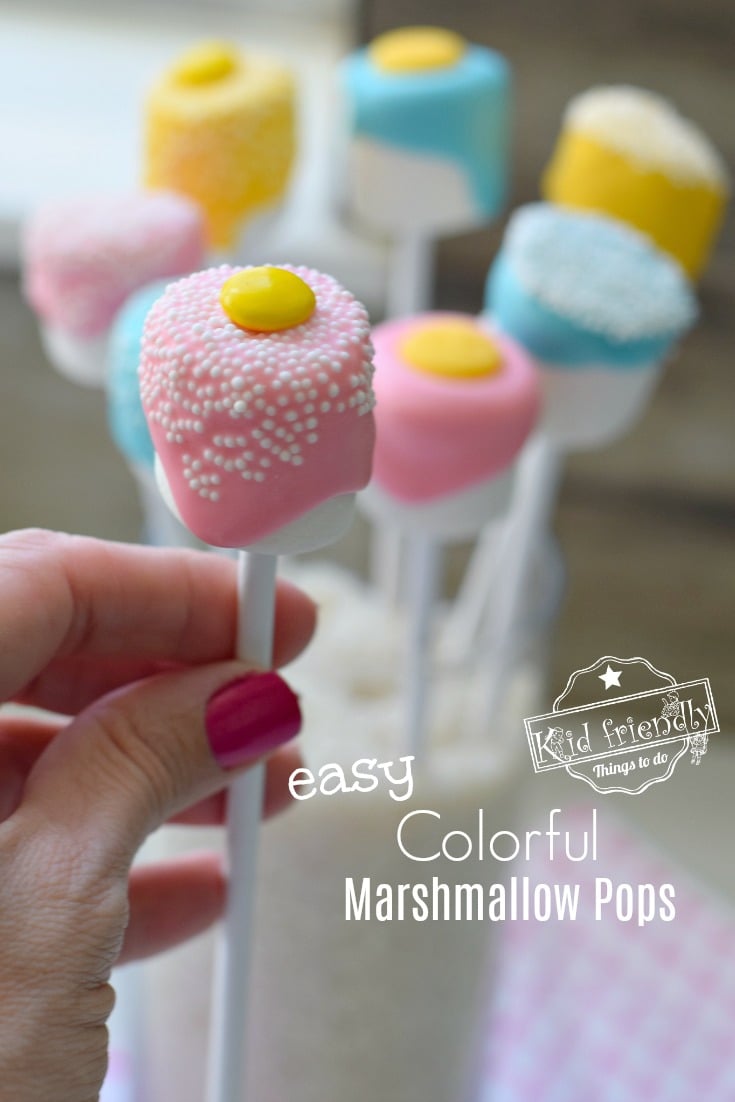 These marshmallow pops can be made up to five days in advance of your event making them the perfect "make-ahead" treat.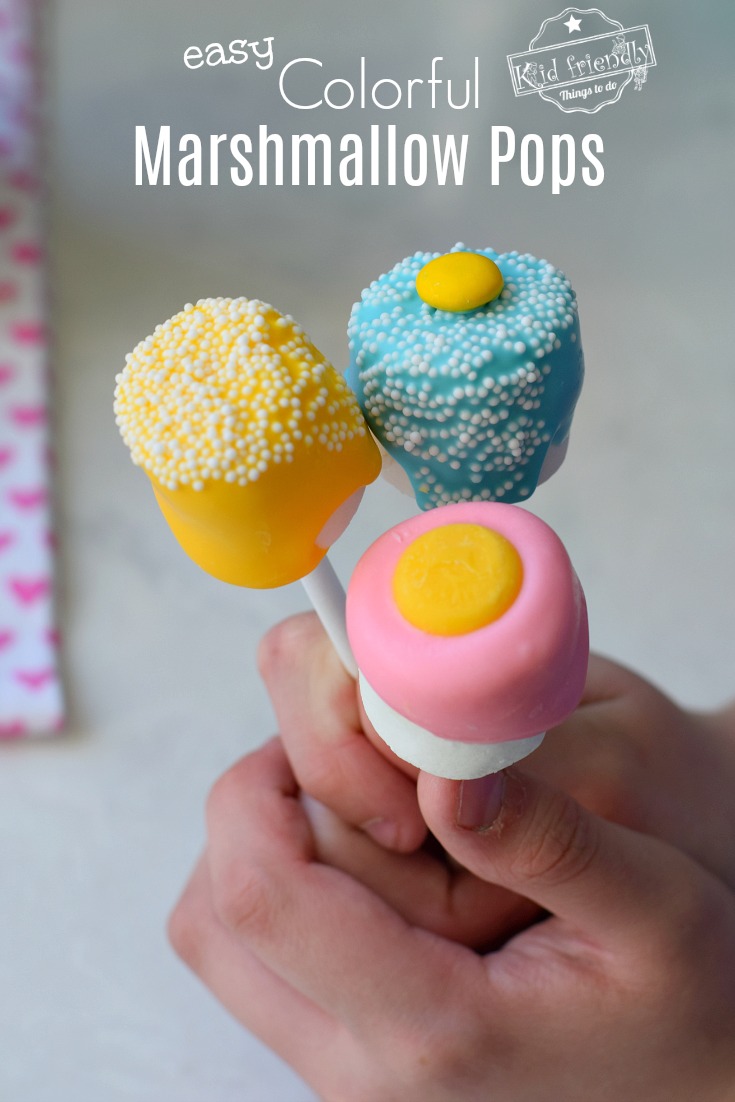 They are a great bouquet for mom on Mother's Day, but with these pastel colors, I think they are perfect for a baby shower, too.
How long can you store Chocolate Marshmallow Pops?
you should be able to store marshmallow pops at room temperature and in an air-tight container for up to five days
If you've completely covered the marshmallow in chocolate, you can extend that to a little more that time to at least one week – up to 10 days.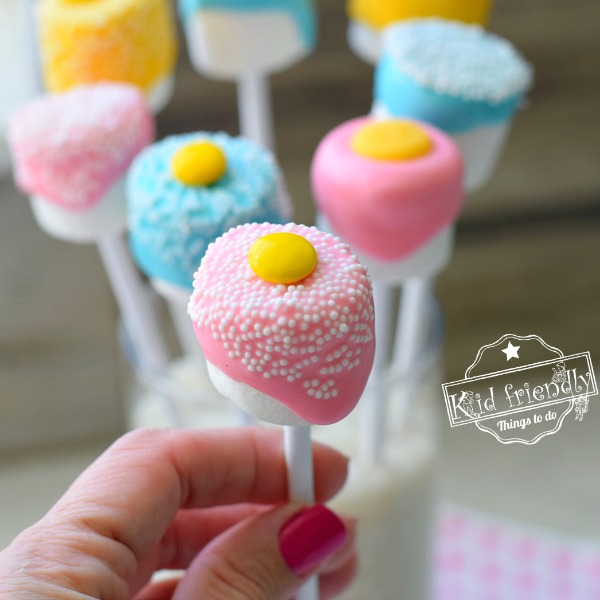 How do you display Chocolate Marshmallow Pops?
You can easily display marshmallow pops in a tall container of rice or floral foam. Just push the popsicle stick down into the rice or foam. You can cover the floral foam with decorations for a more aesthetic look.
If you are looking for more ways to decorate Chocolate Marshmallows, check out these Football Marshmallow Pops, Fourth of July Marshmallow FirecrackersFourth of July Marshmallow Firecrackers and S'more Marshmallow Pops
Finally, here are the instructions for making these Colorful Marshmallow Pops…
Print
Making Beautiful Chocolate & Candy Marshmallow Lollipops – A Kid Friendly Thing To Do
(For 1 dozen Marshmallow Pops)
1 dozen Lollipop Sticks
12 Marshmallows – Standard Size
3 pastel colors of chocolate melts – Wilton is my preferred brand (it's readily available at most stores and melts pretty consistently each time I use it)
*for my spring colored marshmallow pops, I used 3 colors – pastel blue, pink, and bright yellow
Floral Foam or a tall container of rice make great places to place marshmallows until chocolate has set up.  They need to be upright as they dry.
Toppings Ideas:
Sprinkles, M&Ms and candies for topping the marshmallows
For my marshmallows I used, sugar sprinkles, white nonpareils sprinkles, M&Ms, and Wilton Chocolate Melting Wafers
Instructions
Place marshmallows on a lollipop sticks
Melting Chocolate – 
Use a separate bowl for each color of chocolate
I only used about 1/3 of the chocolate from each bag. For making more than 1 dozen pops, you'll want to adjust the amount of chocolate melted
I like to pour chocolate melts into a glass microwave-proof bowl and microwave them for 1 minute. Stir until smooth. If needed, microwave an additional 30 seconds and stir until smooth
Dipping and Decorating:
Dip the marshmallow in the melted chocolate
Roll the marshmallow around until it is coated. You can either coat the entire marshmallow or just half of it, leaving some of the white marshmallow exposed
Hold the marshmallow over the melted chocolate until most of the excess chocolate has dripped off
While the chocolate is wet, place any of the candies on top of the marshmallow, carefully holding it upright so the candy doesn't slide off
Place into your floral foam or rice to dry
That's It – continue with each marshmallow
Notes
*chocolate melts typically come in 12 oz. bags. For 1 dozen pops, you will only need to use about 1/4 to 1/3 of each color
*store any unused chocolate melts in a zip tight bag at room temperature
Storing your pops:
once the chocolate has hardened, you should be able to lay the pops down to store side by side in an airtight container – at room temperature – for up to 5 days
Instructions
~Melissa
KidFriendlyThingsToDo.Com