Add some extra excitement to a snowy day. Scoop up a bowl of snow to make your own homemade snow-cone. It's simple, it's fun, it's yummy.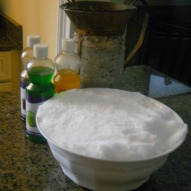 Homemade Snow Cones
Ingredients:
Snow Cone Syrup – try the simple recipe below.
Cup
Straw
Instructions:
Get a huge bowl, and scoop up some fresh, fluffy snow. Get lots of it. You can freeze it for more fun after the snow is gone!
Hand out some scoopers – my made-up word! (measuring cups, ice cream scoop, spoons, whatever you have on hand.
Give the kids some cups, and let them fill them with snow!
Now, add some snow cone flavoring, and a straw.
If you don't have snow cone syrup on hand:
Simple Syrup Recipe
Make a syrup with one part sugar – one part warm water
Just put the mixture in a container with a lid & let the kids shake it up until sugar is dissolved
Add a kool-aid packet for flavor, or flavor extract and food coloring
*I just tried this recipe to make sure it tastes good and is really like the snow cone syrup. We love it!