Scented No Cook Playdough {with Essential Oils} | Kid Friendly Things To Do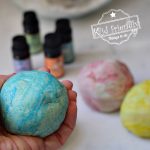 Posted by Melissa in Anytime, Arts & Crafts | 0 comments
This basic playdough recipe is my favorite. You can really put your own spin on and turn it into just about anything fun. This time I added essential oils to make this Scented No Cook Playdough. Not only will it be a fun activity to do with the kids, but a calming activity as well. Come on in and I'll share my recipe for this playdough fun…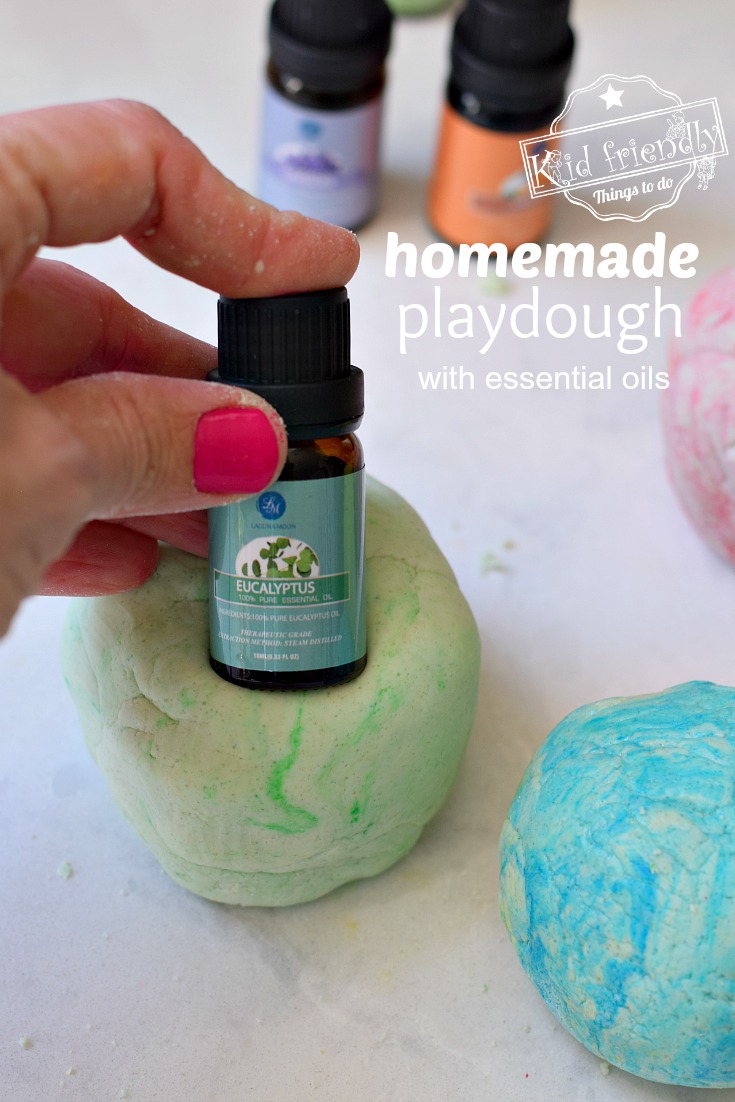 Scented Playdough with Essential Oils: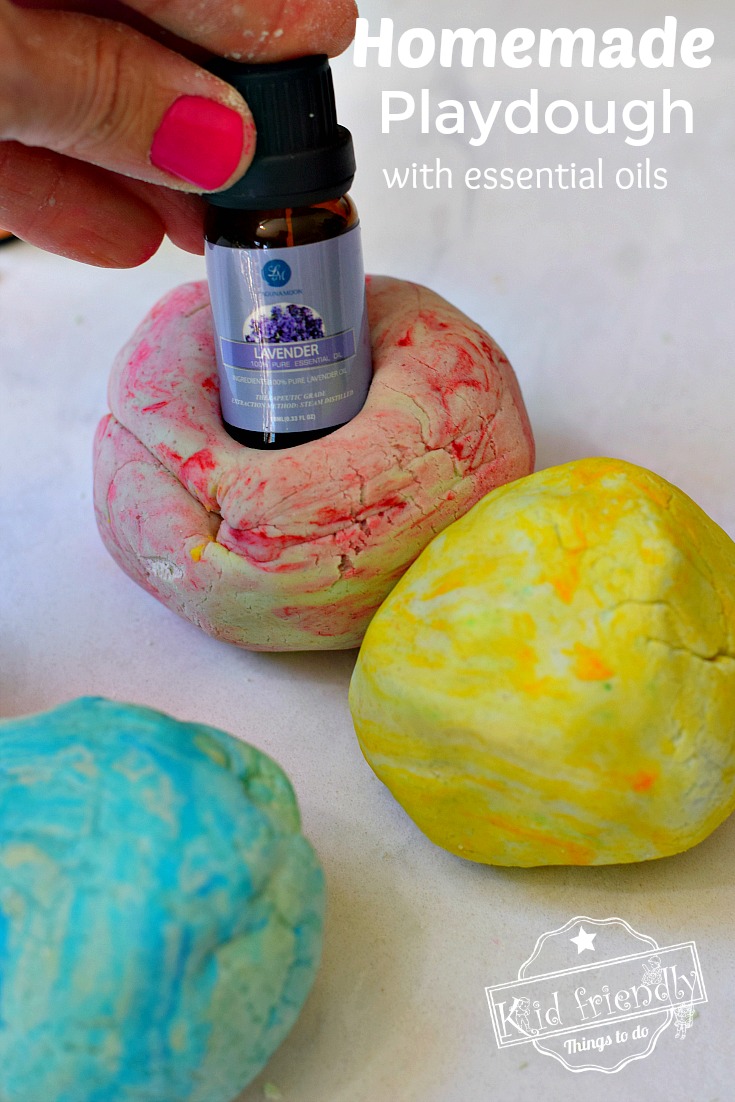 This is such a fun and easy recipe to make. After you are done making the playdough, give the kids a playmat, cookie cutters and some rolling pins for lots of fun!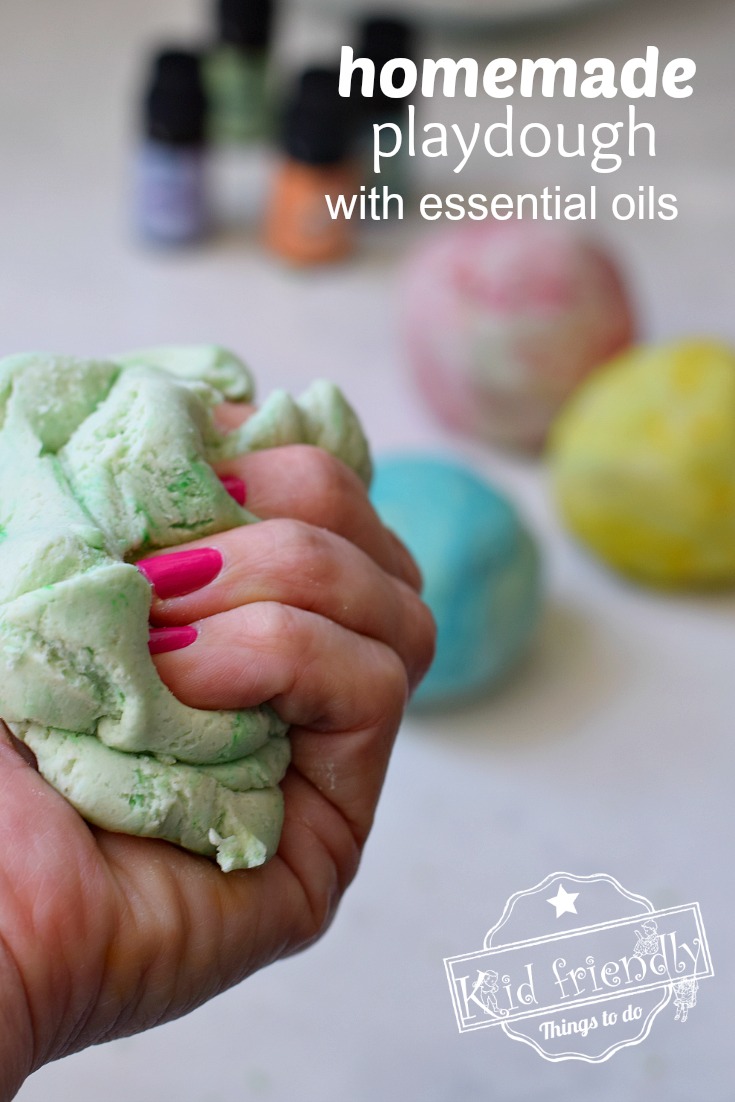 What do you do when homemade playdough starts to dry out?
Have a squirt bottle nearby with some water in it. Kids can add a small amount of moisture and work it into the dough to revive it, again.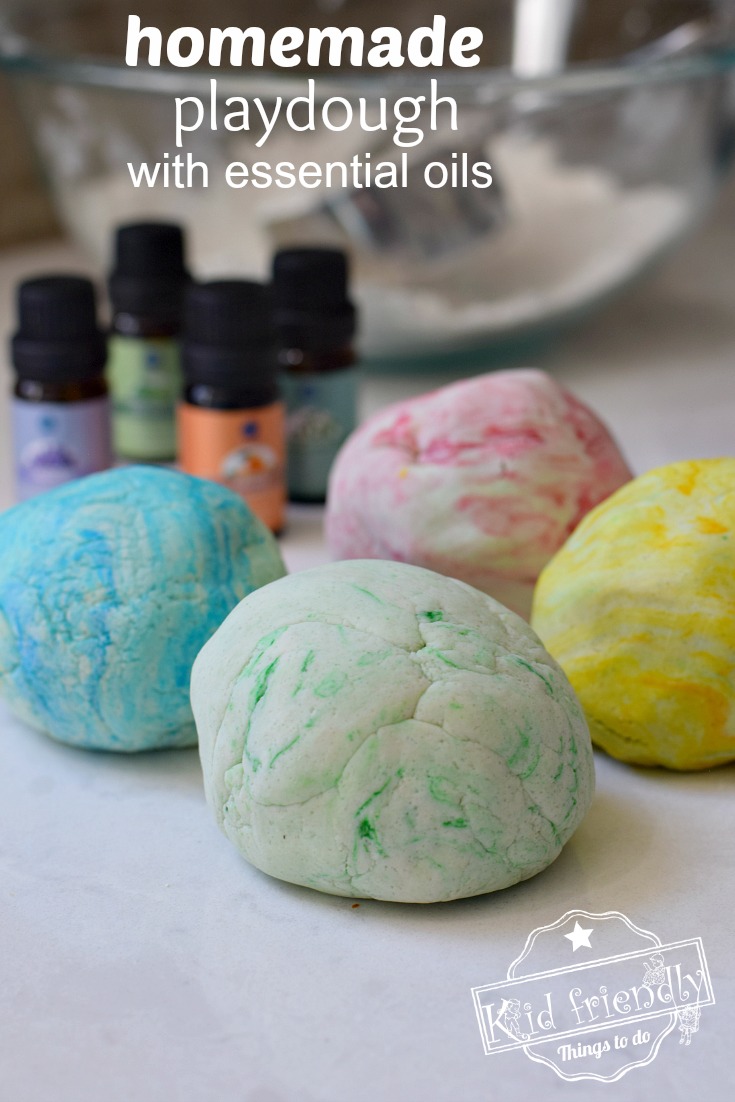 How do you store Homemade Playdough?
Keep playdough in an airtight container like a zip-tight bag or plastic container for up to 3 months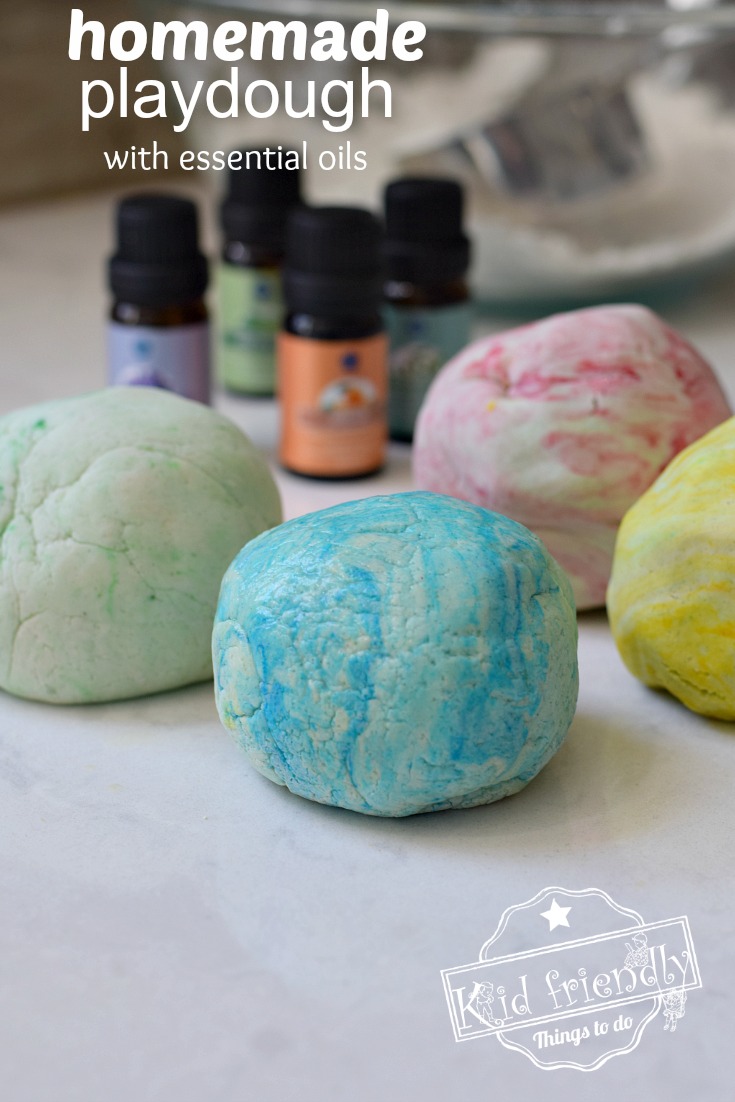 How long will homemade playdough keep?
This recipe is made with cream of tartar. Cream of tartar will keep the playdough fresh and free of mold.
What are some other At Home Activities that You Can Do With the Kids?
Here's a quick Video to show you how we made this fun Playdough…
Here's what you'll need to make your own Homemade Playdough with Essential Oils
3 cups of all-purpose flour
1/2 cup of salt
1 Tbsp. of Cream of Tartar
2 Tbsp. of Baby Oil
1&1/2 cups of warm water – hot enough to dissolve the salt
Essential Oils
food or soap colorant
*you can substitute baby oil for another oil – like canola, coconut or vegetable oil
Instructions for playdough:
In a large bowl, mix flour, salt and cream of tartar
In another bowl, mix the oil, water, and 20 drops of essential oil
You can also add the colorant now, or wait and divide the dough up to make several different colors out of one batch
While the water is still very warm, Add the wet ingredients to the dry ingredients and mix
Knead the dough – if it is too sticky add more flour (1/2 cup at a time)
*If you held off on adding colorant, then add the colorant to the divided sections of dough. Knead the dough to transfer the color throughout
Do you like the marble look on the playdough? Here's how I achieved that…
This step is not necessary…I used a base color to my playdough, just a small amount of colorant and mixed it in
Then, after the playdough was done and kneaded for a bit, I added a few drops of colorant to the already mixed dough
I began kneading it for the marble look
*Eventually, the color will spread throughout and be one consistent color
Ideas and tips for making playdough with kids:
Divide the dough into baggies, seal the baggies and let the kids knead the warm dough. The kids will enjoy feeling the warm squishy dough and watching it change shapes
Let the kids shake some glitter into their bags and knead that into the dough
Add other scents to make combinations
Add natural colorants instead of food colorant – like, cocoa powder for brown, cinnamon, fruit like strawberries, blueberries, and beets (you may need to add more flour to balance the moisture out)