Today, I'd like to share some more fun Minute To Win It Games to add to your kid friendly and family parties! These would be great Minute Win It Games for kids at School. Last New Year's Eve, we played at least a dozen Minute To Win It Games. They didn't all make it into the kid friendly approval rating. The ones that were too difficult and even the ones that were too easy were quickly weeded out. These are the top picks that made it into the finals for this blog post! I hope you'll find some ideas that will work for your party! Come on in and take a look: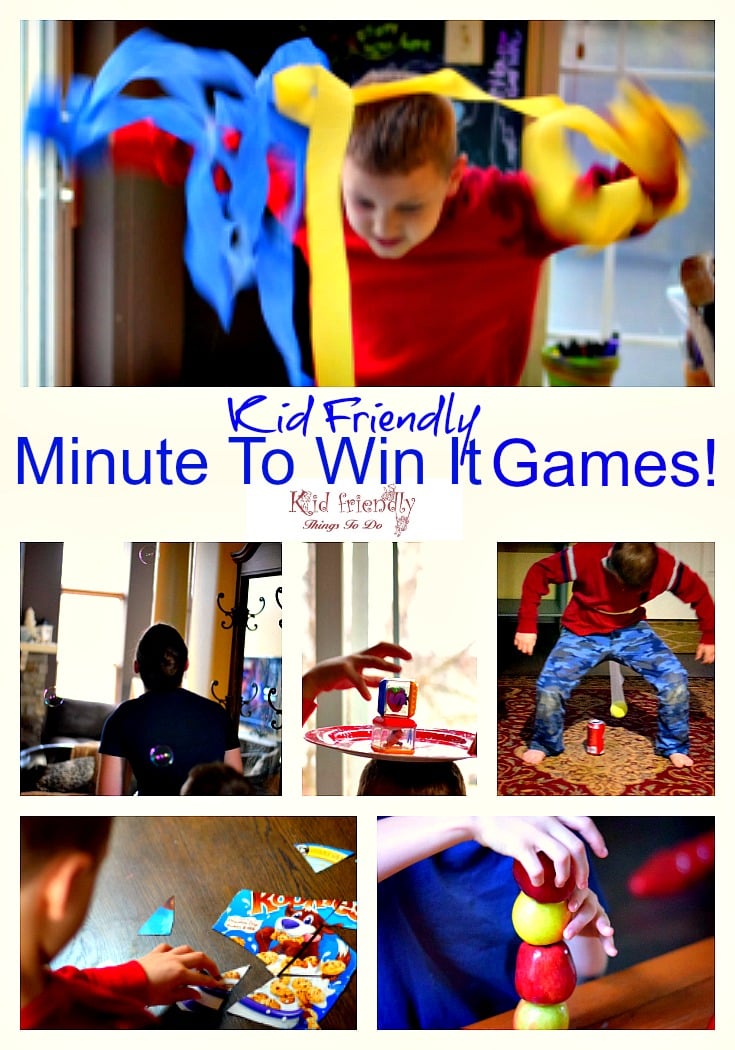 Don't they look like fun? There is just something about beating that clock. The kids love doing it! These are our absolute top picks from last years games. I hope you'll find one or more to enjoy at your party.
Here's a fun video of just some of the fun we have and SOME of our favorite Minute To Win It Games. Find links below to all of these games and so many more. More videos to come.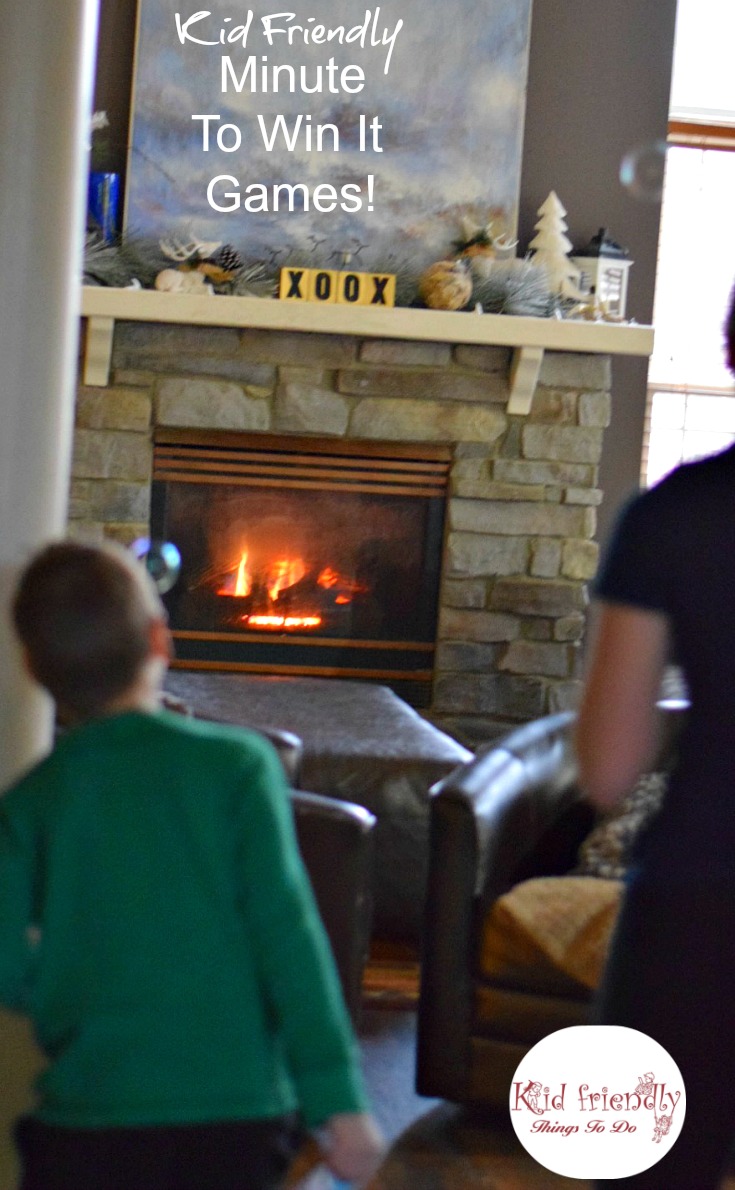 This is definitely one of the faves! It's a ton of fun! Can you see the bubbles? Abi's is kind of drowned out by the sunlight, but Connor's is pretty visible. The next picture shows it a little better and has the instructions.
In other news…Connor obviously likes to play jokes on me by messing up my XOXO sign. I didn't even notice it until I edited the picture. The little turkey!
Easy Does It
(1 player per team)
You'll Need:
Instructions:
The object of this game is to keep one bubble in the air without popping it and blowing it across the room to a given point.
If you pop it, you go back to the start.
Try to get it across the finish line in less than a minute. The first one to do it, wins!

Fill 'Er Up!
(1 player per team)
you'll need:
2 paper bowls
Cotton balls
a plastic spoon
Instructions:
Hold a paper bowl or container in your lap that is filled with cotton balls  – we used 10 cotton balls for our 1-minute game – add more to make it more challenging and for older kids
Hold another bowl on your head with one hand
With your other free hand, hold a plastic spoon
One at a time – scoop cotton balls from your lap to the bowl on your head without tipping any over!

This is Michael's favorite game. He has tried this with several varieties of apples on several occasions.  Our conclusion…the variety of apple really doesn't matter. They all have slants and bumps. If you like to solve puzzles, this is your game! It's super challenging and might get a little frustrating for smaller kids. You can always modify it though, and have the little ones stack fewer apples. For our purposes, we decided 4 apples was a good number to stack in 1 minute. 5 was super hard, and 3 too easy.
Stack 'Em Up!
(1 player per team)
You'll Need:
A variety of apples – have a whole bowl ready so the players can pick and choose the most level ones
Players in under 1 minute have to stack 4
The one that does it first, wins!

Can you see the concentration on their faces? They are so determined to win at this game!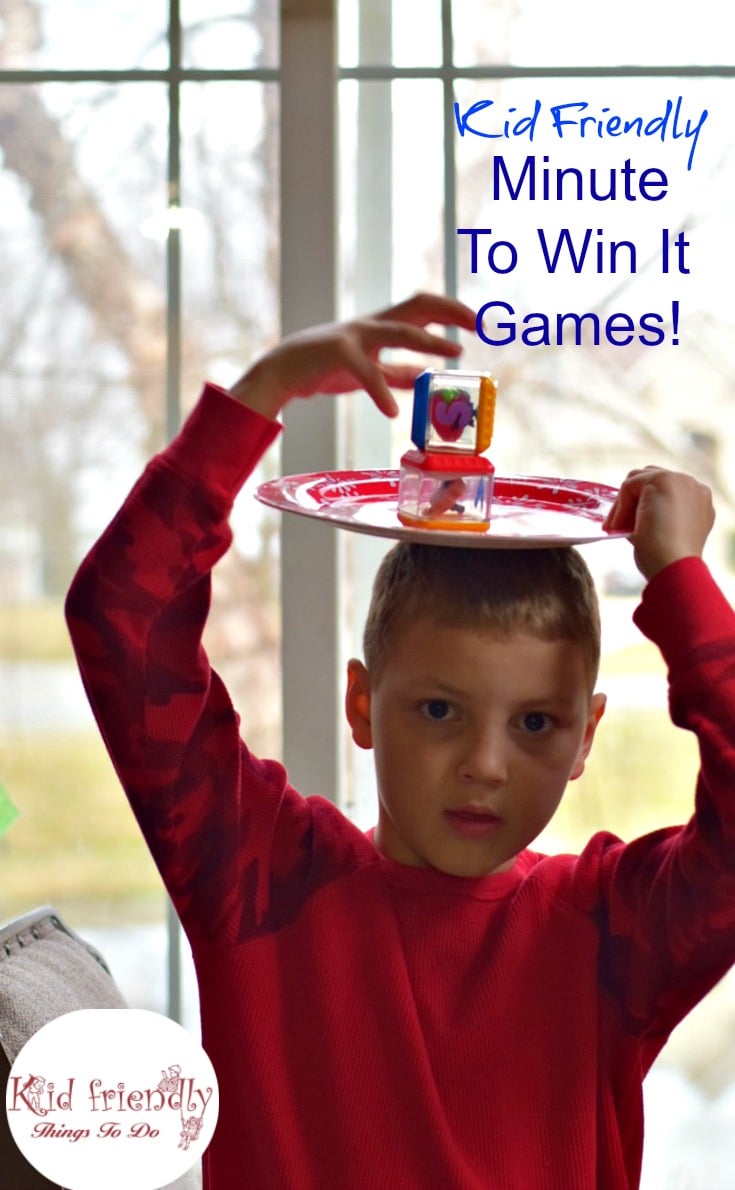 Hold It Steady
(1 player per team)
*Hint – having long arms is a bonus in this game
You'll Need:
A plastic plate per player
Blocks – 3 per player
Instructions:
With a plate on top of your head, stack 3 blocks and count to 10! If they don't fall over, you're good to go!
The trick to winning this game is to squat down to the blocks on the table while keeping the plate level. If you lean over to get them, the blocks on top of your head are definitely going down!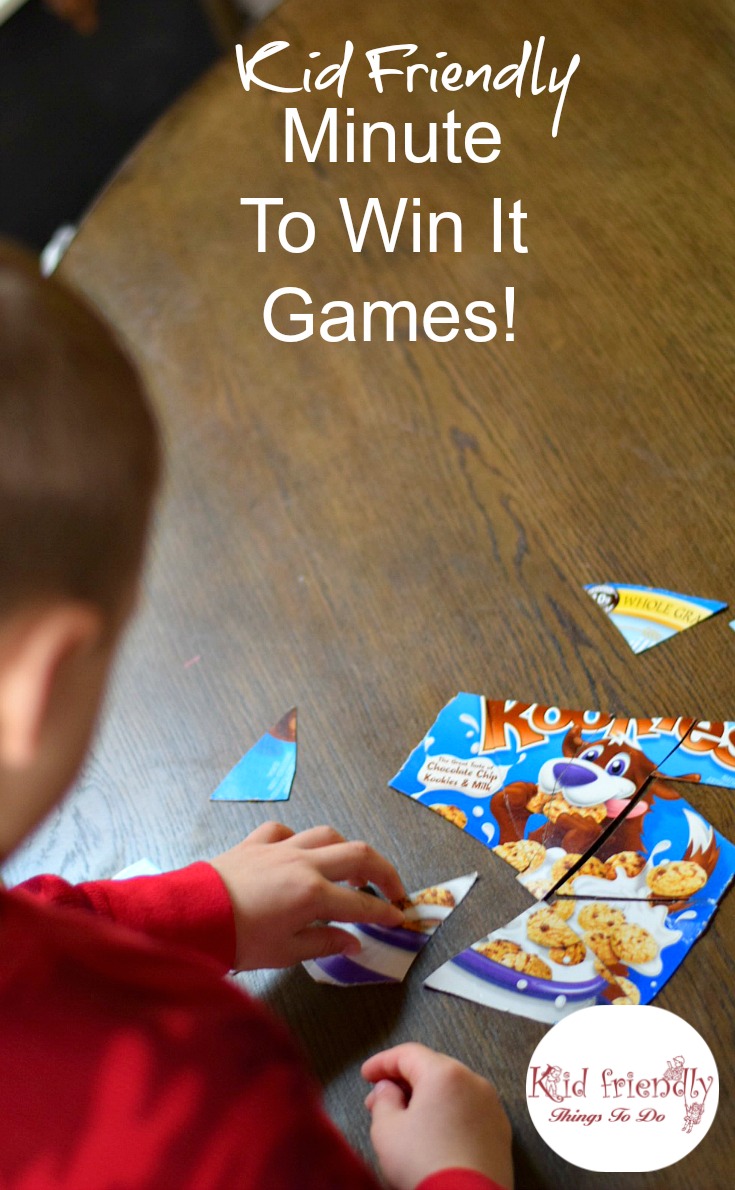 This one is fun without frustration. It's perfect for all ages!
Master of Disaster! – Also called The Breakfast Scramble
(1 player per team)
You'll Need:
1 cover of a cereal box per player – cut into about 15-16 pieces
Instructions:
In 1 minute, put the cereal cover back together!
Bottoms Up!
(1 player per team)
So, we first attempted this game with a yo-yo. That is the original Minute To Win It game.  We ended up attaching the yo-yo to a belt and using it that way, but it was kind of slow going trying to adjust the length for everyone. I ultimately ended up going with pantyhose and a tennis ball. It's way easier to tie and adjust, plus a ton of fun! The only downside to pantyhose it that they tend to stretch with each turn.
You'll Need:
5 empty soda cans
1 pair of pantyhose per player with 1 tennis ball stuffed into one of the feet
Instructions:
Tie the hose around the waist so the ball hangs down in the back. It should almost be level with the ground, or just a little bit above. That way the player can really swing it around
Set out 5 empty soda cans – we placed ours in an X pattern
Players have to use the tail to knock down the cans in under a minute!

Last, but definitely not least!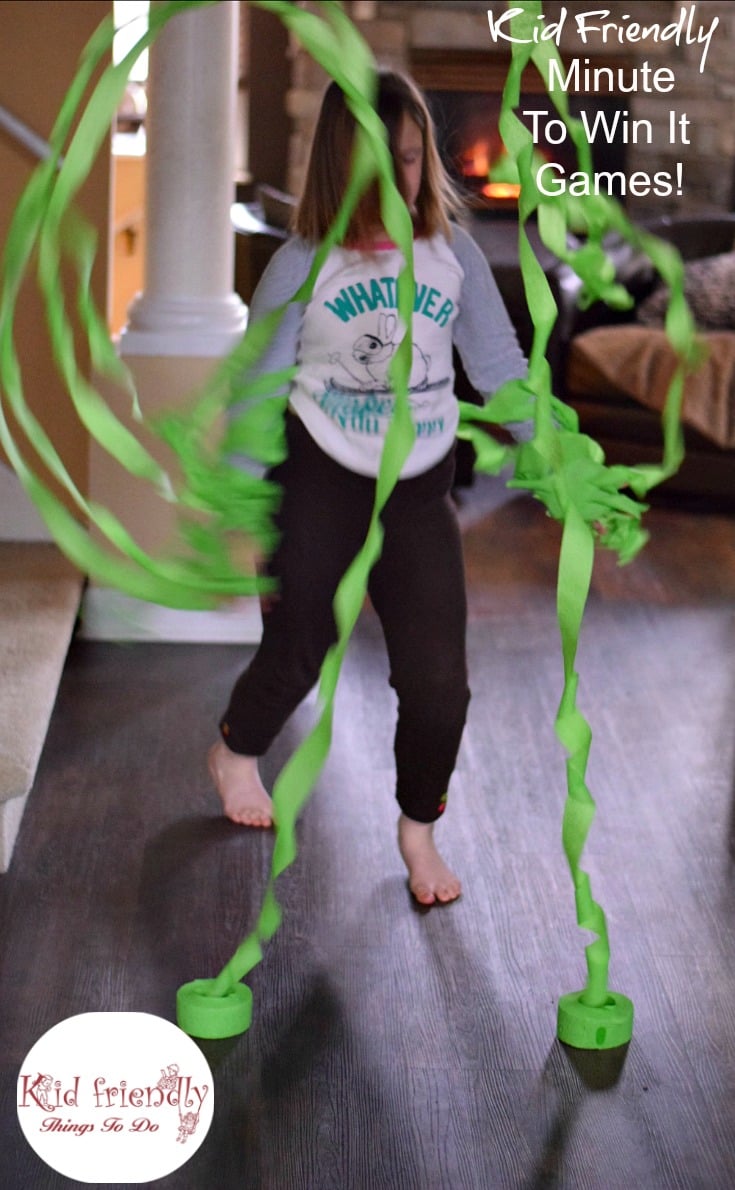 Twisted Sister!
(1 player per team)
Here's What You'll Need For This Game:
For each player, you'll need 2 streamer rolls – you can go up to 4 for older players (2 sets)
The crepe paper streamers that I bought for this game were 81 ft. I found them in the party section of Walmart.
Instructions:
Use your thumb to Push the center of the streamer roll up into as a starting point (refer to the top picture in the collage)
Place the streamer rolls an arm's length apart and have the player stand in the middle
Get the timer ready and yell go! Players have to wrap the streamers around their arms as fast as they can, in under a minute. The player to do it first wins!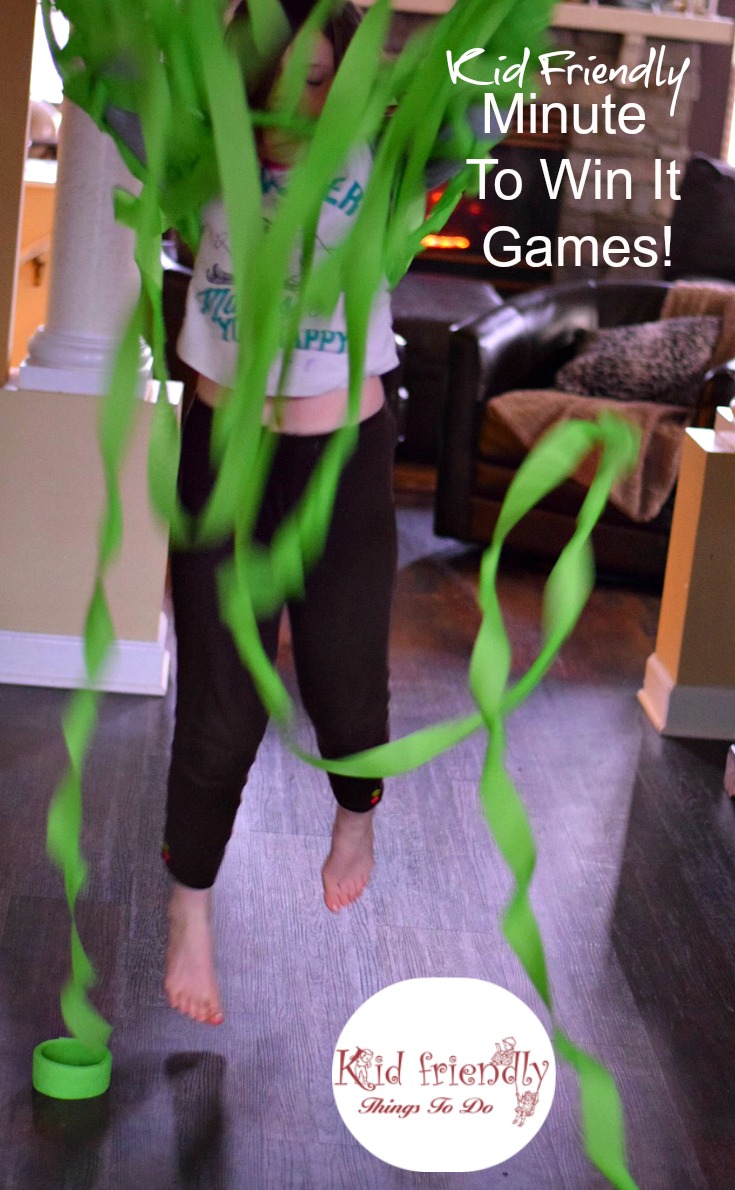 I hope you enjoyed these fun Minute To Win It Games to Play. If you are looking for more Minute To Win It Games for Kids to Play at School,  Minute To Win It Games to Play at Home, Christmas Minute To Win It Games, Minute To Win It Games for Teens and Adults, Check out some of the games below and search for Minute To Win It Games in the search bar for more. Happy Playing!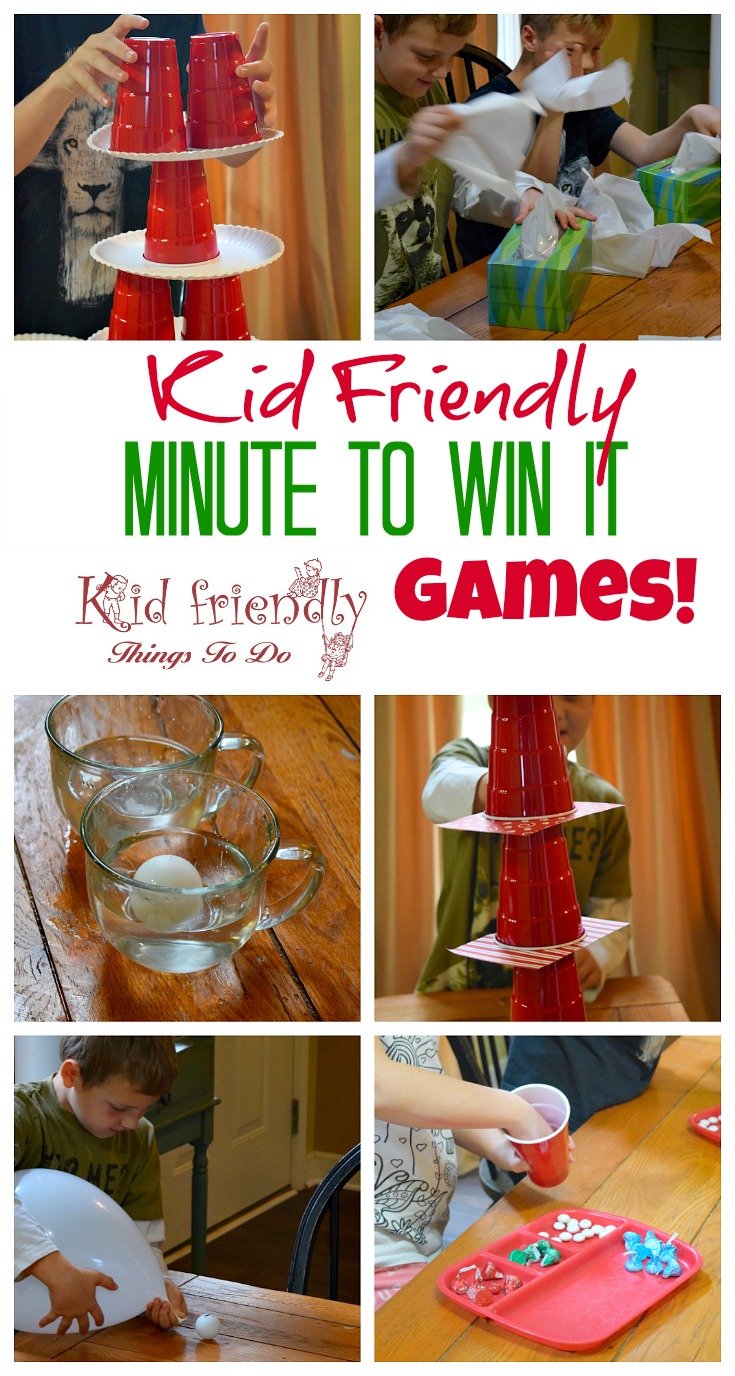 Here's a link to the Minute To Win It games in this picture
That's it for now, guys! If you want more…I have a few other Minute To Win It Posts  on the blog. Don't forget to take a look at those for a ton more ideas.
Here's some more for you. Click Here.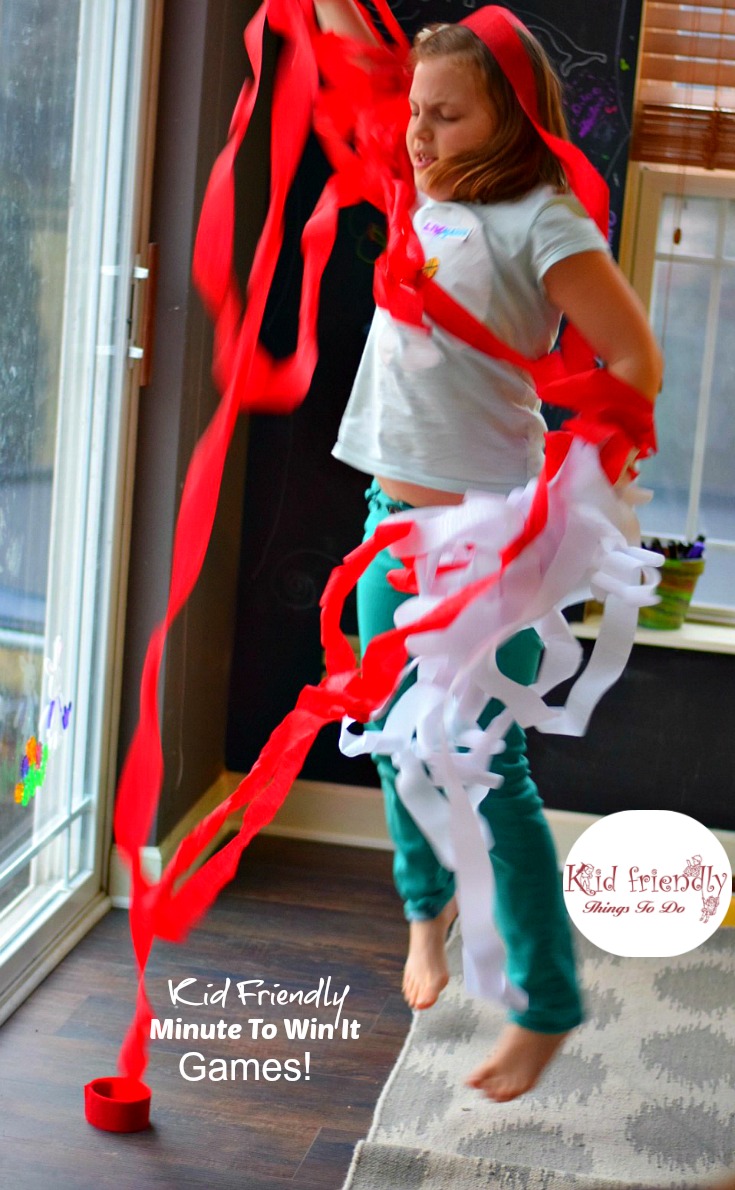 Have a Blast!
~Melissa – Kid Friendly Things To Do