This Sponge Relay Game is the perfect water game for a hot summer day. It's a great sponge relay for a field day game or summer party game — a hilarious competition for all ages.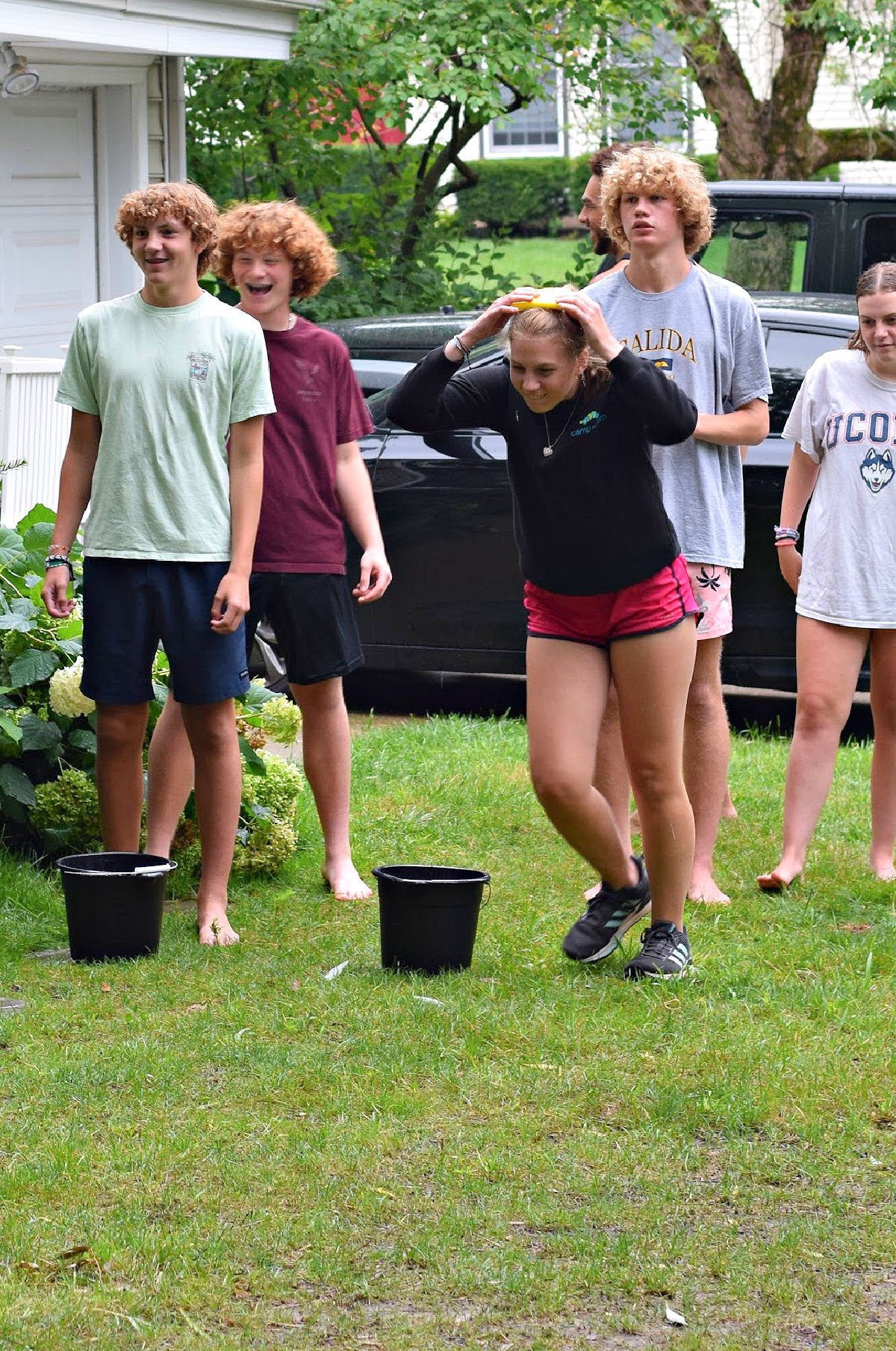 Sponge Relay
This game is so much fun to play for all ages. It's easy to set up for any summer party.
If you love playing outdoor games with the family, or outdoor games for kids, then you might like the Pass the Water Game, my post on Toss the Water Game, Water Balloon Volleyball, or Find the Treasure in the Water Balloon Game
What I love about this Summer Game
It's inexpensive
This game is easy to set up
You can have 2 players or several players
This sponge relay game is an excellent game for dividing into teams
This game is perfect for family reunions, field days, and hot summer days
Here's what you'll need for this fun outdoor game
Supplies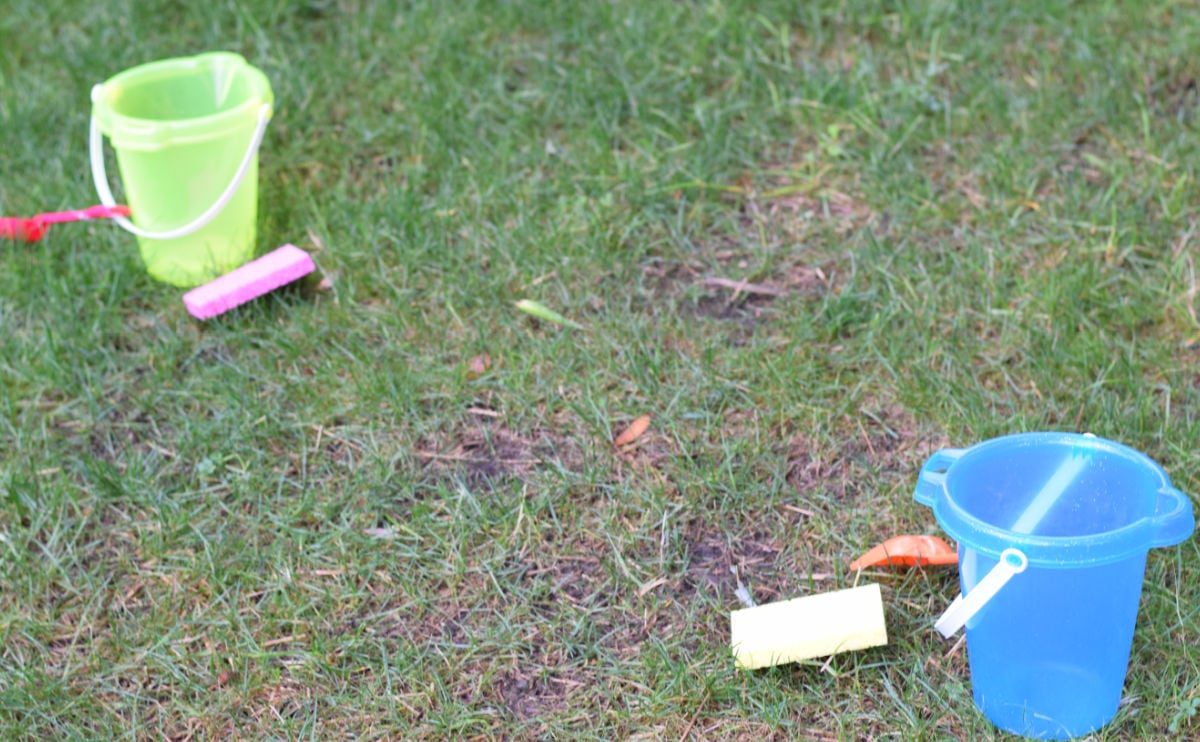 Buckets – At least 4. It is better if the buckets are purchased together and match in size and volume. This will make it easier to measure the water at a glance. Transparent buckets are a great idea for this reason, also.
Sponges – You'll need at least 2 for 2 teams. These should be new and match in size and shape to make it fair
Water – If you have access to a water hose, then it will definitely make it easy to fill buckets but it is not necessary
Outdoor space – this game is best played outdoors. We played on grass which is a great base to play this game on. We set our buckets about 20 feet apart from each other for each team
Players – 2+ players are needed for this game
How to set up for this sponge relay race
Fill 2 matching buckets with water to the same level each. Place a sponge in each water-filled bucket
This will be your starting point
Step Two
Place 2 empty and matching buckets several feet away from the water-filled buckets
(sponges are shown in the image but are not necessary)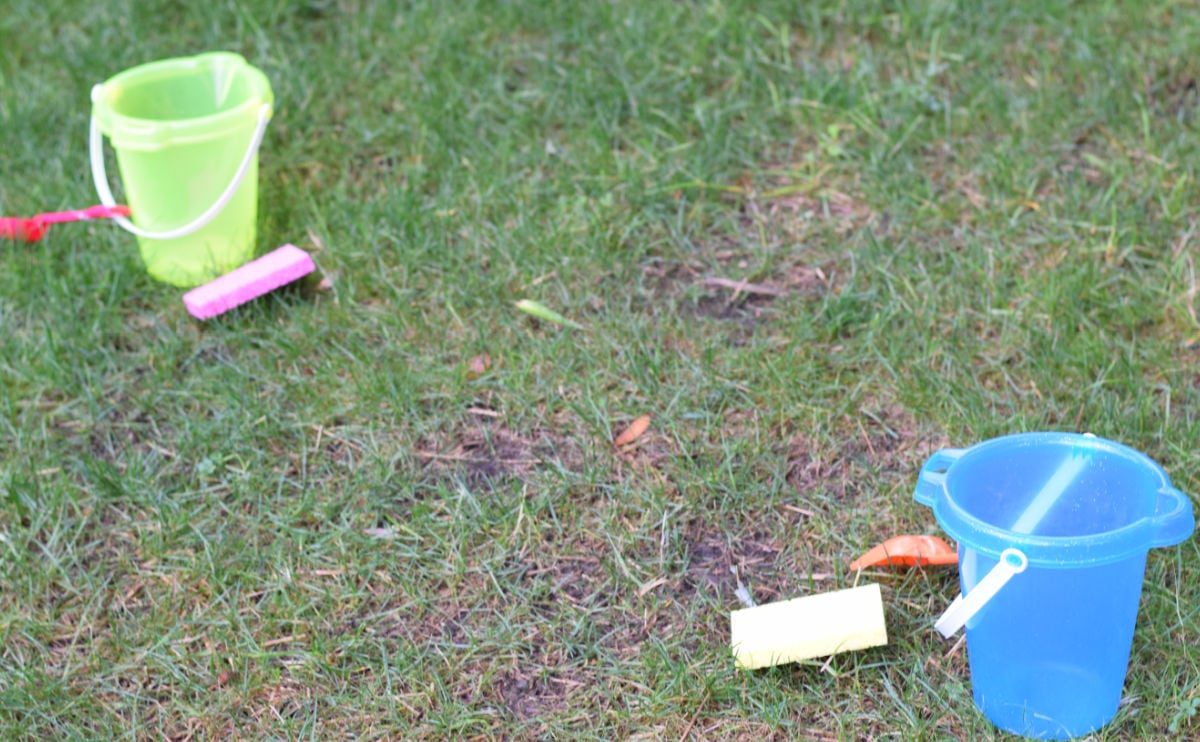 Notice that these buckets are see-through. This will make it easier to judge the water levels, but you could also use a marker to mark for a fill line
How to play the Sponge Relay Race
Step One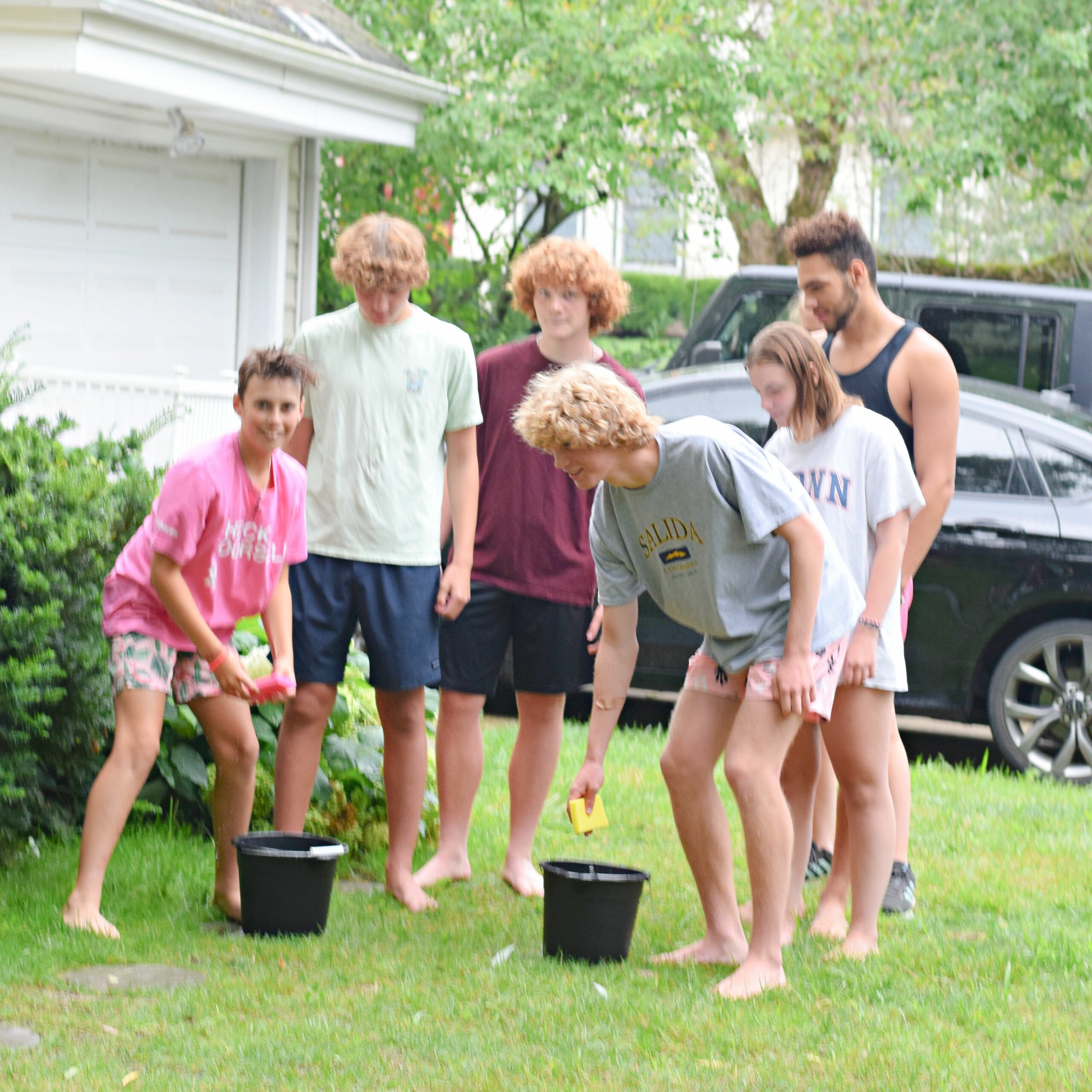 Line teams up behind each bucket
The first two players can grab the wet sponges so they are ready to run on your instructions
Set a time for 3 minutes or longer if you have several players so they all get a chance to play
When you are ready to start, someone should signify that the first two players should go!
Step Two
They, should then place the wet sponges on their heads and run to the empty buckets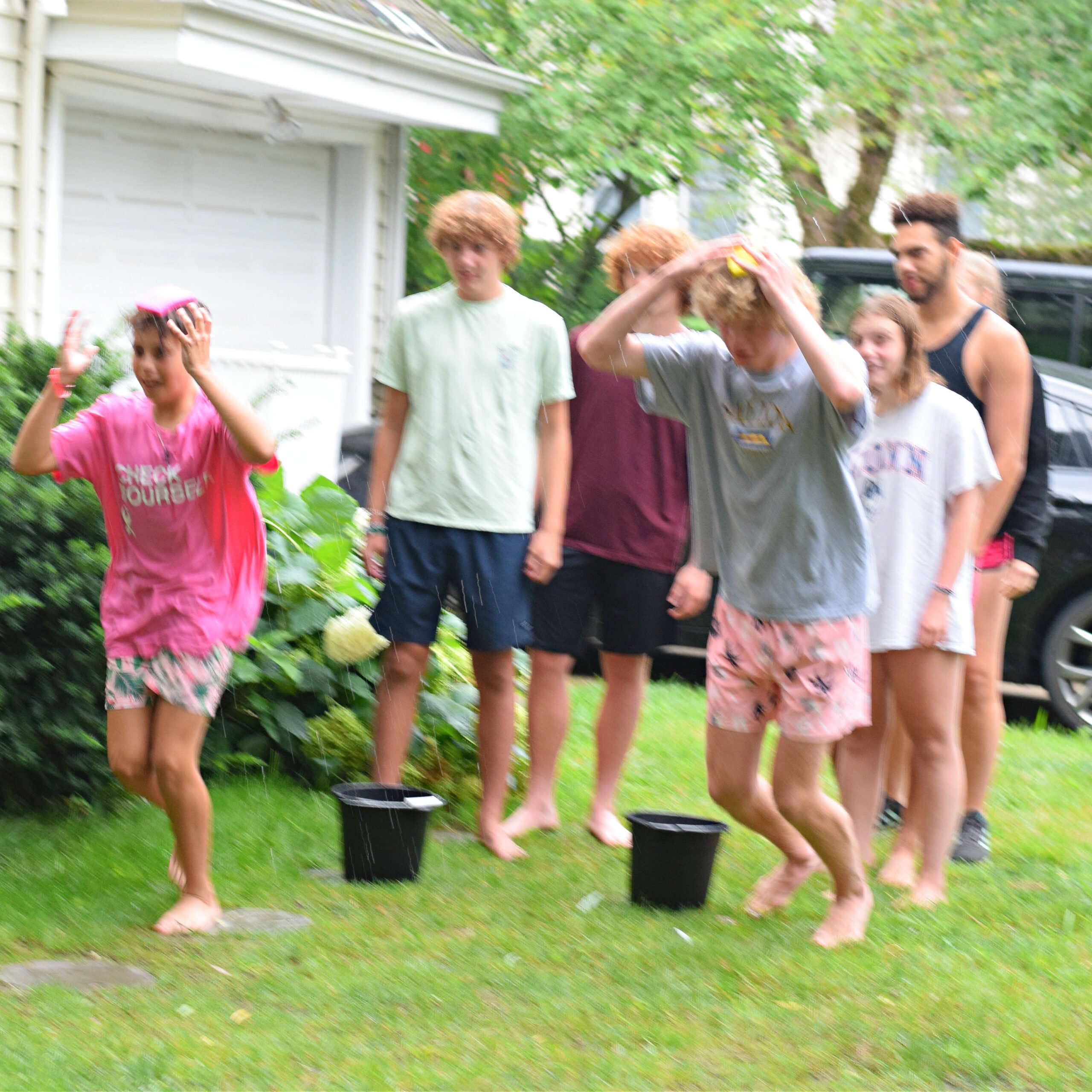 Note –
To make this easier for younger players, they can hold the sponges
Teens and adults should balance the sponge on their heads with no help from their hands to hold it
Step Three
When players get to the empty buckets, they should squeeze as much water out as they can into the empty buckets and then return to the start line and hand the sponge to the next player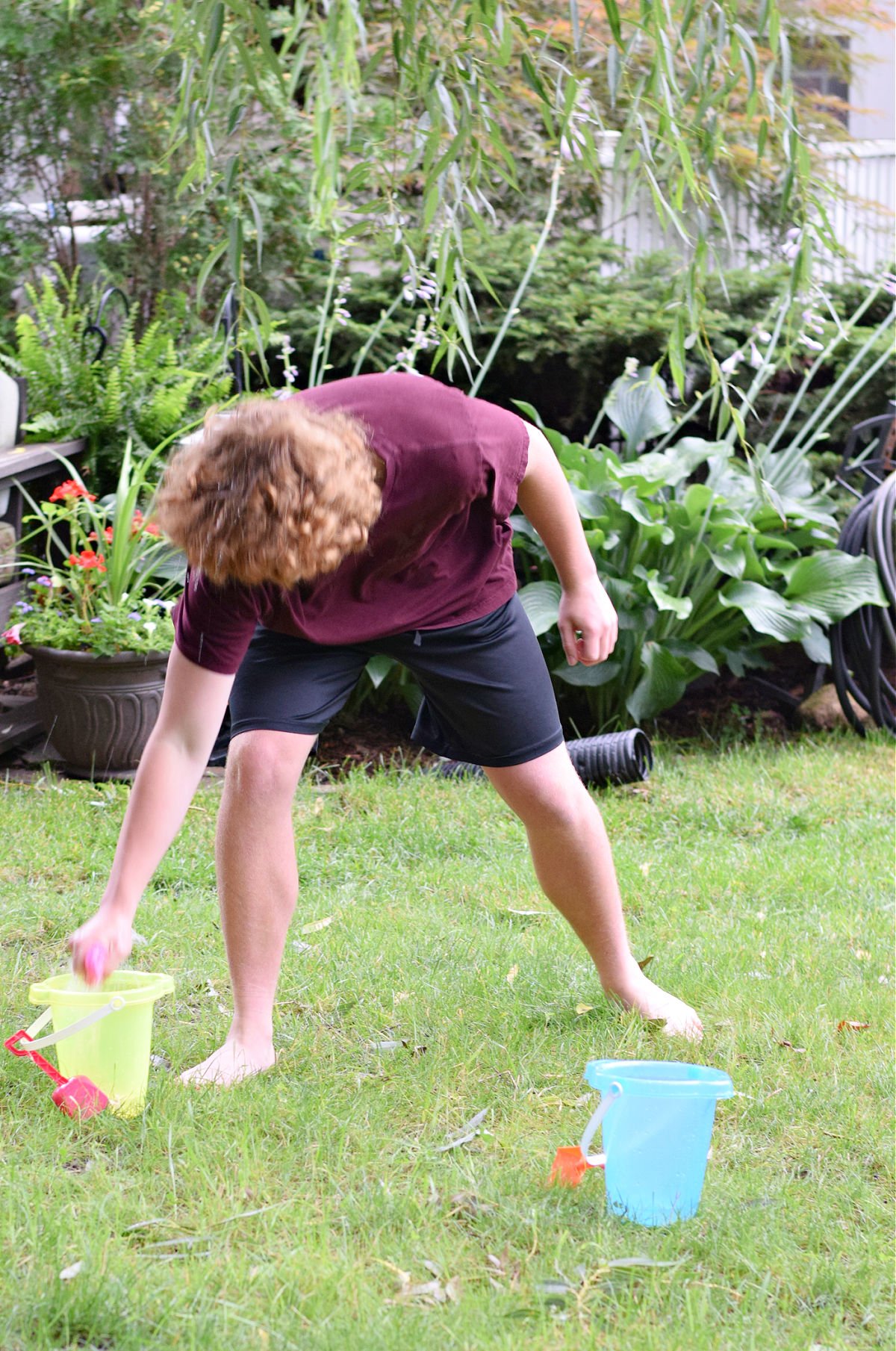 Player two should bend over and fill the sponges with water and then place it on their heads
Player two can then, take their water-filled sponge to their fill buckets and squeeze the water out, then run back to the start and hand the sponge off to the next player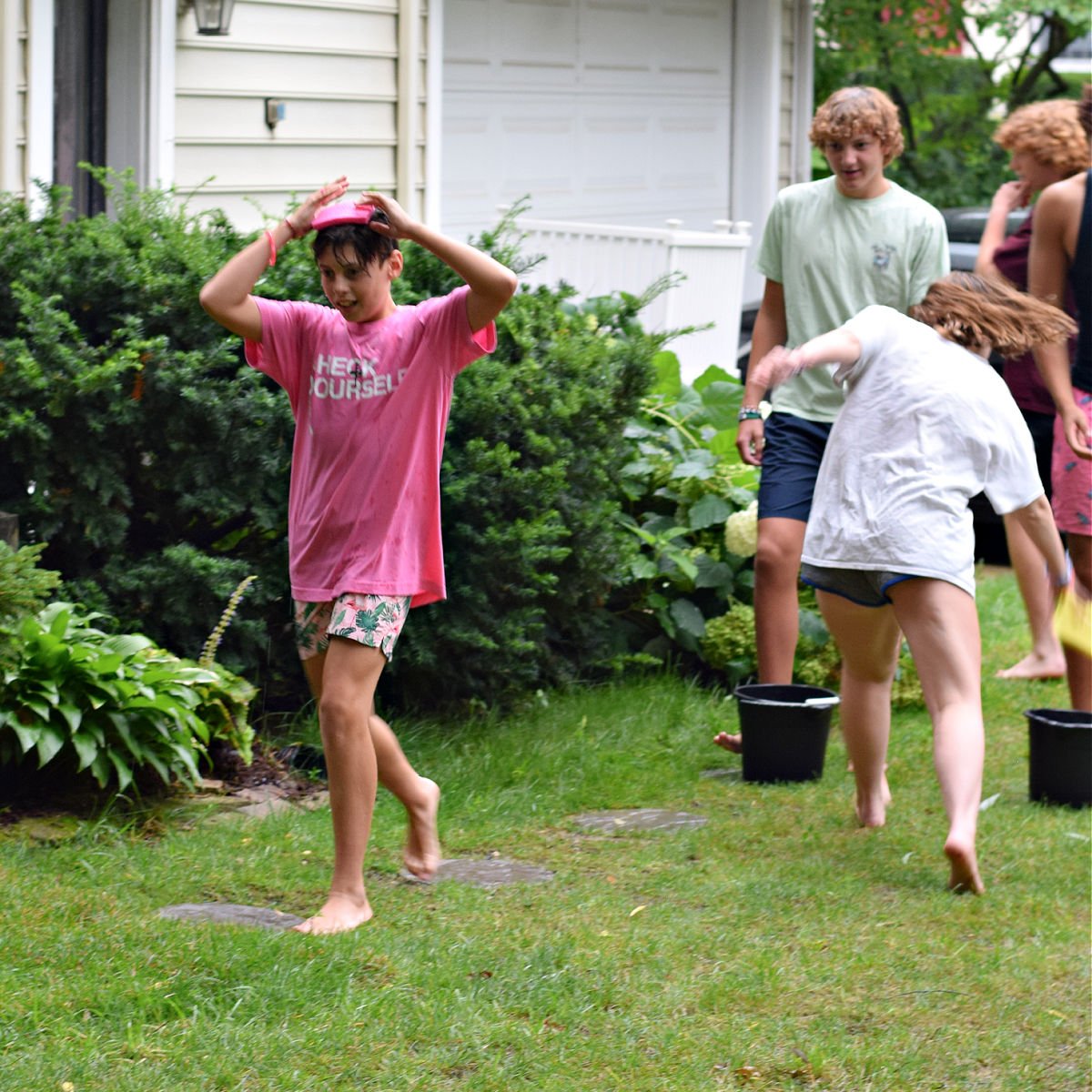 Play continues like this until the time is up and the person in charge signifies for them to stop
Deciding who wins this sponge water game
The fill buckets should be compared to see whose bucket has the most water
Buckets with the most water win the game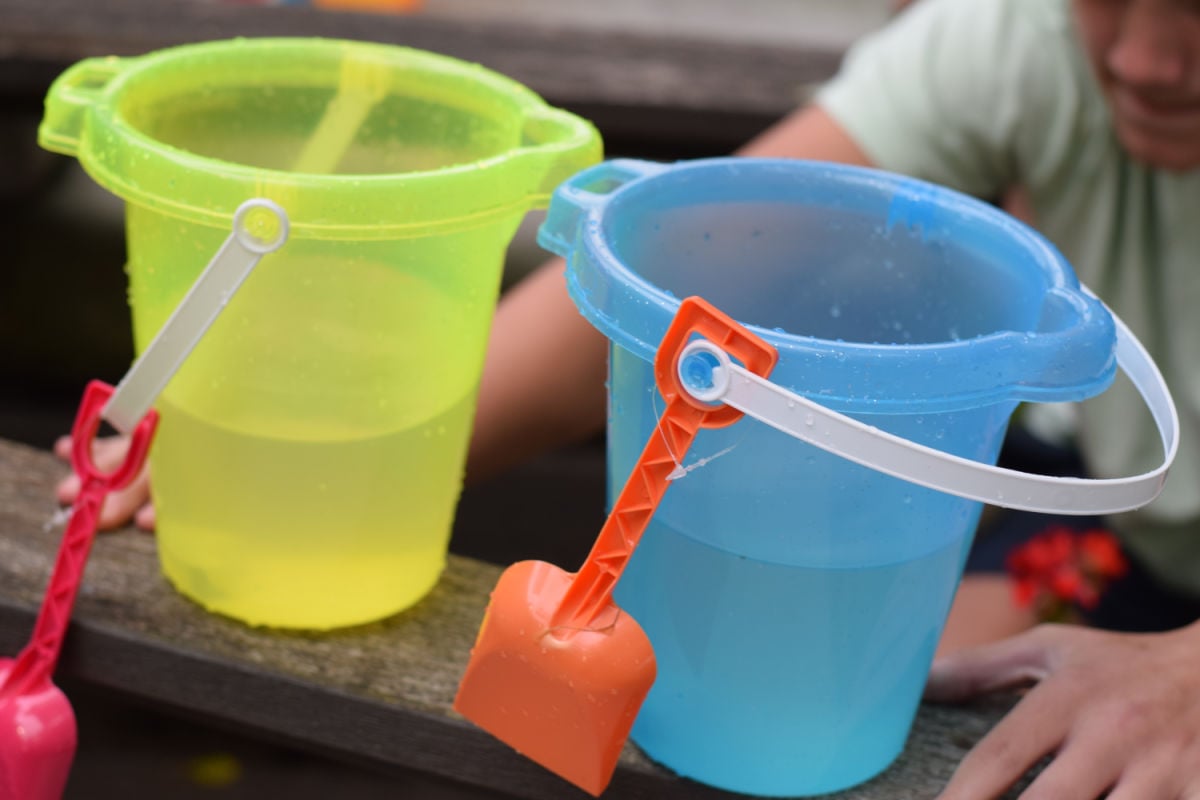 Alternative Ways to Play
Mark the fill "end" buckets with a fill line
You won't need to time this game
The first team to fill their bucket with water to the fill line wins the game
Expert Tips
purchase see-through containers or buckets to easily compare water levels
get brand new sponges that are exact to make the game fair. If one team has a larger sponge, then they can hold more water in it and have an unfair advantage
let younger players hold their sponges on their heads
make rules clear to the players in advance. If the sponge falls off, let them know if you want them to run back to the start line or just pick it up and start from where they stand
What if the sponge falls off during the sponge game while players are running?
Players can pick the sponge up, set it on top of their head and continue running
Should the players hold the sponge on their heads during the sponge game as they run back to the start line?
No, it is not necessary to hold the sponge after they have squeezed the water into the fill bucket
How do I make the sponge game more challenging for older kids and adults?
Older kids and adults should balance the wet sponge on their head as they walk or run toward the fill bucket and increase the distance from the water-filled bucket to the fill bucket
How do I make the sponge game easy for younger players?
Let younger players hold the wet sponge on their heads while they run to the fill bucket. The distance between the starting bucket and ending bucket can be lessened
Alternatives to How to Win the Sponge Water Game
Mark the fill buckets with a marker, so players know how far they have to go to fill their buckets up. The first team to get the water to the fill line wins the game
More Water Games
My top Amazon Picks for this Outdoor Water Game
Follow Along with me on my Favorite Social Media Sites
I love to share ideas on the site. Every time I publish a new idea I share it to a few other places like Pinterest, Facebook where I have 2 pages, Cooking Up Fun and Recipes Passed Down.
My new favorite place to share is Flipboard. Come check it out!
Here's a Printable for the Sponge Relay Game for you to take along with you…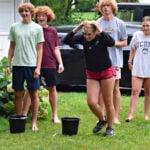 Print
Sponge Relay
A fun relay race for hot summer days.
Materials
4

Buckets

I found mine at the Dollar Tree. If it is possible, get the buckets at the same time so you can match in size and volume. This will make it easier to measure the water at a glance. Transparent buckets are a great idea for this reason, also.

2

Sponges

You'll need at least 1 for each team. These should be new and match in size and shape to make it fair

Water

Outdoor space

Something to use as a timer

We used our iphones
Instructions
Setting Up
Fill 2 matching buckets with water to the same level each

Place a sponge in each water-filled bucket

Place 2 matching (empty) buckets a good distance away from the water-filled buckets as buckets to fill
Playing the game
Line teams up behind each water-filled bucket

The first two players can grab the wet sponges so they are ready to run on your instructions

Set a time for 3 minutes or longer if you have several players so they all get a chance to play

When you are ready to start, someone should signify that the first two players should go!

They, should then place the wet sponges on their heads and run to the empty buckets

When players get to the empty buckets, they should squeeze as much water out as they can into the empty buckets and then return to the start line and hand the sponge to the next player

Player two should bend over and fill the sponges with water and then place it on their head

Player two can then, take their water-filled sponge to their fill buckets and squeeze the water out, then run back to the start and hand the sponge off to the next player

Play continues like this until the time is up and the person in charge signifies for them to stop
Winning the Game
The fill buckets should be compared to see whose bucket has the most water

The team whose bucket has the most water wins the game
Notes
Adapting the level of difficulty 
To make this easier for younger players, they can hold the sponges

Teens and adults should balance the sponge on their heads with no help from their hands to hold it
Winning the Game Alternative 
When you are setting up, mark the fill "end" buckets with a "fill to" line
You won't need to time this game
The first team to fill their bucket with water to the fill line wins the game