Water balloon fights are the best! But, filling up 100 water balloons, only to have them popped in a matter of seconds is just plain exhausting. That's why this Milk Jug Water Balloon Launch Game is so fantastic! The object is to protect the water balloon by catching it in the milk jug. If a stray balloon happens to pop, well then…you get cooled off on a hot summer day. So, it's a Win/Win for everyone! An entertaining summer game for the kids, less work involved for the adults, and a chance to cool off from the blazing sun! Woo! Hoo! Oh…it's a fun adult game, too! Perfect for an Amazing Race obstacle! Why should we let the kids have all of the fun?!  🙂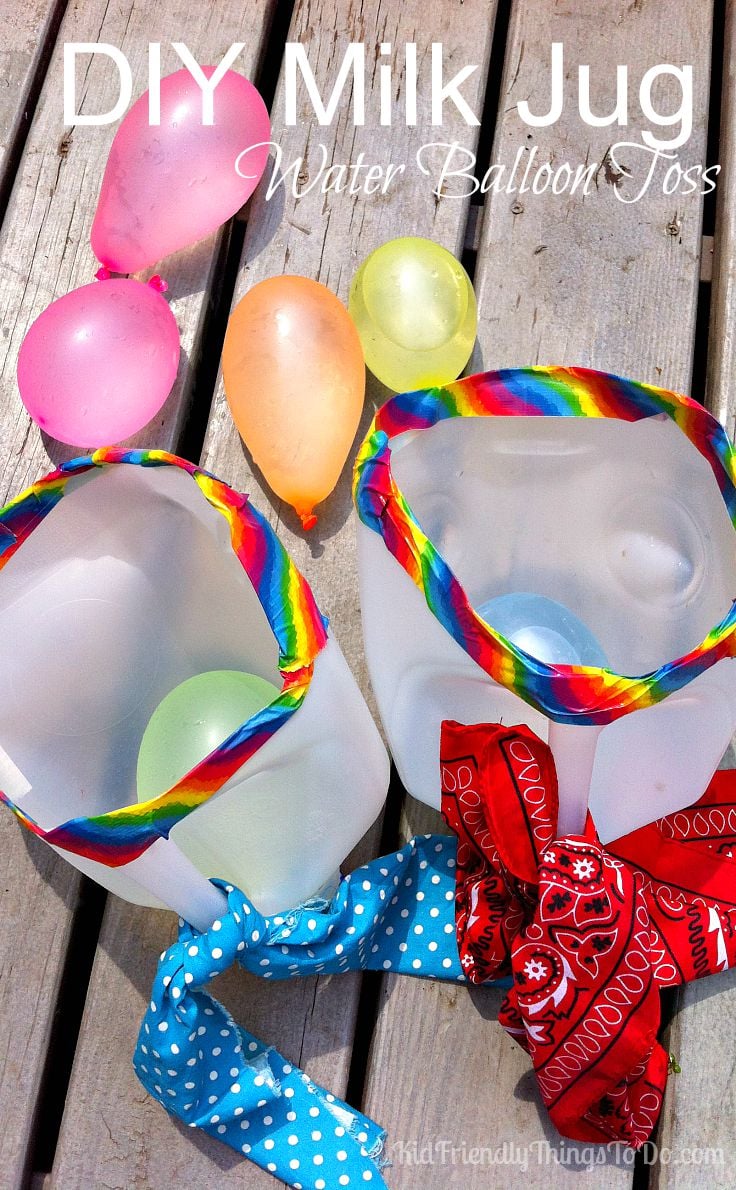 The kids are shouting praises! Mom has let water balloons back into their lives! Hallelujah!

For this summer game, you'll need:
Emptied, and rinsed milk jugs – 2 per team
Scissors
Duct Tape
Water Balloons
Buckets to hold the balloons
Optional – fabric to use as decoration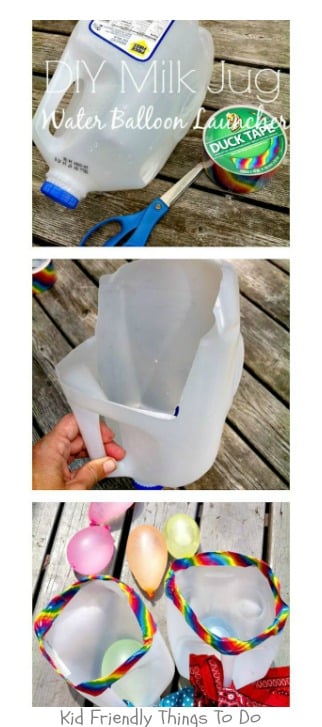 Turn the milk jug upside down
Starting at the handle, cut straight across on both sides of the handle until you get to the crease of the jug
Gradually go up now at a slight angle, cutting the bottom of the milk jug completely off
Make a straight edge going across the back
Use the image above as a visual guide
Now, use duct tape to cover the sharp edges of the milk jug so the water balloons aren't popped by them
You're Done, unless you want to add a piece of fabric to the handle as a decoration
Now…fill up water balloons, place them in buckets, and give each child a bucket of balloons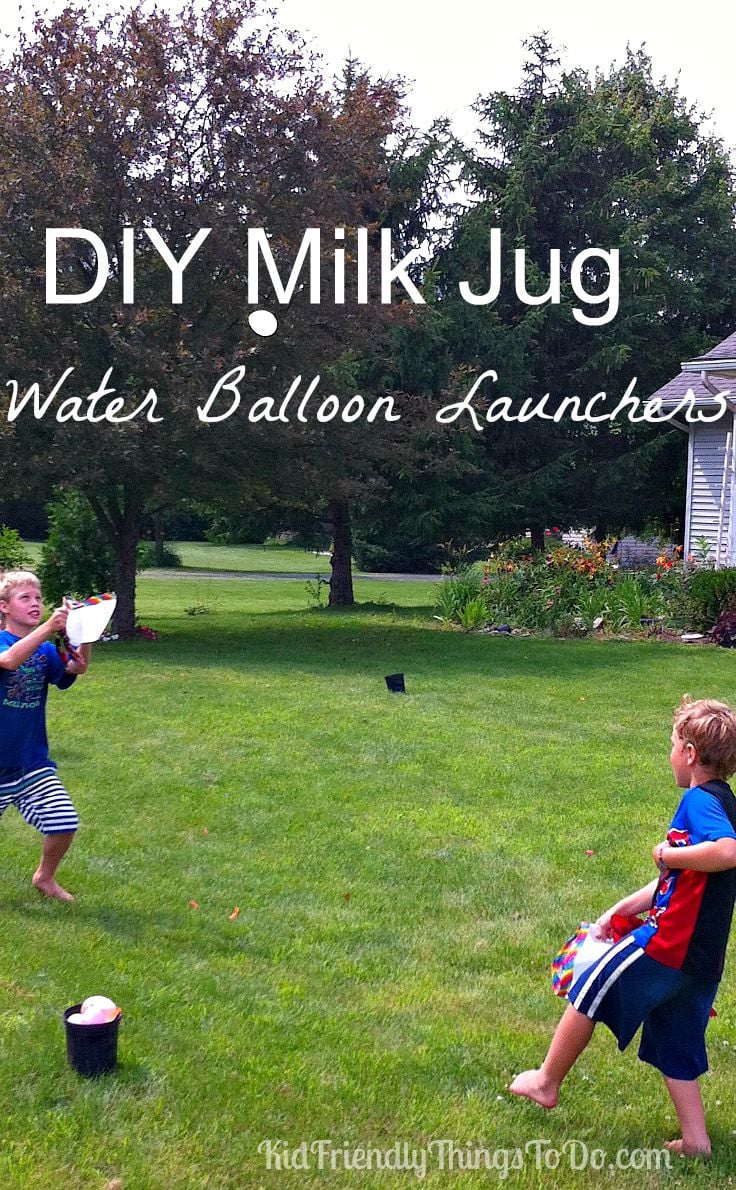 Let the fun begin! Either start out far apart,
OR – start close together…moving back a giant step each time you successfully catch a balloon
Lots of ways to play! Enjoy!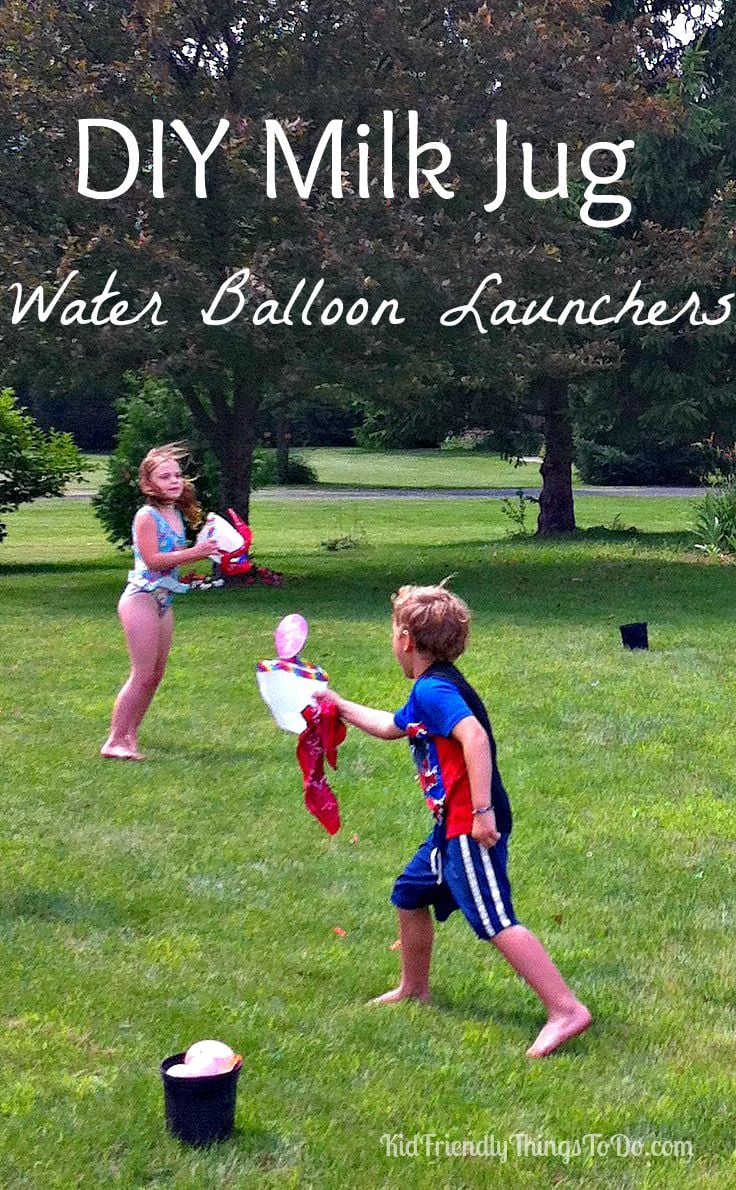 Some suggested equipment you may need or even want! Imagine the no tie water balloon option paired with this game! Hello Summer!
[box] [/box