Find the Hidden Treasure in the Water Balloon {Fun Water Game} | Kid Friendly Things To Do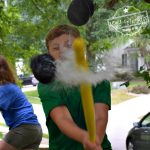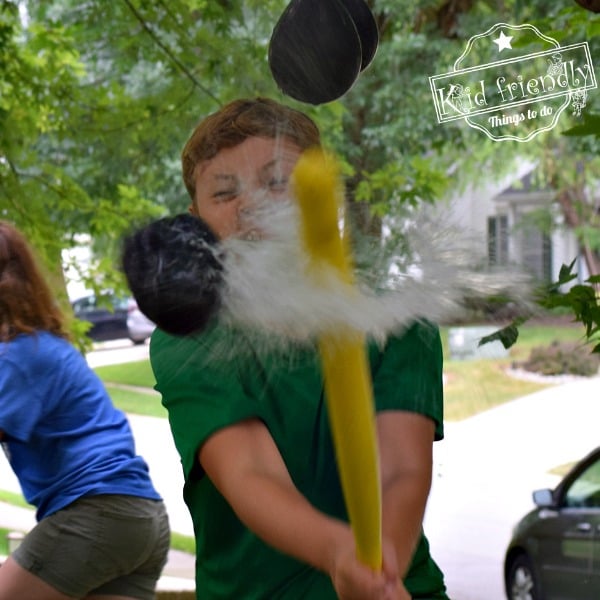 Posted by Melissa in Uncategorized | 0 comments
Play this water balloon game at your next birthday or summer party. It's the perfect way to cool off and have fun this summer for kids, teens, and adults. This is a great game for any Pirate themed party or just a great game to cool off with on a hot day. Come on in and I'll show you how to set up and play this fun Water Game…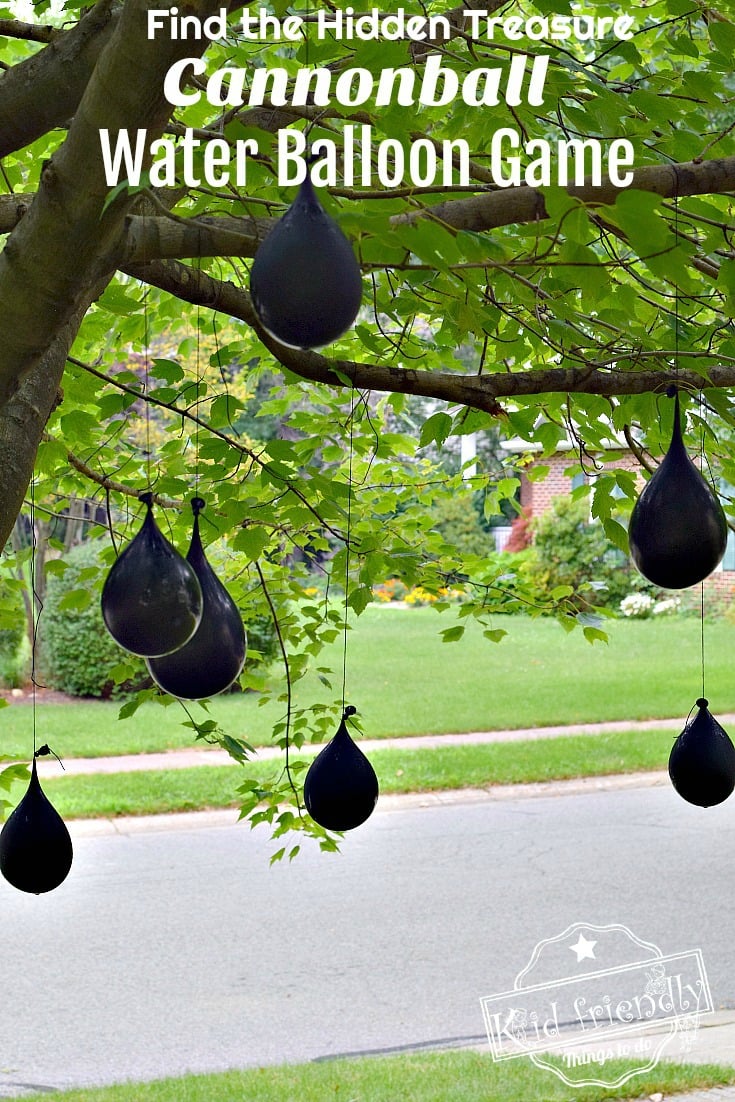 Each one of the kids and adults couldn't wait to play this game.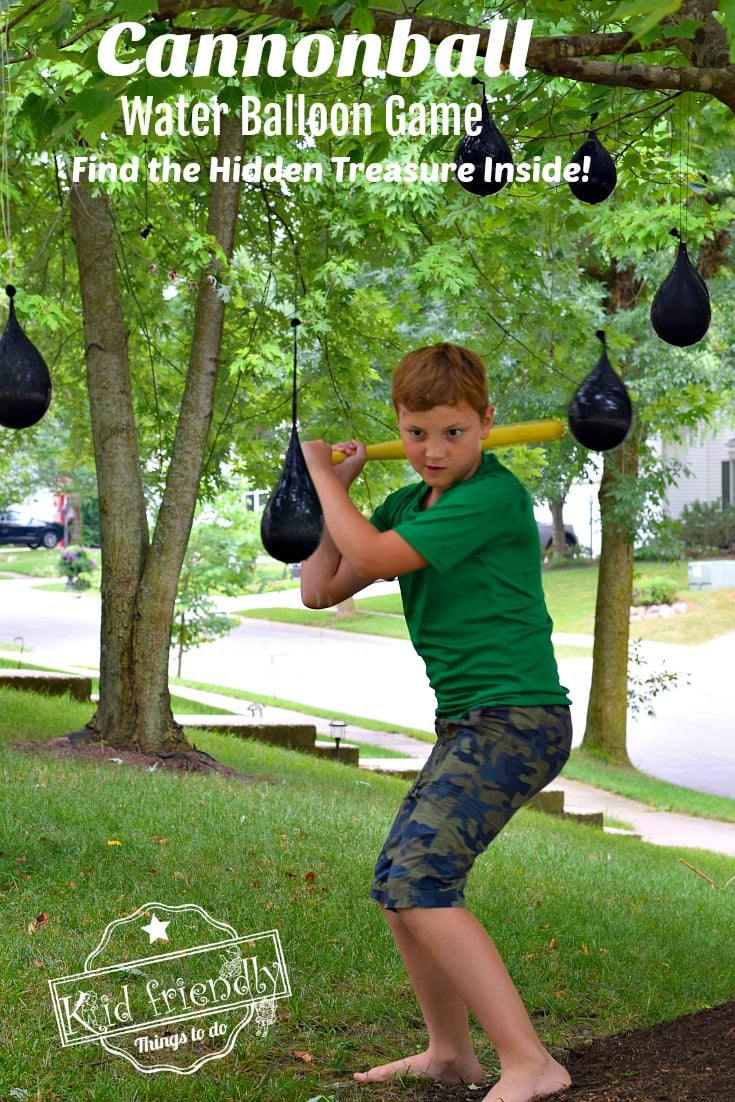 The latex balloons proved to be a lot more tough to pop than we originally thought they would be. The kids had to really whack at them for a while.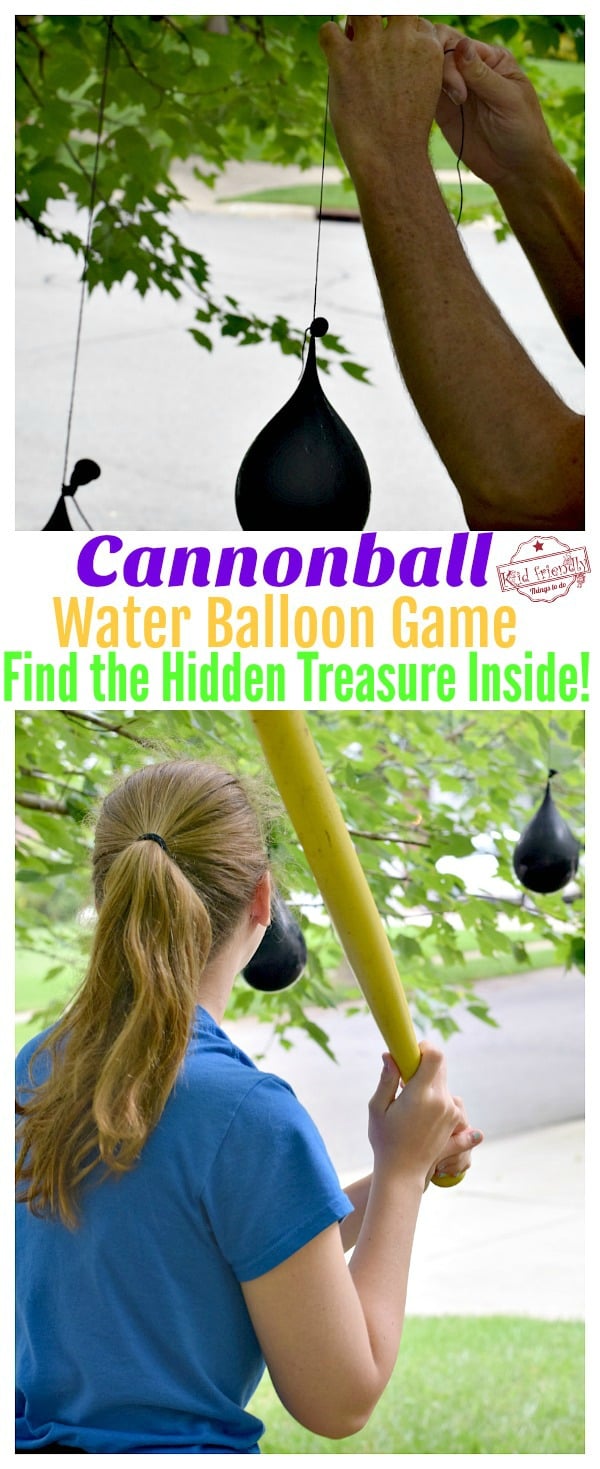 The water balloons were more like a tough pinata which is really what this game reminds me of.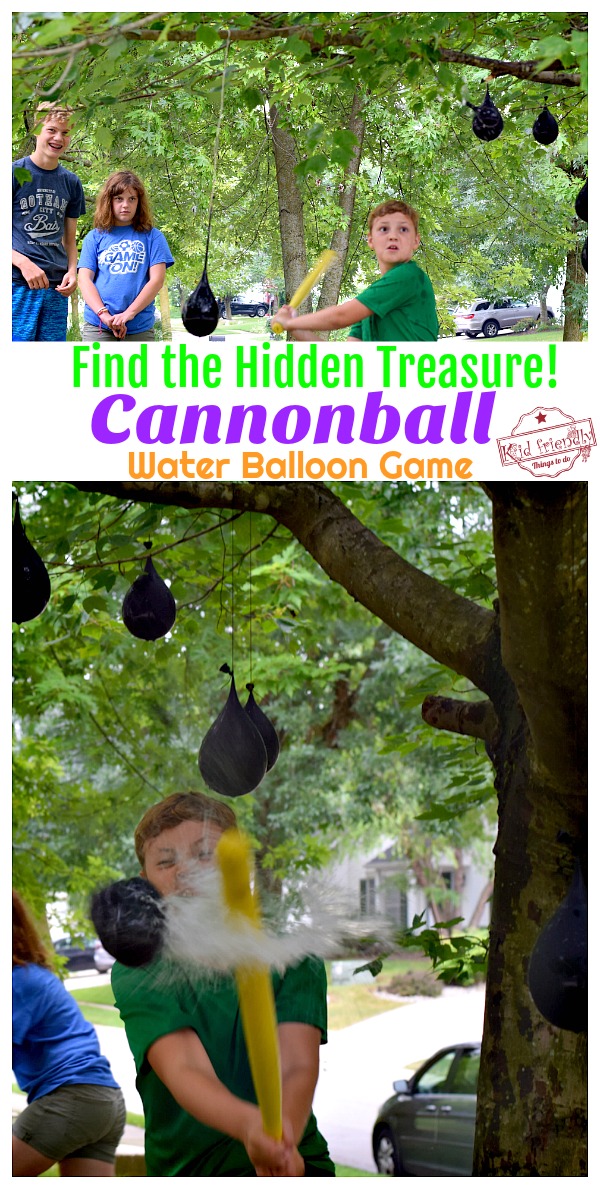 Just like a pinata has candy inside, some of the balloons have a coin inside. The trick is finding the balloons that have the treasure and popping them open. The tricky part after that is finding the coin on the ground. They tend to fly out and somehow blend into the ground. Putting a tarp around the tree might help locate them a little easier.
Here's What You'll Need to Set up for this Fun Summer Water Game…
Black Balloons – enough so each player can have at least 2 balloons to hit
*I used Latex – Helium Quality Balloons which is why they were so tough to break open. If you use balloons that are meant as water balloons, they will probably be much more thin and easier to break
Water
Plastic bin to contain balloons for a short period of time
Pirate Coin, gem or something similar to place in the balloon
*We originally used corn kernels which are easily inserted but next to impossible to find on the ground
Strong twine or rope to hang balloons
Plastic baseball bat
Prizes – one for each coin you've placed into a balloon
Instructions for Setting up this Fun Water Game…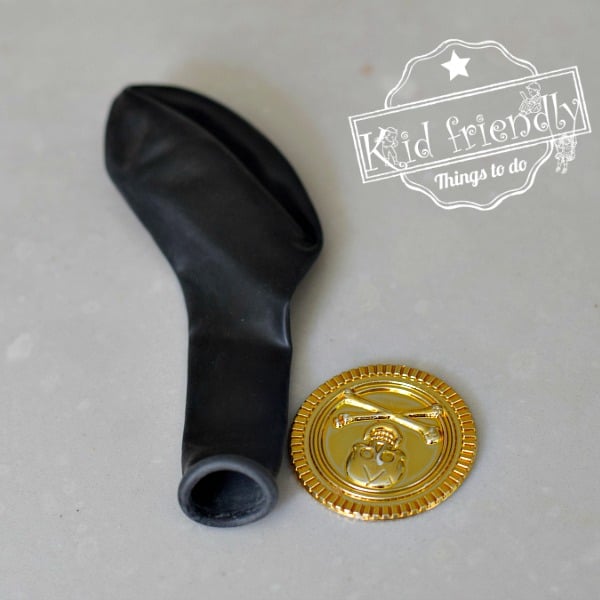 Place gems or coins in at least half of the balloons, leaving some balloons empty
Fill the balloons with water and tie them
Place them in your container
Take them outside to a tree that has low hanging, sturdy branches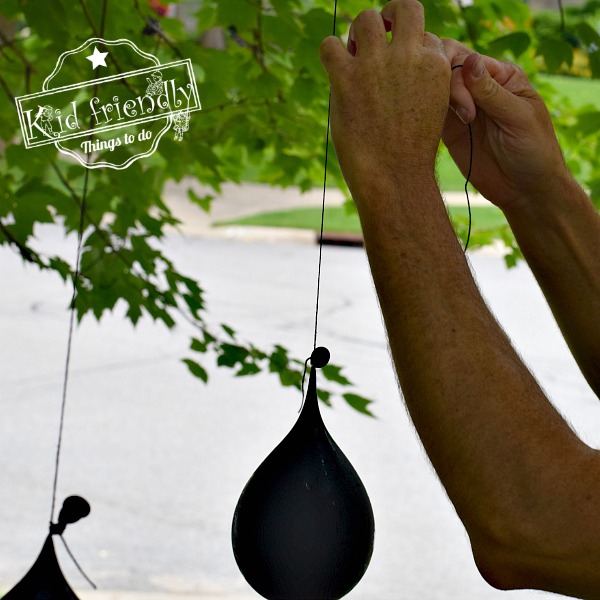 Tie them up so they are high, but low enough to reach with a bat
Place a plastic bat nearby for hitting the balloons
*Tips on placing a coin into a small opening of a balloon
Blow the balloon up with air – fully – and release the air. This stretches the balloon out
Stretch the opening several times
Fold the opening over and have someone else insert the coin into the balloon
Playing this Water Balloon Game for kids, teens and adults…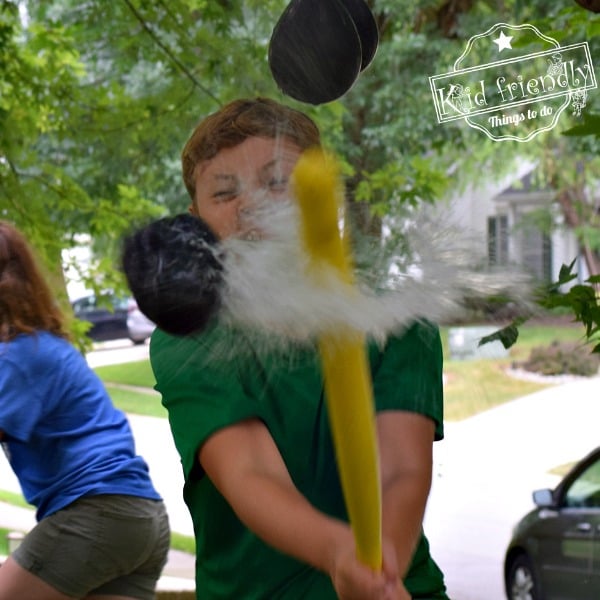 Kids should take turns picking balloons to whack with the plastic bat, bursting them open so water will splash on them and hopefully revealing a coin or token inside
*Be sure other players are back far enough so they wont get hit by the bat. People tend to get very enthusiastic when trying to pop the balloon and don't pay attention
After the balloon has popped open, look very carefully around for the coin or token. Look in the balloon pieces and on the ground. If they find a coin or token, they should keep it to trade it in later for a prize
Let the next player go and try to find a hidden treasure in their balloon
Hopefully, you've filled enough balloons so that players can each have several turns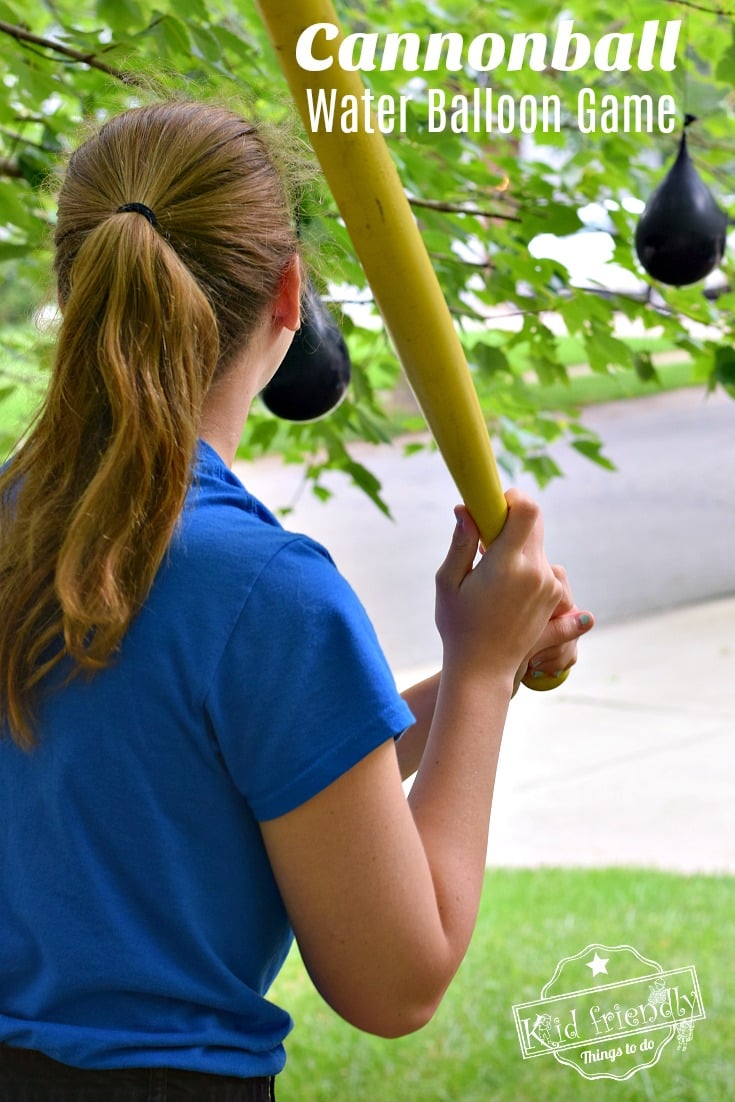 Playing this at school or parking lot location…
*A parking lot would certainly make it easier to spot a coin or token dropping out of the balloons
You could set up 2 ladders, several feet apart with a long wooden rod secured to steps on the two ladders
Set up balloons across the wooden rod and play as directed
Have adults put weight on the ladders so they don't tip when players are whacking away at the balloons