The card game 31 is such a fun family game to play. Sometimes called Scat, this fun card game is perfect for game night.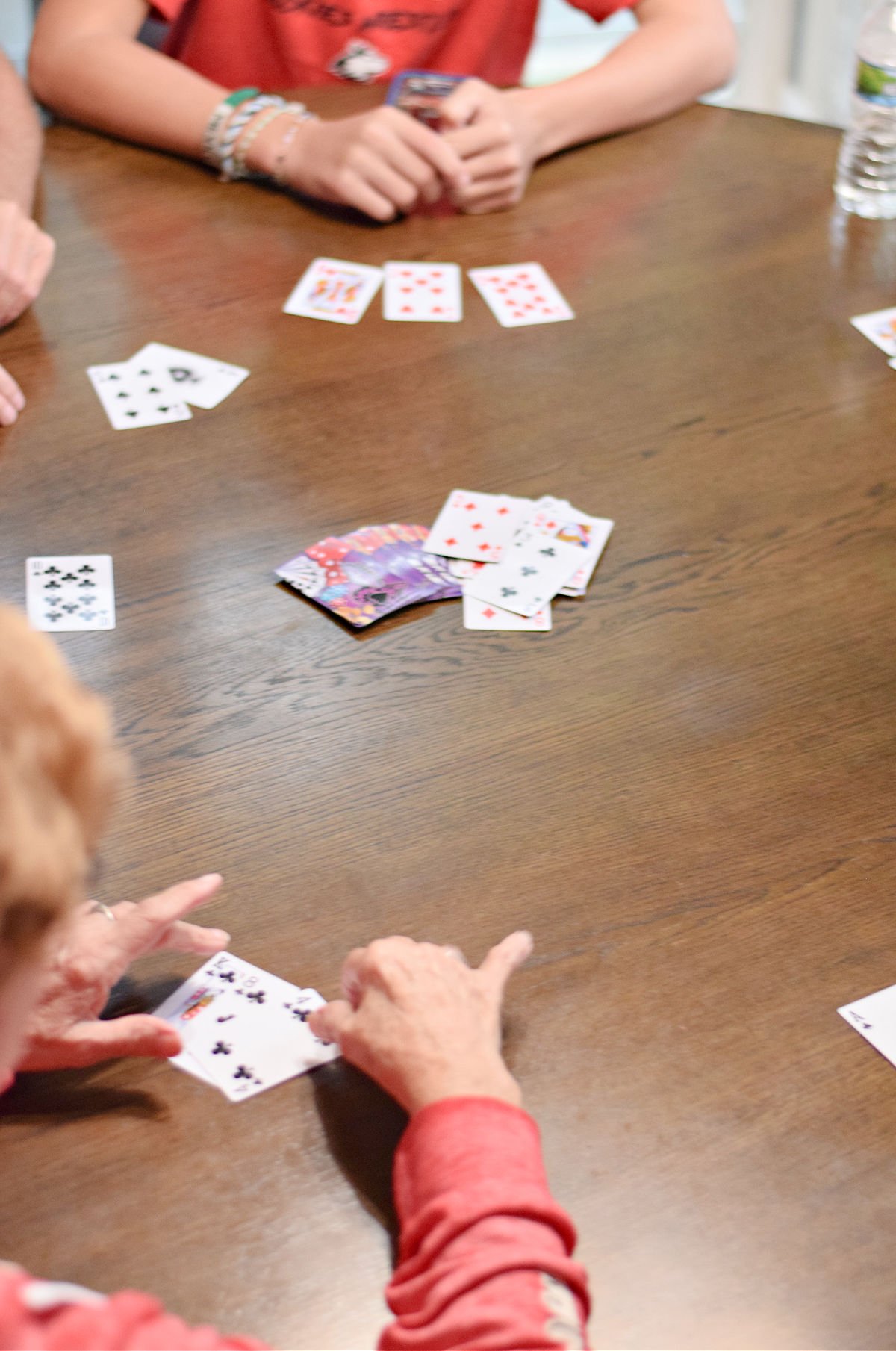 How to Play 31
I would have to say that this card game is a great game for older kids, teens, and adults. Although, it is an easy card game to play. there is some strategy and a couple of rules that might throw off younger kids. Of course, you know your kids the best, so you'll be able to judge if they can keep up with this fun game to play.
If you love playing card games with family and friends then you might like my posts on How to Play BS, How to Play Spoons, and Come on Six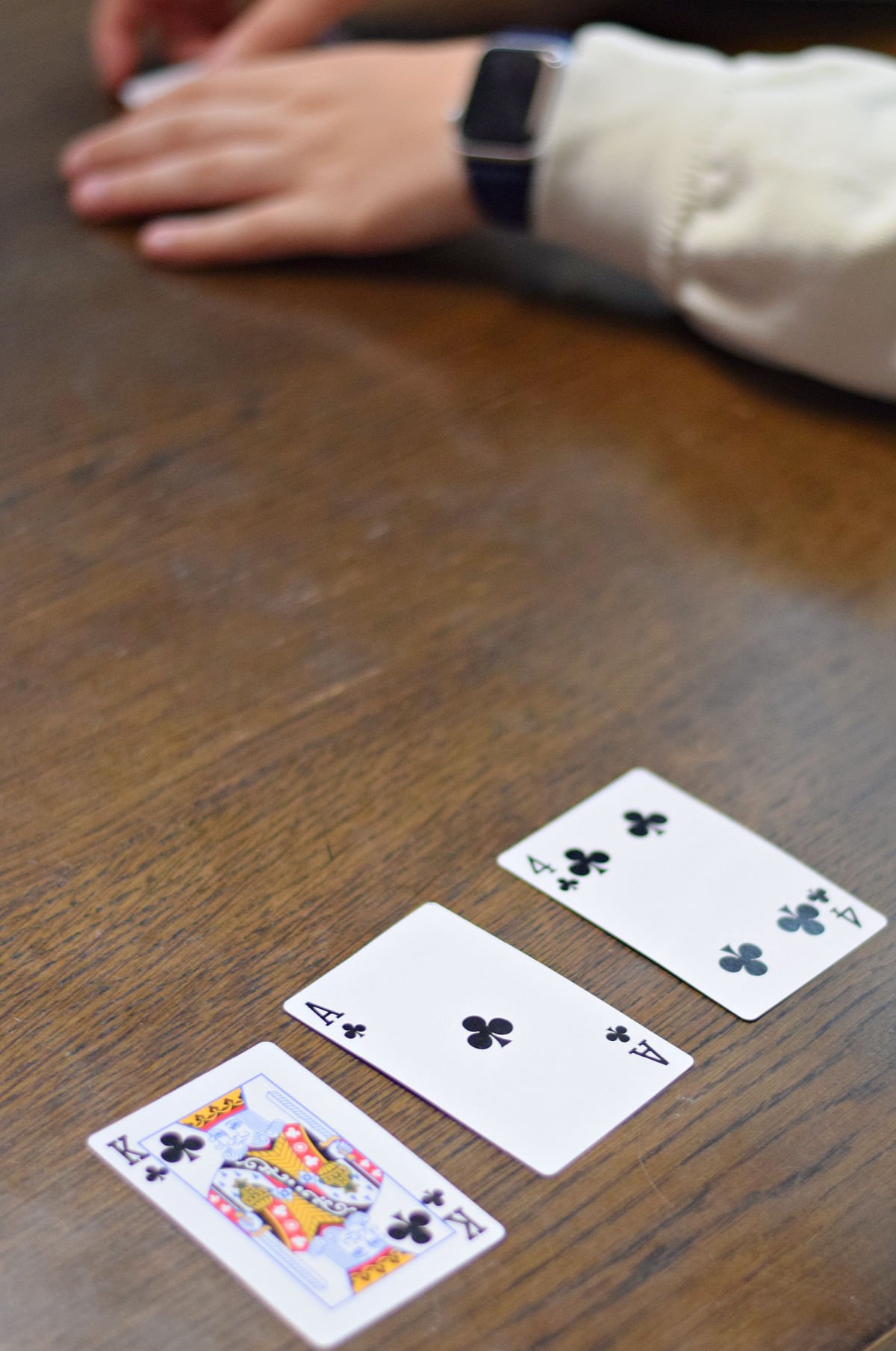 What I love about this Family Game
It's fun for everyone
It involves some strategy, but it is not too complicated
This card game is competitive – it makes for a nice friendly competition
Equipment You'll Need to Play 31 or Scat
Table – You'll want a table to sit around
Chairs – You'll definitely want to sit down because this game can last as little or as long as you want it to
Supplies Needed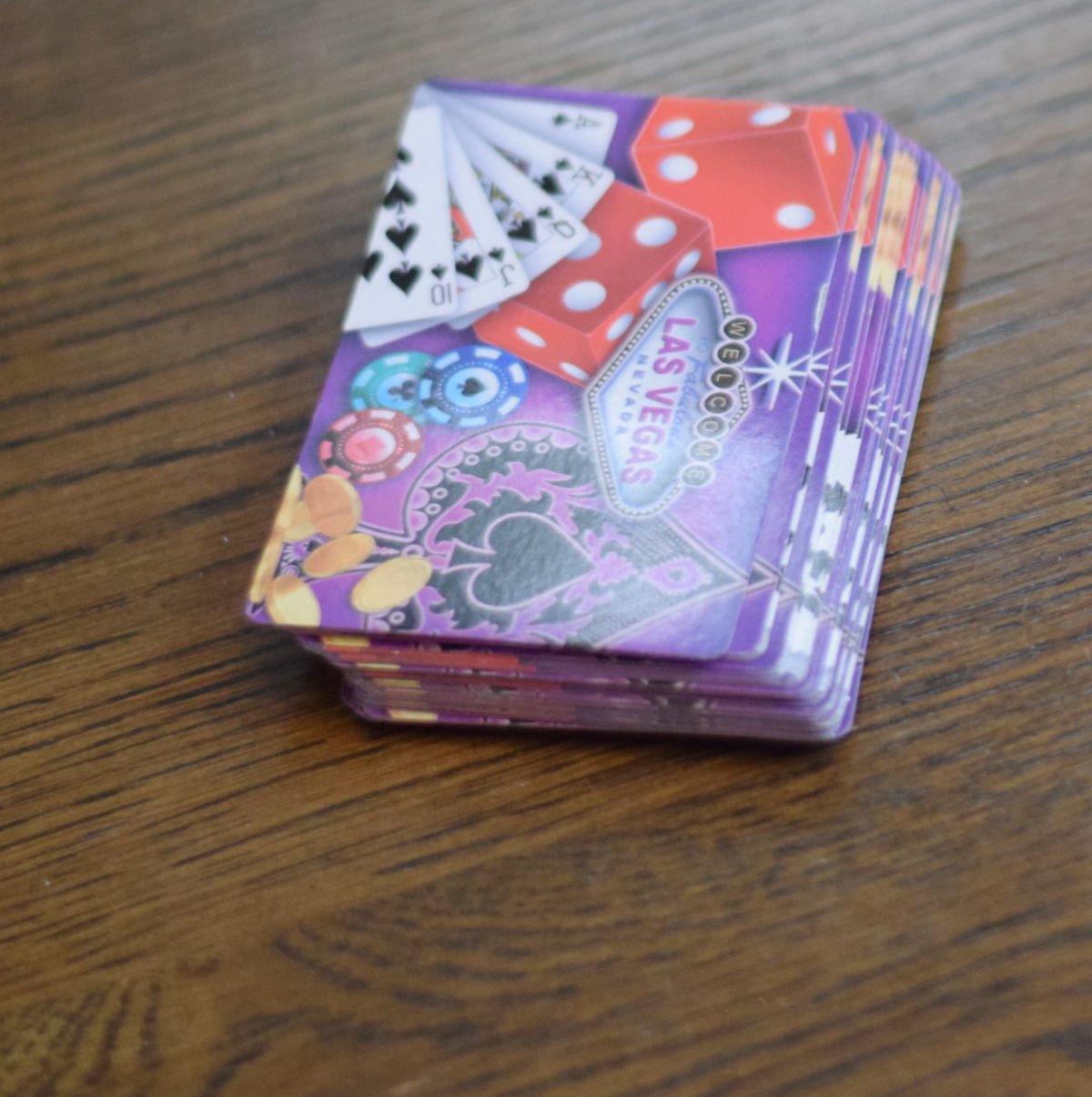 What You'll Need to Know Before Playing
Ace equals 11
Face cards all equal 10 each
Jokers are not included
Numbered cards are equal to their number
Setting Up and Dealing
Here's What You'll need to do to get ready for playing 31 the card game
Step One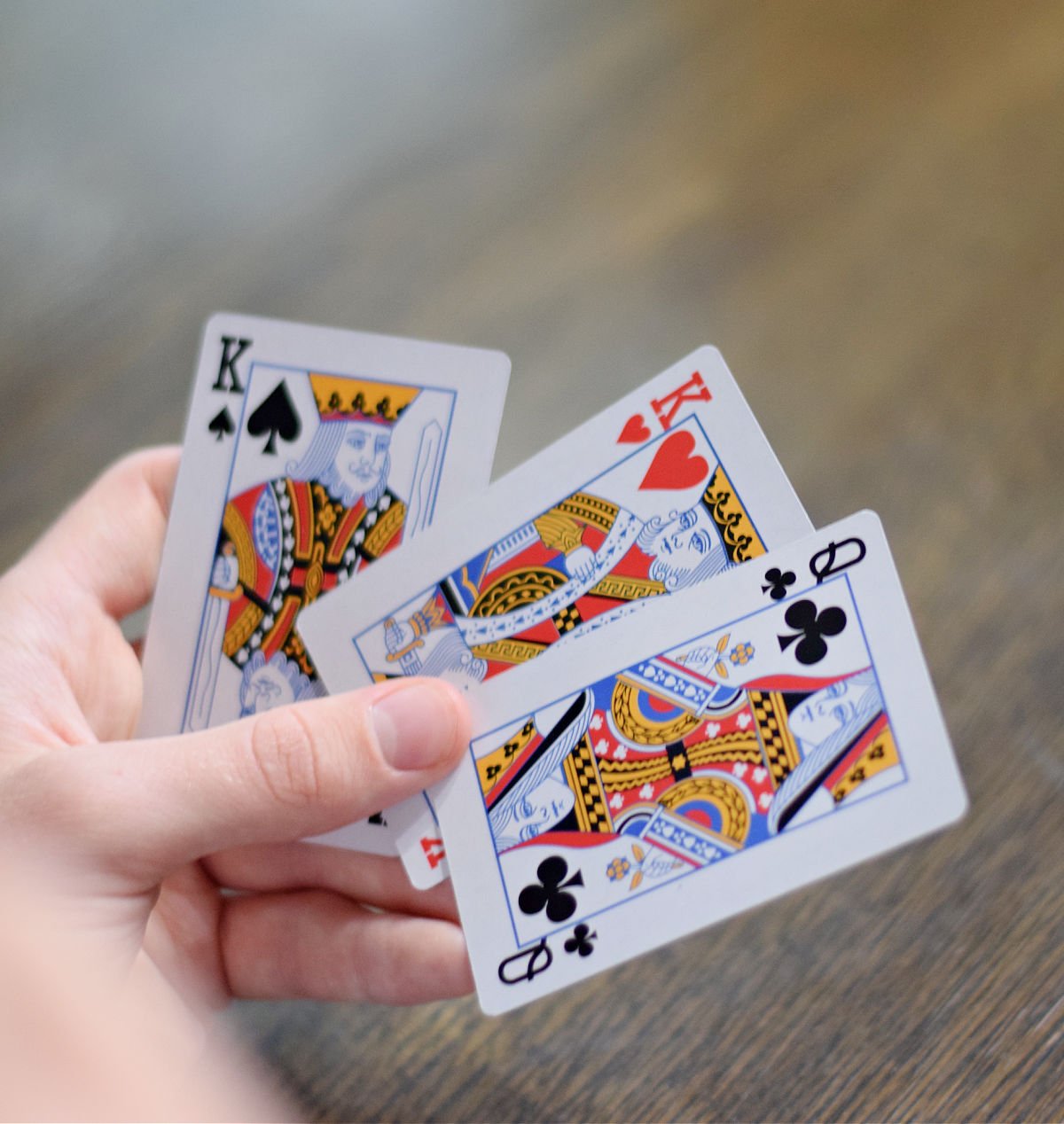 The dealer will need to deal 3 cards to each player.
Players should not reveal their cards.
Step Two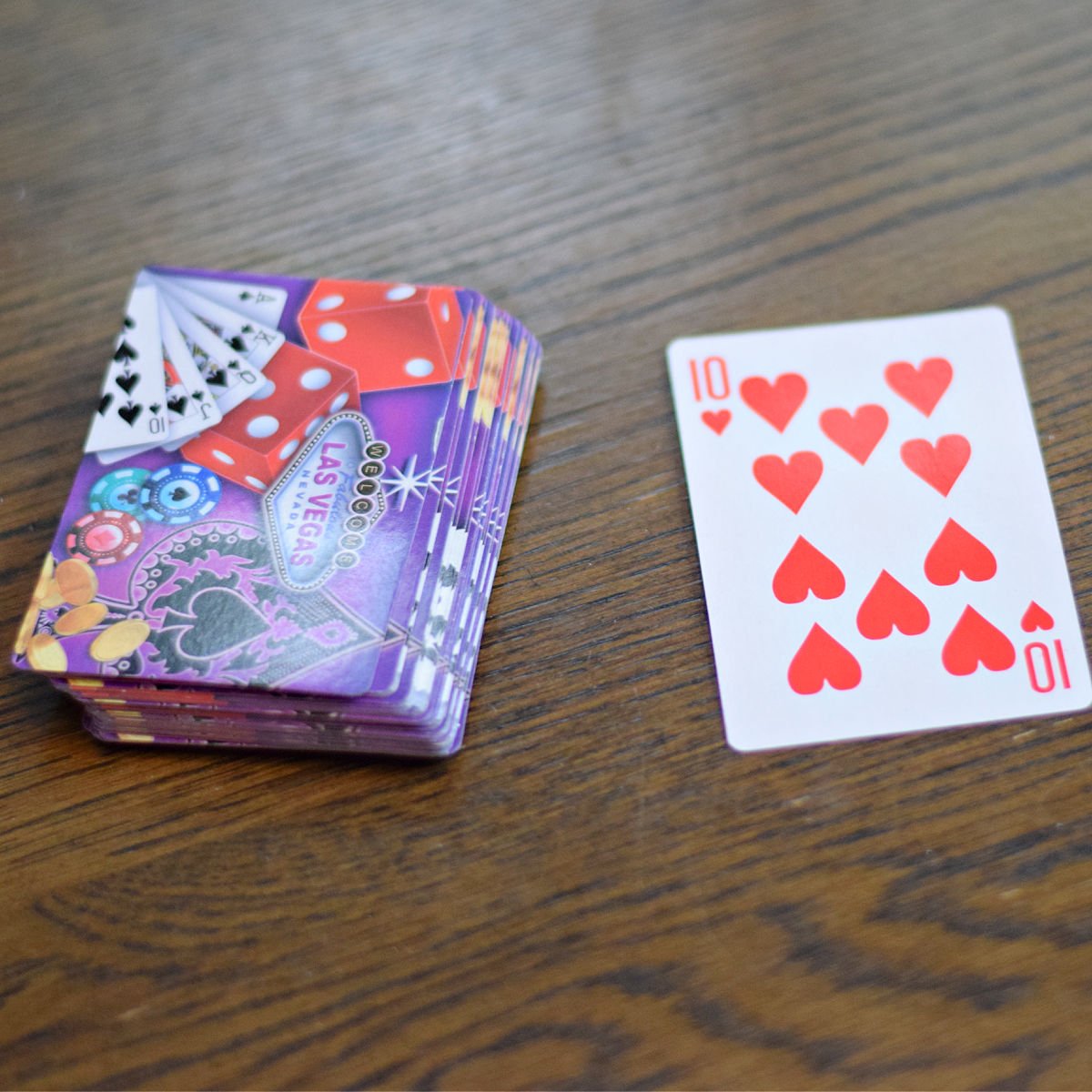 Once the cards are all dealt, the rest of the cards should go in a stack (face down) in the center of the table
Step Three
From that stack, turn one card face up and place next to the face-down stack of cards
The Object of the Card Game 31
To have the hand that totals 31 or is the closest to adding up to 31
How to Add Cards for 31
Remember:
Aces = 11
Face cards = 10
Numbered Cards = Their Value
A 3-of-a-kind equals 30 points – Note: This is the only time different suits can be added together
Suits of the same kind in your hand of 3 can be added together to get a total
Examples of Adding Cards for 31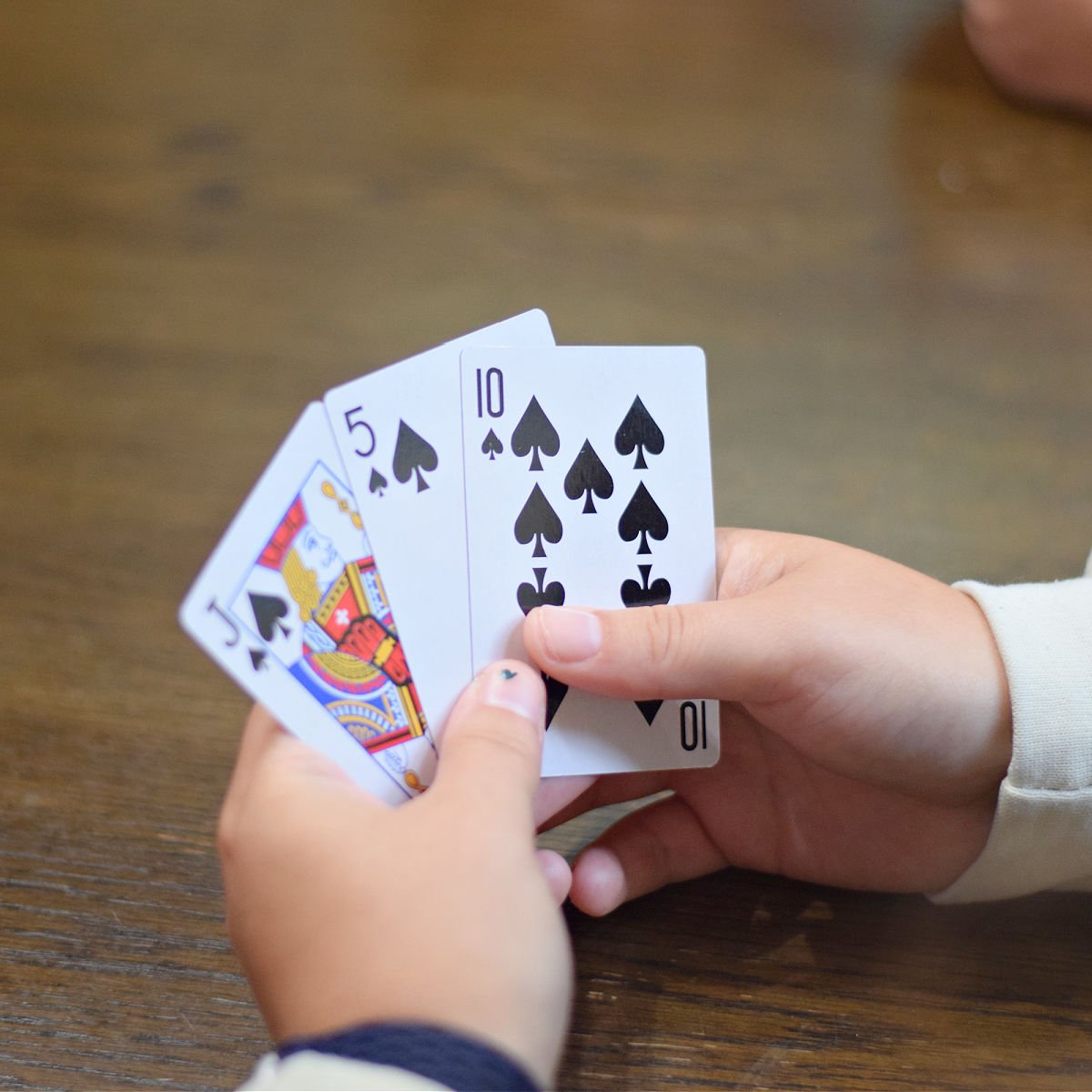 The suit above is of the same kind (Spades). These can be added together. The Jack = 10 and the numbered cards equal their valui of 5 and 10. The total is 25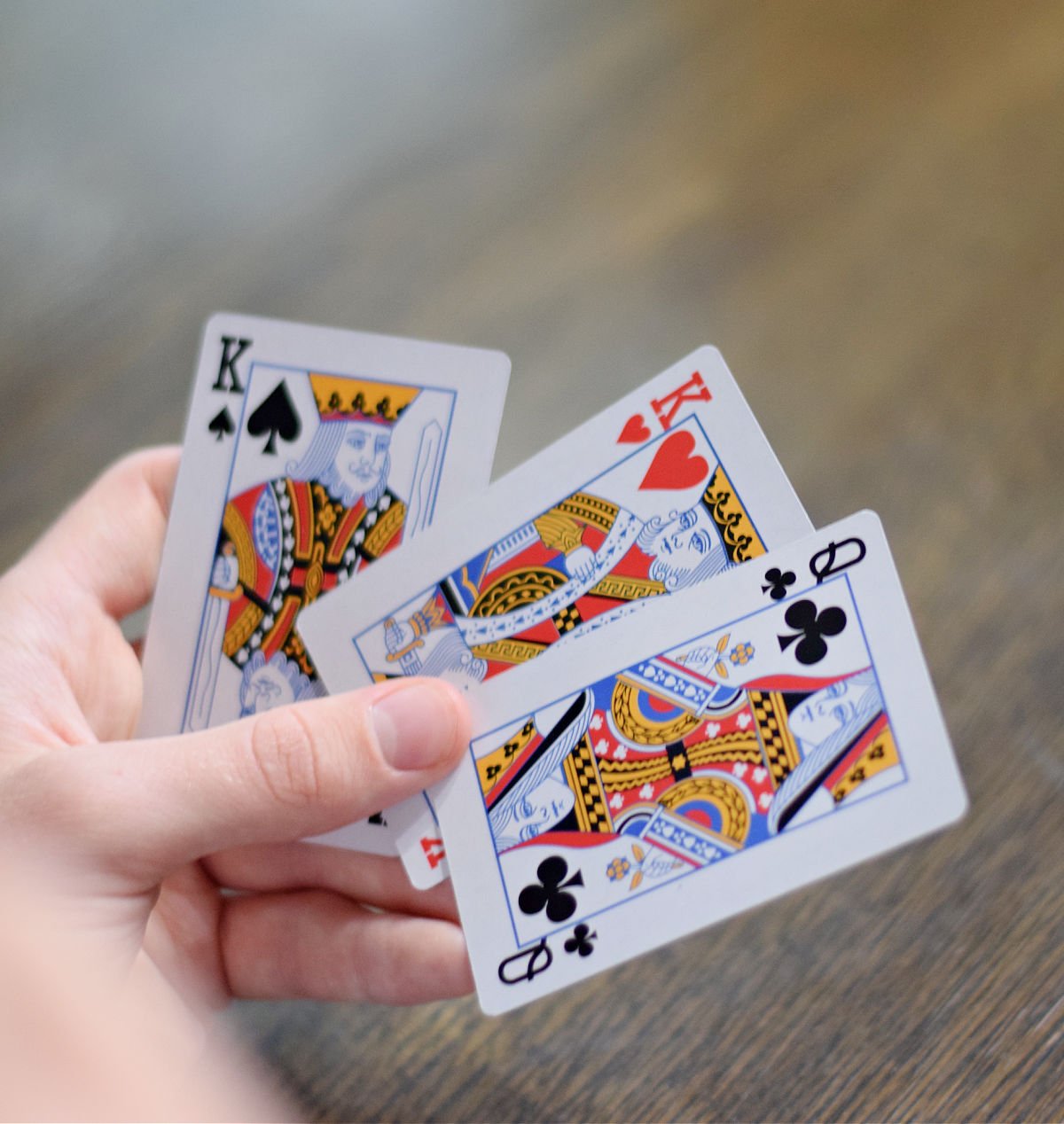 The hand above has 3 cards from 3 different suits. They can not be added together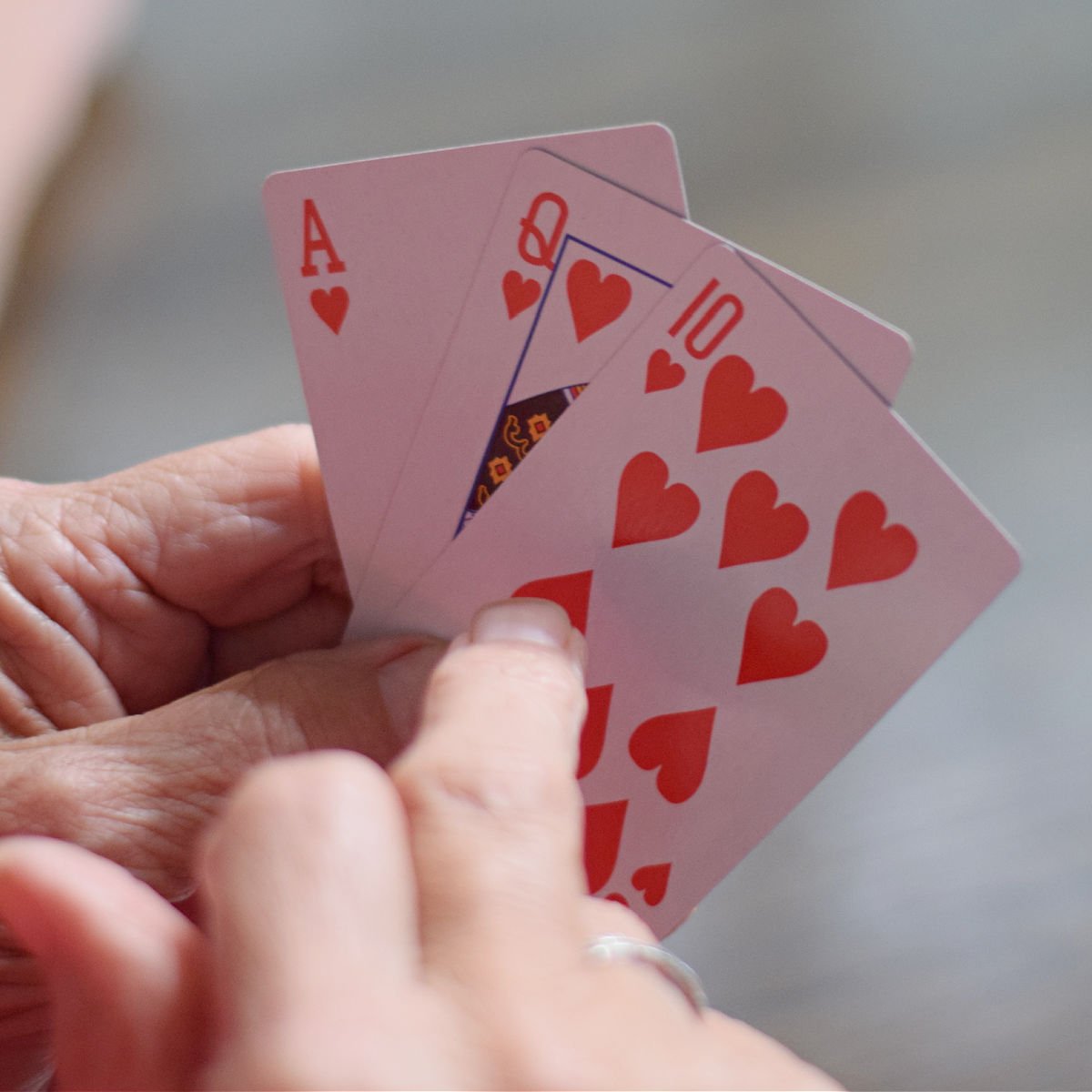 The cards above are all from the Hearts Suit. They can all be added together. The Ace=11, The Queen=10, and the 10=10. The total is 31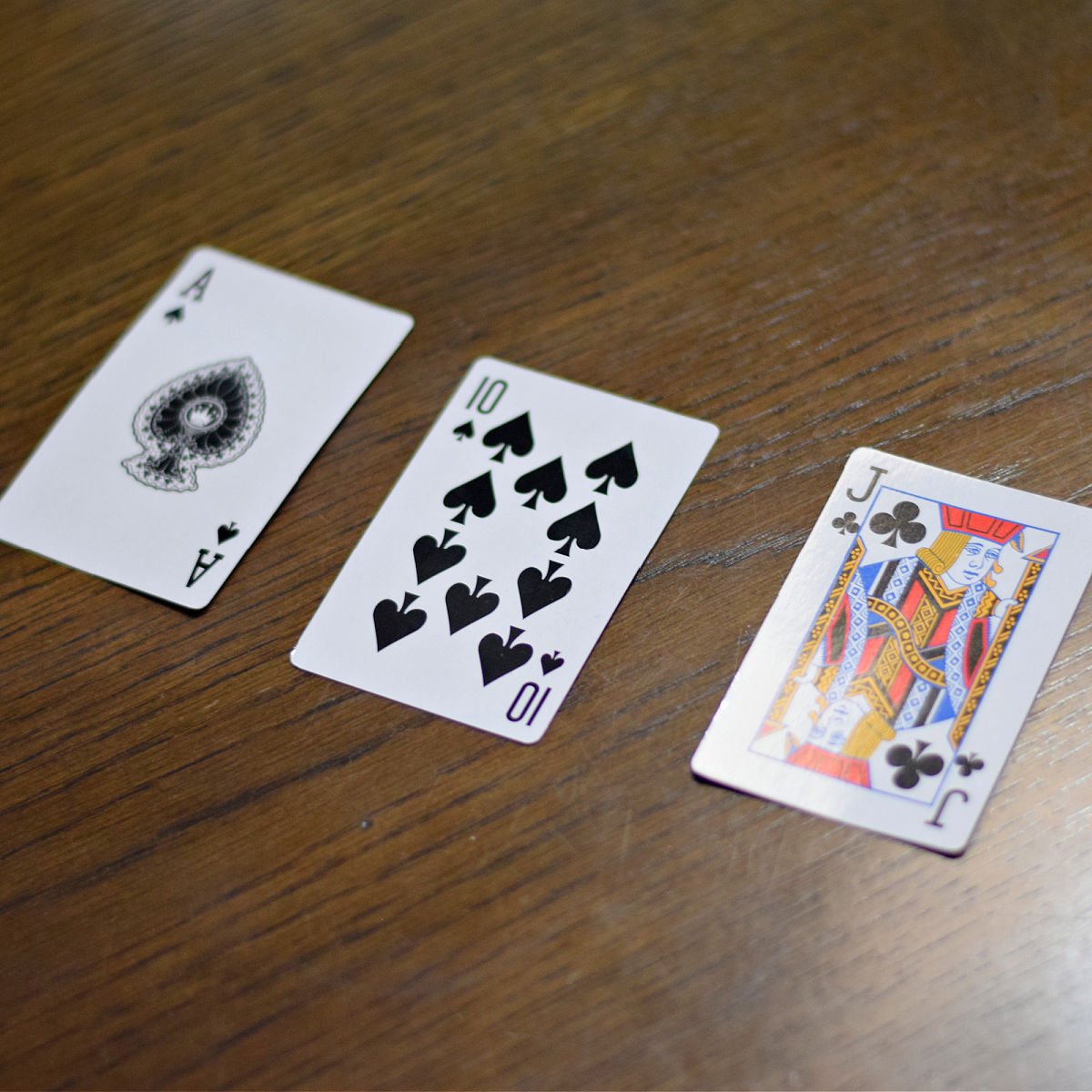 The example above shows 2 cards from the Suit Spades and One card from the Suit Clubs
The 2 Spades can be added together, but the Jack can not be included in the total. This hand would equal 21 (A=11, 10=10)
How to Play 31 the Card Game
Player one:
Draw one card from either pile on the table and add it to your hand of 3
Player one should decide now which 3 they want to keep. They should keep the 3 cards that will get them the closest to the total 31
The card player one does not want to keep must be discarded face up in the "face up" pile
Play then moves on to the person to the left of player one and continues the way described above going counter-clockwise
Once a player feels like they have a good hand that totals closest to 31, they should "knock on the table"
Once a player knocks, everyone gets one more turn to improve their hand
The players must then reveal their cards "face up" on the table and cards are counted to see who has the "lowest hand"
That player loses a life
Note: If the player that knocked has the lowest hand, then they must lose 2 lives
Once a player loses 4 lives, they are out of the game
The last player left standing wins the game and whatever prize is available
Expert Tip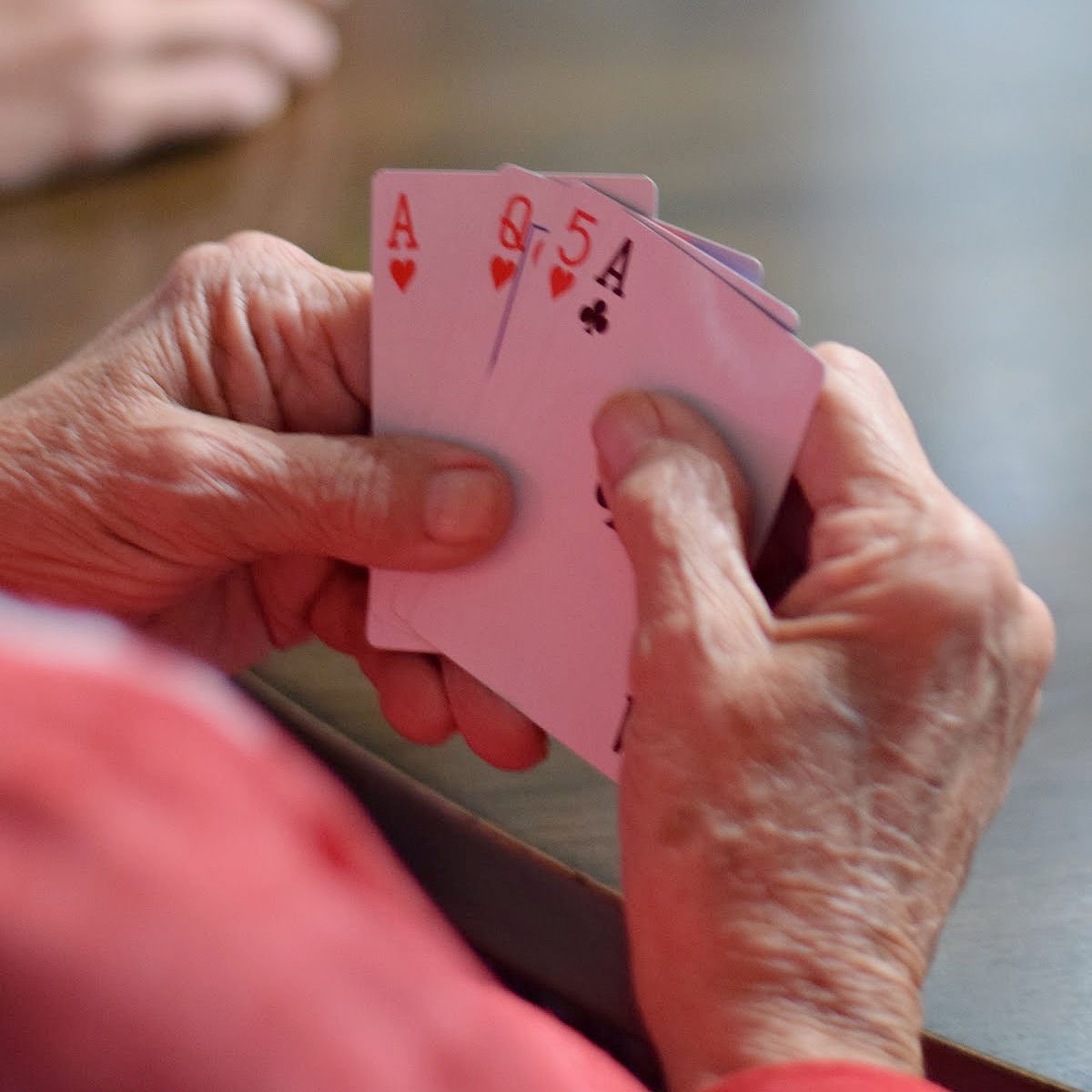 You could go 3 ways in the example below.
You could discard the Queen or 5 in hopes of getting another Ace on your next turn. for a 3 of a kind which equals 30
You could discard the Ace and you'll have a total of 26. If you knock now, you might not be the highest, but you probably won't have the lowest total
One more option is to get rid of the Ace of Clubs, don't knock, and try to get a higher heart card than your 5 on the next-hand
Adding a Friendly Wager Variation
and Holiday Edition
This changes the rules just a little bit and is a fun holiday version
Each player starts off with 4 candy pieces (or something else of value)
Before each round, the players must ante up "throw a piece into the middle"
Whoever has the highest in each round wins the ante
When you are out of candy, you are out of the game
The player that wins all of the candy from the entire table wins
Note: If a player gets exactly 31 – They knock and win immediately for that hand
What are the rules for 31?
Players must add the 3 cards in their hand to try and get to a total of 31 or the closest to it. They can choose from the discard pile or the draw pile to try and improve their hand. Once they have decided which cards to keep, they must discard one into the discard pile. Once someone gets an amount they are comfortable with, they knock on the table giving everyone else one more turn to improve their hand before all reveal their hands. The lowest hand loses a life, or the highest hand wins (whichever variation you are playing)
How many cards do you start with in 31?
Each player starts with 3 cards
How do you score in 31?
Suits must match to add up together. Aces are high and equal 11. Face cards are worth 10. Number cards are worth their value
Come Hang Out with Me on Social Media
When I publish a post, I always share it to my Pinterest Account.
I have 2 Facebook Pages that I share ideas on. One is called Cooking Up Fun and the other is Recipes Passed Down
My latest favorite place to share is Flipboard
I'd love to see you on any or all of the above!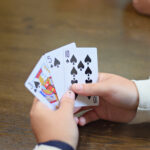 Print
How to Play 31
A fun family-friendly card game that is perfect for game night
Equipment
1 table

chairs for each player
Instructions
Object of the Game
To have the hand that totals 31 or is the closest to adding up to 31
Setting Up and Dealing
The dealer will need to deal 3 cards to each player.

Players should not reveal their cards.

Once the cards are all dealt, the rest of the cards should go in a stack (face down) in the center of the table

From that stack, the top card should be turned face up and placed next to the face-down stack of card
Card Values
Face cards all equal 10 each

Numbered cards are equal to their number
Playing
Player one: (usually the player to the left of the dealer)

Draw one card from either pile on the table and add it to your hand of 3

Player one should decide now which 3 they want to keep. They should keep the 3 cards that will get them the closest to the total 31

The card player one does not want to keep must be discarded face up in the "face up" pile

Play then moves on to the person to the left of player one and continues the way described above going counter-clockwise

Once a player feels like they have a good hand that totals closest to 31, they should "knock on the table"

Once a player knocks, everyone else get one more turn to improve their hand

everyone must then reveal their cards "face up" on the table and cards are counted to see who has the "lowest hand"

Note: If the player that knocked has the lowest hand, then they must lose 2 lives

Once a player loses 4 lives, they are out of the game

The last player left standing wins the game and whatever prize is available
Adding a Friendly Wager Version
This changes the rules just a little bit and is a fun holiday version

Each player starts off with 4 candy pieces (or something else of value)

Before each round, the players must ante up "throw a piece into the middle"

Whoever has the highest in each round wins the ante

When you are out of candy, you are out of the game

The player that wins all of the candy from the entire table wins

Note: If a player gets exactly 31 – They knock and win immediately for that hand
Notes
How to Add Your Cards
A 3-of-a-kind equals 30 points 
Note: This is the only time different suits can be added together
Suits of the same kind in your hand of 3 can be added together
Example: If a player has an Ace of Spades, a 2 of Spades, and a Jack of Clubs – the spades would be the same suit and can be added to equal 13 (Aces 11 + 2=13)
Example: The card hand in the photo on this instruction card is a Jack of Spades (worth 10), A 5 of Clubs, and A 10 of Clubs = 25