This was such a fun craft to make with the kids. I love that the hanger doubles as a Christmas decoration. Just place it on a doorknob and enjoy the Christmas Cheer he brings. Come on in and I'll share my simple "how-to" on this Make A Cute Santa Craft Out of A Coat Hanger. – Easy Kid's Craft for Christmas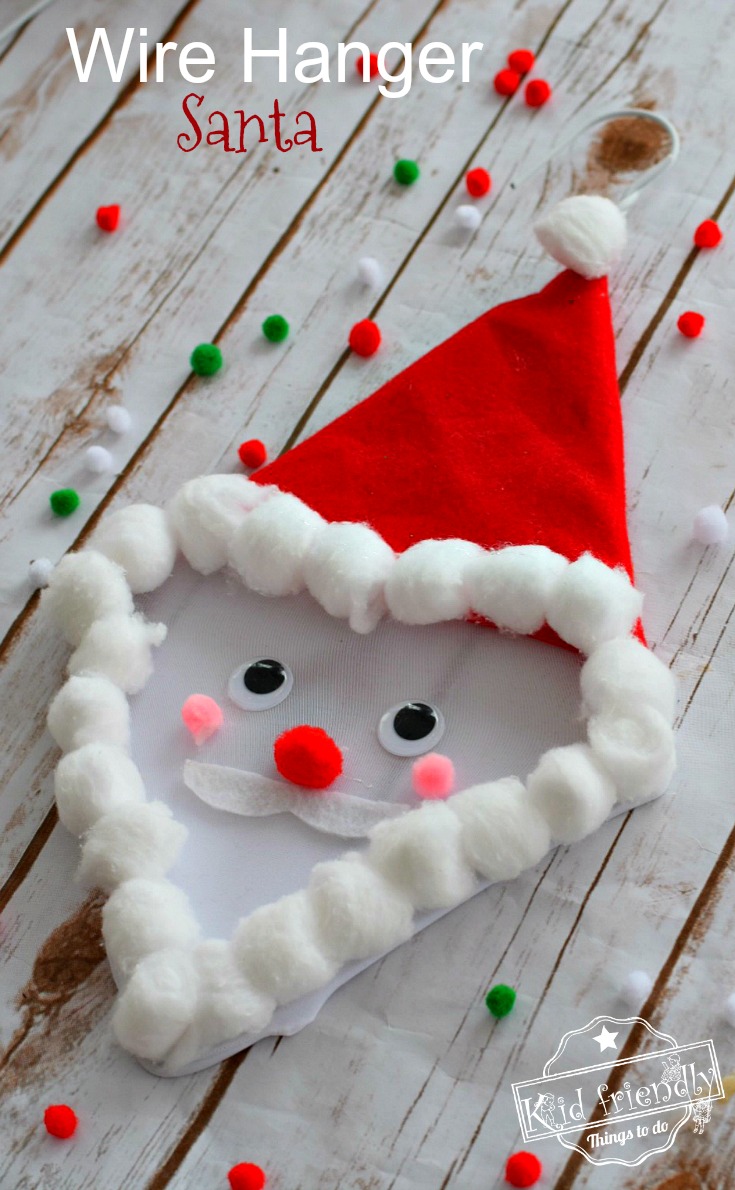 Santa Craft for Kids to Make
If you are looking for fun Christmas crafts, you might want to check out my other ideas, like – a Christmas angel ornament made from a snack bag and cotton balls, Rudolph Lollipop craft, or melted snowman Salt Dough Ornament – so cute!

Here are my Top Amazon Picks for Make A Cute Santa Claus Craft Out of A Coat Hanger
(affiliate links)
[box]        [/box]
Tips and Tricks for making this Santa Craft with preschoolers or young kids:
If you are doing this Santa Craft with younger kids, prep these Santas by doing the first 2 steps beforehand and by having all of the shapes cut out of the felt
cut out anything that seems like it might be frustrating for a preschooler to do on their own
use a glue that is tacky and will bond quickly
try to avoid working with hot glue. If you must use hot glue, get a low-temperature glue gun
Fabri-Tac is a great hot glue alternative
the tip of the hanger can be sharp. You may want to tape that off to avoid any kind of cuts or scrapes
Making Crafts with Preschoolers and Young Children:
Prepping crafts ahead of time is always the key to working with preschoolers and young children. They don't mind if they only do 1 or 2 steps. They still feel very accomplished with the finished product and will take full credit for their adorable craft.
More Christmas Crafts for Kids
popsicle stick nativity ornament
Are you ready to make this cute Santa Craft? Let's make sure you have everything you'll need…
You'll need
A white wire hanger
White stockings – I found knee-high stocking for under $1 at Wal-Mart
Twist ties
2 Small pink pom-poms
1 medium-sized red pom-pom
Large googly eyes
Red felt
White Felt
Cotton Balls
Glue – Use a nice strong glue like a warm glue gun or Fabri-tac glue to avoid drying time
How do you make this Santa Craft?
Instructions:
*If you are worried about the tip of the hanger being a sharp edge, you can wrap it in masking tap or duct tape
pull the hanger into a diamond shape
Have the kids pull the sock up over the bottom of the diamond – all the way up to the hook – secure the sock with a twist tie
Now, you can use the Fabri-tac glue or another tacky glue to adhere the eyes, nose, and cheeks
Cut a mustache out of the white felt and glue that down
measure the top half of the diamond and cut a triangle out of the red that will cover the surface – glue to secure
Add cotton balls all around the rim of the hat, the beard part of the face, and 1 at the top of the red
That's it! Hang and enjoy. 🙂 Merry Christmas
~Melissa – Kid Friendly Things To Do