This is a fun and simple holiday Pinecone Door Swag Christmas craft that produces a beautiful Swag or Wreath decoration for your front door for years to come.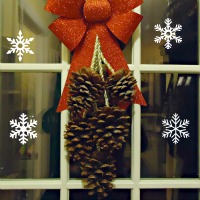 Christmas Swag Craft:
You'll Need:
6 large pine cones – I bought a bag of the cinnamon scented pine cones that you see in every grocery store around the holidays
Drapery Chord – I bought 1&1/2 yards of the chord at JoAnn Fabric Store
Scotch tape
Twisty tie
A pretty bow
Optional – Adhesive spray and snow glitter
Wreath hanger
Now, on to the swag:
So, you'll want to set your pine cones into a tier formation – I placed 3 at the top, 2 in the middle, and finally 1 at the bottom
Section off your chord, (one long piece for the bottom cone, 2 medium-length pieces for the middle cones, and 3 short pieces for the top cones) and wrap scotch tape around the section you plan on cutting – this is important – the tape keeps the cording from unraveling
Cut the chord in the center of the scotch tape
Hot glue one end of each chord to your designated pine cones
Gather the chords at the top and secure them with your twist tie – Add glue to even further secure them
Add your pretty bow to the top of the chords, and twist the ties around your chords
Bend the extra ends of the chord over the twist in the bow, and glue
Use the extra pieces of the ribbon twists to form a circle to hang the swag, or slip a ribbon through the bent chords and tie to make a place to hang the swag from
If you want to add some sparkle, spray the adhesive spray onto the pine cones and sprinkle snow glitter
Hang on the wreath hanger!
~Melissa – KidFriendlyThingsToDo.Com – A site providing kid-friendly crafts, recipes, party ideas, and fun things to do with the whole family!