I'm cramming in one more simple craft before Christmas is upon us! You probably won't have time to pull the ornament together before Christmas. Really, this could take you into the winter season, and make them into ornaments for next year. Just make the scene inside the mason jar into a cute little snowman with kids or a simple winter landscape scene and Voila' – you've got a simple winter craft. Some of our Mason Jar Snow Globes were used as ornaments. Some, the kids just wanted to put on the window sill to admire. I love them either way. It's so much fun to see everyone's scene come to life inside a jar. Come on in and I'll share the simple "how to" on DIY Mason Jar Snow Globes for a Winter or Christmas Craft – OR – Christmas Ornament...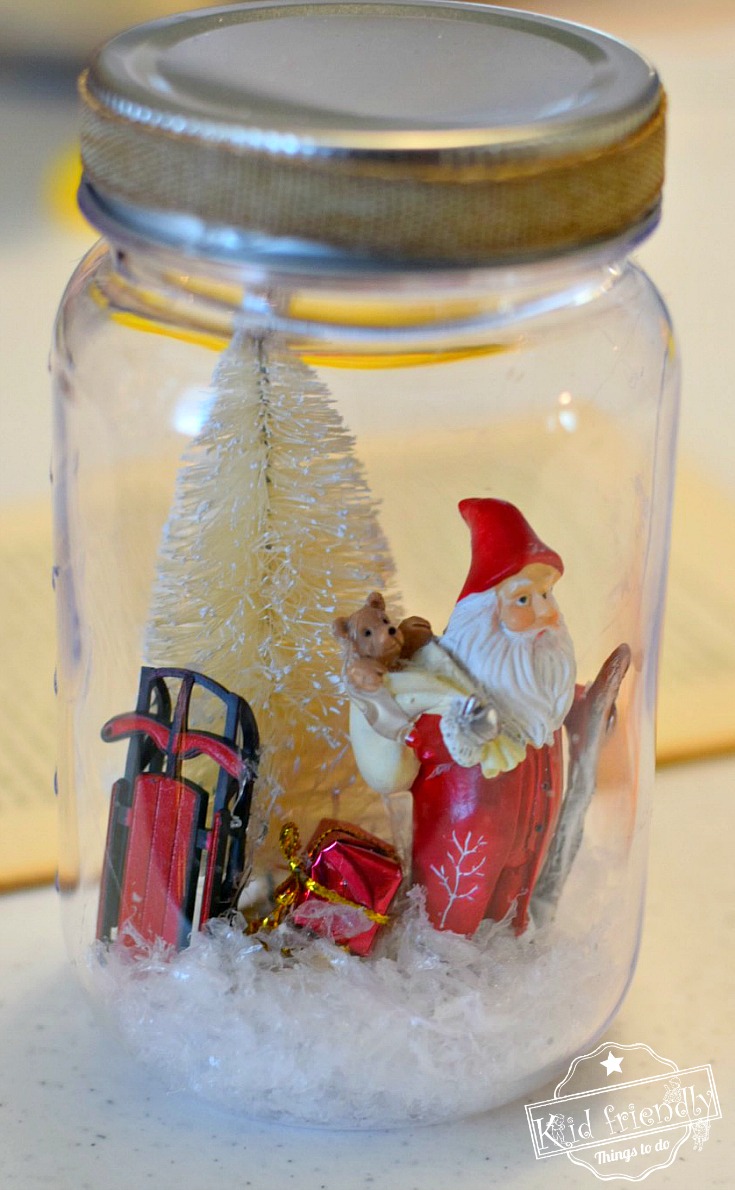 This craft was not on my list of craft ideas to place on the blog this month. It wasn't even on my radar. But, last month I was invited to an ornament party. A bunch of my old friends were getting together for some bonding time over the holidays. There were about 10 of us, so I decided to keep my ornament short and sweet. You know that's how I like to do things. Fun and Done. I really wanted to go vintage and make those snow globes with the old truck hauling a tree. When I got to Michaels, the Tiny Treasures collection was on sale and plans changed. I bought reindeer, trees, people, Santas, rocking horses, wreaths – you name it – it was in my cart! I figured that I could put everything on the table and watch as everyone came up with their own scene.

Of course, I bought extras for the kids. Now, I have a house full of cute winter and Christmas scene Mason Jars.

The kids couldn't wait to get their hands on my stash. They got busy right away.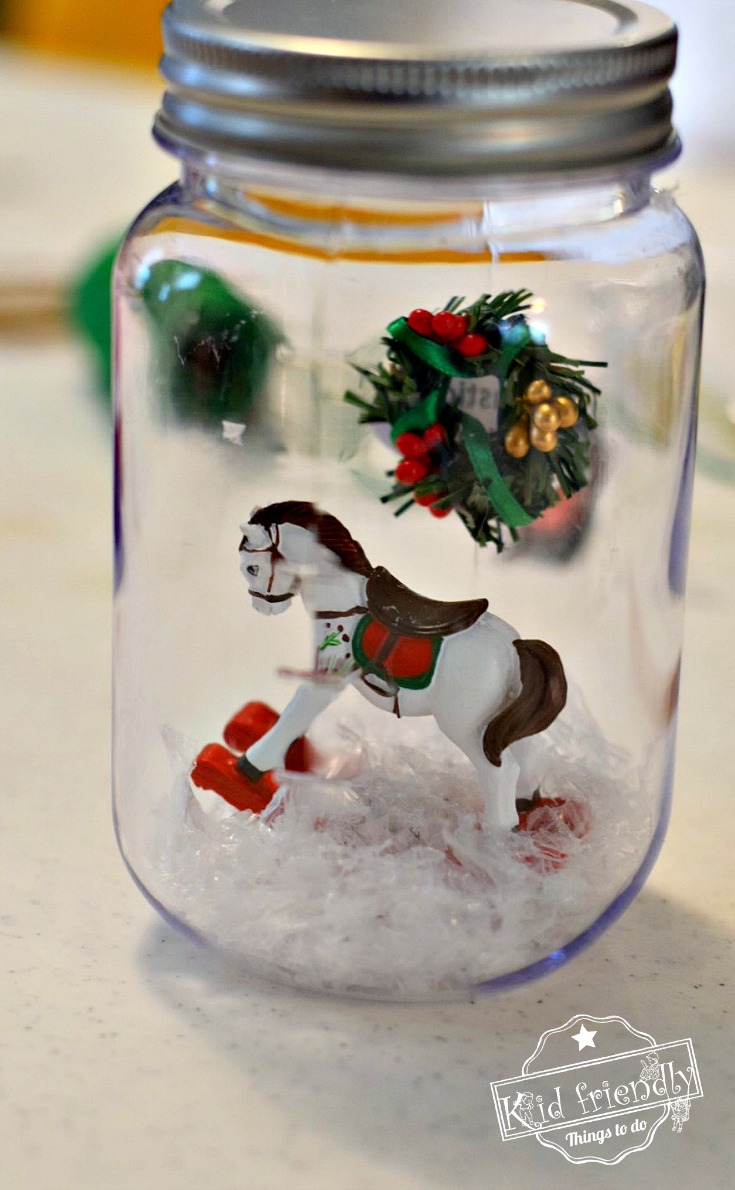 Here's what you'll need for DIY Mason Jar Snow Globes for a Winter or Christmas Craft / Ornament
Plastic Mason Jars – Mine are 16 oz. I found mine at Michael's Craft store, but I'll put a link to some similar styles on Amazon below
(*I used plastic so the ornaments could hang easily from the tree and for obvious kid friendly reasons)
Fake Snow
Miniature people, animals, and objects for your scene – I found mine in Michael's Craft Store Tiny Treasures section. I'll leave a link to some fun miniatures below from Amazon
Warm glue gun and glue sticks
Optional – ribbon to decorate the lid
Optional – twine for hanging the jar from the tree as an ornament
Recommended – Kitchen tongs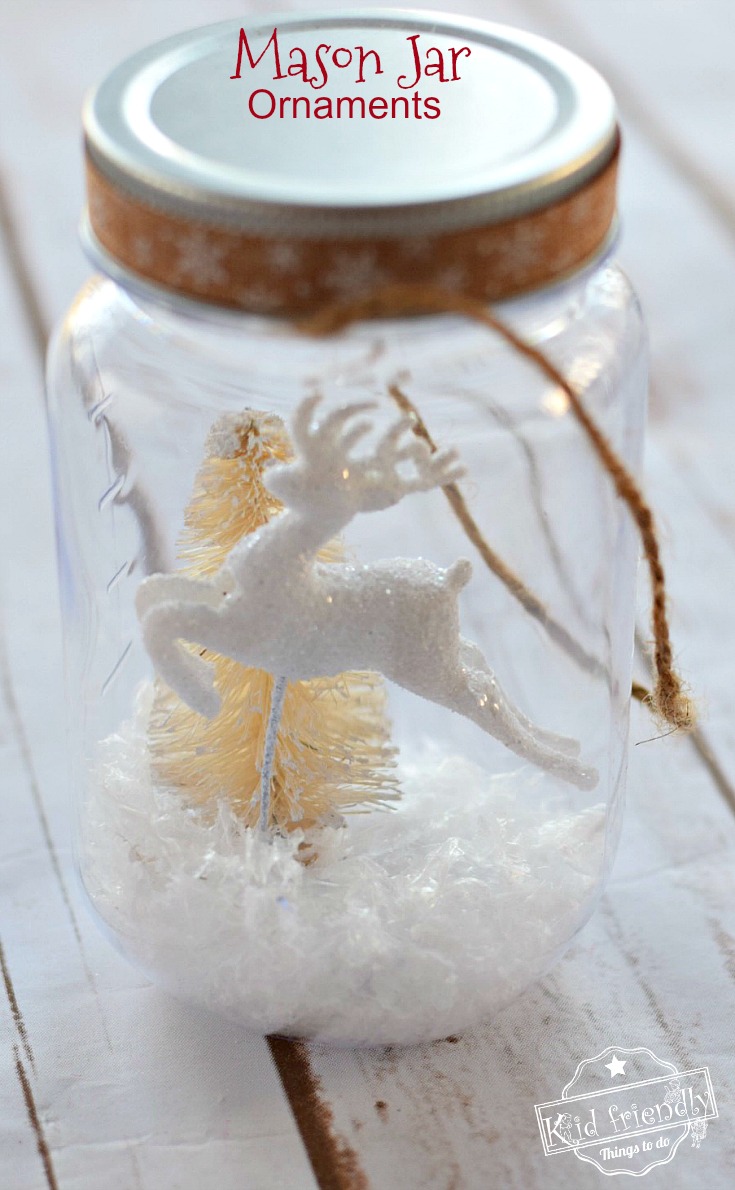 Do a dry run to see if your figurines will all fit in the jar. You'd be amazed at how little you can fit in there
Place glue on the bottom of your figures that you want to put in the jar and position them on the bottom of the jar
Add a teeny tiny amount of fake snow. It really only takes a couple sprinkles to fil lthe bottom
If you plan to hang the jars, glue the ends of your twine to the inside of jar mouth – opposite from each other
Screw the lid on
If you want to, you can add some ribbon around the lid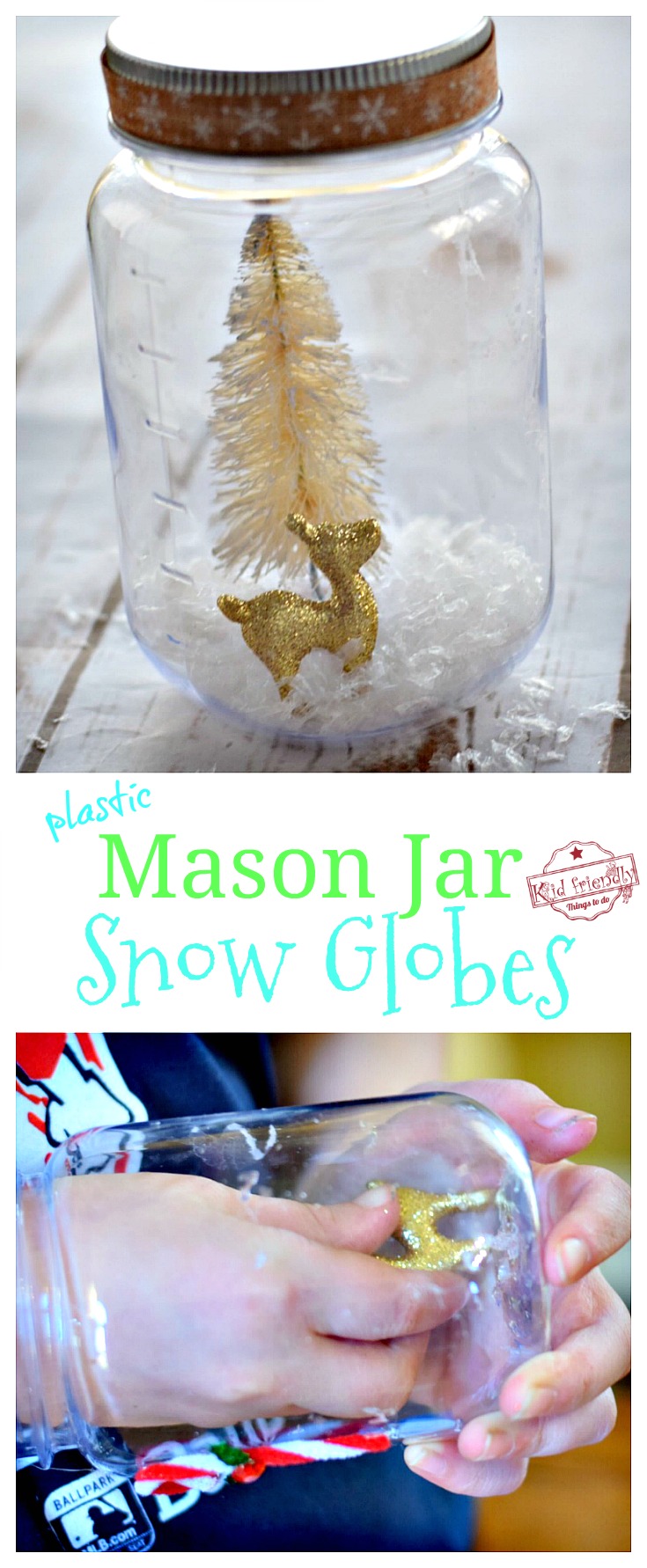 My kids even went as far as decorating the top of the lid. I don't think they wanted their figurines to go to waste
Here are My Top Amazon Picks for this DIY Mason Jar Snow Globes for a Winter or Christmas Craft – OR – Christmas Ornament
(affiliate links)
[box] [/box]