This DIY Snowman Hot Chocolate Kit in Jars would make the perfect Christmas or winter gift. I could also see these as fun party gifts for kids or adults. Come on in and I'll show you how easy is it to make this adorable snowman craft that you can enjoy all winter long…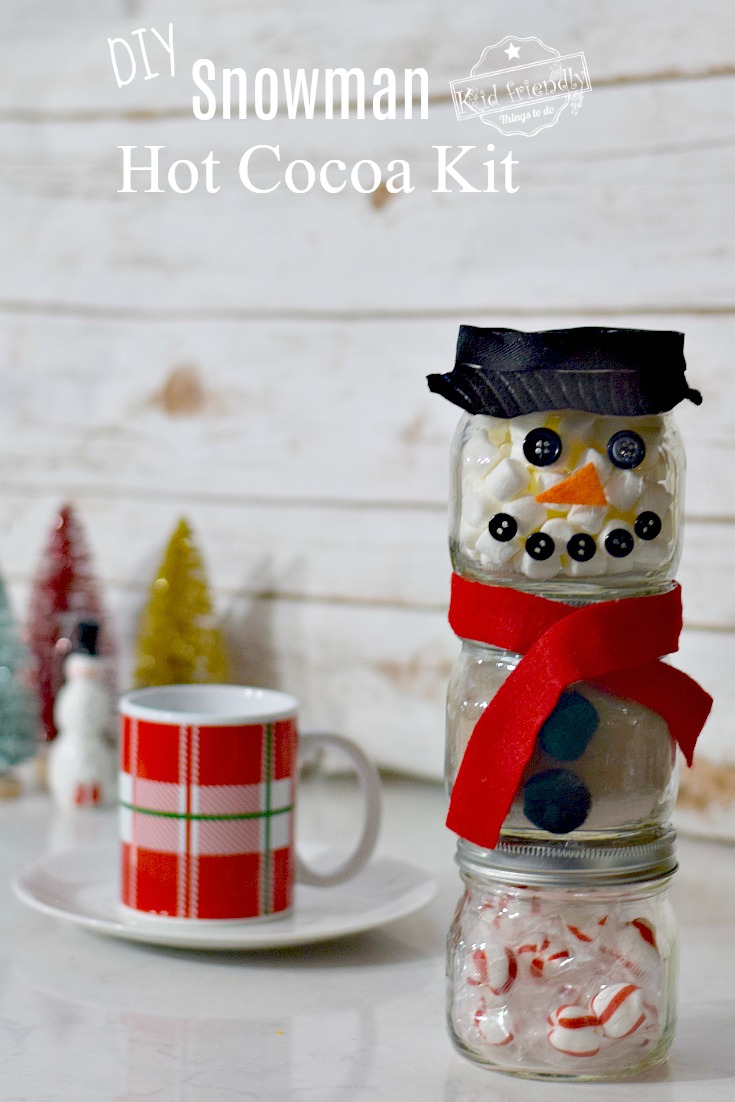 My oldest daughter was going to a homemade gift exchange party and needed something festive and easy to make. I went looking on the net and found something similar to this Snowman Hot Chocolate Kit on Etsy. I thought…I can easily make that.

It took a couple of trial and errors to figure out the hat and I changed some of the materials to make it more my style. I really love how this Snowman Hot Cocoa Kit turned out. Being the content creator that I am, of course, I'm going to share how I did it with you. You can easily make these hot chocolate kits for yourself at a fraction of the Etsy price.
Here's a quick video tutorial on how I made these Snowman Hot Chocolate Kits…
Here are my top Amazon Picks for this cute DIY Snowman Hot Chocolate Kit with jars…
(affiliate links)
[box] [/box]
Finally, here are the supplies and instructions for this fun DIY Snowman Hot Chocolate Kit made with Jars…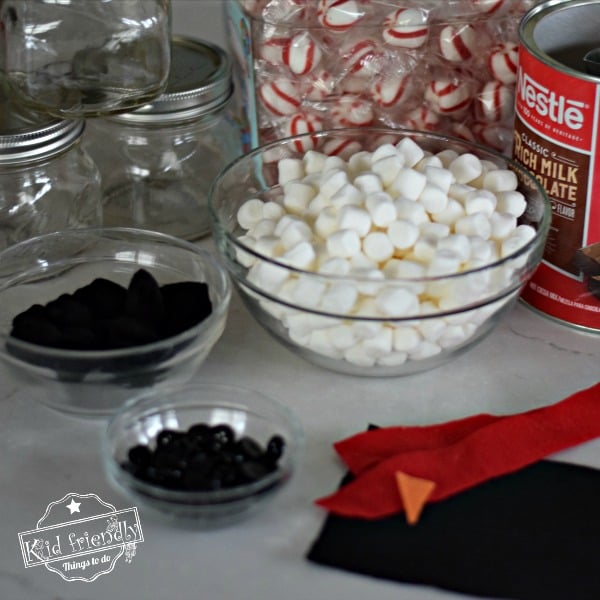 Mason Jars – I used short Elite Pint Mason – wide mouth (16 oz.)
A plastic alternative to Mason Jars are slime containers with lids – I provided a link above
*you can opt for smaller jars to get more snowmen kits
Black felt sheet (8×11″)
Red felt sheet (8×11″)
Orange felt sheet – a small one is fine
Assorted black buttons
5/8 inch black ribbon
3 medium (about 1 inch wide) black pom-poms
Low temp glue gun and glue sticks
hot chocolate – I used a 27 oz. can which was enough for 4 (16 oz.) jars
mini marshmallows
soft peppermints
Instructions…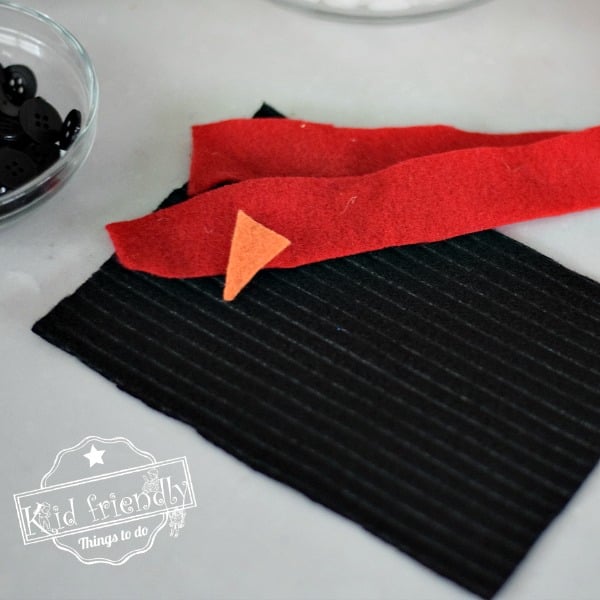 cut the black felt sheet into 4 even squares
go along the long side of the red felt sheet and cut a 2 inch wide strip for the scarf
cut a little triangle for the nose out of the orange felt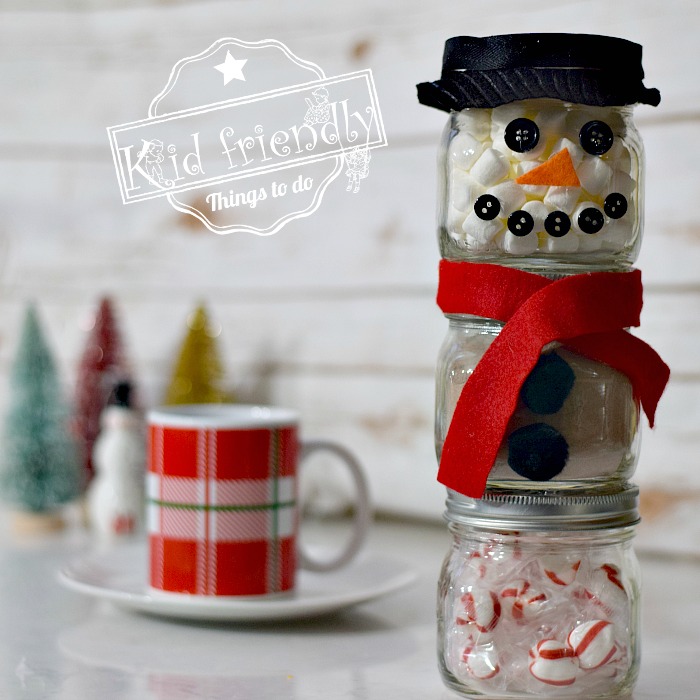 grab 2 of the larger buttons and glue eyes to one of your jars
then make the smile with 5 smaller black buttons
glue the orange nose in between the eyes and mouth – I glued mine so it's at an angle, pointing to one side
Fill that jar with marshmallows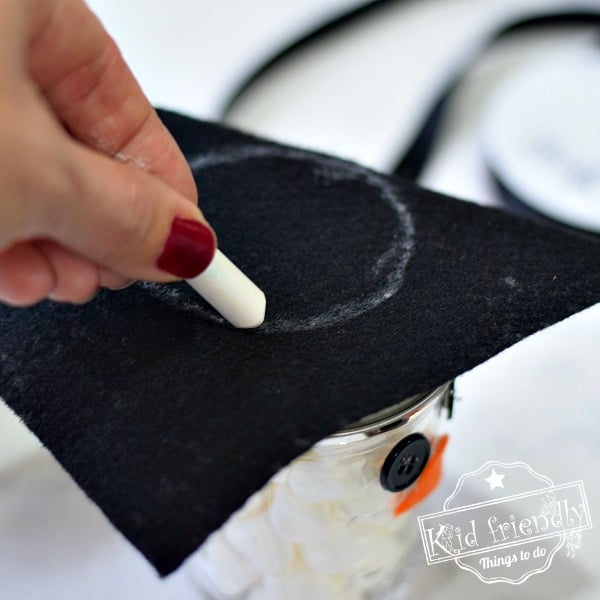 Take one of the black felt squares and center it over the top of the jar
Use chalk to trace a circle the same size as the lid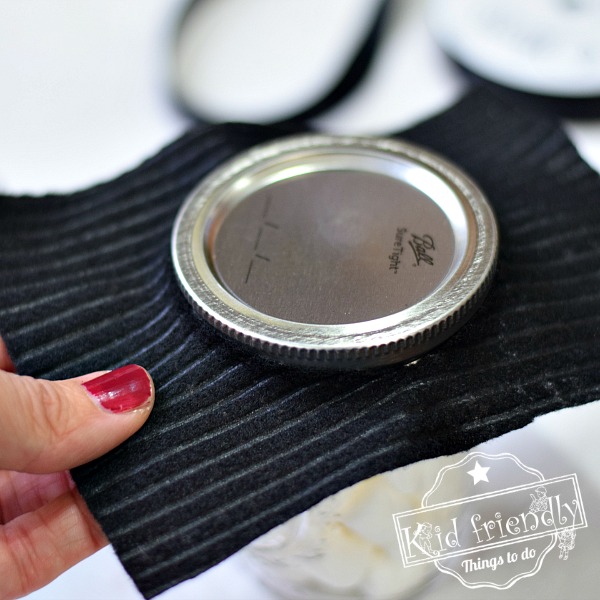 cut the circle out and slide the felt over the lid
shape it into a circle with scissors – about 2 inches wider than the lid
slide it down to the bottom of the lid
cut a piece of black ribbon to fit the circumference of your lid and glue it above the black felt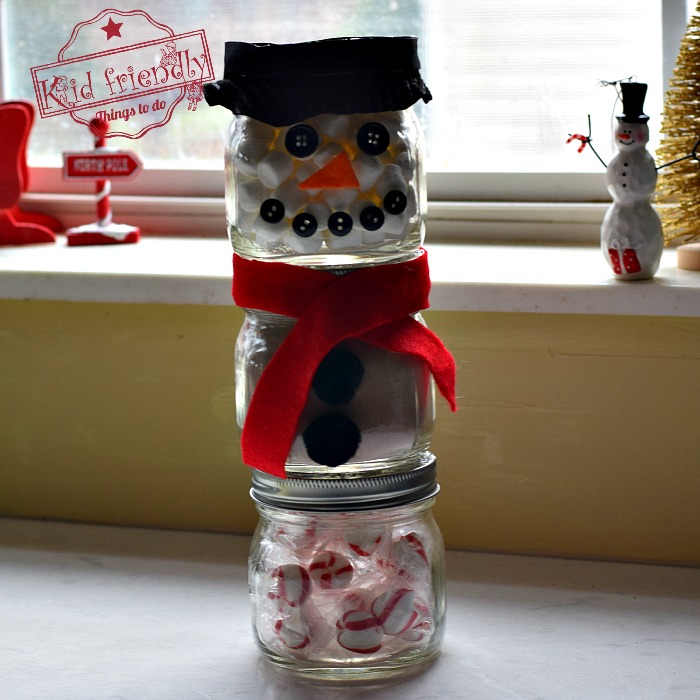 fill the other 2 jars with – one with hot chocolate, and the other with peppermints – place lids on and screw them shut
stack the hot chocolate jar onto the peppermint jar and glue to secure
add 2 black pom poms to the hot chocolate jar
glue the marshmallow head on top of the hot chocolate jar
wrap the red felt strip around the neck and glue to secure
If you are looking for more Snowman Ideas for crafts or fun food crafts, check out these links…
Make a Marshmallow and Oreo Cookie "Frosty the Snowman" Hat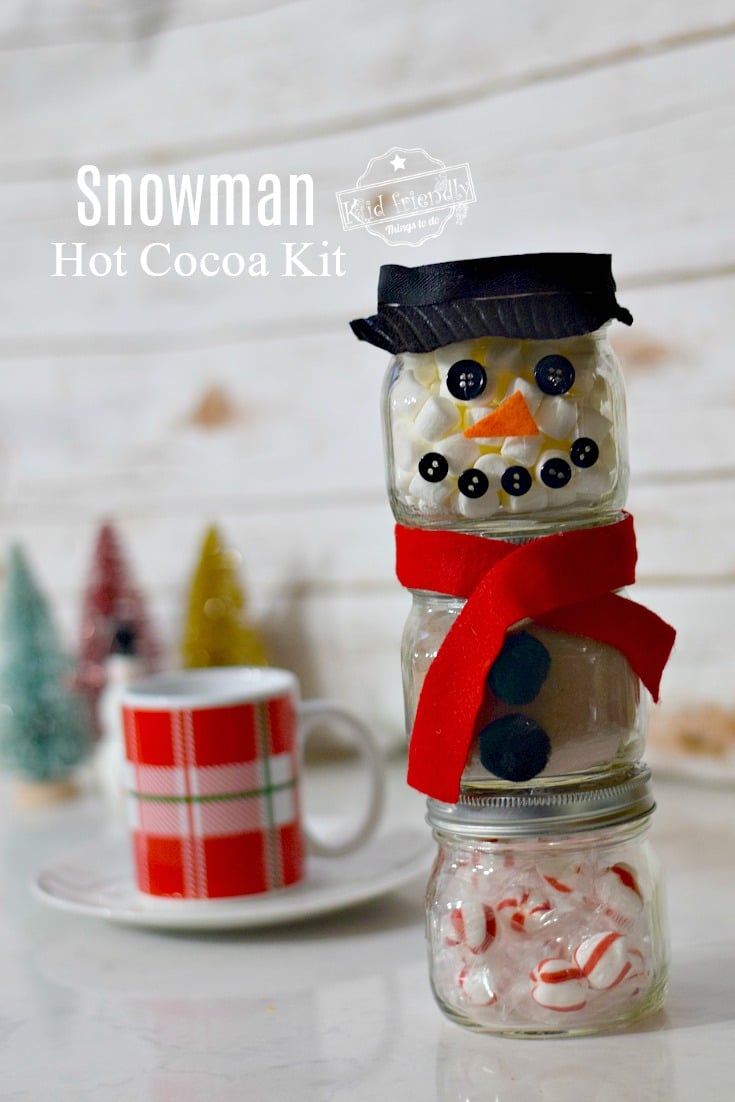 ~ Happy Holidays
If you are looking for more easy holiday crafts, check out the posts below…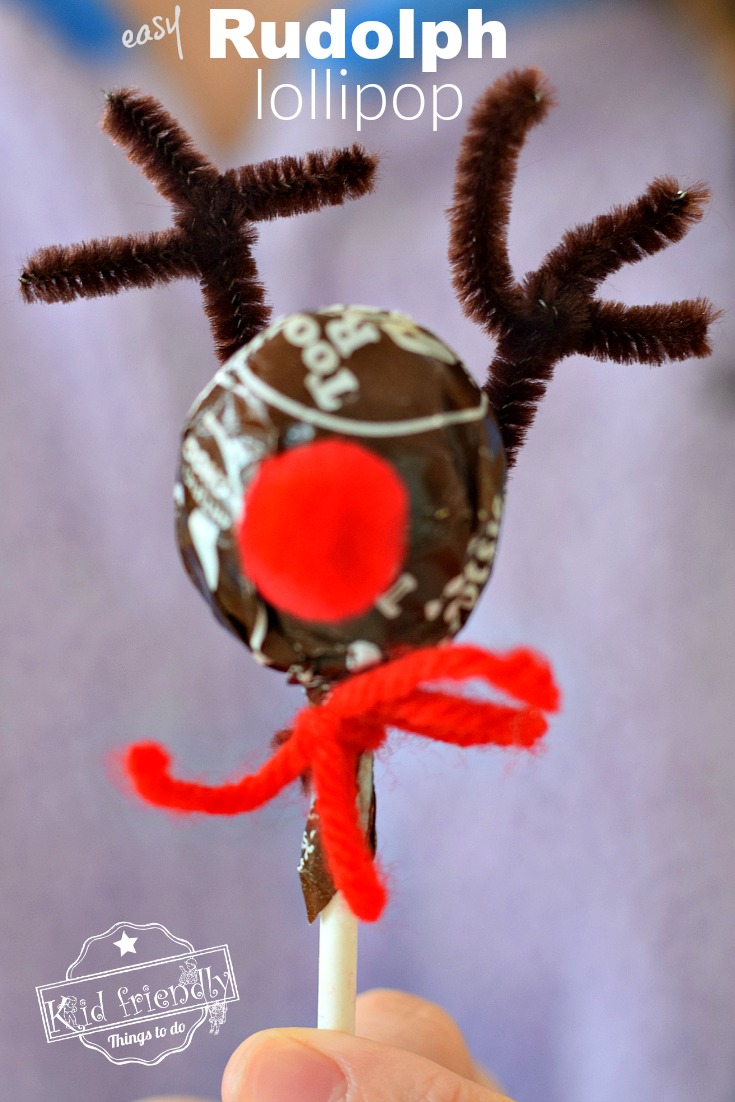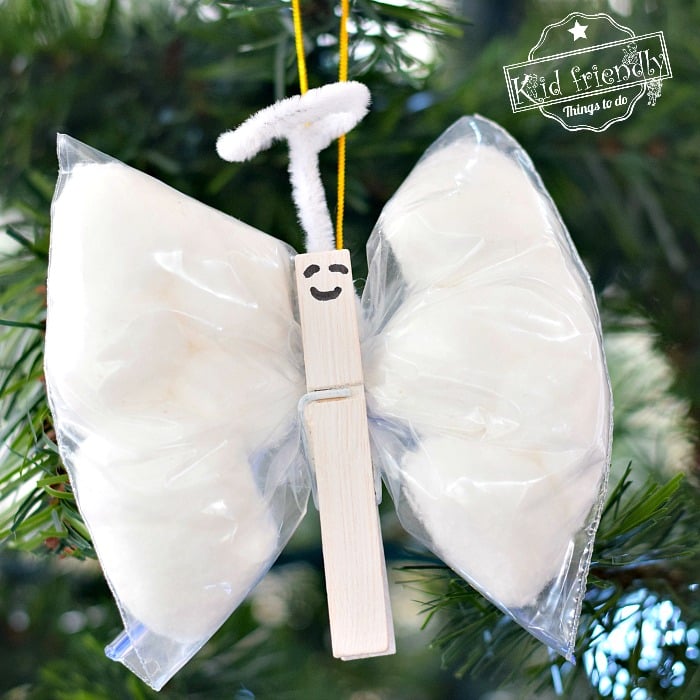 Angel Snack Bag and Cotton Ball Craft
~ Melissa – Kid Friendly Things To Do