Making your own window clings is such a fun activity to do with the kids. You can be as creative as you want with your personalized Christmas Window Clings. It's easy to do and so much fun to see your creations in the window.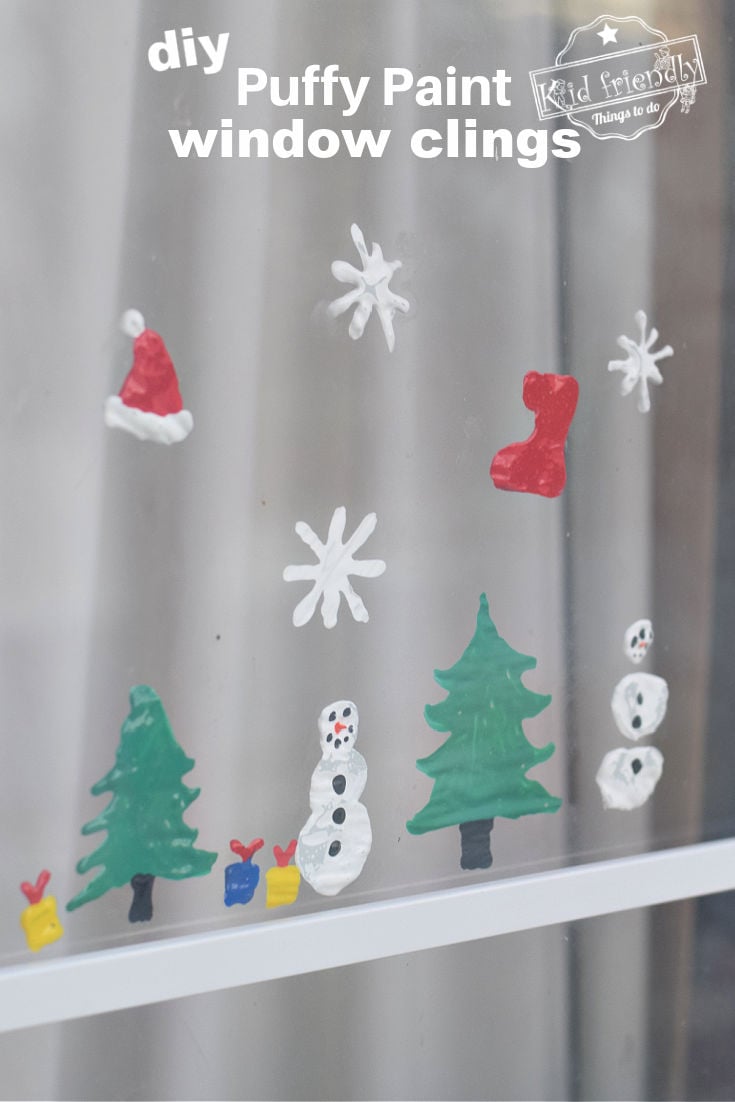 Puffy Paint Window Clings
Designing your own window clings is so much fun to do.
Are you looking for some fun Christmas Activities to do with the kids?
Check out some of my other fun posts, like: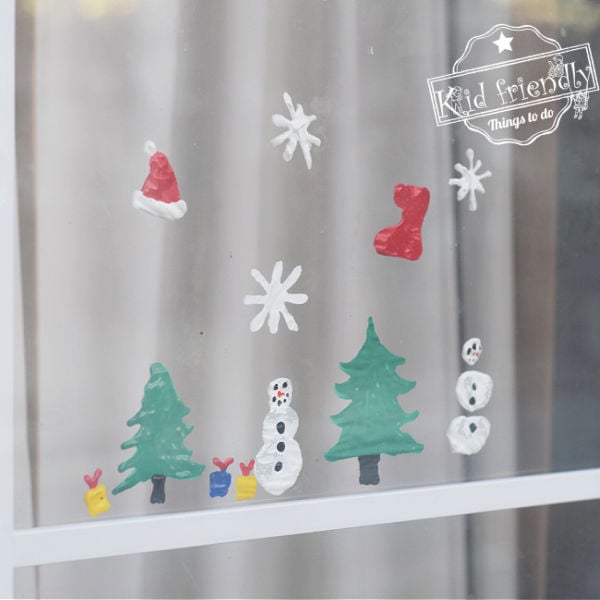 Will Puffy Paint Window Clings Come off of  Your Window?
Yes. Dried puffy paint window clings will peel off your window just like the window clings that you purchase do. You can even save them with wax paper between for the next year and re-use them
Do Window Clings go on the Outside or the Inside or your window?
Window clings should go on the inside of your window. If you are using puffy paint window clings, you may need to turn the design around so it faces outward to people passing by
Tips and tricks for making window clings with puffy paint…
I have found that using parchment paper works the best for creating your designs
Make sure you let the paint completely dry before peeling off – overnight is best
Apply paint generously so the cling is not too thin. If it is too thin, it might rip
You may need to turn your window cling around so people from the outside can see your design
Applying the window cling with the shiny side facing the window is best
If you want to stick the cling with the dull side – the side that was facing down on the paper – you may need to add a little water to help the cling stick to the window
print outs are great for tracing around, but if you are artistic – you can also make designs free style
What Do You need to make your DIY window clings?
Puffy paint –  (3D paint) – in an assortment of colors
parchment paper
*optional – Christmas printouts for tracing (you can also do it free style)
How Do You Make Puffy Paint Window Clings?
Set out a piece of parchment paper onto your work surface
Use puffy paint to create designs on the parchment paper
Let designs dry completely – overnight is best
Carefully peel designs off and stick to window
*It's best to adhere the shiny side to the window, but if you'd like to stick the dull side – just add a little bit of water to the dull side and it should stick
*If any part peels off add a little bit of water and push the cling back on – holding it firmly for a few seconds