The idea is to let the kids know how exciting school is, and the friends that await them. Kids sprinkle a little glitter under their pillow the night before school. Magic glitter calms their fears and helps them get a peaceful slumber.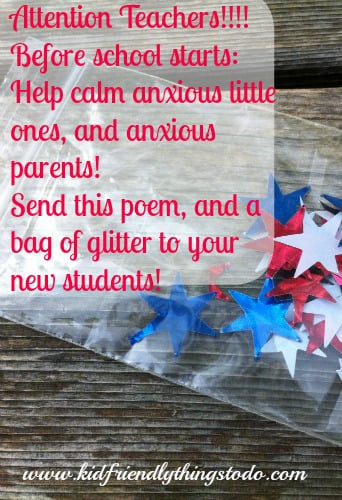 A few years ago, we received a little surprise from our Kindergarten teacher. She mailed a poem and a little bag of glitter a few weeks before school. The poem talked about the nervous feelings kids have the night before school, and the glitter was meant to help calm those fears. What a thoughtful thing to do!
Here's the Jitter Glitter Poem
The first day of school can be a worrisome thing
so many people, so much to bring
you might wonder what awaits
and jitters is what this creates!
Will the teacher be kind?
How about the kids that I find?
Will they like me?
How will that be?
New places
So many spaces
Oh dear,
So much to fear!
But…guess what I know
Are you ready?…Here we go!
This  teacher can't wait to meet you
I have so many plans for us to do!
And those other kids all feel the same as you
They all want to make friends too!
Smiles await
Adventure is your fate
So let's get started on this journey together
The night before school sprinkle this magic glitter!
Put some under your pillow
Rest your head, and off to sleep you'll go
The glitter will take your worries away
And, remind you that I can't wait to meet you the very next day!
~ Melissa – KidFriendlyThingsToDo.com