This Roasted Turkey with sage rub is the perfect blend of crisp skin with moist and tender meat. The best part, though, is the gravy. The gravy is the ideal flavor, thickness and color to enjoy over mashed potatoes. Come on in and I'll share the recipe for this delicious Roasted Turkey with Sage Rub…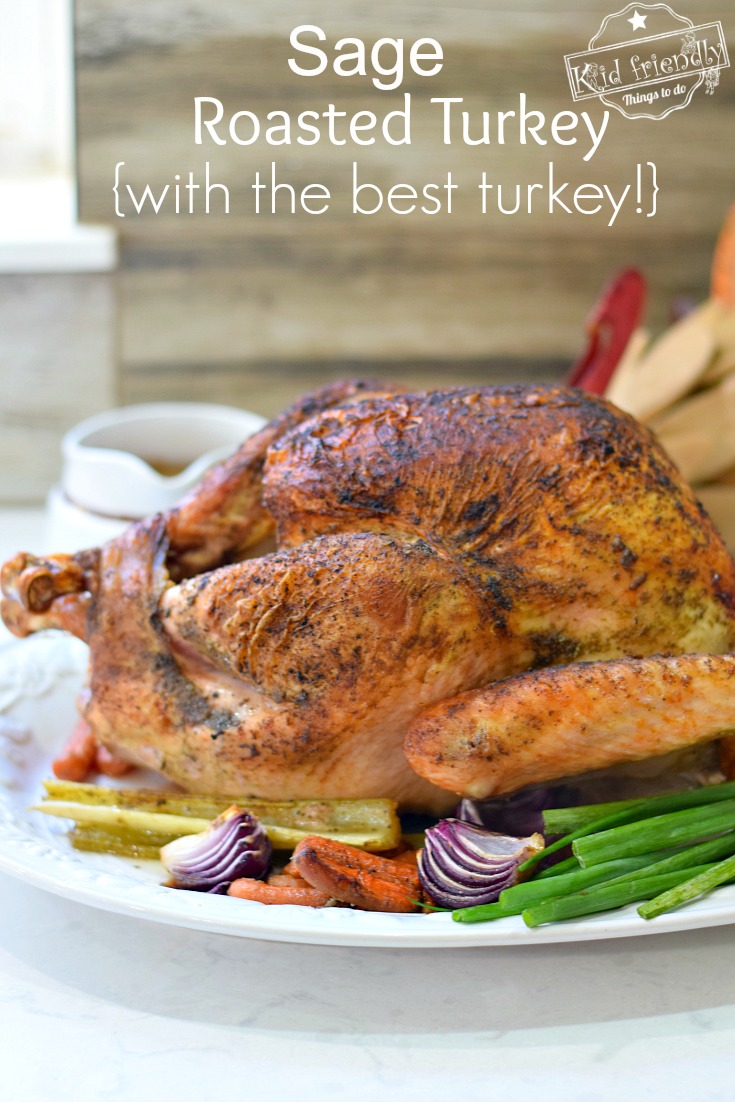 A simply a-mazing recipe for turkey and gravy. This roasted turkey was probably one of the prettiest, most tender, and perfectly moist turkeys I've ever had the pleasure of serving. The gravy, let's not forget the gravy – delicious.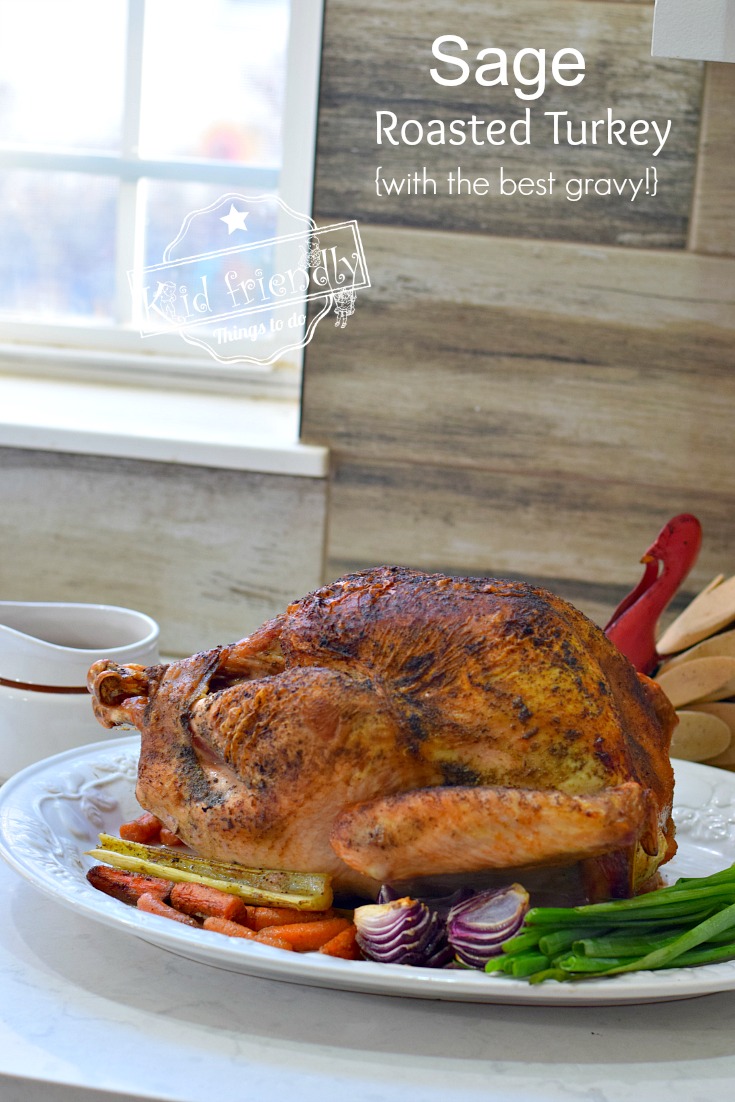 Who's with me on gravy love? Anyone else? I made 5 lbs. of mashed potatoes, and it still was not enough for our hungry family. I'm going to have to make more mashed potatoes just so I can have a second helping of the gravy.

Here are my top Amazon Picks for this movie…
(affiliate links)
[box]  [/box]
How do you check a turkey for doneness?
Insert a meat thermometer into the meatiest part of the turkey thigh. It should not be touching a bone. Make sure the temperature reads 165 degrees and juices run clear when it is poked with a knife
Here's a link to a cooking chart that is very helpful – Turkey Chart
How Long do I cook a Turkey For?
The general rule of cooking a turkey is about 20 minutes per pound but double-check for doneness by inserting a meat thermometer into the meatiest part of the turkey thigh. If it reads 165 degrees and the juices run clear in various parts of the turkey when poked with a knife.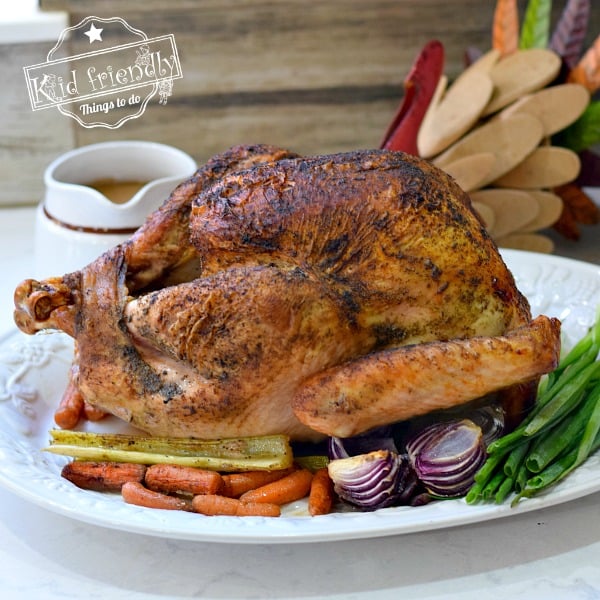 How To Roast a Turkey:
The turkey should be uncovered and the temperature be at high heat for about 30-40 minutes – the skin should be turning brown at this point
Then, lower the temperature to 325 or 350 depending on your turkey recipe and whether the turkey is stuffed or unstuffed
If the skin is browning too much, add a piece of foil over the turkey to prevent it from browning even more
Continue to cook the turkey until it is done
Let is rest for about 25-35 minutes before carving
Print
Roasted Sage Turkey and Gravy
1

turkey – 14-16 lbs.

1 Tbsp

. of coarse sea salt

1 tsp

. of sage

1/2 tsp

. garlic powder

1

large red onion – peeled and quartered

3

celery ribs

4

–

6

carrots

1/2 cup

+

3/4 cup

water

3 Tbsp

. canola oil

1/2 tsp

. freshly ground pepper

1/2 cup

of white cooking whine – or cooking sherry {they both taste delicious}

3

fresh sage sprigs
Gravy
1 cup

of chicken broth

1/4 cup

of all-purpose flour
Instructions
Remove the giblets and the neck from the turkey, but don't throw the neck away
Place the turkey into a roasting pan, on top of the pan rack, breast side up
Mix the salt, sage, and garlic powder
Rub the mixture all over the turkey
Loosely cover and refrigerate for a couple of hours, to overnight (refrigerate the neck, as well)
When you're ready to bake, preheat the oven to 475 degrees
To the bottom of the roasting pan, add the vegetables, neck and 1/2 cup of water
Rub the outside of the turkey with the canola oil, and sprinkle with pepper
Add 3/4 cup of water plus 1/2 cup of cooking wine to the inside cavity of the turkey
Add sprigs of sage to the water/wine mixture inside the cavity
Roast uncovered for 40 minutes
Reduce the temperature to 350 degrees
If needed, add more water to the bottom of the pan
Roast for another 3 to 3&1/2 more hours – (adding more water as needed) covering the breast with foil if it is browning too much
Check for doneness by inserting a thermometer into the thickest part of the thigh {It should read 165 degrees}
*Tip take the turkey entirely out of the oven and quickly close the door so the oven does not loose heat. If the turkey is not yet done, insert it back in for 30 minutes at a time until it is fully cooked
Remove the turkey
Remove the vegetables and place them alongside the turkey
Place a little foil over the top of the turkey and vegetables
Let the turkey rest for about 25 minutes
Discard the neck
Gravy
Pour the juices from the turkey cavity into the bottom of the roasting pan, and mix with what is left in the pan to incorporate the juices
Place a strainer over a saucepan to catch any bits of turkey or fat
Pour the juices through the strainer and into the saucepan
Mix the flour and chicken broth
Use the strainer again to catch any bits of unmixed flour as you pour the chicken broth/flour mixture into the saucepan that already has the turkey juices
Whisk the broth and flour into the turkey juices, and cook over med/high heat until it has thickened up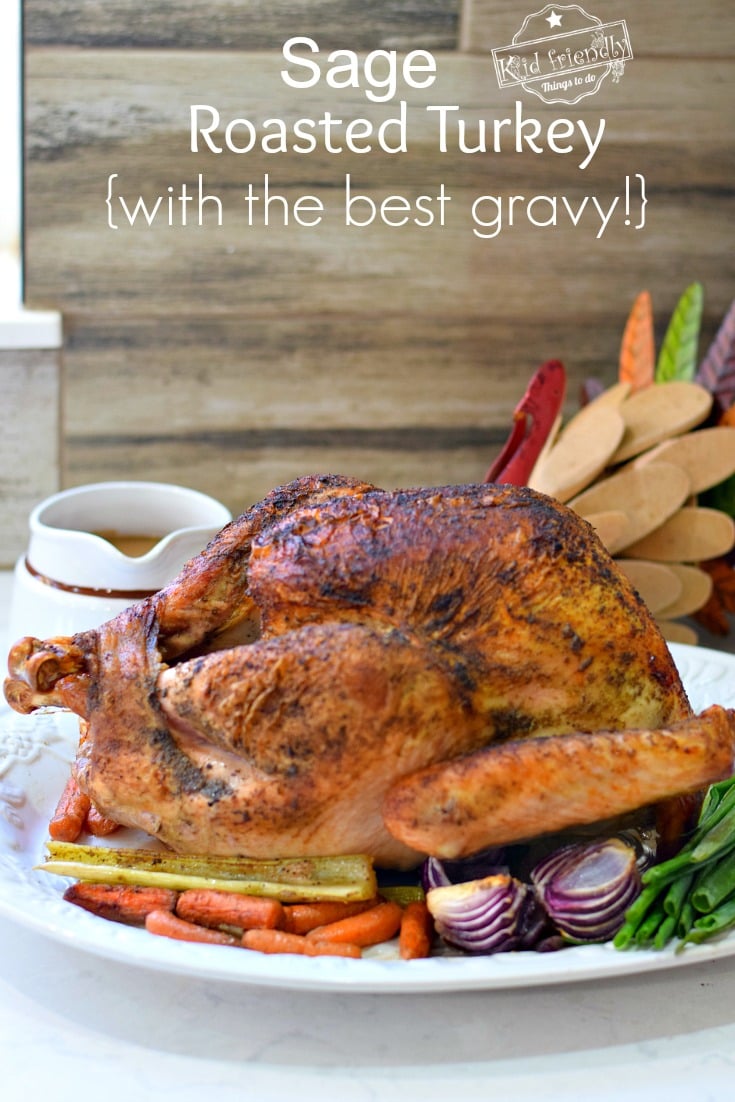 ~Melissa – KidFriendlyThingsToDo.com