The days are turning cold, and the nights are turning colder. We have had the fireplace roaring, and we've already started watching Christmas movies on the Hallmark Channel. It's a get inside, and get cozy time of year. I think these cute Chocolate Covered Oreo Cookie Snowmen Treats fit right in with our cozy theme. They are perfect for a winter fun snack, the Hot Chocolate Bar at your holiday party, or paired with a chocolaty cup of hot cocoa. Come on in, and I'll show you how to make these simple and fun snacks: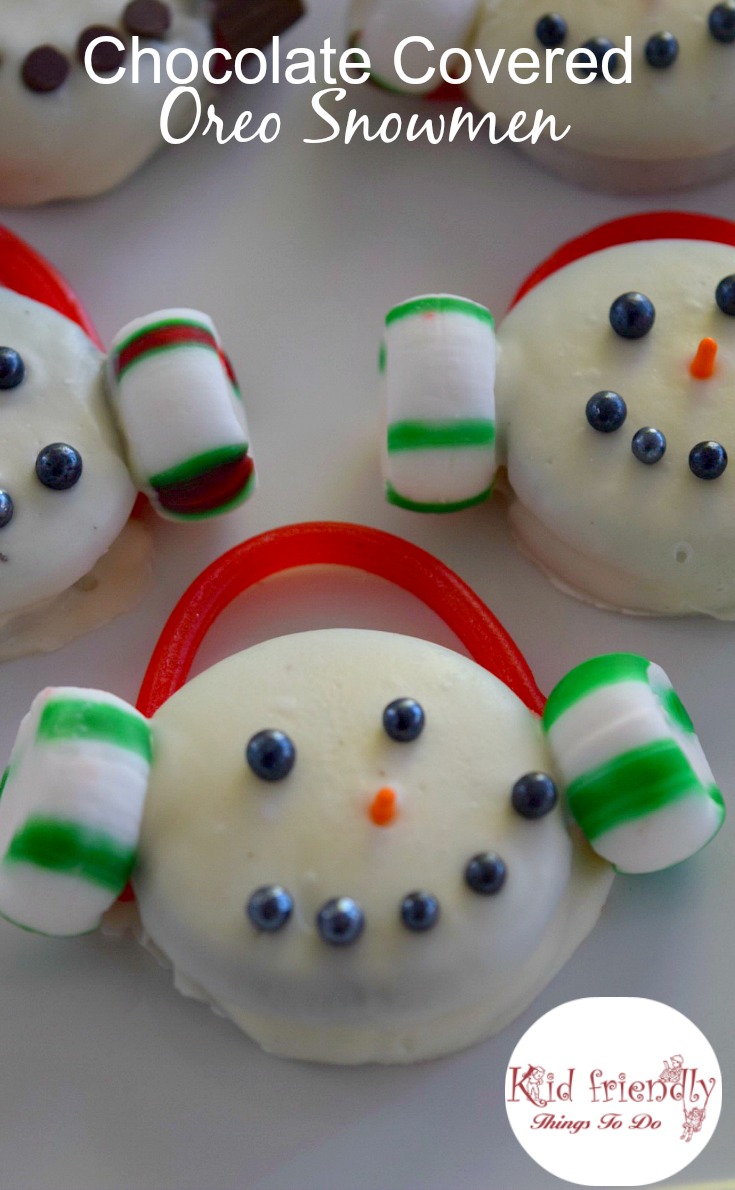 These are so much fun to decorate. The kids can even join in to decorate their very own snowman treat.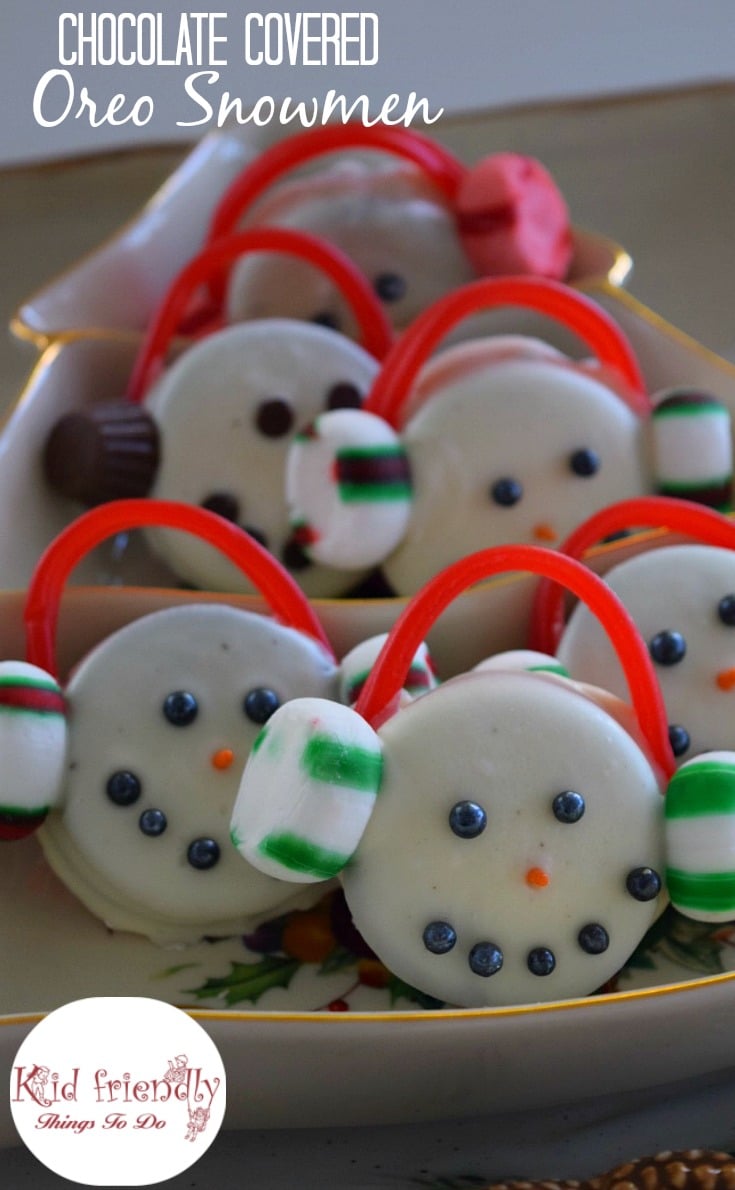 Here's what you'll need to make your own Snowmen Treats:
(This makes about 1 dozen)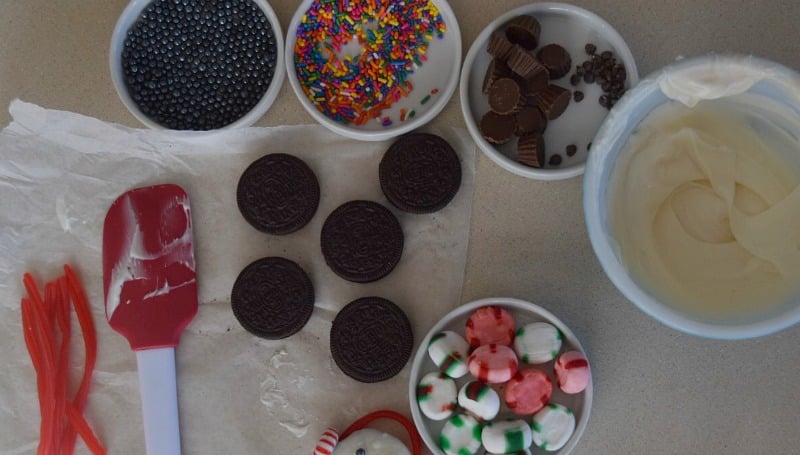 1 dozen Oreo Cookies
8 (oz.) of white chocolate melts
Pull and peel licorice
Orange sprinkles
Black Sugar Pearl Sprinkles – you can also use mini chocolate chips
Soft round peppermint like candies for ear muffs (24)
Or – just soft round candies of any kind 🙂
Equipment Needed:
Glass bowl
fork
wax paper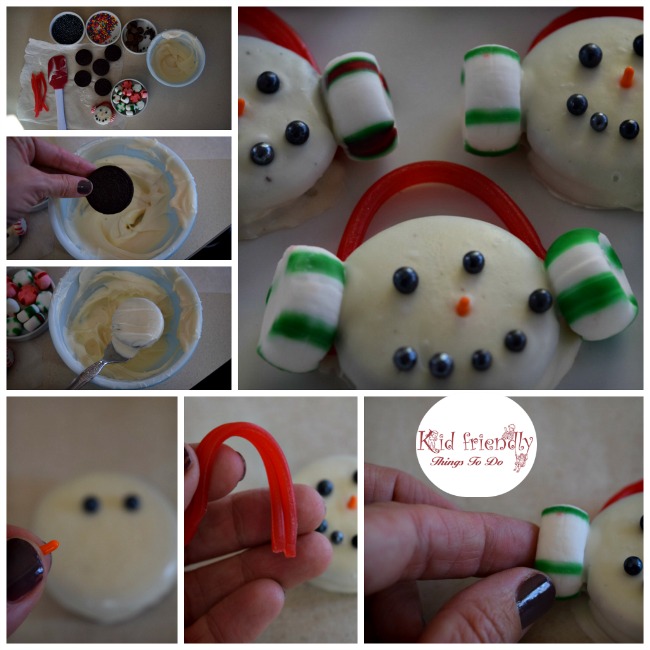 In a small glass bowl, melt the chocolate melts using the instructions on the back of the package
Spread out some wax paper, and gather all of your supplies
Drop an Oreo cookie into the melted chocolate, and flip it over, with your fork, to coat it
Using your fork, pick your cookie up
While your fork is resting on the side of the bowl, tap off the excess chocolate into the bowl
While the cookie is still on your fork, transfer it to the wax paper and decorate immediately (before the chocolate has time to dry too much)
*If you find that your chocolate is too thick, mix in about 1/2 teaspoon of shortening into the chocolate – It will thin it out for you
Decorate the face with the sugar pearls/and/or chocolate chips, and the orange sprinkle
Pull the licorice apart into strands of 2 and cute them in half
Make the licorice into the headband for ear muffs, and place it on the side of the cookie with the soft candies on both ends
Repeat for each cookie
*If the chocolate starts too harden and is difficult to work with, then pop it back into the microwave for 30 seconds

My Top Amazon Picks for this Chocolate Covered Oreo Cookie Snowmen Treats for a Winter Fun Snack:
(affiliate links)
[box] [/box]
Don't forget to sign up for instant access to all of the fun!
[box]