Snow Balls – A Delicious Melt In Your Mouth Cookie Recipe – Kid Friendly Things To Do .com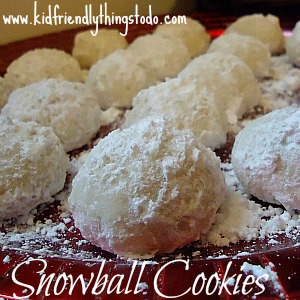 Posted by Melissa in Christmas, Christmas, Cookies, Easy Family Recipes, Fun Dessert, Game Ideas, Recipe | 0 comments
We just finished making these delicious snow ball cookies for teacher gifts! They are all sealed away in see through containers. So pretty, tempting, and torturously staring at us! I did have four left over to give the kids a taste. Big mistake! I was right back in the kitchen making 2 dozen more. Here's the recipe:
1 cup of butter softened
1/2 cup of sugar
1 T water
1 t of almond extract
2 & 1/4 cup of flour
1 cup of chopped, slivered almonds
Bowl of powdered sugar – about 2 cups
Now, on to the cookies!: This makes about 4 dozen! 🙂
Mix butter and sugar until well blended
Add water, & almond extract, and again mix until well blended
Add flour, & chopped-slivered almonds and mix
Roll the dough into little snow balls – about and inch in diameter and plop them down on an ungreased baking sheet
Don't worry about them spreading. You can put more than a dozen on the sheet. They'll puff up, a bit, but you can put plenty on the sheet as long as you leave a little room between each one – about an inch buffer
Bake at 325 degrees for 20 minutes
When they are done, and they have cooled for a few minutes, plop a few at a time into the bowl of powdered sugar and coat them with sugar
Set them down on a surface to cool the rest of the way
Enjoy!
~Melissa – KidFriendlyThingsToDo.Com Adapted from a wonderful little cookbook called – Comfort & Joy