These Marshmallow Hot Chocolate Mug Cookies are so stinking adorable. They are easy to make and perfect for the holidays. The kids will be so excited when they see these fun holiday cookies as a party treat or just a fun Christmas treat for them.

Marshmallow Hot Cocoa Mug Cookies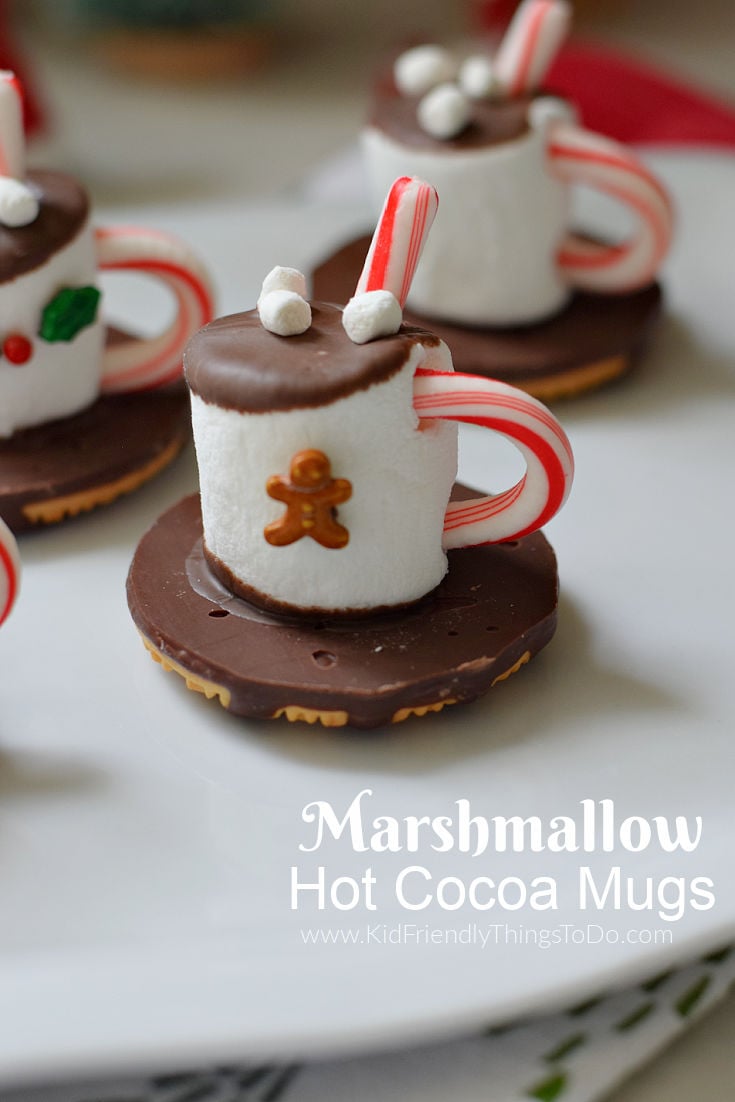 When I saw something similar to these hot chocolate mugs on Facebook, I was all over it. I knew that they were the perfect idea to show you, so you could make your holiday even more special.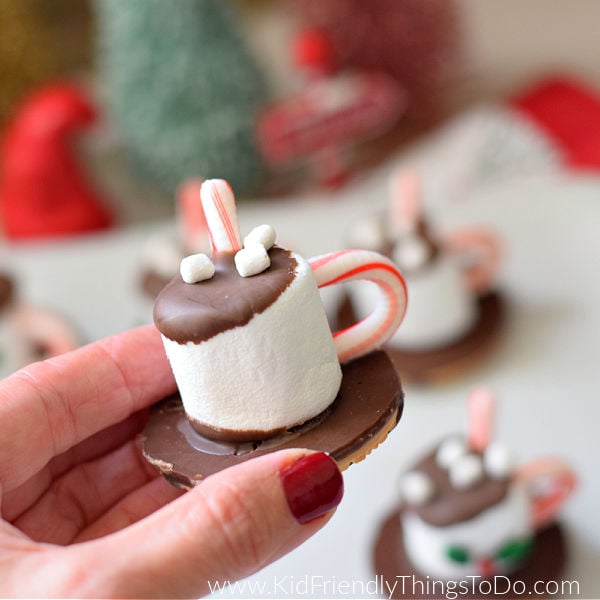 I set out to make these Christmas and winter treats as easy as possible. It took a couple of tries, but I think I found a really simple way to assemble these cute treats so you can have several ready in no time at all.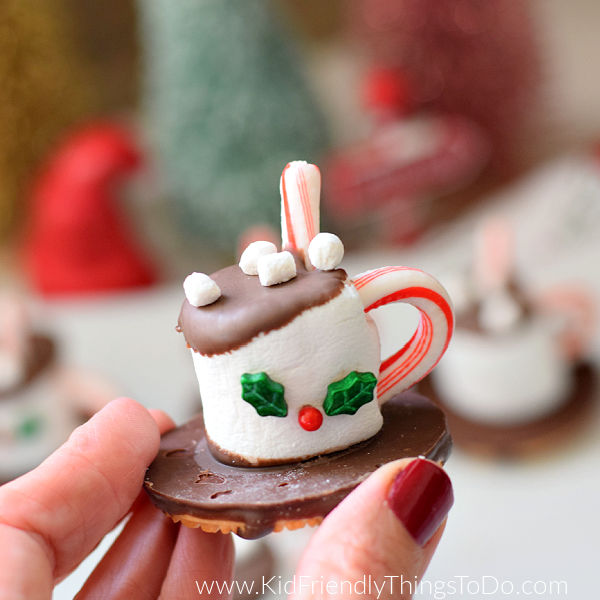 I love the ones with little Christmas decorations on them, but they are still cute without these added sprinkles.
If you are looking for really cute and really simple Christmas treats for your holiday party, you might want to check out my Northpole Marshmallow Pops, Easy Rolo and Pretzel Rudolph Noses, and Easy Rolo and Pretzel Rudolph Noses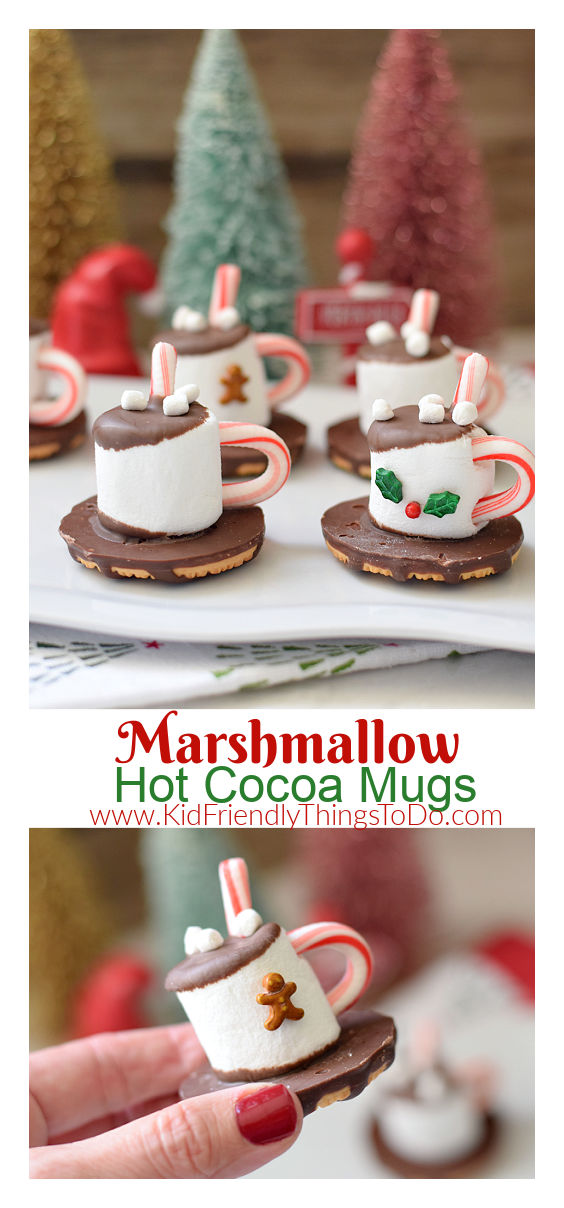 Make-Ahead and Storage:
Of course, everything is best served the same day, but these Christmas marshmallow treas can easily be made 3 days in advance. Just cover these cookies in an air-tight container and keep them at room temperature until you are ready to display and serve.
Storing: 
Store covered at room temperature for 3-5 days.
What are some ideas for fun Christmas or Winter Party Treats?
Snowman Popcorn Cups
Round Pretzel Snowmen
Cheese stick Snowmen
Melting Snowman Cookie
Are you ready to make these Marshmallow Hot Chocolate Mug Cookies? Let's make sure you have everything you'll need…
Marshmallows – regular-sized – not giant
cookies – I used Keebler striped fudge cookies, but you could use Gingersnaps, sugar cookies, chocolate chip cookies, or any other cookie that sounds good to you for this treat
chocolate melts – light brown
mini candy canes
mini dehydrated marshmallows – Kraft calls them Mallow Bits
Optional – Christmas sprinkles
How do you make these Christmas Marshmallow Hot Chocolate Mug Cookie Treats?
use the directions on the chocolate melts the bag to melt the candy melts until smooth in a shallow bowl
set out a cookie for your treat to sit on top of
cut a mini candy cane at the base of the crook (the curved section) leaving 2 parts, the curved part, and a straight candy stick
push the curved part of the candy cane into the side of the marshmallow as a mug handle
use that handle to hold the marshmallow while you dip it into the chocolate – only covering the bottom and top of the marshmallow
place one end onto the cookie so the chocolate can act as  glue
next, push the other half of the candy can at a slight angle into the chocolate top – representing a candy stick coming out of your mug
add some dehydrated marshmallow bits to the melted chocolate
optional – use a toothpick to grab some melted chocolate and glue the candy sprinkle decorations onto the front of your mug
*hold the sprinkles in place until the chocolate has dried enough to set
How do you melt Chocolate Melts?
Using a glass microwave-proof bowl, pour your chocolate melts in and microwave on high for 1 minute. Stir until smooth. If needed, microwave for an additional 30 seconds and stir until smooth. *Note – I like to use a silicone spatula to stir my chocolate with and I use wax paper to set it on when done
Should I store Chocolate in the refrigerator?
Chocolate treats that use chocolate melt as an ingredient tend to change in structure and looks. Chocolate will produce a "sugar bloom" which is basically the sugar crystallizing. If you don't mind the little white specks in the chocolate, then I'd say go ahead and store it in the refrigerator. It will definitely keep longer.
Finally, here's the printable recipe for you
Print
Marshmallow Hot Chocolate Mug Cookies | Kid Friendly Things To Do
Cute little hot chocolate marshmallow mug cookies for your holiday fun!
Author:
Prep Time:

5 minutes

Cook Time:

1 minute

Total Time:

varies

Yield:

3 dozen +
marshmallows – regular-sized – not giant
cookies – I used Keebler striped fudge cookies, but you could use Gingersnaps, sugar cookies, chocolate chip cookies, or any other cookie that sounds good to you for this treat
chocolate melts – light brown
mini candy canes
mini dehydrated marshmallows – Kraft calls them Mallow Bits
Optional – Christmas sprinkles
Instructions
use the directions on the chocolate melts the bag to melt the candy melts until smooth in a shallow bowl
*I typically use a glass microwave-proof bowl and microwave my melts for 1 minute and stir. If needed, I pop them back in for an additional 30 seconds and stir until smooth
set out a cookie for your treat to sit on top of – I flipped my striped cookie around so the fudge bottom was now the top
cut a mini candy cane at the base of the crook (the curved section) leaving 2 parts, the curved part, and a straight candy stick
push the curved part of the candy cane into the side of the marshmallow as a mug handle
use that handle to hold the marshmallow while you dip it into the chocolate – only covering the bottom and top of the marshmallow
place one end of your chocolate topped marshmallow onto the cookie so the chocolate can act as  glue
next, push the other half of the candy can at a slight angle into the chocolate top – representing a candy stick coming out of your mug
add some dehydrated marshmallow bits to the melted chocolate
optional – use a toothpick to grab some melted chocolate and glue the candy sprinkle decorations onto the front of your mug
*hold the sprinkles in place until the chocolate has dried enough to set
Notes
Storing – store at room temperature in an air-tight container for up to 3 days
1 bag of chocolate melts will easily make an entire package of cookies – so, with the right amount of candy canes and marshmallows, you can probably yield around 3 dozen or more with this recipe