This is a cute Halloween cupcake for your Halloween party! When I saw a cupcake topper with a clown hat, my Halloween brain ( I love Halloween!) immediately thought of a Witch Hat – thus the Witch Hat Cupcakes were born! Ta Da! Make a witch hat out of a few simple items for a cupcake topper! Here's What You'll Need To Make These Witch Hats!:
Cupcakes frosted with black frosting
Sugar Ice Cream Cones (optional – you can bake a cupcake inside the sugar cones as an additional treat! – Just click on Martha Stewart's link below to see how!)
Halloween Marshmallows
Candied Fruit Slices
Black Frosting – Dark Purple Would Be a Great Color For a Witch Hat, too! (To get our frosting the blackest-black – We used chocolate frosting and added a few drops of black food coloring gel)
Now, Here's What You'll Need To Do To Make Your Witch Hat:
Using a knife, saw off an inch off of the bottom of the sugar cones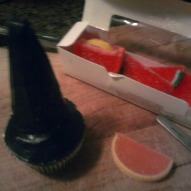 Frost the sugar cones with black frosting, and attach them to the center of the frosted cupcake
Add Marshmallow bats and moons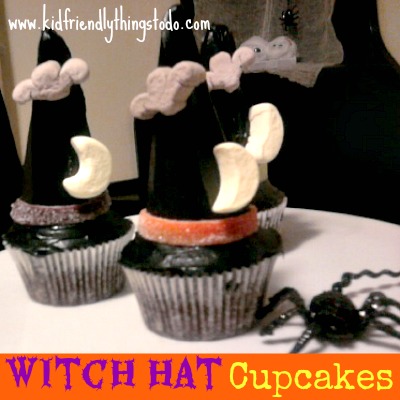 Add the (ribbon) of the witch hat by cutting the rind off the gummy fruit slices and attaching the trimmed rind to the front of the frosted sugar cone – place it toward the bottom of the cone, and adjust as necessary.
You're Done!
baking cupcakes inside a Sugar Cone : http://www.marthastewart.com/332904/ice-cream-cone-cupcakes
~Melissa – KidFriendlyThingsToDo.Com – A site providing kid friendly recipes, ideas, and crafts. Plus, check out all of the fun things to do in Connecticut, Massachusetts, and Rhode Island with pictures for a better visual!