Shape store-bought pretzel dough into anything you want. Make cookie cutter-shaped pretzel bites. So much fun!

Kids love soft pretzels! Heck, I love soft pretzels. So, when I saw soft pretzel dough in the refrigerator section of the grocery store, I was all over it. The dough is easily transformed into any shape with a cookie cutter. Just roll the dough out like a sugar cookie, and have some shaping fun.
I always find it's easier to shape the dough directly on the baking sheet. That way the shape doesn't distort when you transfer it
Don't forget to sprinkle a little water on your creations, and add the pretzel salt before baking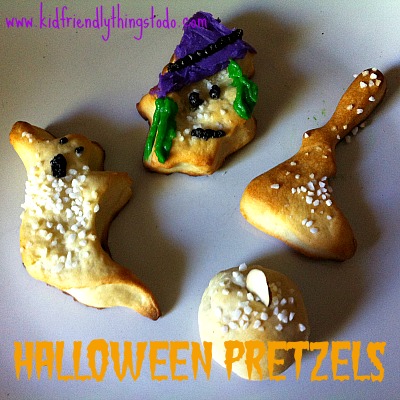 Most of us enjoy sweet and salty.  Have fun enhancing your shapes by decorating with colored frosting
Melissa ~ KidFriendlyThingsToDo.com – fun foods, recipes, crafts, party ideas, DIY, Home & Garden, and fun things to do with your family!