This beef burrito is stuffed with juicy beef, rice, and beans, and covered in a smothered in a delicious red sauce and melted cheese. This smothered burrito is easy to make, making this the perfect family meal for a busy night.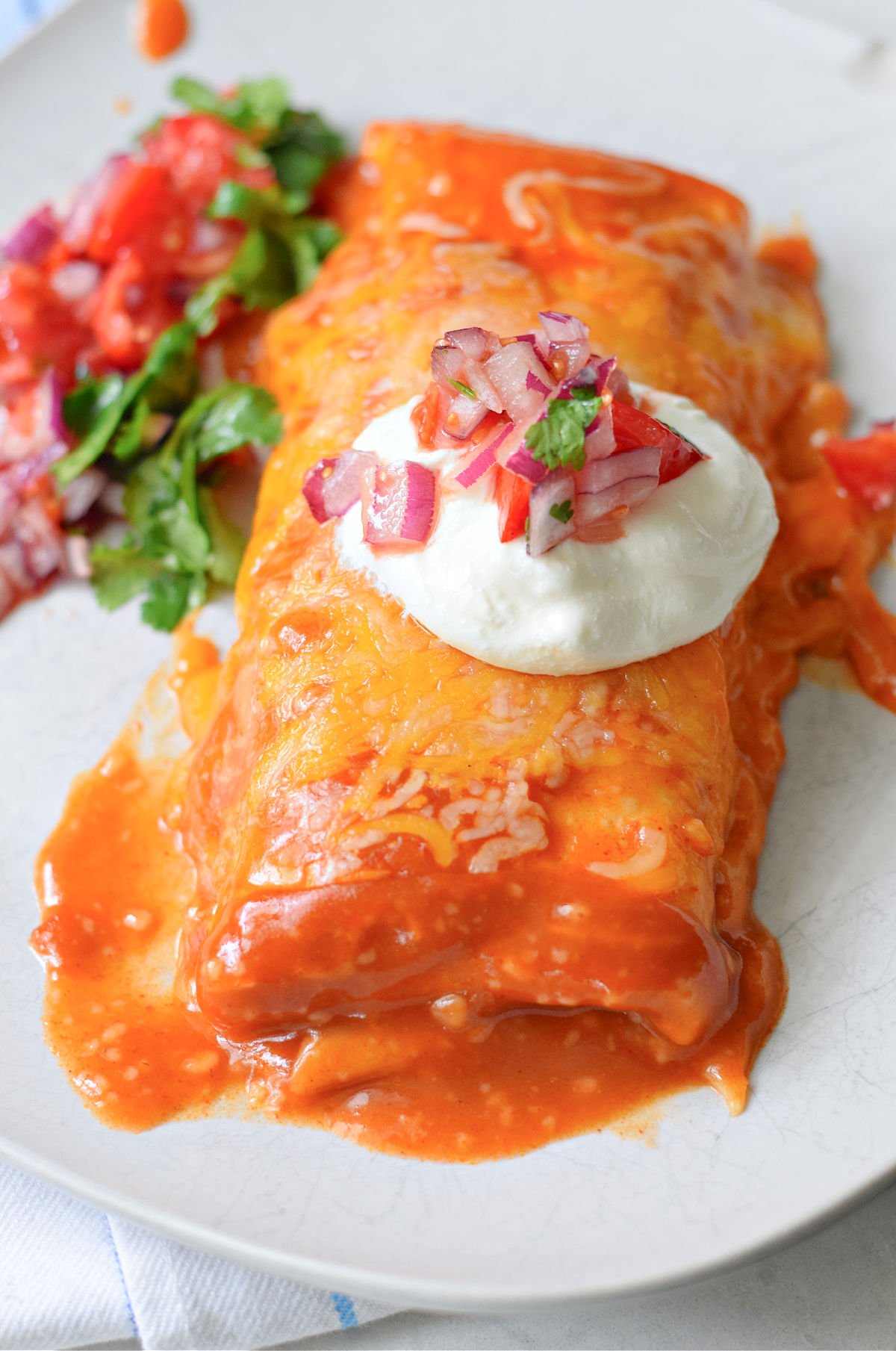 Easy Wet Burrito
Mexican food is my "go-to" style of food recipe. If I could retire in Mexico and eat their delicious cuisine all day, I'd be so happy. For now, I'll fill my recipes with lots of Mexican Main Dishes and Sides to tide me over. Like Mexican Lasagna, or this recipe for a beef enchilada casserole. No Mexican meal is complete without Jalapeno Cornbread
Everyone loves a good burrito, especially one smothered in sauce and cheese. Regular burritos are delicious enough, but a burrito that is stuffed with all of the goodies and then smothered in sauce and melted cheese is an actual "burrito mojado" or a wet burrito. Delicious served with guacamole, pico de Gallo, and sour cream.
What I love about this burrito recipe
This is an easy beef burrito recipe to make
It is a recipe that can be customized for everyone. Easily change out the meat, add rice, or leave it out – easy-peasy
Burrito Ingredients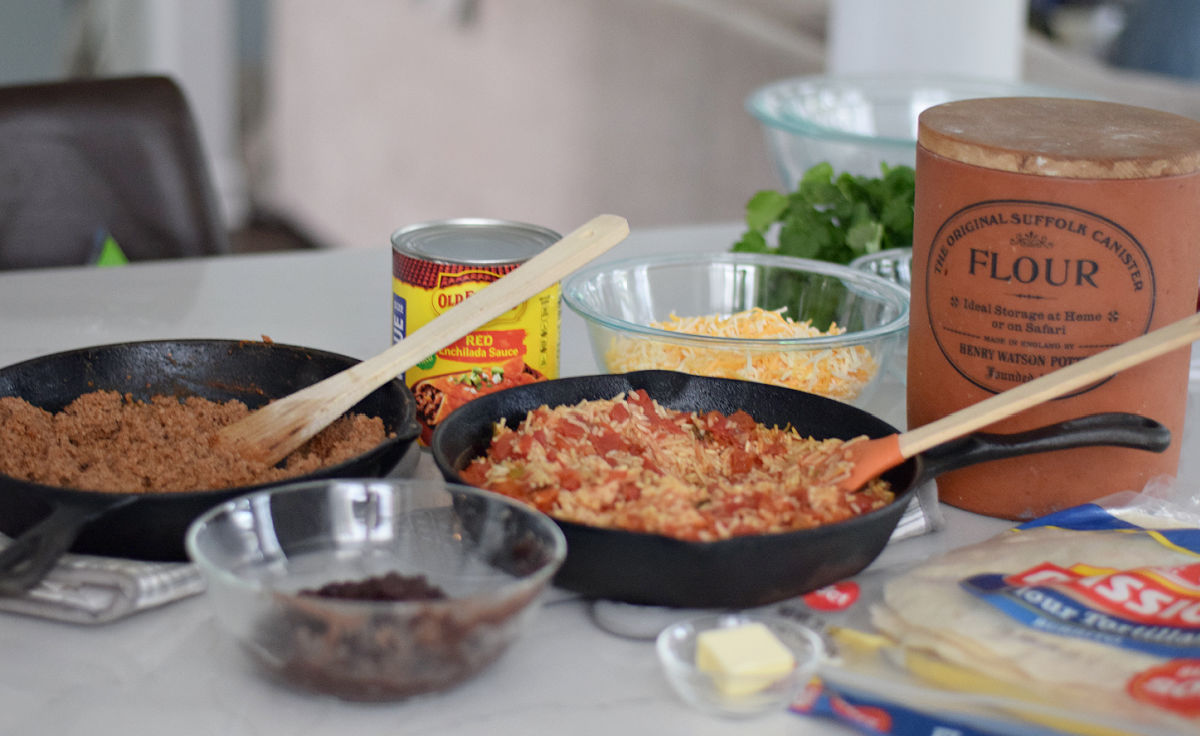 ground beef – I like to buy sirloin ground beef because it has very little grease. If you can't find sirloin, then use a lean beef
taco seasoning – we are taking a shortcut here. If you have your own recipe for seasoning your beef, then by all means
burrito-sized taco shells – this is important to making burritos, but I suppose in a pinch you could use a smaller shell and get twice the amount of burritos. We'll just call them mini burritos
rice – here is a fun way to customize your burritos. I used Spanish rice and cooked it with Rotel, which is a spicy canned tomato. You could use a mild can of diced tomatoes to make the Spanish rice for a mild burrito You could also use cilantro-flavored rice or rice and beans
beans – I used black beans and cooked them down so they are mushy, but you could use pinto beans or even refried beans
cheese – I used a Mexican blend of shredded cheese, but you could also use cheddar cheese. As long as it is a good melting cheese
butter – unsalted butter is what is preferred
flour – You'll want to use all-purpose flour
broth – Beef broth is preferred, but you can use chicken broth if necessary
enchilada sauce – This is a matter of preference. I used red sauce, and I used a can of red enchilada sauce for an easy shortcut. Feel free to use a homemade red sauce recipe or a green enchilada sauce if you would like that better
Equipment You'll Need
A 9×13 inch baking dish
blender is suggested but optional
saucepans
whisk
How to make Wet Burritos
Step one
Preheat the oven to 350 degrees F.
Cook ground beef, drain if necessary
I like to use a blender to blend the beef super fine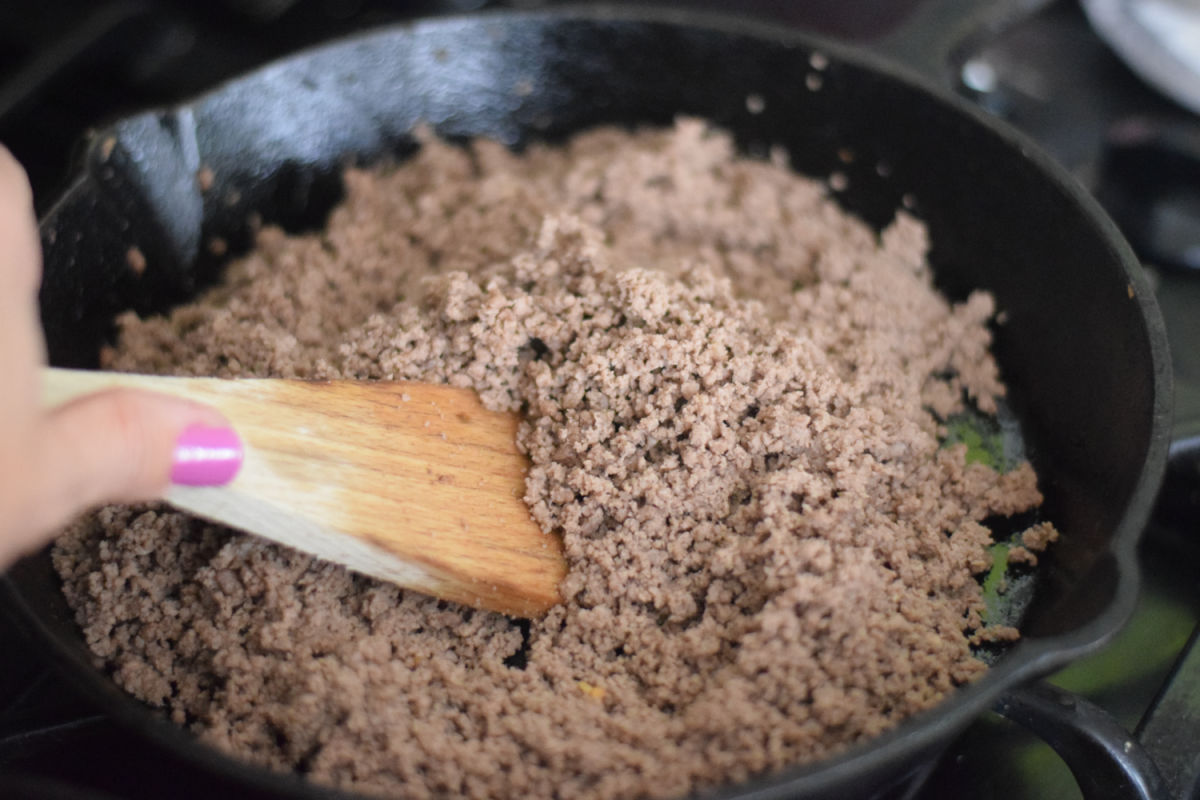 Step two
Sprinkle the taco seasoning and the amount of water recommended on the seasoning packet
Mix with the cooked beef and cook until the sauce has thickened up
In another saucepan, melt the butter, and whisk in the flour to make a thinned-out paste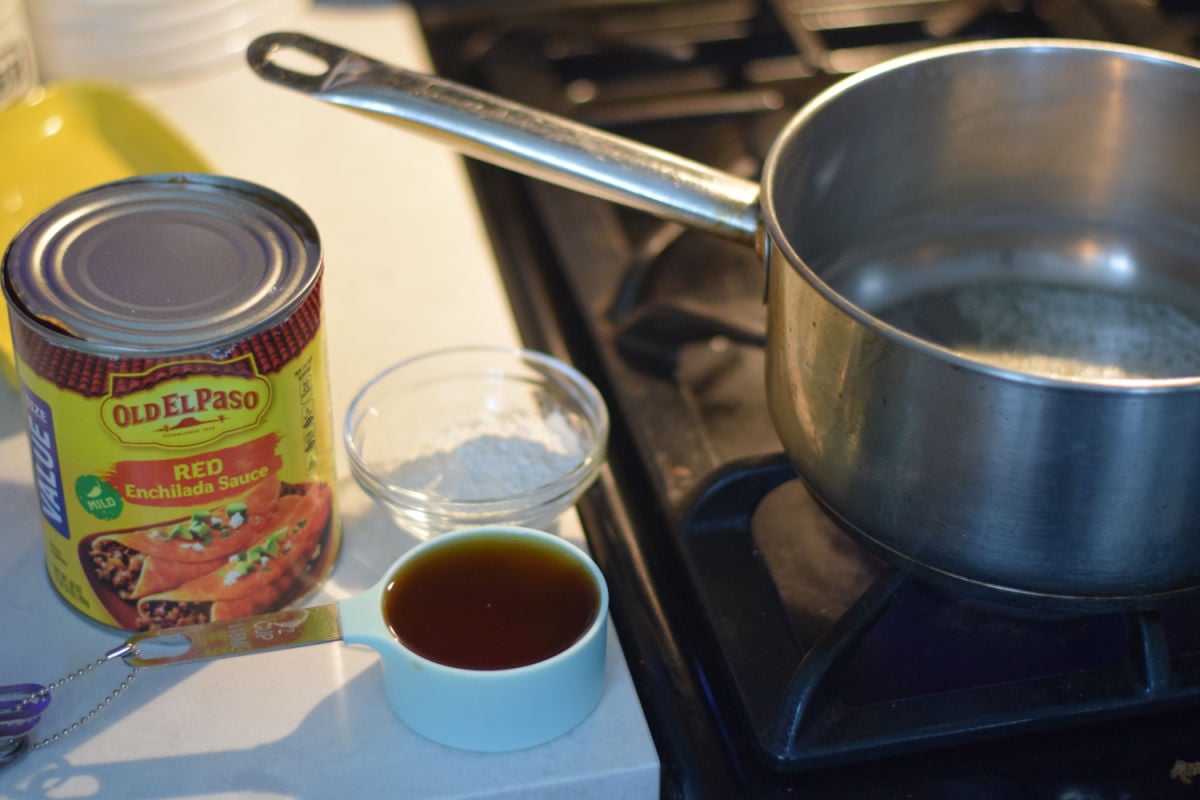 Step three
Gradually whisk in the broth and enchilada sauce
Cook until the sauce thickens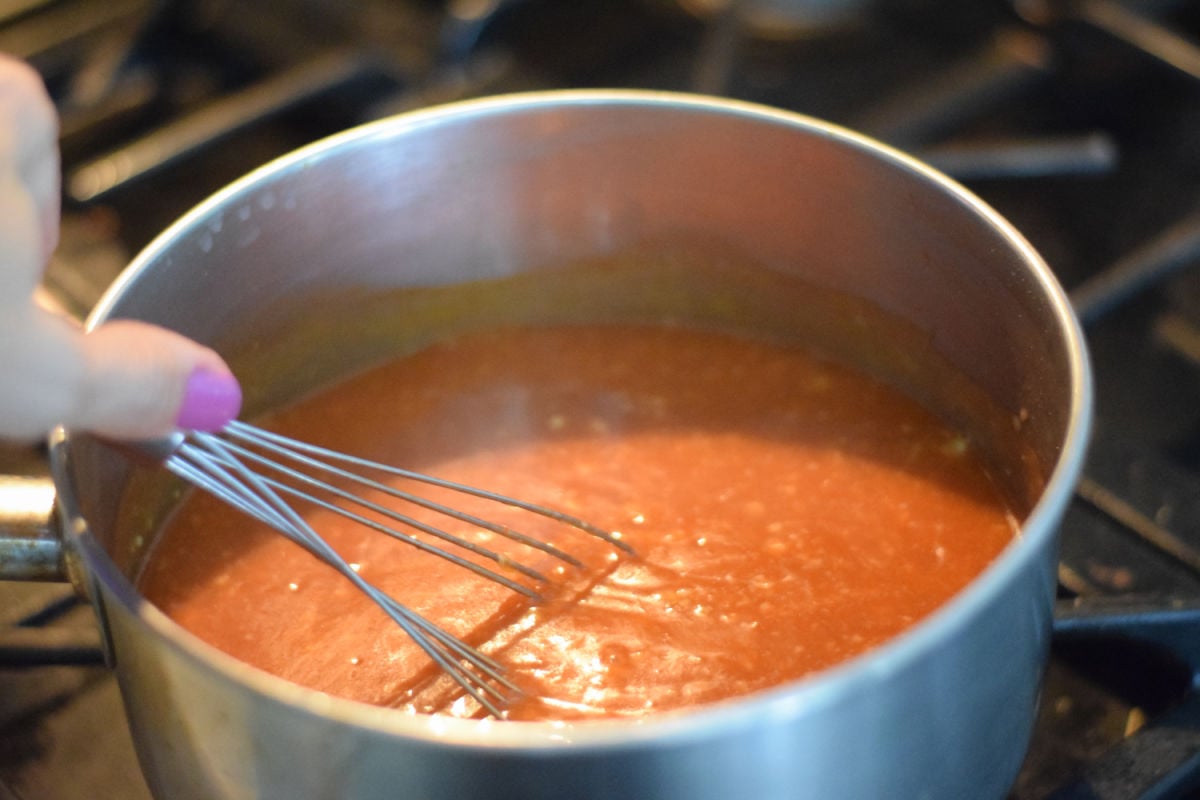 Step Four
Cook the beans in another saucepan so they soften up
Set out a burrito and scoop a couple of spoonfuls of beef on the edge of the tortilla – spread it out but don't go all the way to the edges. You'll need to fold the burrito inward, so leave about 1&1/2 inches of edge without filling
Step Five
Add some rice, beans, and cheese to the top of the beef – you can adjust the fillings to fit everyone's needs
Now, roll the burrito once around the filling, fold the two sides in, and finish rolling it up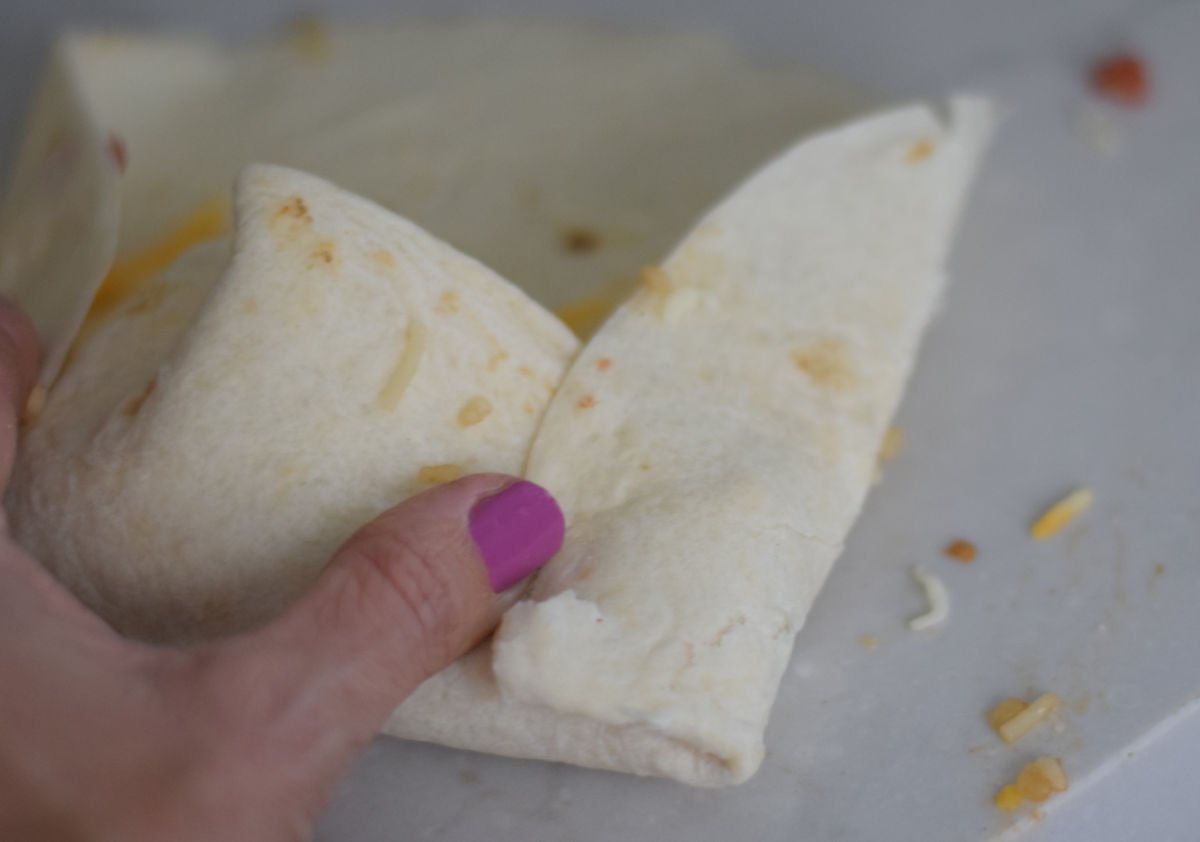 Step Six
Spray a baking dish with cooking spray and as you finish rolling the burritos, place them seam-side down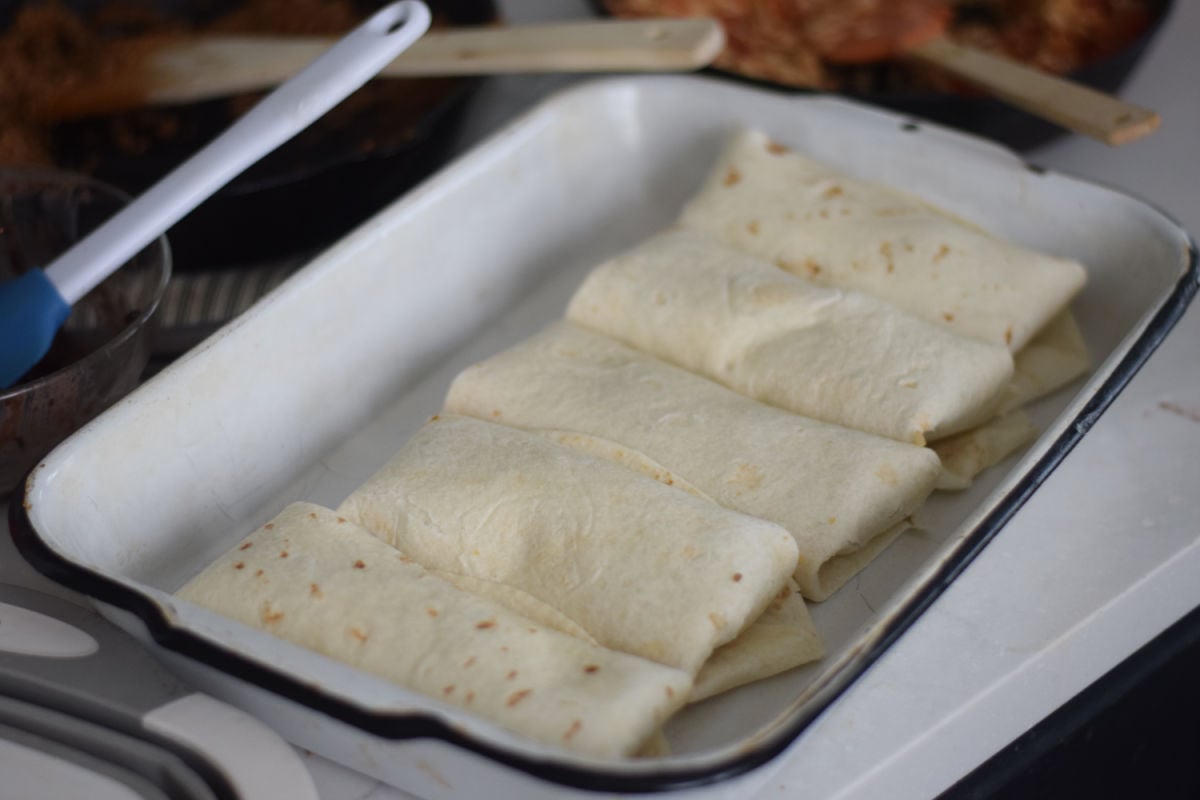 Step Seven
Pour the sauce over the burritos
Sprinkle cheese over the burritos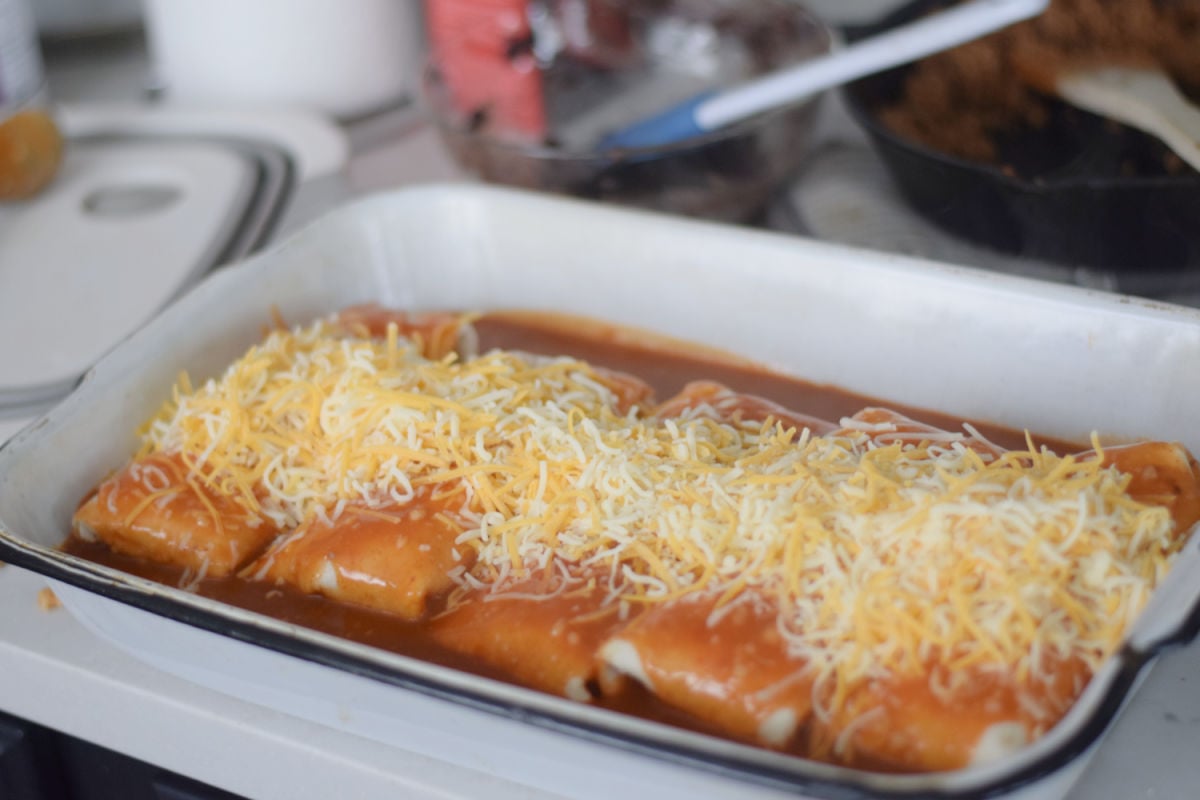 Step Eight
Bake for 20 minutes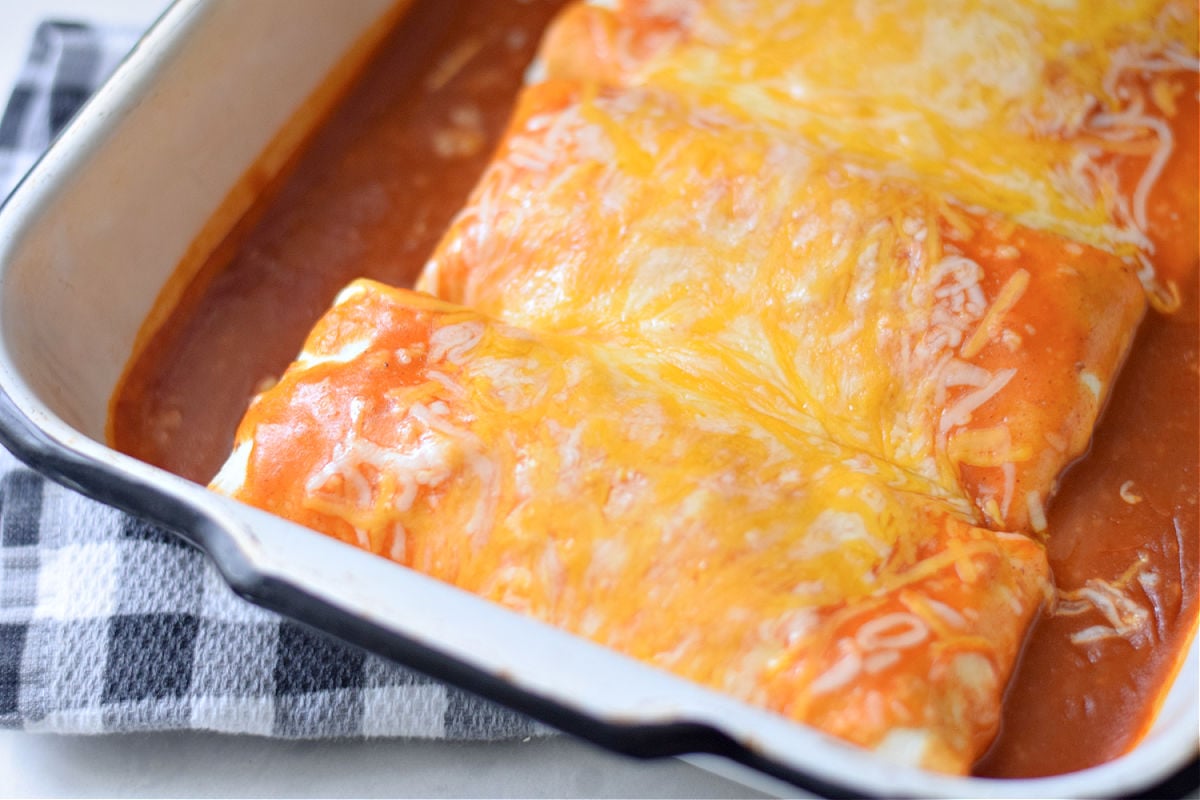 Suggested Serving: Guacamole, Pico De Gallo, Spanish Rice, and Sour cream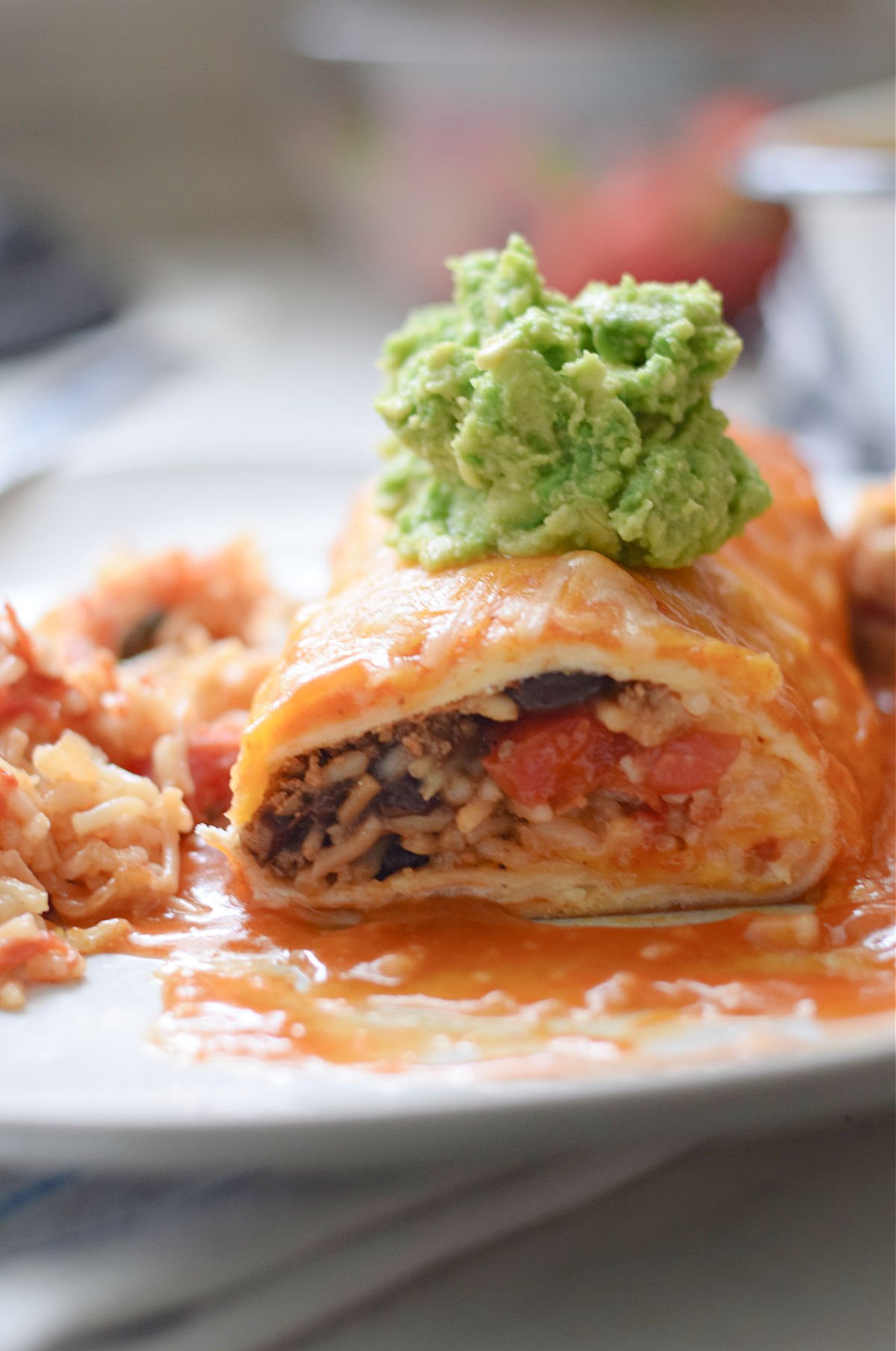 Expert Tip
Grinding your cooked beef in a blender is a game changer. It makes the beef a super-fine consistency and makes the burrito taste so much better
Do not put the filling all the way across the tortilla. You'll need space for folding the edges in. If you do stuff it too much your burrito will burst. Trust me, I know from experience. I lost 2 tortilla shells to overstuffing
Variations
Roast Beef Burrito – Use leftover roast beef that has been cooked in broth and seasoned as your meat
Chicken burrito – shred up a rotisserie chicken and use that in place of the beef for a super easy wet burrito
Pork burrito – cook a pork roast low and slow in broth and seasonings then shred the beef to use in place of the ground beef
What to Serve with this burrito
Sour Crem
Spanish Rice
Cilantro Rice
Refried Beans
FAQs
What is a wet burrito?
A wet burrito is similar to a regular burrito with a couple of exceptions. It is smothered in sauce and is eaten with a fork
What are some different types of fillings for a wet burrito?
Shredded Chicken, Roast beef, Roast pork, Spanish rice, cilantro rice, rice and beans, pinto beans, black beans, and shredded cheese
How do I make the wet sauce for a burrito?
Make a roux from butter and flour. Add broth and enchilada sauce
How do I roll a burrito?
Place meat and fillings near the edge of the burrito shell, being careful not to go too close to the edges. Roll the shell over the filling. While you are holding it down, fold the edges over toward the middle of the burrito. Continue rolling the burrito until you come to the end. Place it seam-side down in a greased baking dish
Storing and Reheating
Storing: Store leftover burritos covered in the refrigerator
Freezing: Freeze burritos before you get the sauce part. Just place finished burritos in a freezer-tight bag for up to three months
Thawing: Thaw in the refrigerator overnight or for several hours
Baking: Place thawed burritos in a greased baking dish, pour sauce over them, spread cheese over the sauce, and bake until warmed through
Baking from Frozen: Pour enchilada sauce and sprinkle cheese. You will need to bake longer than normal. Check to make sure they are heated through
Reheating: Reheat refrigerated burritos in the microwave or covered with foil in the oven
More Mexican Dishes You'll Enjoy
Serving Size
This recipe will serve 5 people
Double the recipe for more
Top Amazon Picks for this recipe
(affiliate links)
Come Hang out with me on Social Media
I'd love to see more of you. Every time I share a new idea or recipe, I share on my Pinterest page or my Facebook page called Cooking Up Fun. I'd love to see you there!
Watch My Video on How to Make Wet Burritos
Printable Recipe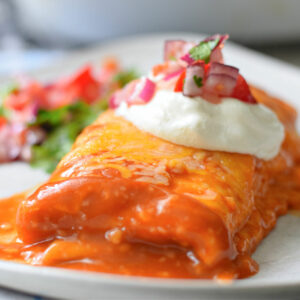 Easy Wet Burrito
A delicious beef burrito smothered in red sauce and covered in cheese
Print
Pin
Rate
Ingredients
1

lb.

ground beef

cooked and drained

1

packet

taco seasoning

5

burrito sized

tortilla shells

1&1/2

cups

Spanish rice

cooked with rotel tomatoes for a spicer version or diced tomatoes for a mild version

1

15 oz.

black beans

2

cups

Mexican blend cheese

shredded – divided

1&1/2

tbsp.

butter

unsalted

2

tbsp.

flour

all-purpose

½

cup

beef broth

28

oz.

red enchilada sauce
Instructions
Preheat the oven to 350 degrees F.

Cook ground beef, drain if necessary

I like to use a blender to blend the beef super fine

Put ground beef back in skillet.

Sprinkle the taco seasoning and the amount of water recommended on the seasoning packet

Mix the seasoning in with the cooked beef and cook until the sauce has thickened up

Cook the black beans in a medium saucepan over medium/high heat until they have softened and the juice has thickened

In another saucepan, melt the butter, and whisk in the flour to make a thinned-out paste

Gradually whisk in the broth and enchilada sauce

Cook until the sauce thickens

Set out a burrito and scoop a couple of spoonfuls of beef on the edge of the tortilla – spread it out but don't go all the way to the edges. You'll need to fold the burrito inward, so leave about 1&1/2 inches of edge without filling

Add some rice, beans, and cheese to the top of the beef – you can adjust the fillings to fit everyone's needs

Now, roll the burrito once around the filling, fold the two sides in, and finish rolling it up

Spray a baking dish with cooking spray and as you finish rolling the burritos, place them seam-side down

Pour the sauce over the burritos

Sprinkle cheese over the burritos

Suggested Serving: Guacamole, Pico De Gallo, Spanish Rice, and Sour cream
Notes
nutrition facts are only an estimate 
Nutrition
Calories:
1152
cal
|
Carbohydrates:
165
g
|
Protein:
50
g
|
Fat:
32
g
|
Saturated Fat:
14
g
|
Polyunsaturated Fat:
2
g
|
Monounsaturated Fat:
11
g
|
Trans Fat:
1
g
|
Cholesterol:
99
mg
|
Sodium:
4461
mg
|
Potassium:
1131
mg
|
Fiber:
10
g
|
Sugar:
19
g
|
Vitamin A:
2919
IU
|
Vitamin C:
6
mg
|
Calcium:
590
mg
|
Iron:
10
mg