Brussels Sprouts are a beautiful side for your holiday meals. If you've never cooked with Brussels Sprouts, I'll add a few pictures to walk you through how to prepare brussels sprouts for roasting.
You'll need to handle each brussels sprout individually, but don't be intimidated by that – it goes pretty fast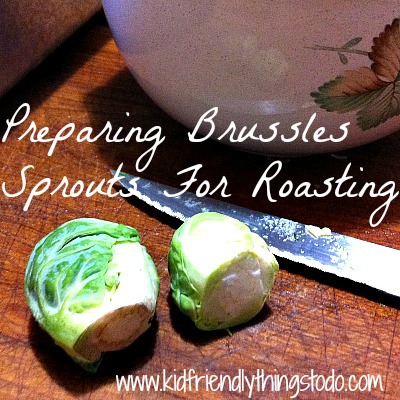 First off, take a sharp knife, and trim the bottom of the sprout. Cut the bottom off to the base of the leaves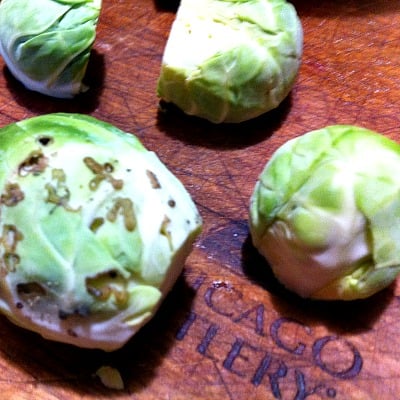 Now, peel the loose leaves off of the brussels sprout, one by one
You may find some leaves with holes like this one, just discard those, and keep going until you get to the firm, and "hole free" leaves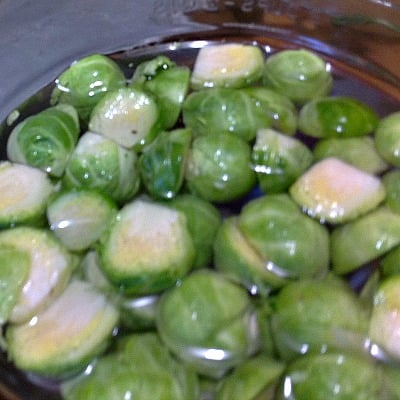 Now, your recipe may say to halve or quarter your sprouts
For halving the sprout, simply cut the sprout in half from stem to the top leaf
If you need to quarter them, take those halves, and cut each one down the center
To be sure  all critters have vacated the sprouts, soak the brussels sprout in a bowl of water for about 5 minutes
Drain the water, and rinse one more time
There you have it!
You're ready to roast your brussels sprouts!
For this dish above, I tossed the prepared Brussels Sprouts, and fresh cranberries in olive oil, and sprinkled with salt & pepper.  I then roasted them on a baking sheet at 425 degrees for about 20 minutes
~Melissa – KidFriendlyThingsToDo.com