I don't know about you. But, when I look at older recipes and see the amount of butter; my heart sinks a little. I don't want to add two sticks of butter to my cake batter! I can just imagine the fat cells building on my butt with every bite! But, you know… the oldies are goodies! The recipes our mothers and grandmothers created usually "Rock!".  So, when I was faced with making a scrumptious, yet butter-infested chocolate cake for my daughter's sixth birthday; I looked to the internet for a solution.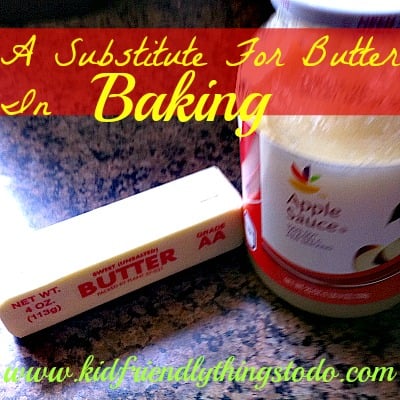 Applesauce – A Substitute for Butter in Baking
If you are looking for cooking tips, try some of my other tips, like:
I found using a 1:1 ratio (the same amount of applesauce as the required butter) – that applesauce was a great substitute for butter in baking. My particular recipe required 2 sticks of butter. So, instead of using the full amount of butter; I used one stick of butter. I then substituted the same amount of applesauce as the required amount of butter, for the remaining stick of butter. And, let me tell you the results were absolutely delicious and fluffy. My chocolate cake was the best I've ever had. Usually, my chocolate weakness is a batch of fudge brownies. But, I found myself sneaking bites of this chocolate perfection! Here's the original source of the applesauce substitute. Interesting that some people are substituting Greek Yogurt for butter. I still have to try that one out. Happy Substituting!
And, here's the most amazing chocolate cake I've ever tasted! Click Here
Melissa – KidFriendlyThingsToDo.Com – kid-friendly crafts, recipes, party treats, party ideas, and fun ideas for the whole family