As Easter Games go, they don't get much easier than this to set up. Play this game indoors, or if it's a beautiful day – take it outside. This would also be a perfect "Minute To Win It Game". All you'll need are some willing contestants, some spoons, and some hard-boiled eggs. Don't you just love simple games? Walk the Egg is a pretty fun game to play, too. Come on in and I'll share how to play this Fun and Easy Easter Game to Play…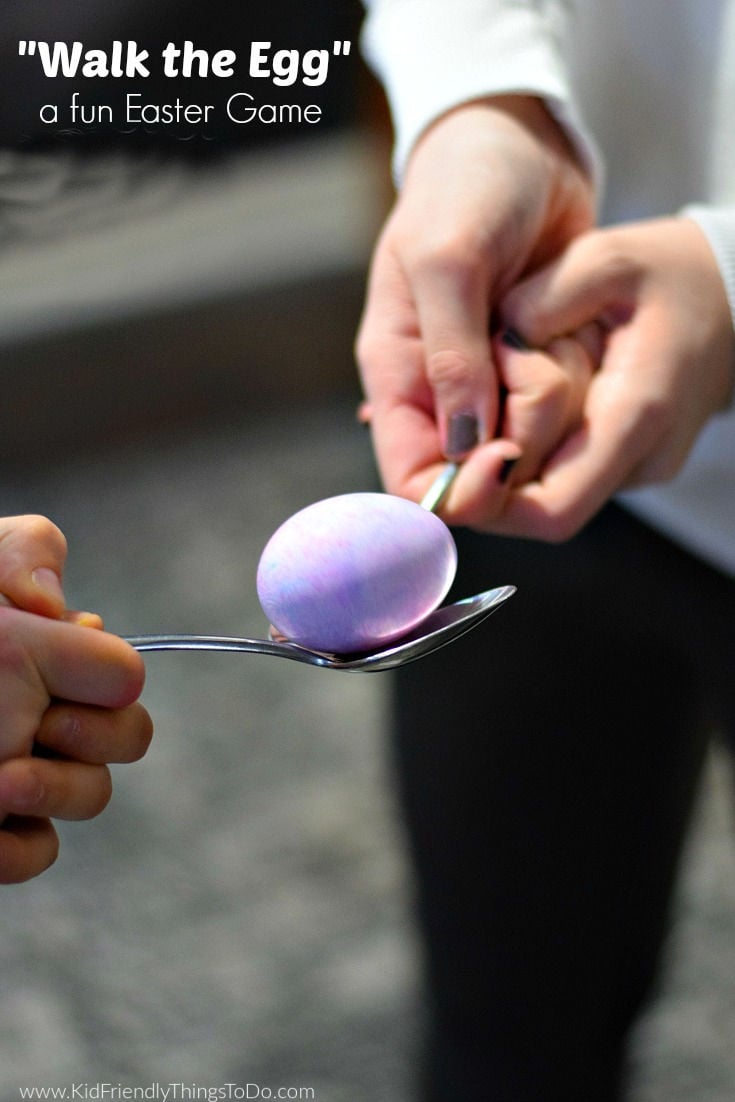 Walk the Egg – A Fun Indoor Easter Game to Play for All Ages…
I love "old-fashioned" games. The ones that we remember playing at school and holiday parties.
Any time that I get a chance to bring back some good old family-friendly fun, you know I'm gonna do it.
This game is simple to prepare and perfect for "all ages". You can play it indoors, or take it outside. It's the perfect game for your holiday party.
Here's What You'll Need for this Easter Game…
Hard-boiled eggs – (plural) *You will have some casualties, so be prepared with extra
Spoons 1 for each player – *The size is totally up to you. Smaller spoons make for a more challenging game and guaranteed laughs (or frustration for little ones). I have older kids – ages 9 and up, so we went with smaller spoons.
Setting up for "Walk the Egg"
Teams would be the best way to play this game, but you can do one long line of people too.
If you have enough for teams…
Divide the contestants evenly for each team to have the same amount of players
Give everyone a spoon
Line each team up in one long row, so they are close enough to reach each other at an arm's length
Give the first person a hard-boiled egg
Playing this fun Easter Game…
When everyone is situated, tell them to "GO!"
The first player should turn to face the next person in line and carefully hand off the egg to them – from one spoon to the other. They can't use anything but the spoon to transfer the egg
See which team can safely transfer the egg (without falling) from the beginning of the line all the way to the last person in line – FIRST!
*If it falls, then they start with a new one at the beginning of the line (you can be a little nicer and let them start with a new one at the point that it dropped)
*If it's a Minute To Win It Game – then time them for one minute. They will only have one minute to complete the game or be the most advanced team in transferring the egg in under one minute