Cookie Cutter Pumpkin Carving is a much better way to carve pumpkins than the old traditional way with kids. Carving Pumpkins with Cookie Cutters is fun for everyone and so much easier to do.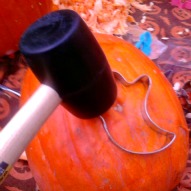 Pumpkin Carving with a Cookie Cutter
Mike and I used to sit the kids around on blankets, cut the lids off of the pumpkins, and help scoop the seeds out. Then, after all of that work, the kids eventually got bored and we were left to carve the faces out of each pumpkin.  It was still one of my favorite traditions, but seriously…it's a little exhausting.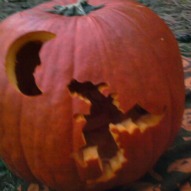 You'll Need:
A Mallet
Metal Cookie Cutters
A knife
A Bowl for the seeds
A blanket or plastic cloth to catch the extra pumpkin parts
Instructions: 
Do the traditional, cut the top off of the pumpkin and scoop the seeds and guts out!
Pick out some fun Cookie Cutters –  Halloween shapes, or your personal favorites that show your personality!
Let an adult help, Place the cookie cutter in your chosen spot on the pumpkin, hold it in place and use a rubber mallet to start tapping it in
Then let the kids really hit it in – avoiding the pumpkin flesh – you don't want to split your pumpkin open
Your cookie-cutter will most likely, be wedged into the side of your pumpkin
Let an adult use a knife to cut sections into the pumpkin that is in the middle of the cookie cutter
Then push the cut sections down, into the pumpkin and scoop them out
Let an adult – Wiggle the cookie cutter out – be careful the bottom side might be sharp
Now, you can repeat with more…if you choose to. But, be careful not to put too many too close together – you might make the pumpkin weak, and it will split open…It happened to us
Happy Halloween
Need a Pumpkin Seed Recipe? Try…
~Melissa – KidFriendlyThingsToDo.Com –