I have to get these Awesome Minute To Win It Games that are Great for Kids, Teens and Adults – For Your Family Parties published, so you can get prepared for Holiday Party Crazy Fun! Just in the nick of time…we have tested out some more fun Minute To Win It Games and picked our "just right" for kids, teens and even adults favorites! Come on in and I'll share the latest Minute To Win It Fun…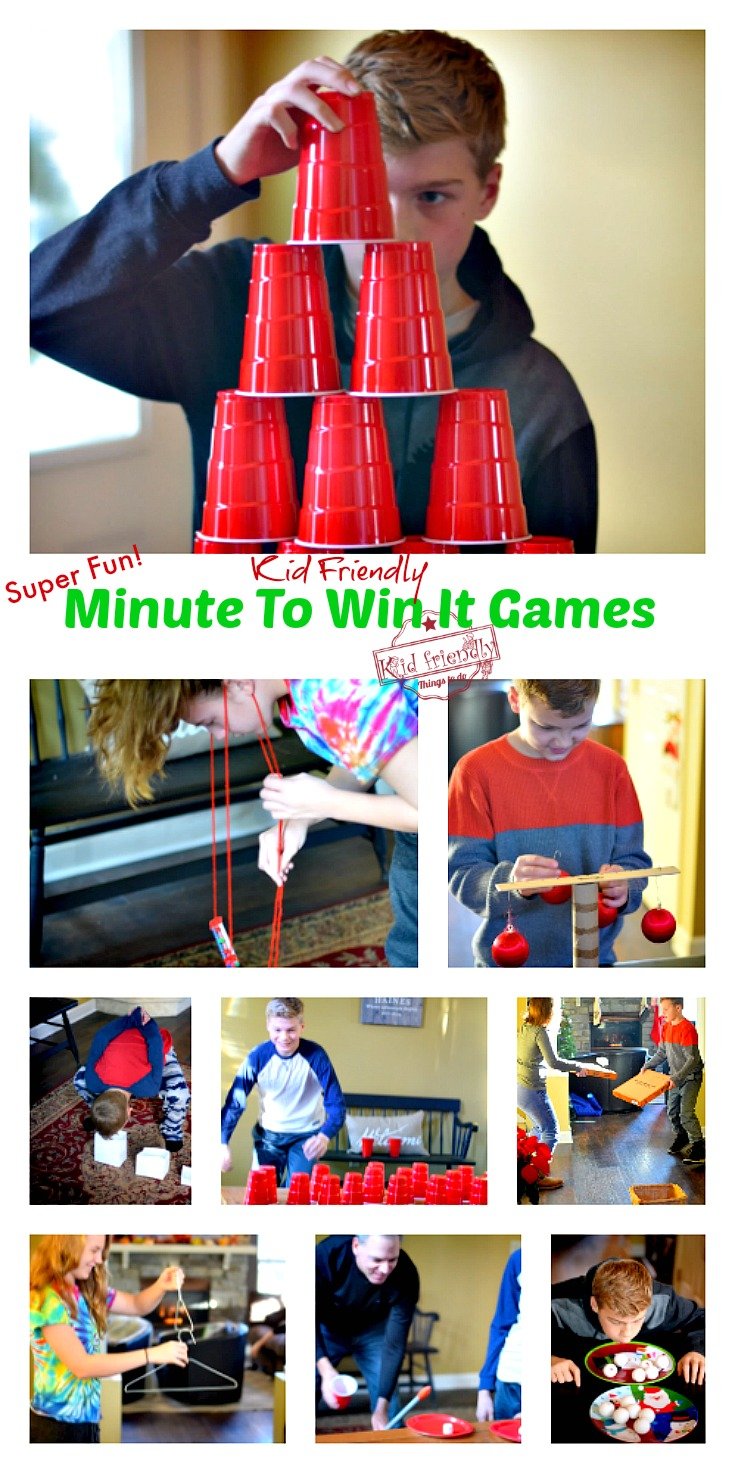 I love these games. Most of the supplies can be found around the house and there is very little setup required. That's how we do things on this blog…Fun and Done, because who has time for complicated?
Let's Get to the Fun!
First up…
Match Maker

Do you see the red cups suspended in mid air? The kids were racing so fast against the minute clock. Cups were going everywhere! 🙂
One Person per Team…
You'll Need:
18 cups + Cups to place candy into – We did 2 types of candy, so I had 2 cups extra
18 pieces of Assorted Candy – I had enough for 2 different candies to equal 18 total – 9 Santa Hat Hershey Kiss, and 9 Peppermint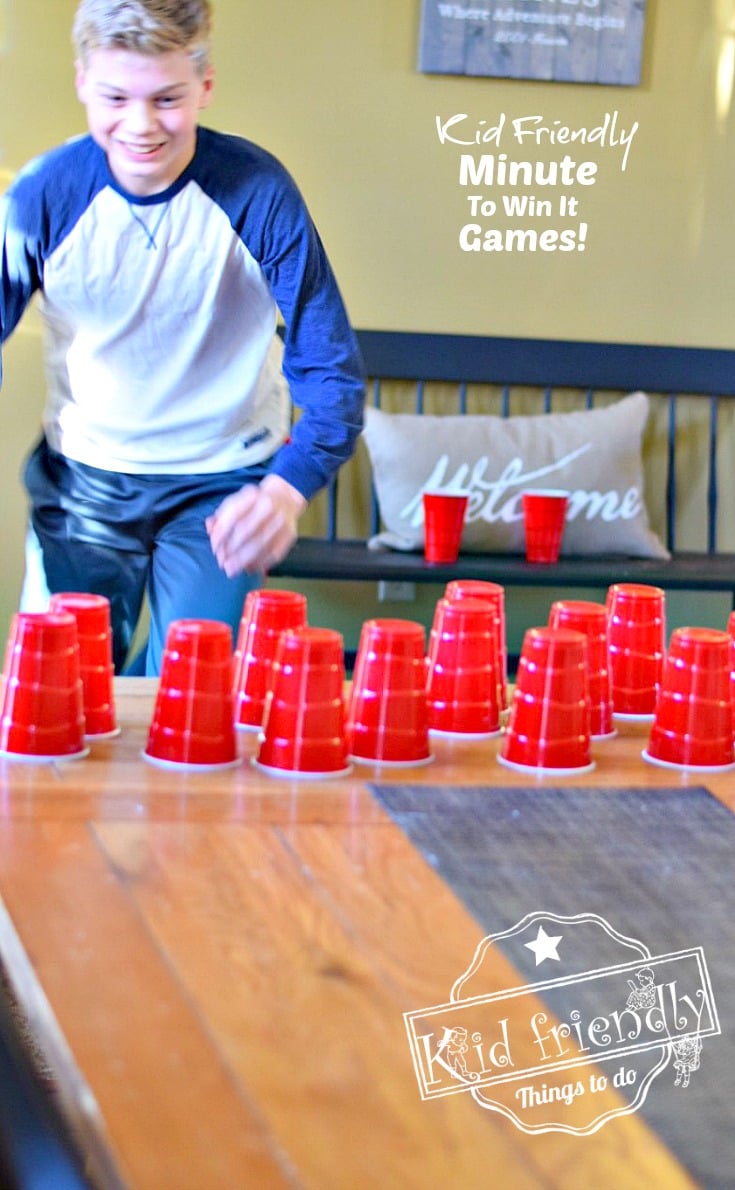 Setting up –
You'll want to place the individual candy pieces under individual cups to hide the candy
Place your cups that will collect the sorted candy across the room – 1 per type of candy – across the room
Instructions:
Players will – in 1 minute – uncover 1 candy at a time and run to the corresponding container cup to place them in – They should be sorting the candy into the cups (1 AT A TIME!)
This is so much fun. My kids and teens wanted to do this over and over!
Next up…
Kabroom!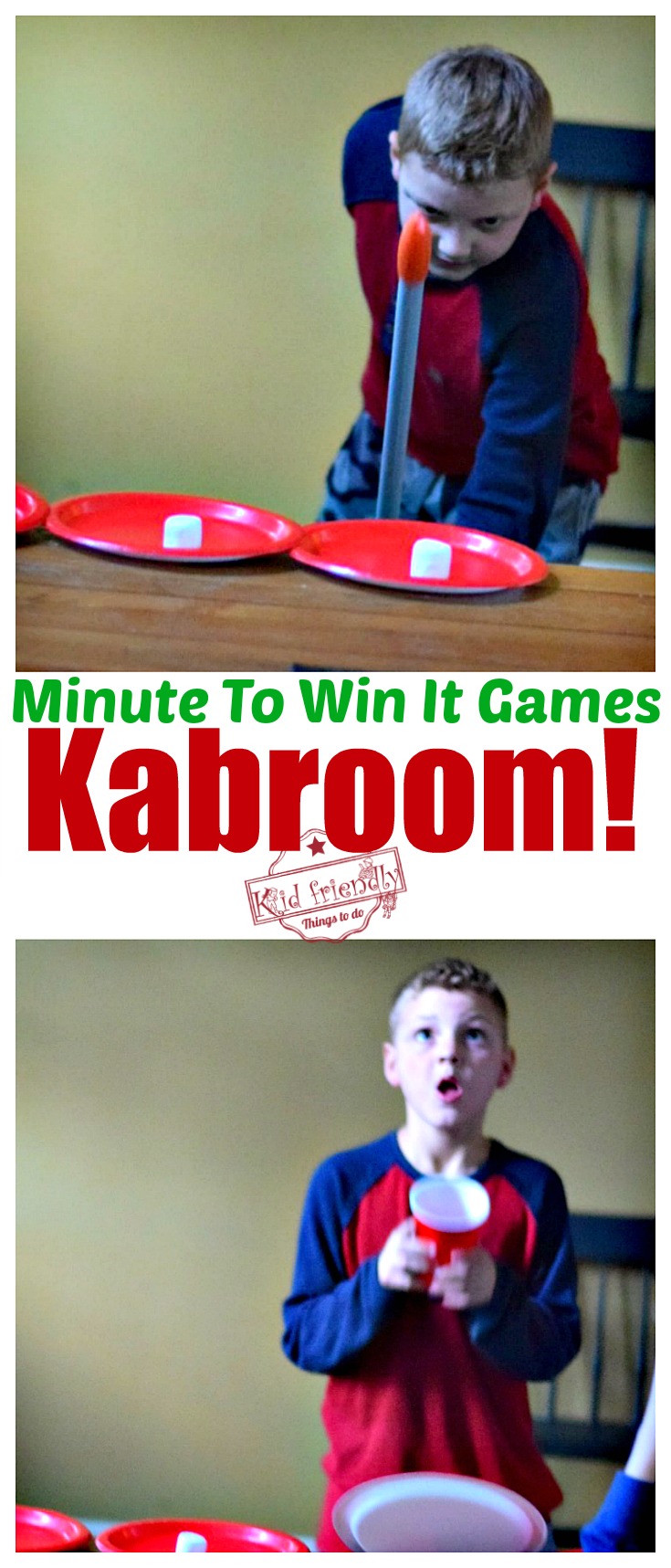 The guys in the family got really competitive with this one. I guess – it's a guy thing.
1 player per team:
You'll Need…
Several Paper Plates
Several Marshmallows – large – 1 per plate
Broom
Cup to catch the marshmallows in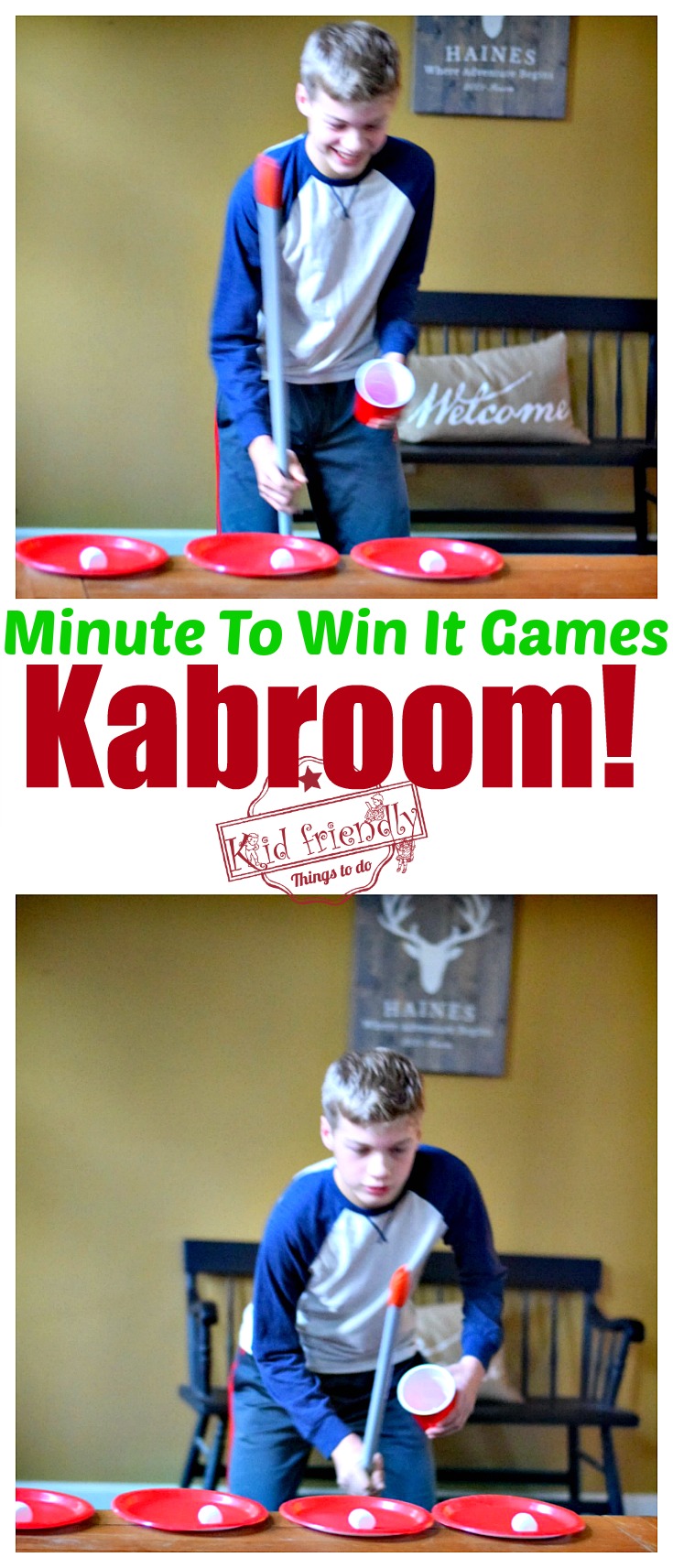 Set the plates all along the edges of a table with about 1/2 of the plate hanging over the edge – Get as many as you can ready – the more the better
Place a marshmallow in each plate
Players will have to – in under 1 minute – drop the broom onto the edge hanging over to launch the marshmallow up in the air and catch it in their cup
The goal is to successfully catch 3 in under 1 minute, but you could see which team get the most for the win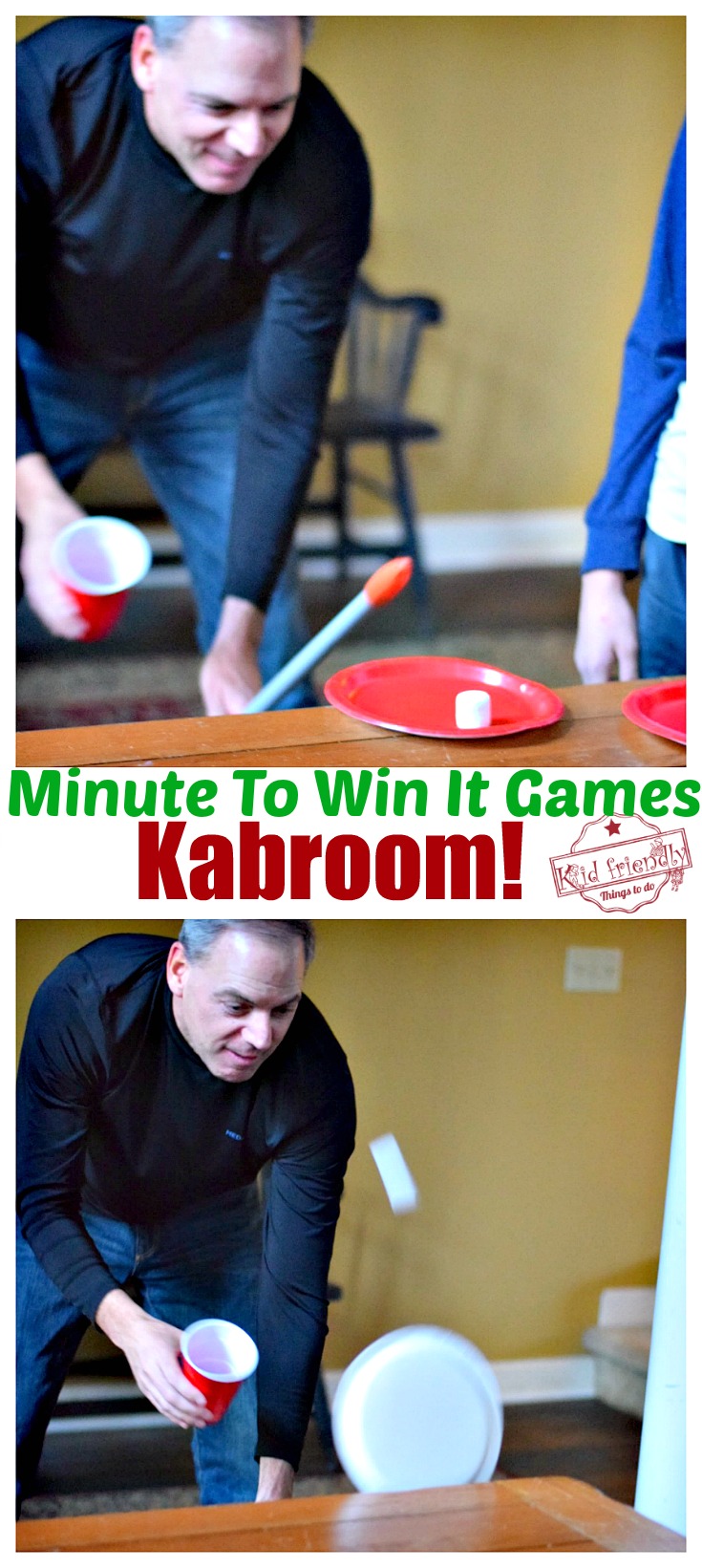 Here's my husband who just HAD to beat the boys time on this game. Just wait…they will grow up and dominate!
Next up…
Deck the Halls!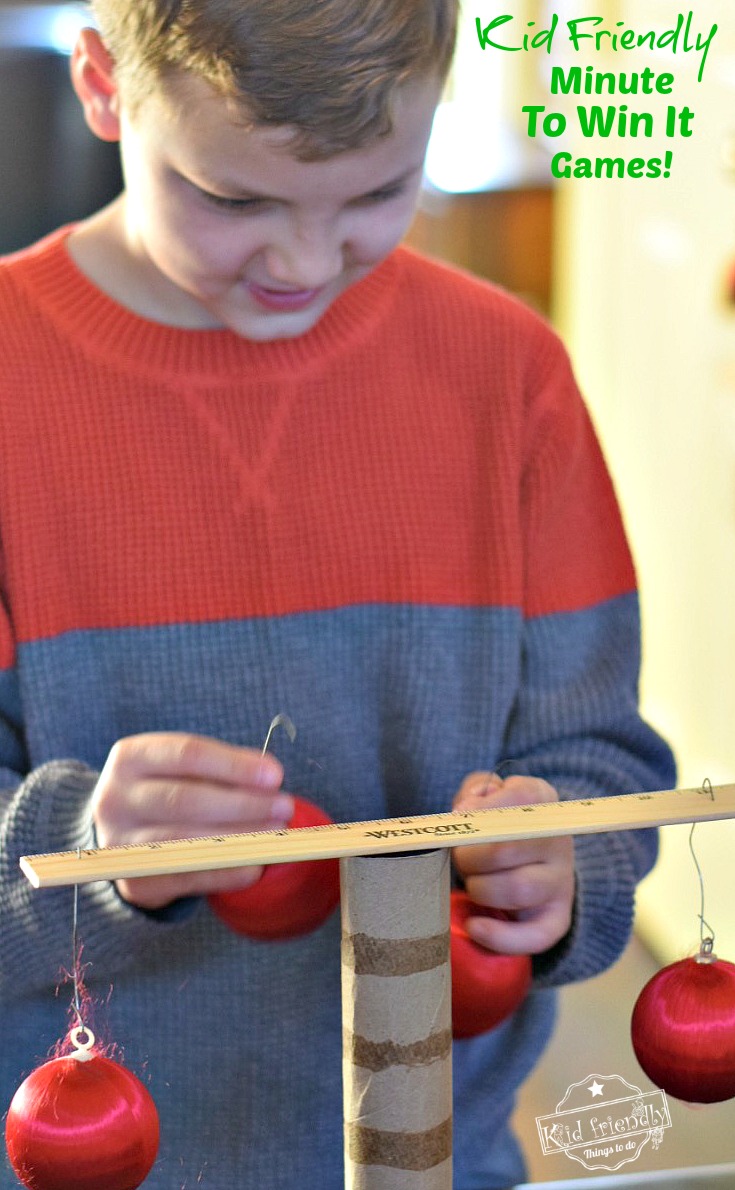 Just grab stuff from around the house for this super fun game! Connor is years old. He had the best time with this game. He kept doing it over and over to beat his time.
One player per team…
You'll Need:
6 Ornaments that are even in weight
1 wooden ruler
Paper towel tube

You can set this up for the younger kids by having the paper tube and ruler ready. To make it more challenging – have the older kids and adults do all of the following…
In 1 minute –
Place the paper roll tube upright and the ruler across the tube – Make sure the ruler is smack in the middle with even sides extending out
Players will have to balance all 6 ornaments on the ruler in 1 minute!
*Make this game more challenging by using a pole with a yardstick balanced on top. Add several more ornaments to balance
Up Next…
The Candy Elevator!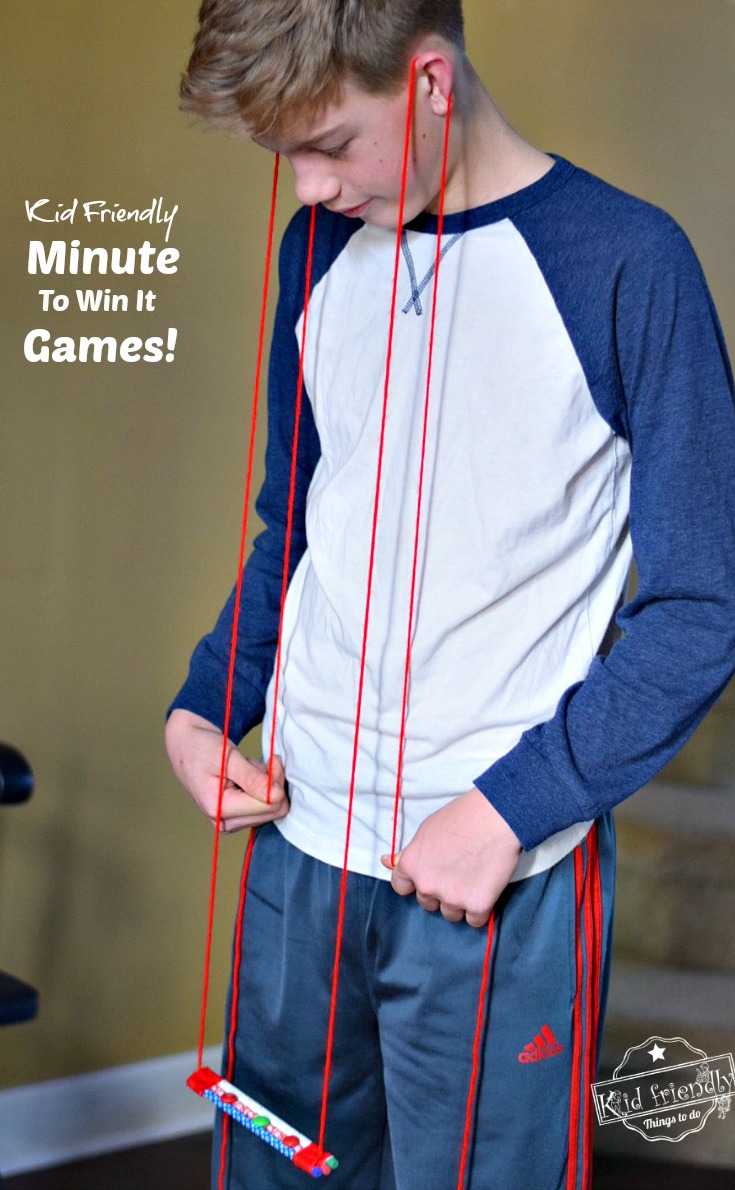 We tweaked this game a little from the original Minute To Win It Games. We added a third pencil. So much better!
1 Player per team…
You'll Need:
3 pencils
Duct Tape
Yarn – lots!
3 pieces of candy – I found that M & Ms worked best. They are just curved enough to make them a wee bit slippery, but not too much. Gum drops would have a nice flat bottom for an easier game. Mini Marshmallows would make it really challenging. 

Getting Prepared…
Tape 3 pencils together – side by side
Tape yarn – at least 10 feet per side to the ends of the pencil elevator
Onto the Game…
Players will place the elevator on the floor and wrap the yarn around their ears (ears are the pulleys)
In 1 minute – players will pull the elevator up to their mouth!
*For younger kids, players can bend over and for a more challenging game, players should stand upright
Up Next…
Hang On!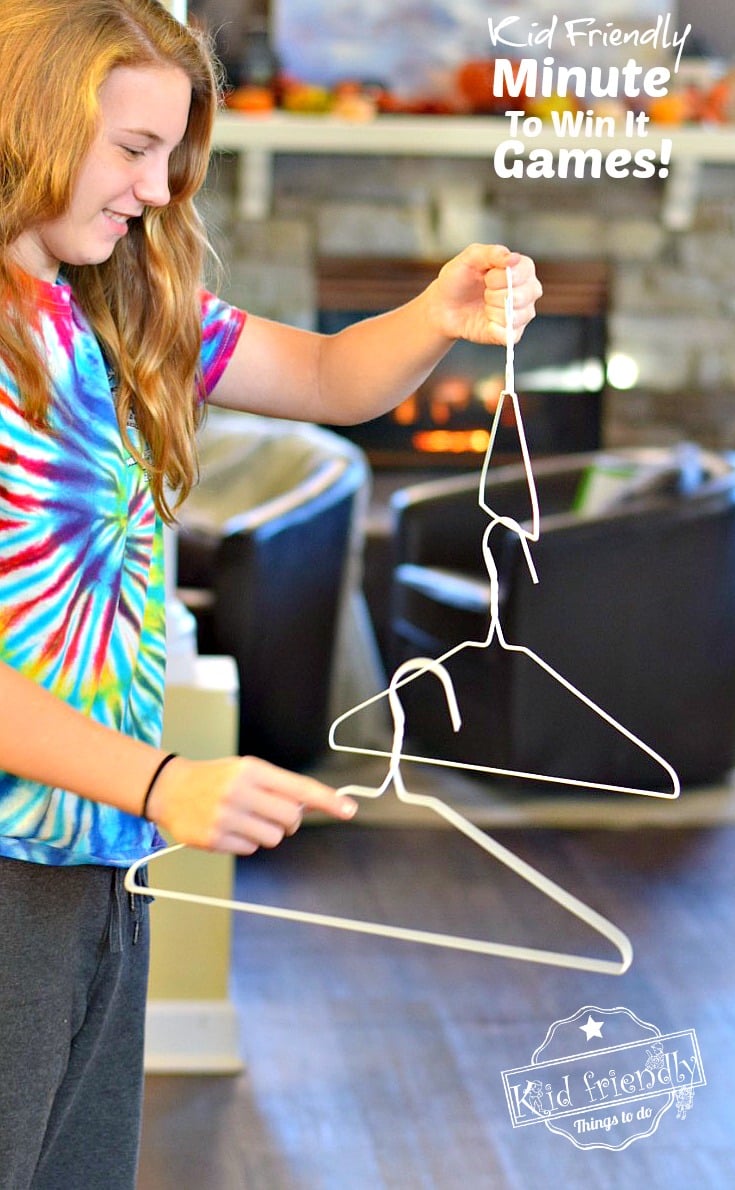 This is more challenging than it looks. Stacking hangers so they are perfectly balanced takes strategy and a keen eye. It's a great one for older kids and adults. The original instructions from Minute To Win It say to hang 6 in a row. That was waaaaaaay hard – even for the adults. We think 4 is the sweet spot – challenging enough, but do-able. 
You'll Need:

Instructions:
Hold a hanger in the air and hang multiple hangers from each other so they are perfectly balanced
The first team to hang 4 in a row wins this round!
*Make it 5 or 6 in a row for a super challenging game
Next Up…
Easy Does It: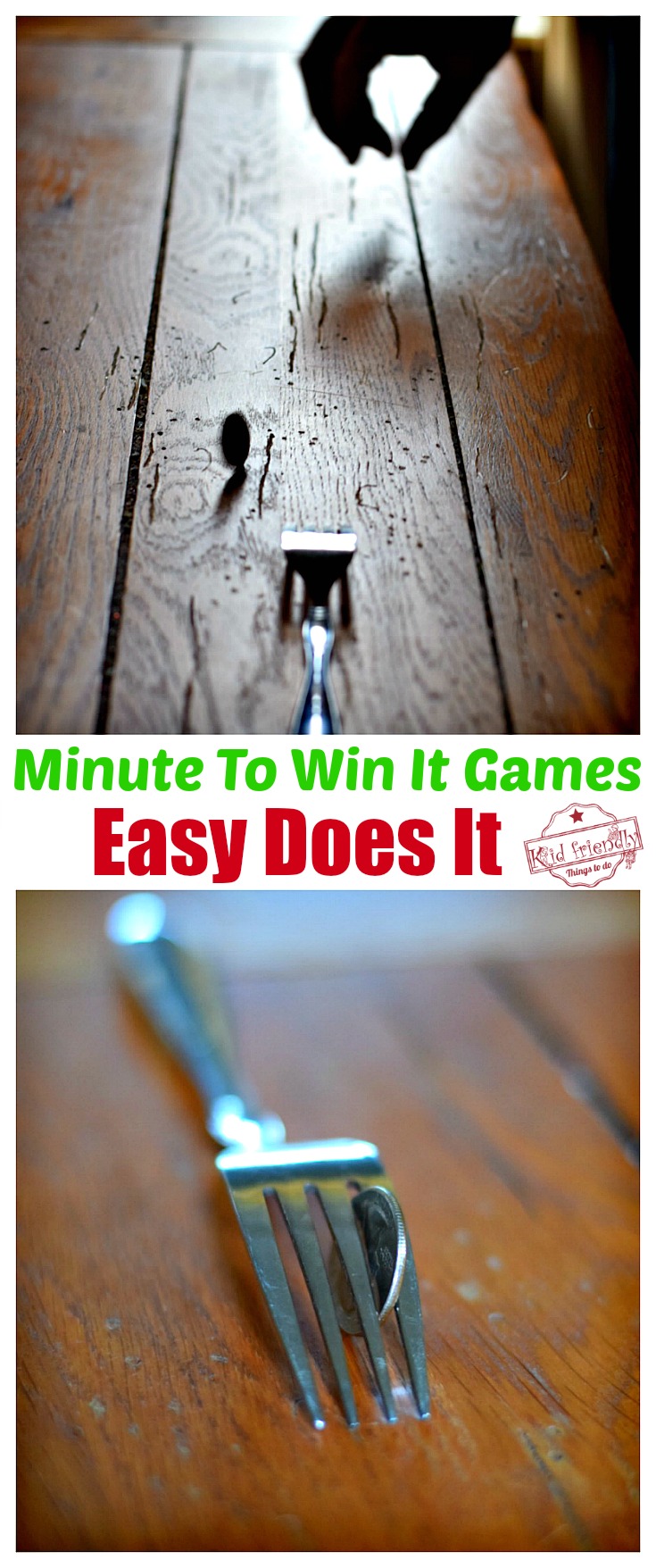 It seems nearly impossible – rolling a quarter into the teeth of a fork! It will take a few tries to get just the right angle and speed, but you'll get it.
1 Player per team
Here's What You'll Need:
Instructions:
Place the fork on one end of the table, with the teeth facing the opposite side
About 3 ft. away, place some quarters
When you're ready, the player should release quarters until one sticks in the teeth of the fork
*Adjust the distance to make it easier or more challenging
Up Next…
Bite It!

This is another one that we changed a bit. The original Minute To Win It game requires 5 bags – 10, 8, 6, 4, and 2 inches tall. If you have someone on your team that can do the splits, then by all means, use the 4″ and 2″ bags. If not – only use the taller ones. 10″ and 8″ bags are the perfect height. The 6″ tall bags are a good idea if you want a good laugh. My kids kept falling on their faces while trying to pick them up.
Here's What You'll Need for Bite It!
5 Paper bags – you can get grocery store bags or use lunch bags like I did
Scissors
Preparing for the game – Cut bags to various heights. Use the above as a general guide for level of difficulty while making your bags
Instructions:
Bags of various heights will be placed in a row on the floor
Players must – in 1 minute bend over with hands behind their back and bite the bags to pick them up
Transfer bags to a given point
The first team to get all 5 bags or the one with the most wins this round!
Next Up…
Office Tennis!

This was definitely in the top 3 on the fun scale! You'll have to decide on the right distance for your age group. Our waste basket was about 10 feet away. The older kids could easily have done 15 feet away.

2 players per team
Here's What You'll Need for Office Tennis:
Per team…
2 pizza boxes
several wadded up pieces of paper
waste basket
Setting up – Place the pizza boxes and wadded up paper in one spot. Place the waste basket far away – 10-15ft.
Instructions:
Using the pizza boxes as rackets – Players should bounce the wadded up paper back and forth to each other – heading toward the waste basket
The first team to get the paper into the basket wins!
*No double dribbling and no carrying the paper on the box. It must be tossed into the air toward your teammate.
Up Next…
Stack Attack!
This is another one that you can change up to make it more challenging.
Here's What You'll Need for Stack Attack!
One player per team
1 pizza box
10 plastic cups – I believe these are 16 oz. red Solo cups
Instructions:
Players will hold the pizza box with one hand while stacking all 10 cups with the other in under 1 minute
4 on the bottom row, then 3, then 2, then 1
First team to successfully complete the pyramid wins! Michael, in the picture, had about 3 seconds to spare before the timer ran out.
*Ideas to make this more challenging:
*Once the player has stacked them, have them now reverse stack them. They will have to place the cups on top of each other going backwards until they have all 10 cups in a nice tidy stack of 10
OR – *Use plastic tumbler glasses or plastic glasses.  Start with 7 on the bottom row  and work your way up to 1 in under 1 minute!
Up Next…
Trading Places!

This one takes strategy and control.
One player per team:
Here's What You'll Need for Trading Places
2 packages of ping pong balls – if you can get them in different colors, great! If not, mark 1 package with a sharpie, like I did. The top image shows red stars on half of the ping pong balls
2 round plates with a smooth surface
Setting up…
Place one set of balls on one plate and the other set that looks different on the other
The plates should be touching
Instructions:
Players should blow the balls onto the opposite plate so that they switch plates in 1 minute
The first team to successfully transfer/swap the balls out – wins!
Need More Minute To Win It Fun?!
Look no further…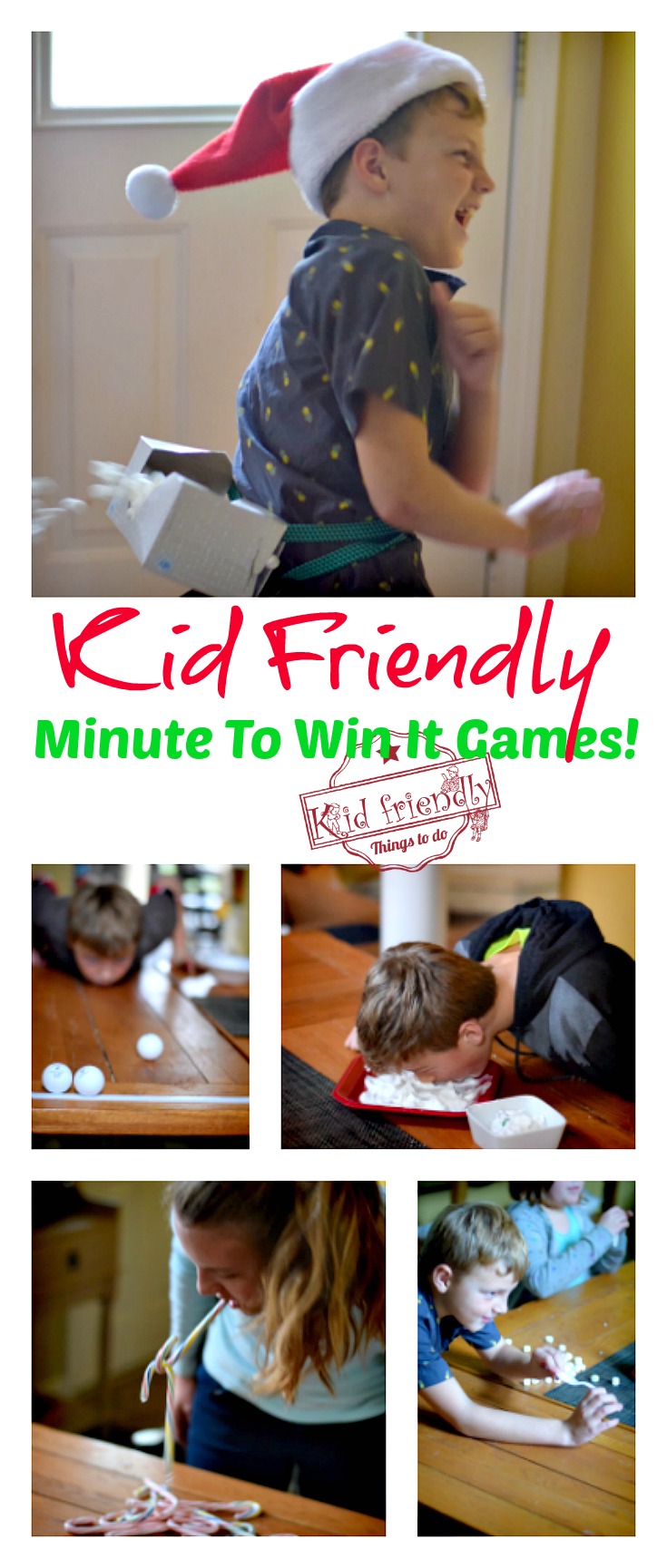 Here's the link to these Super Fun Games!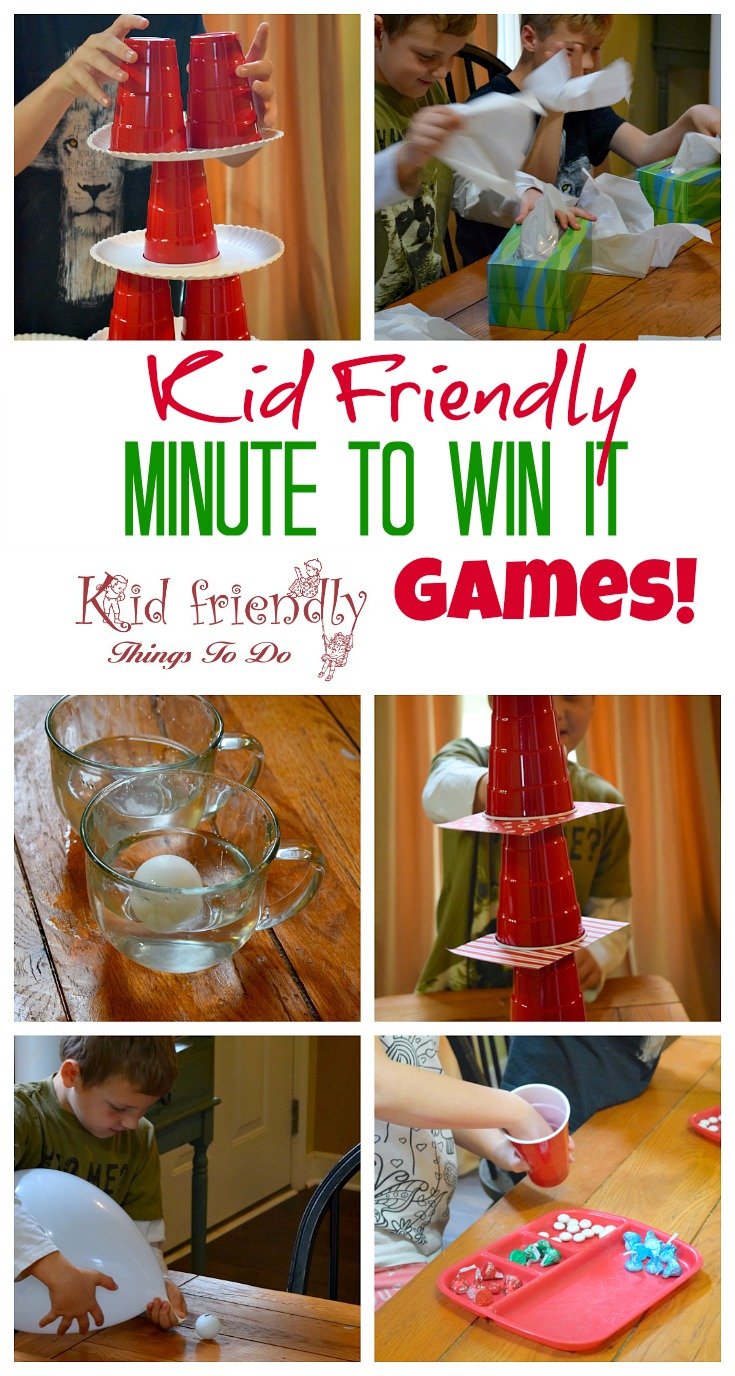 This post has some of our favorite Minute To Win It Games! Here's the link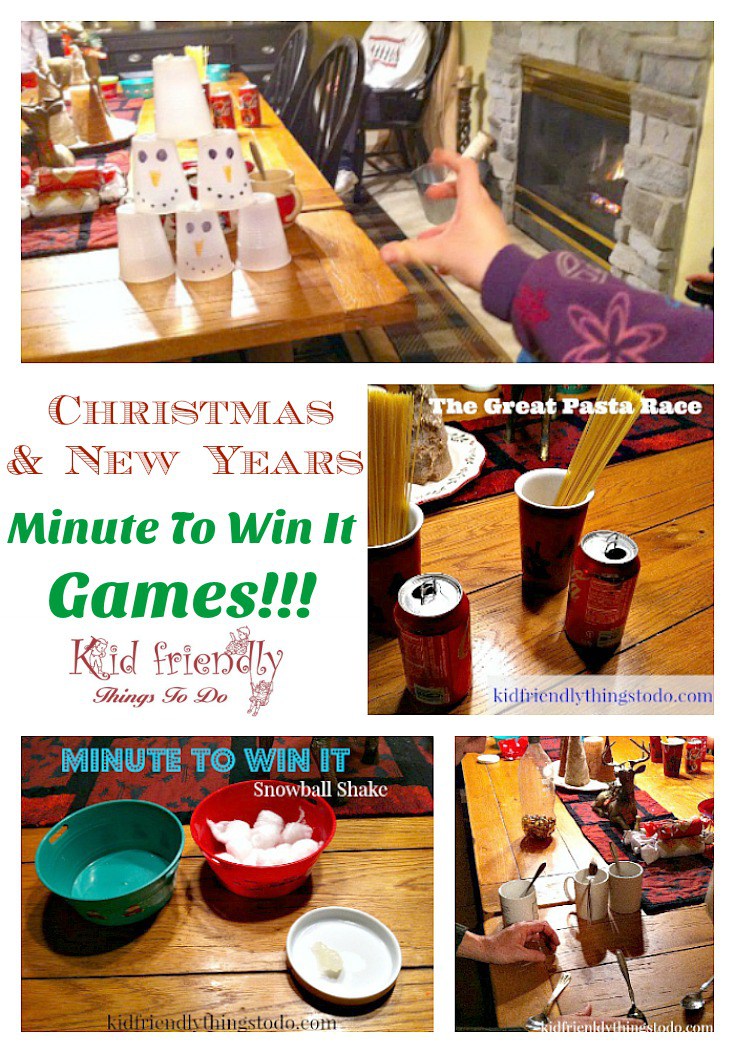 This was our First and BEST Minute To Win It! Here's the link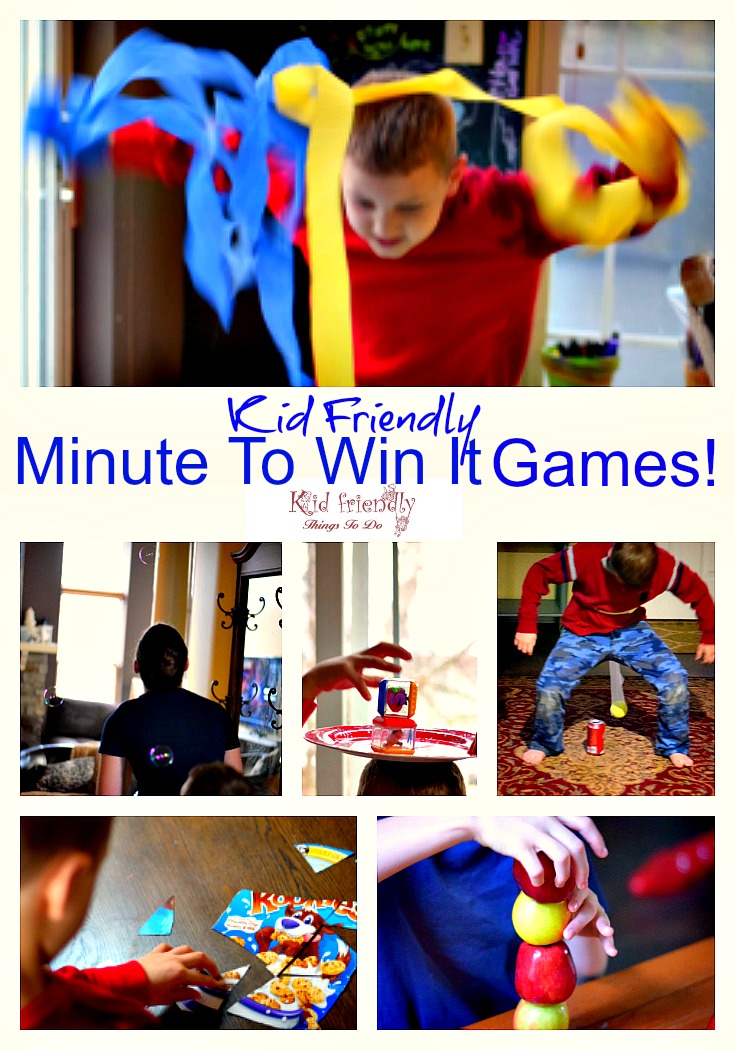 Our favorite ones in this post are The Twisted Sister and the Bubble Blowing Race! So fun! Here's the link