These Mint-Filled Rudolph Cookies for Christmas are so adorable and so delicious. You're family and friends will love them! Easy to make and so much fun for Christmas treats.
Rudolph Cookies for Christmas
As usual…Christmas is coming way too fast. Today, I had to choose between the two Food Crafts that I have prepared – A Rudolph Cookie or A Gingerbread Man Cheeseball. They both turned out so cute. It was a hard decision, but Rudolph won. I mean… mint-filled cookies covered in chocolate and topped with a cherry – you know that one had to be first!  I might have to go out of order and sneak the Gingerbread Man in this week. I know you're gonna love him too! Anywho…Here I am today with my – Easy Rudolph Chocolate Covered Mint Stuffed Cookies! – Such A Cute and Yummy Dessert. Come on in, and I'll share the Simple "how to"…
These are so simple to make, but your family and friends will think you spent hours in the kitchen. You know that's not how we do things on this blog. We keep it Short and Simple – Fun and Done!
If you are looking for Rudolph Christmas Treats then you have come to the right place. You might like my Rudolph Brownie Treats, Rudolph Chocolate covered Peppermint Sticks, or my recipe for Rudolph Chocolate Bark
It's the perfect food craft to let your kids get involved in. You could make these as a surprise treat or include them in the preparation. Whatever works for you.
Either way, everyone will be excited to bite into this fun Rudolph Cookies. They are so yummy!
FAQs:
Making Ahead and Storing:
You can place these in an airtight container and store them for up to a few days, or leave them out on a platter for the day. They should be fine and still yummy. The only part that might dry out a little is the cherry on top.
Here are my top Amazon Picks for Easy Rudolph Chocolate Covered Mint Stuffed Cookies! – Such A Cute and Yummy Dessert
(affiliate links)
[box] [/box]
If you are ready to make these cute treats, let's make sure you have everything you'll need:
Ingredients:
(This should make 18-20 Rudolph Cookies)
Light Cocoa Chocolate Melts – 12 0z.
A package of OREO (or similar) Mint-Filled Cookies
1 jar of Maraschino Cherries without the stem
Extra Equipment:
Wax Paper
Small microwave-proof glass bowl
Silicone spoon or spatula
Fork
Baggie – like a snack baggie
Scissors
Paper towel or napkin
Instructions: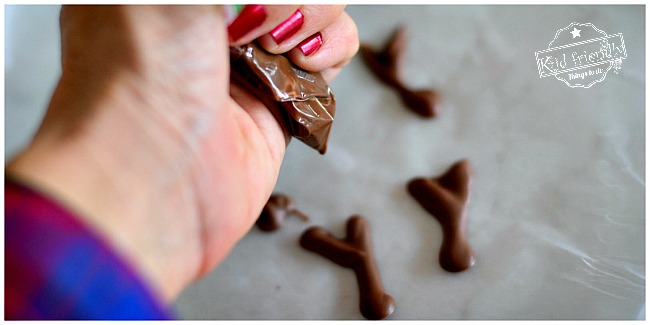 Using the small glass bowl, microwave the chocolate according to the directions on the package – *I usually put mine in the microwave for 1 minute, stir with my silicone spatula and pop it back for 30 seconds. If the chocolate is melted and smooth after your stir it together – you are done. Don't overcook.
Place a large spoonful of melted chocolate into a baggie
Snip a small corner from the bottom of the bag to allow the chocolate to flow out
Place a sheet of wax paper down and begin drawing antlers with your melted chocolate in the bag
Make double the amount of antlers as you have cookies – If you make around 40 – you should be good to go
Let those dry to set up – you can hurry the process by placing them in the freezer for a couple of minutes, but they will probably air dry while you continue the next step
Place the cherries onto a piece of paper towel
Now, while the antlers are drying, plop one cookie at a time into the rest of the chocolate
Use your fork to gently push it down and flip it over – completely covering the cookie
Pull the cookie up to the side of your bowl with your fork
Tap the fork on the side of the bowl allowing the excess chocolate to drip into the bowl and smoothing the top of your cookie
Slide the cookie off of the fork onto more wax paper – *if this is too tricky for you, use a toothpick to guide the cookie off
While your cookie is still wet – insert the dry antlers into the middle section of the cookie
Add the cherry nose
Do that with each cookie and you'll have several Cute Rudolph Cookies
~Melissa – Kid-Friendly Things To Do