A table cloth made out of easel paper is a great way to create instant fun for the children at the kid's table. Add a sleigh, complete with crayons, and the kids can let their festive imaginations go to work!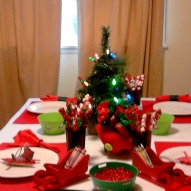 Easel Paper Tablecloth for kids
Here's What You'll Need For The Table Cloth:
A roll of easel paper from the craft supply store
masking tape
scissors
stickers and crayons
Instructions:
Cut strips of easel paper the length of your table.
Tape as many strips as you need to cover your entire table!
You have a KID FRIENDLY TABLE CLOTH!
Set the Stage:
Provide pictures of colorful winter drawings to give kids inspiration!
Personalized Sleigh Crayon Holder & Place Card:
Get the instructions on your sleigh on the page below!
go to http://www.kidfriendlythingstodo.com/2011/12/sleigh-crayon-holder/
~Melissa
KidFriendlyThingsToDo.Com – Providing fun activities, recipes, ideas, and crafts to do with kids!