A Bouquet of Sunflowers Made With Handprints Craft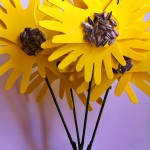 Posted by Melissa in Anytime, Arts & Crafts, Game Ideas, Mother's Day, Mother's Day | 2 comments
Can I get an AW?! or and OMGoodness! How cute is this Sunflower Bouquet? I love it so, so much that it is in proud display on my dining room server. I walk in the room quite often just to get a big smile. It makes me happy!
If you are anything like me, and love preserving your little ones with handprint crafts, then, baby…this is the craft for you. Also, if you are a husband of someone that loves "tug at your heart string"crafts, or have a mom that loves these cute, and sentimental crafts, then this also is the craft for you. Ahem…Mother's Day is just around the corner! 😉 😉
OK, OK, I'm shutting up…On to the tutorial on A Bouquet of Sunflowers Made With Handprints Craft
I can tell you that everthing including the vase, but excluding the sunflower seeds, for my craft was purchased at Michael's Stores -Love the 1 stop shopping!
You'll Need:
Yellow Foam Sheets – The large ones 9×12 – 1 for each child
Something to trace with – pen, pencil, etc.
Wooden Dowels – 1 ft. in length x 1/4 in.
Green Floral Tape
Elmers Glue
A Warm glue gun and glue sticks
Scissors
Vase or Jug like I have to dipslay the sunflowers in
Suggested Equipment Can Also Be Found Here: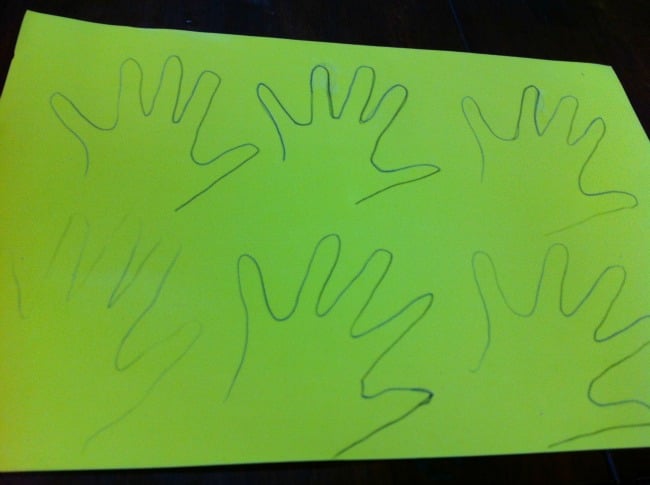 Each child should get their own foam sheet to fill up with their handprints. This is an example from my 7 year old.
You'll trace the same hand 6-8 times, as much as you can fit in
Leave a 3 inch square without a handprint to cut the circle out
Cut the handprints out and your circle out of the foam
Begin to fan them around, with at least 3 on the first layer, adding more handprints on top for more dimmension
Finally, finish with the circle you have cut out
Use the warm glue gun to secure everthing
Now, let the kids attach the seeds with the Elmer's Glue
While you wait on the glue to dry, begin wrapping the dowels
When you get almost to the end of your dowel – overlap 2 dowels end to end, like the picture above – this makes the stems taller
Just keep wrapping the tape around the 2 dowels, and continuing on down the second one
If you're thoroughly confused – take a look at the picture below to see where my dowels get a little thick in the middle. Thats where I added the second one for added length
Now, just display these masterpieces in a jug or vase!
If you enjoyed this post on – A Bouquet of Sunflowers Made With Handprints Craft – follow along with me on my social places to get more inspiration, and ideas! Don't forget to sign up for my Free daily newsletter! New posts right to your inbox!
~Melissa – KidFriendlyThingsToDo.com