This Sunflower Handprint Craft is the perfect craft for Mother's Day. These sweet sunflowers will brighten up any home and bring a smile to your face. Make them as a fun summer craft with the kids and enjoy them for years to come…
Sunflower Handprint Craft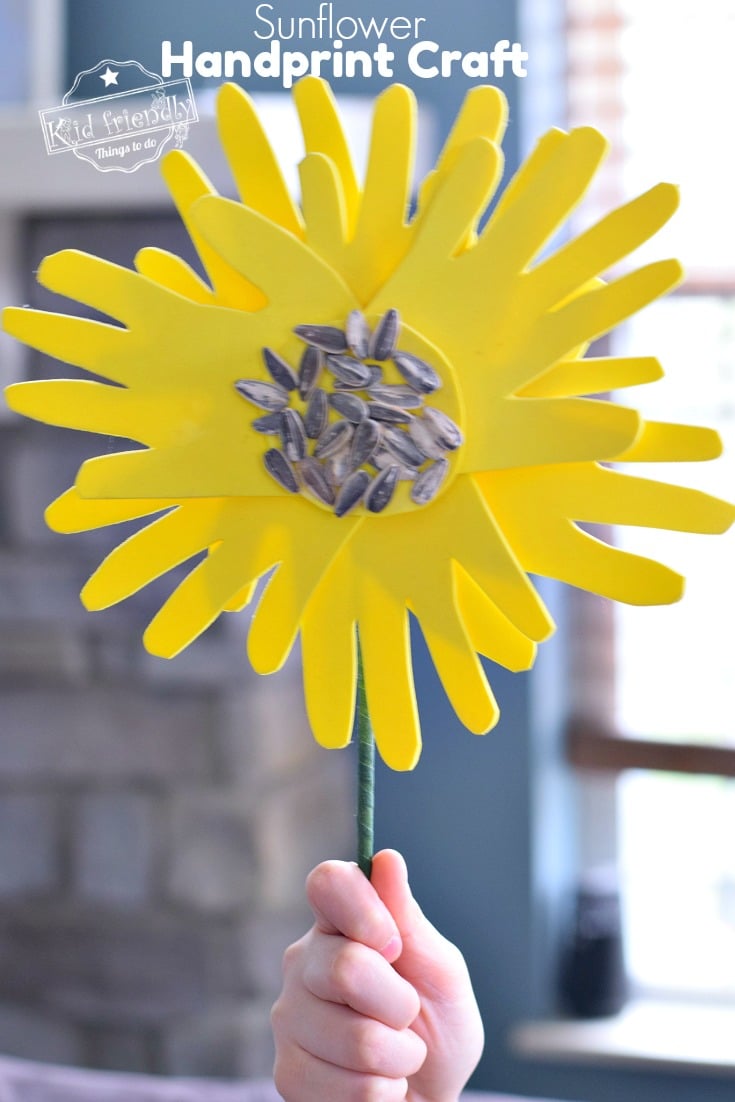 If you are anything like me and love preserving your little ones with handprint crafts, then, this is the craft for you.
Of course, I have flowers of all types to share with you. You might also love my post on How to make flowers out of tissue paper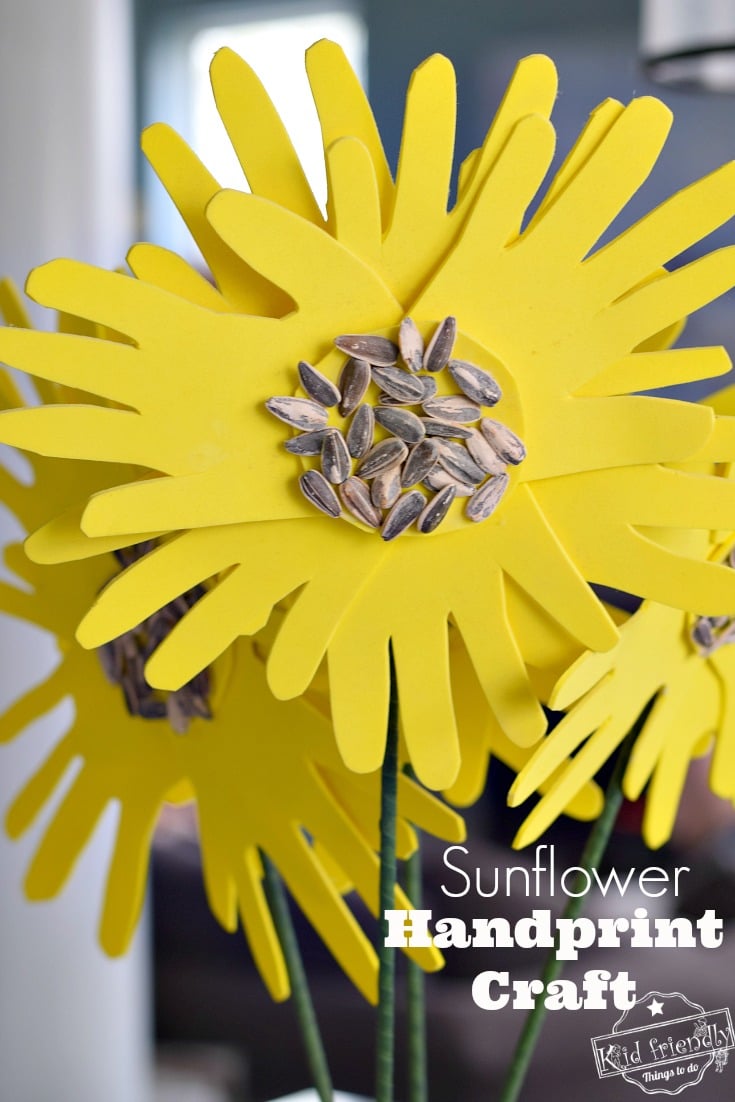 This craft was made five years ago and still looks just as good as it did the first day it was made. It still brings a smile to my face.
What are some other great Handprint Crafts for Kids to Make?
Here is what you'll need to make this Sunflower Handprint Craft
Yellow Foam Sheets – The large ones are 9×12 – 1 for each child
Something to trace with – pen, pencil, etc.
Wooden Dowels – 1 ft. in length x 1/4 in.
Green Floral Tape
A Tacky Glue that dries clear – like Fabri-Tac
suggested – A low temp. glue gun and glue sticks
Scissors
Vase or Jug like I have to display the sunflowers in
Suggested Equipment Can Also Be Found Here:
(affiliate links)
[box] [/box]
You'll probably use one foam yellow sheet per child
Trace the same hand 6-8 times
Leave an approximately 3-inch square without a handprint for the circle that will go into the middle of the sunflower
Cut the handprints and your 3-inch circle out of the foam
Begin to fan them around, with at least 3 on the first layer, adding more handprints on top for more dimension
Once you are satisfied with the shape of the handprints, glue them together with a low temp. glue gun or tacky glue
Finally, finish by gluing the circle you have cut out onto the center of the handprints
Kids can help attach the seeds to the 3-inch circle with glue
While you wait on the glue to dry, begin wrapping the dowels
For Tall Stems like a Sunflower would have…
When you get almost to the end of your dowel – overlap 2 dowels end to end, like in the picture above – this makes the stems taller
Just keep wrapping the tape around the 2 dowels, and continuing on down the second one
If you're thoroughly confused – take a look at the first image in this post to see where my dowels get a little thick in the middle. That's where I added the second one for added length. I prefer the sunflowers to tall. They look so pretty in a vase
~Melissa – KidFriendlyThingsToDo.com