This Paper Doilies Snowman Craft is a great preschool or kid's craft for winter. It's easy to make and so cute on display.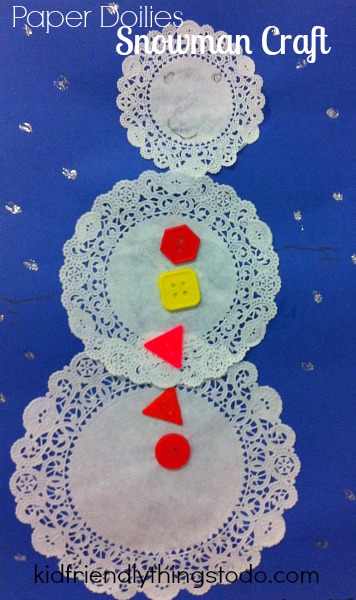 Paper Doilies Snowman Craft
The perfect winter craft for little kids and preschoolers. Make a snowman out of different sizes of doilies, add buttons, and some snow.
How cute is this? This is a craft my little guys' preschool did with the kids. Preschool teachers are the best, aren't they?
Are you looking for a snowman craft? You might like these candy Bar Snowmen, orSalt Dough Melted Snowman, or a Paper Plate Snowman Craft for kids to make.
Here's what you'll need to make this cute snowman craft:
Supplies Needed
long dark blue or black sheet of construction paper 0r 2 taped together
3 different sized doilies
buttons
a black sharpie
silver glitter glue
Instructions:
On your dark paper, glue the 3 doilies with the largest at the bottom, the medium-sized one in the middle, and a small one on top
add buttons to the middle and bottom doily
use the marker to make a snowman face
add snow with glitter glue